Eggnog Quick Bread | Not a heavy bread and with the addition of the cream cheese and eggnog icing it's perfect with a cup of tea.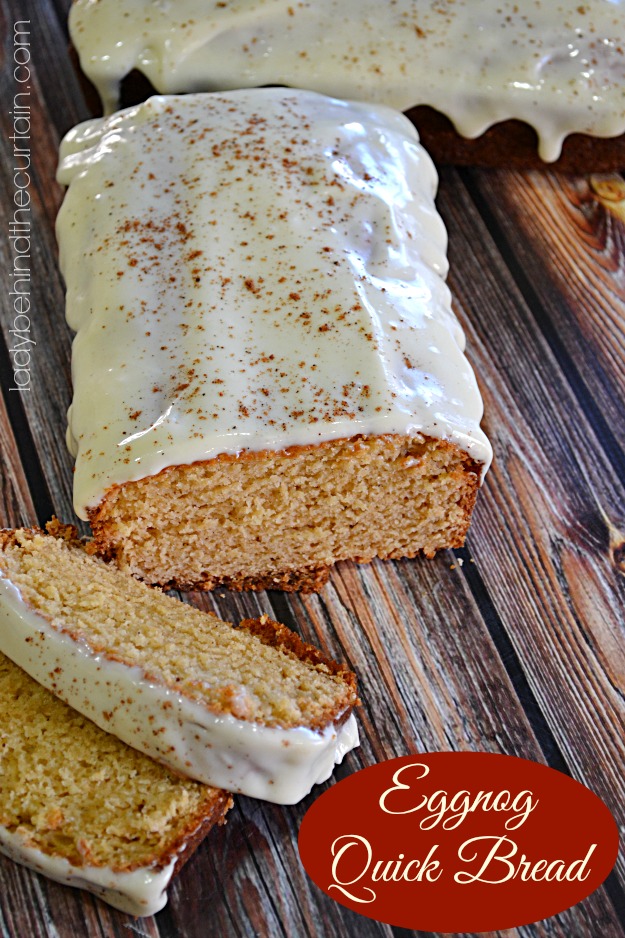 Have some leftover eggnog you need to use up?  How about making eggnog quick bread.  As I was rummaging through my refrigerator I discovered a carton of eggnog that was going to expire soon.  I really didn't want to drink it since I have a cold and I try to stay away from creamy things when I have a cold.  So, I decided to make eggnog quick bread.  Two loaves, one to eat now and one for the freezer, so I could enjoy the flavor of eggnog long after it had left the grocery store shelf.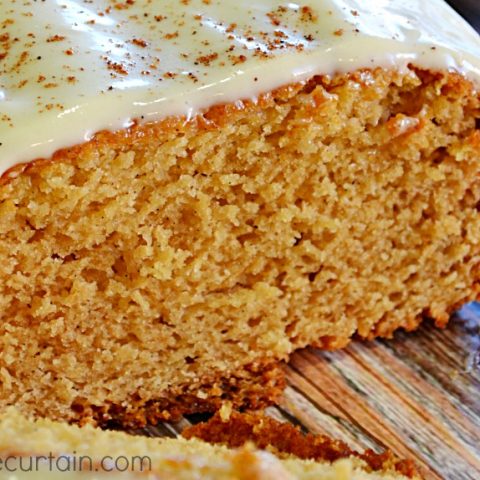 Eggnog Quick Bread
Total Time:
1 hour
20 minutes
Ingredients
For the Eggnog Quick Bread:
4 cups all-purpose flour
4 teaspoons baking powder
1 teaspoon salt
1/2 teaspoon nutmeg
2 eggs
2 cups eggnog
1/2 cup butter, melted
1 cup granulated sugar
1 cup light brown sugar
4 teaspoons vanilla extract
optional: 2 vanilla beans with the seeds scraped out
optional: nutmeg for sprinkling
For the Cream Cheese Eggnog Icing:
4 ounces cream cheese, softened
1 cup confectioners' sugar
1/4 cup eggnog
Instructions
Preheat oven to 350 degrees.
Spray TWO 9x5-inch loaf pans with non stick cooking spray.
Stir together the flour, baking powder, salt and nutmeg; set aside.
In a separate bowl beat eggs; stir in the eggnog, butter, sugars, vanilla and vanilla seeds.
Stir until moistened.
Spoon batter into prepared pans; spread evenly.
Bake 50 minutes or until a toothpick inserted near the center comes out clean.
Cool in pan on a wire rack for 10 minutes.
Remove pan and cool completely on wire rack.
Spoon half of the icing over one bread and the remaining icing over the other bread.
With the back of a spoon or spatula push the icing over the edges of the bread.
Sprinkle with nutmeg.
Serve immediately or store in the refrigerator until ready to serve.
For the Cream Cheese Eggnog Icing:
In a small mixing bowl beat cream cheese until fluffy; add confectioners' sugar a half a cup at a time.
Beat until creamy.
Add eggnog 1 tablespoon at a time.

MORE QUICK BREAD RECIPES
1.  SNICKERDOODLE BREAD  2.  LEMON POPPY SEED QUICK BREAD  3.  DILL AND CHEESE BEER BREAD  4.  CHOCOLATE FROSTED PUMPKIN BREAD