Slow Cooker Fruit and Pecan Dressing
Do you say stuffing or dressing?  For me stuffing means exactly what the word says.  Something that has been stuffed into something and dressing is something baked in a pan or slow cooker.  I grew up on OLD FASHIONED CORN BREAD DRESSING.  My family didn't eat turkey so my grandma would bake chicken in with the dressing.  I decided to change things up a bit with this Slow Cooker Fruit and Pecan Dressing.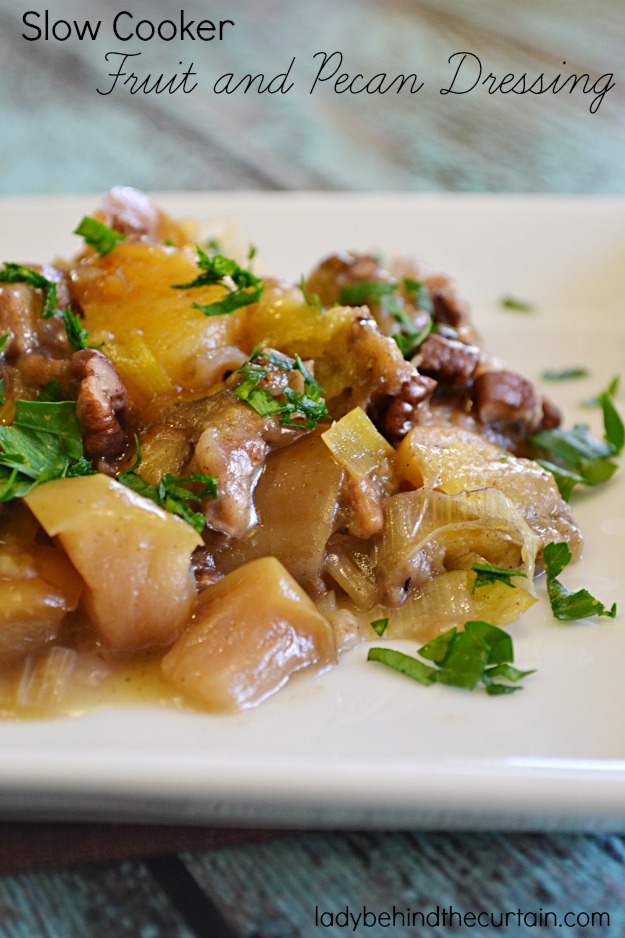 This dressing is completely different from the cornbread dressing I grew up eating.  Different, but still VERY tasty.  I added sour dough bread, apples, dried apricots and pecans and let the slow cooker do the baking.
I know when I am preparing a big meal I never have enough oven space so being able to prepare one dish in my slow cooker is awesome!
MORE THANKSGIVING MEAL IDEAS
OVER 80 RECIPES FOR A DELICIOUS THANKSGIVING MEAL