Slow Cooker Fruit and Pecan Dressing
Do you say stuffing or dressing?  For me stuffing means exactly what the word says.  Something that has been stuffed into something and dressing is something baked in a pan or slow cooker.  I grew up on OLD FASHIONED CORN BREAD DRESSING.  My family didn't eat turkey so my grandma would bake chicken in with the dressing.  I decided to change things up a bit with this Slow Cooker Fruit and Pecan Dressing.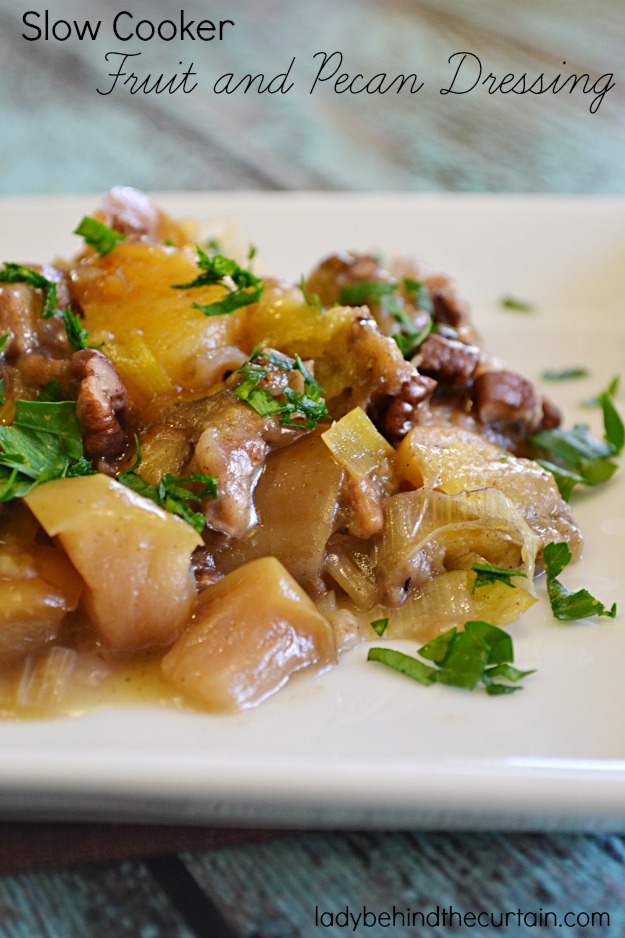 This dressing is completely different from the cornbread dressing I grew up eating.  Different, but still VERY tasty.  I added sour dough bread, apples, dried apricots and pecans and let the slow cooker do the baking.
I know when I am preparing a big meal I never have enough oven space so being able to prepare one dish in my slow cooker is awesome!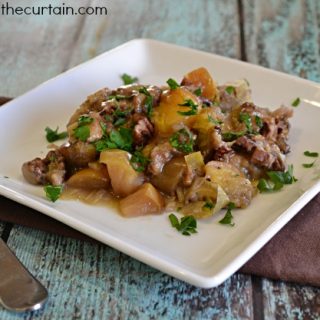 Slow Cooker Fruit and Pecan Dressing
Total Time:
4 hours
30 minutes
Ingredients
6 tablespoons butter
1 cup (3 medium) leeks, sliced
1 cup onion, chopped
2 cups (about 3) apples, cored, peeled and chopped
1 cup pecans, chopped
3/4 cup dried apricots, chopped
2 teaspoons poultry seasoning
2 teaspoons salt
1 teaspoon black pepper
12 cups dry 2-inch sour dough bread
1 3/4 to 2 cups chicken broth
Instructions
In a medium skillet melt butter, add the leeks and onion, cook until tender (about 5 minutes).
Stir in the apples, pecans, apricots, poultry seasoning, salt and pepper.
Cook another 5 minutes.
Occasionally stir.
In a very large bowl add the onion mixture to the bread.
Stir just enough to combine.
Drizzle in enough of the broth to moisten.
WARNING - only add enough of the chicken broth to barely moisten the dressing. Remember the juice from the apples will add to the moisture.
Transfer mixture to a 5 to 6 quart slow cooker.
Cover and cook on low setting for 3 1/2 to 4 hours or until a knife inserted into the center comes out clean and a thermometer inserted in the center registers 165 degrees.
If desired sprinkle with fresh parsley.
MORE THANKSGIVING MEAL IDEAS
OVER 80 RECIPES FOR A DELICIOUS THANKSGIVING MEAL