Sparkling Cupcakes | If your kid's love having a cherry or blueberry frozen treat then they are going to love these cupcakes!  Perfect for Memorial Day, July 4th or any summer party.  These fun cupcakes are made with dry cherry and blueberry gelatin mix.  To give these cupcakes a fun frozen drink flavor.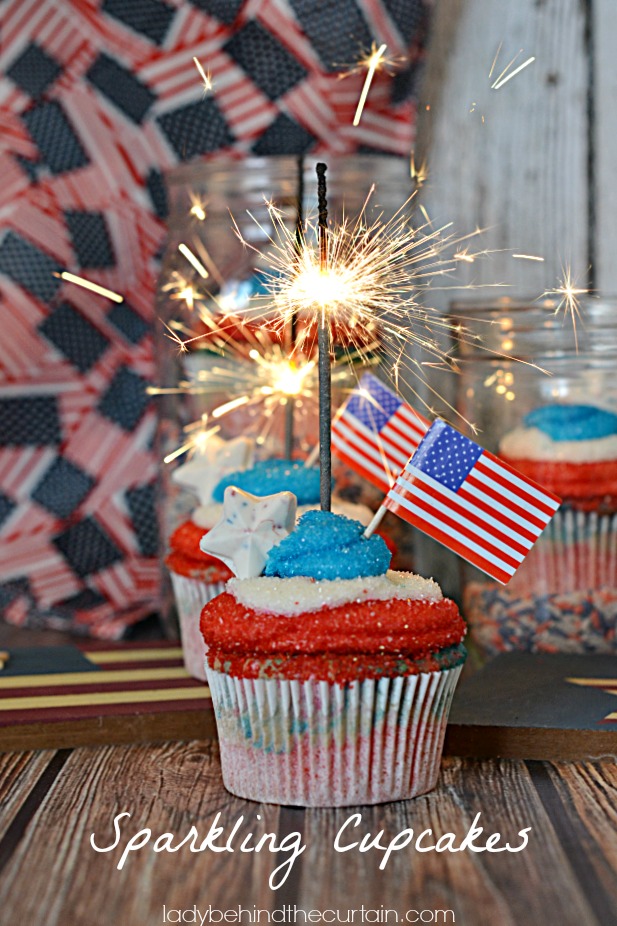 Line these fun Sparkling Cupcakes down the center of your table and with the help of another guest light the cupcakes for a fun and festive centerpiece!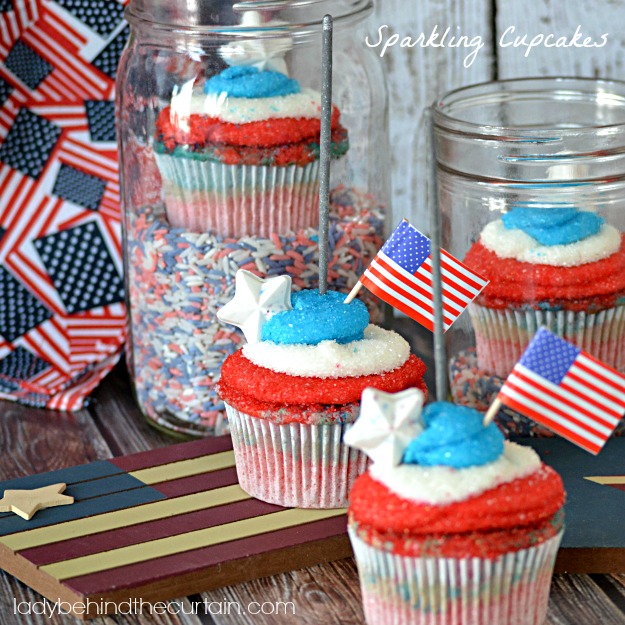 For more Memorial Day cupcake fun check out my Celebration Cupcakes and Almond Cherry Mini Cone Cupcakes.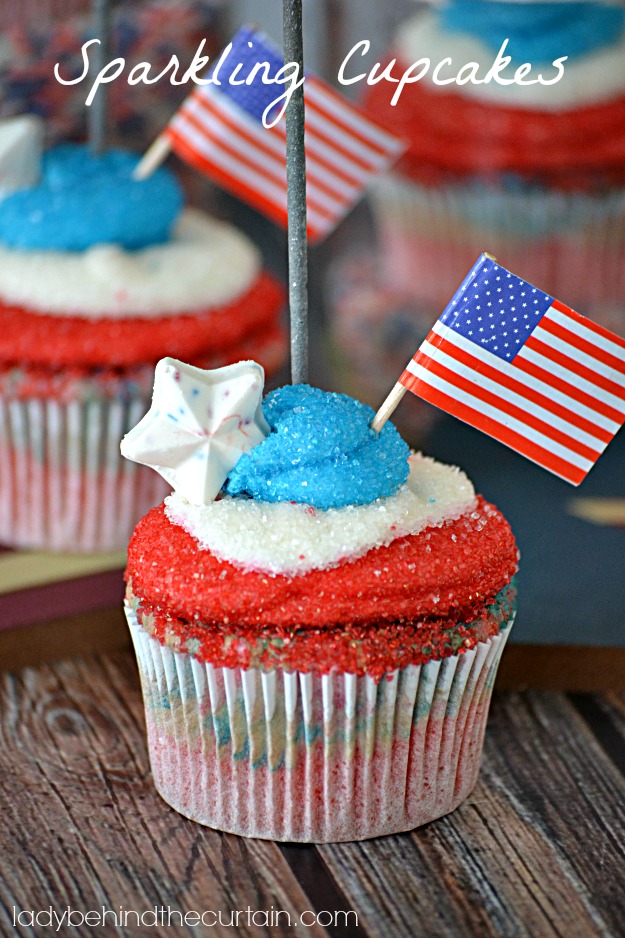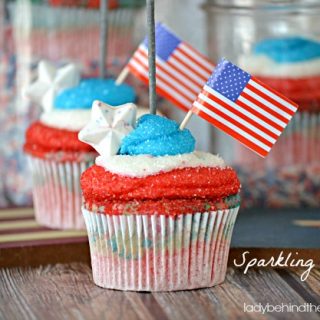 Sparkling Cupcakes
Ingredients
For the Cupcakes:
1 yellow cake mix including ingredients to make cake
3 tablespoons cherry gelatin dry mix
3 tablespoons blueberry gelatin dry mix
2 tablespoons sprinkles (optional)
For the Butter Frosting:
3/4 cup butter, softened
5 to 6 cups confectioners' sugar
2 to 3 tablespoons milk
3 #12 piping tips
3 piping bags
red, white and blue sugar sprinkles
star shaped candy mold (optional)
white melting chocolate (optional)
flag picks (optional)
sparklers (optional)
Instructions
For the Cupcakes:
Preheat oven to 350 degrees.
Line 24 muffin cups with cupcake liners.
Spray the top of the muffin tin with non stick cooking spray.
Mix cake batter according to the package directions.
Separate into 3 bowls (about 1 1/4 cups each).
Add red gel food coloring and dry cherry gelatin to one bowl, blue gel food coloring and dry blueberry gelatin to another bowl and sprinkles to the batter with no food coloring or gelatin.
Mix well to combine.
Spoon 1/2 heaping tablespoon of red batter into each muffin cup, 1/2 heaping tablespoon white batter and end with 1/2 heaping tablespoon of blue batter.
Bake 20 minutes or until a toothpick inserted into the center comes out clean.
Cool in muffin cups 10 minutes, take out of tin and cool completely on wire rack.
For the Butter Frosting:
Cream butter until fluffy.
Add confectioners' sugar 1 cup at a time.
If the frosting is too thick add milk 1 tablespoon at a time until piping consistency is reached.
Separate into 3 bowls.
Add red get food coloring to one and blue to another.
Using a #12 piping tip, pipe around the perimeter of the cupcake with red frosting; dip the freshly frosted cupcake into red sugar sprinkles.
Repeat with the white and blue layers.
Top with a chocolate candy star, flag and sparkler (optional).