BARBECUE SEASON IS HERE!  These Steak Sandwich Stackers are the perfect appetizer for a barbecue on Memorial Day or 4th of July.  Sure anyone can serve small sandwiches but why not bring it up a notch with these fun stackers.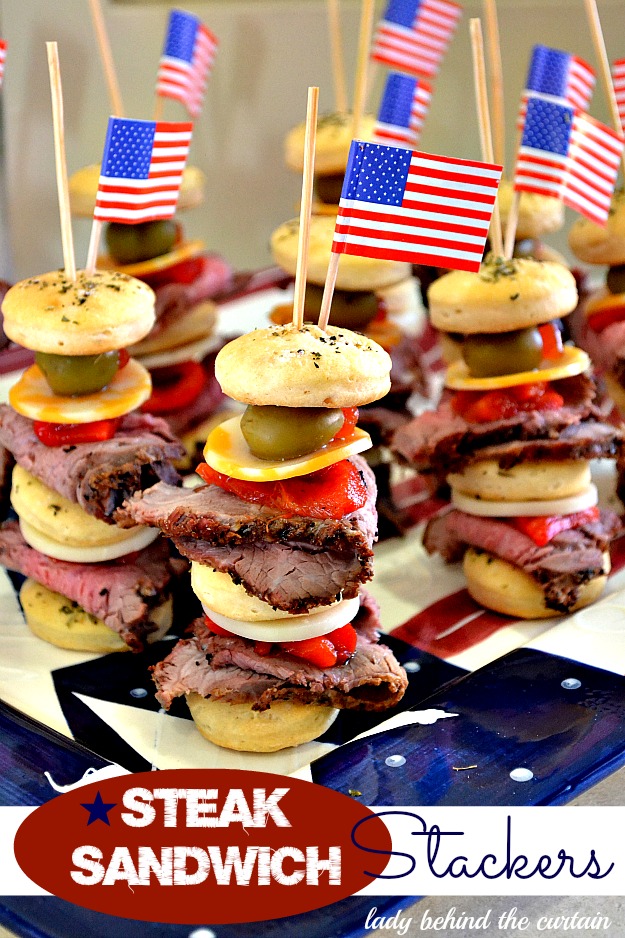 With layers of steak, roasted peppers, and cheese all topped off with seasoned mini biscuits.  These Steak Sandwich Stackers are sure to impress!

MAKE SOME FUN FOOD!
Create your own Recipe Box and save your favorite Lady Behind The Curtain recipes.  Make a Meal Plan with your favorite recipes and ZipList will automatically add the ingredients to a Shopping List.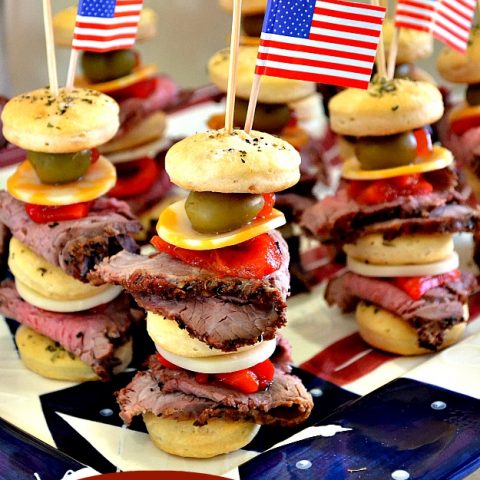 Steak Sandwich Stackers
Great for leftover steak.
Ingredients
1 - can large store bought biscuits
2 tablespoons olive oil
1/2 tablespoon Italian seasoning blend
1 teaspoon salt
1/2 teaspoon pepper
18 - green olives
5 - slices provolone cheese
5 - slices Colby jack cheese
12 ounce jar roasted red peppers
1-1/2 pounds roast, thinly sliced or deli roast beef (I used left over tri tip)
18 - 6-inch skewers
Instructions
Preheat oven to 350 degrees.
Line 2 cookie sheets with parchment paper.
On a lightly floured surface, roll a biscuit into a 5-inch circle.
Cut 7 - 1-1/2-inch circles and place on the prepared cookie sheets.
Mix together the Italian seasoning, salt and pepper.
Brush olive oil on each circle and sprinkle with the seasoning mixture.
Bake 13 minutes or until done.
Using the 1-1/2 inch circle cutter cut cheese into rounds, slice beef and cut peppers into small pieces.
Once the biscuits are done and cooled stack your sandwiches.
Start with the top biscuit round.
Using the sharp end of the skewer poke through the round and bring it up to the top.
Now add an olive, cheese, pepper, meat, biscuit round, cheese, pepper, meat and the last biscuit round.
TIP: Hold the skewer straight up, lay the biscuit on the counter and poke down the center NOT through but to the bottom.
Bring down the other ingredients and press together.
This will help it hold together.
This will make 18 appetizers WITHOUT using the scraps of biscuit dough. If you use the scraps you'll need to adjust the ingredients for extra.