Baked Lemon Blueberry Donuts
These Baked Lemon Blueberry Donuts are a healthier version to the normal fried donuts.
One of my first jobs was working at a snack bar in Safeway.  It was called a snack bar but we had everything a diner would have and more including steaks that the customers got to pick from the meat counter themselves.  Anyway the '"snack bar" was located next to the bakery.  Back in those days (the late 70's) a grocery store bakery actually made all their baked goods in house. They weren't shipped to them ready to bake.  I remember watching the baker fry the donuts in a large vat of oil and using what looked like drum sticks to turn them over.  While you can still buy fried donuts, times have changed and now you can purchase a donut baking pan at most stores.  I have even seen them for purchase at my grocery store.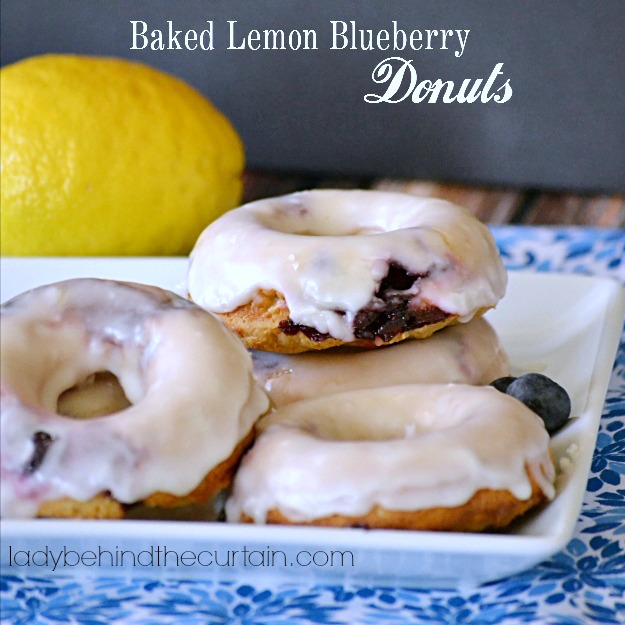 These Baked Lemon Blueberry Donuts are full of fresh blueberry and zesty lemon.  Low in calories at only 131 (without glaze) and 189 (with glaze)compared to their counterpart at 360 calories with glaze!  You can also try my Baked Sugar N' Spice Donuts.
Create your own Recipe Box and save your favorite Lady Behind The Curtain recipes.  Make a Meal Plan with your favorite recipes and ZipList will automatically add the ingredients to a Shopping List.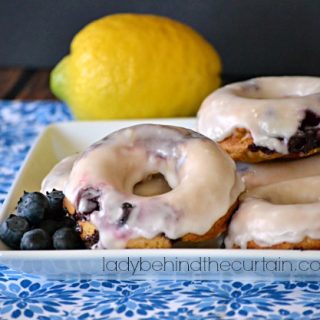 Baked Lemon Blueberry Donuts
Ingredients
2 cup white whole wheat flour
1/2 cup Splenda
1 1/2 teaspoon baking powder
1/2 teaspoon salt
2 large eggs
1/4 cup honey
2 tablespoons butter, melted
1 tablespoons vanilla extract
zest from one lemon
juice from the same lemon
1 to 1 1/2 cups fresh blueberries
For the Lemon Glaze:
1 1/2 cups confectioners' sugar
2 tablespoons lemon juice
Instructions
Preheat oven to 425 degrees.
Spray a donut pan with non stick cooking spray and set aside.
In a large bowl whisk together the flour, Splenda, baking powder and salt.
Add the eggs, butter, vanilla, zest of one lemon and juice of one lemon.
Stir to combine.
Spoon batter into prepared pan, filling two-thirds full.
Add blueberries, pushing down.
Bake 10 to 12 minutes or until lightly brown along the sides of the donuts.
Cool in pan 10 minutes.
Use a knife to pop them out and cool completely on a wire cooling rack.
Dip cooled donuts in lemon glaze.
For the Lemon Glaze:
Add sugar to a medium bowl, slowly stir in lemon juice.
Nutrition Information
Amount Per Serving
Calories

131189