Old Fashioned Carnival Party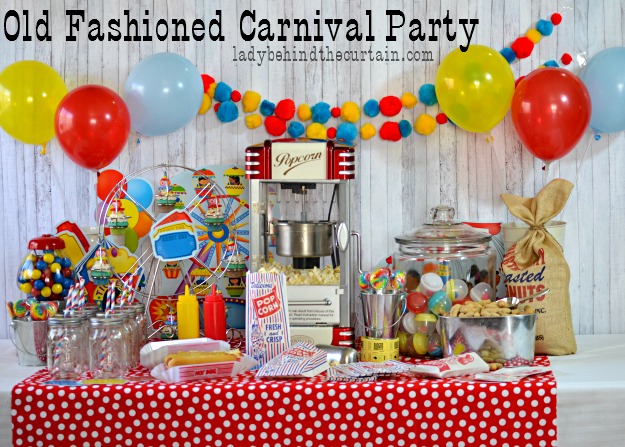 From vintage popcorn bags, vintage peanut bags to plastic clown cupcake toppers.  This Old Fashioned Carnival Party has it all.

Let's start with my favorite item, THE FERRIS WHEEL CUPCAKE HOLDER (you can purchase one from Amazon).  The cupcakes that are riding the Ferris wheel are Cotton Candy Cupcakes (I'll have the recipe for you down below).  Because what is more fitting then cotton candy at a Carnival!  Carnival cupcakes wouldn't be complete without some adorable CLOWN CUPCAKE TOPPERS.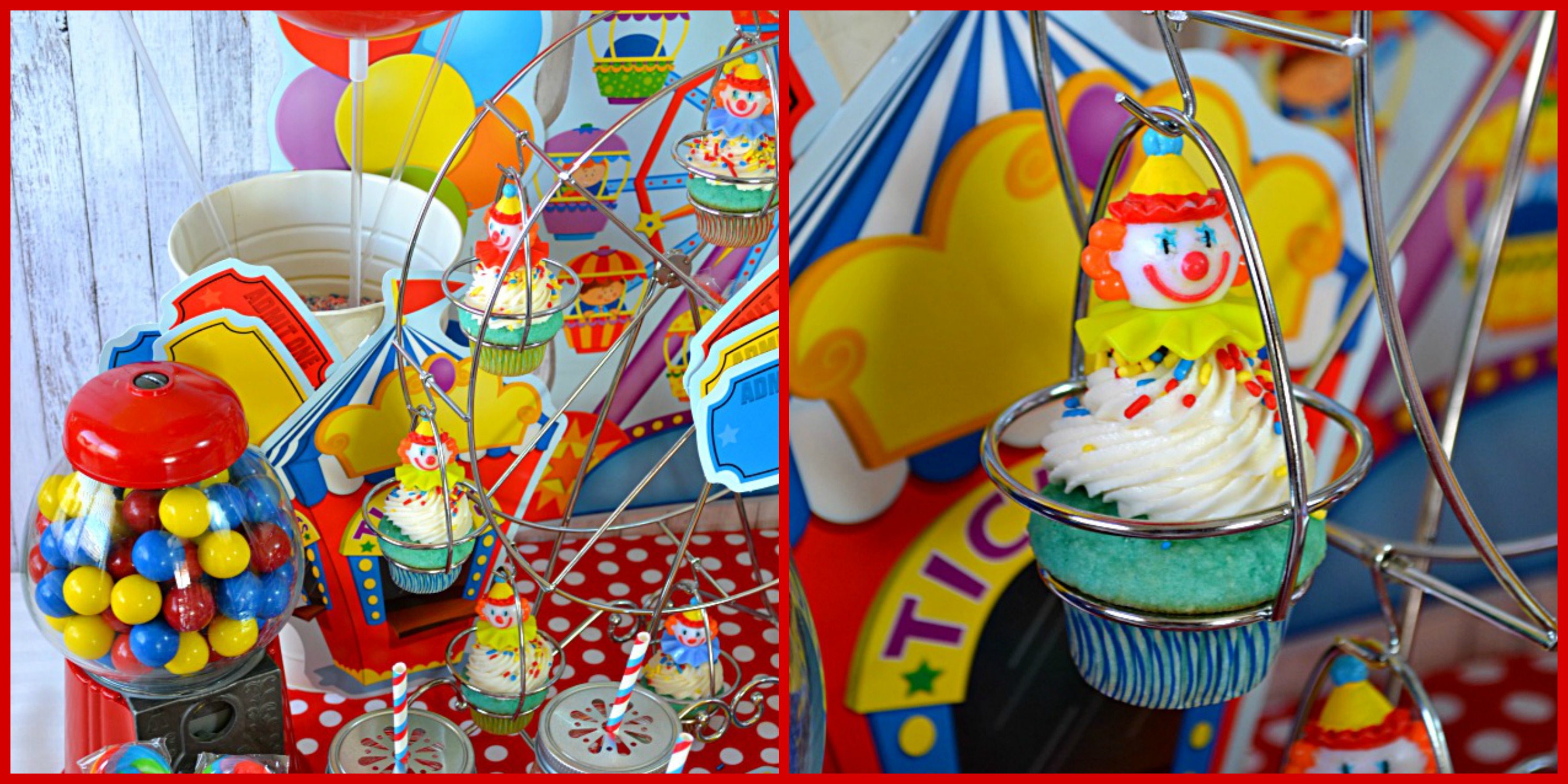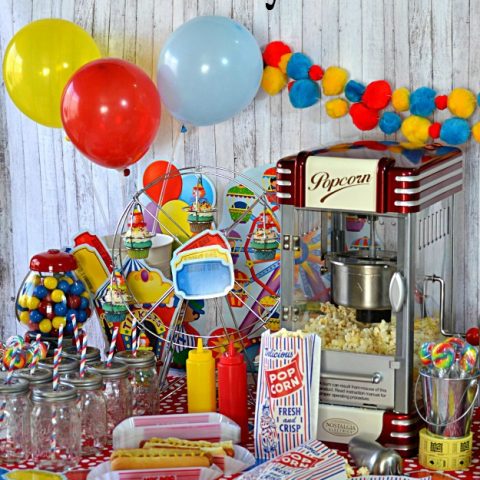 Cotton Candy Cupcakes
Yield:
Makes 48 Mini Cupcakes
Ingredients
For the Cotton Candy Cupcakes:
1 (15.5 ounce) white cake mix
3 eggs
1 cup water
1/3 cup vegetable oil
2 Duncan Hines Cotton Candy Flavor Frosting Creations Packets
optional-sprinkles
For the Vanilla Frosting:
3/4 cup butter, softened
2 teaspoons vanilla extract
up to 2 pounds confectioners' sugar
up to 1/3 cup milk
Instructions
For the Cotton Candy Cupcakes:
Preheat oven to 350 degrees.
Line mini cupcake tin with 48 mini cupcake liners.
Add the cake mix, eggs, water, oil and cotton candy flavoring to a medium mixing bowl.
Mix until combined.
Fill cupcake liners 3/4 full.
Bake 12 to 15 minutes or until a toothpick inserted into the center comes out clean.
Cool in pan 10 minutes, take out of pan and cool completely on a wire cooling rack.
Frost and add sprinkles.
For the Butter Frosting:
Beat butter until fluffy, add vanilla and mix until combined.
Add confectioners' sugar 1 cup at a time, add milk as needed to reach to correct consistency.
Every party needs a party favor and I think these grab bag 2-in. VENDING MACHINE CAPSULES are totally fun.  The kids will flip when they realize they don't have to beg their parents for quarters.  Fill them with little toys like whistles, stretchy toys, rings or mini squirt guns.  You can also add candy.  There is no limit to fun the kids will have with these unexpected treats.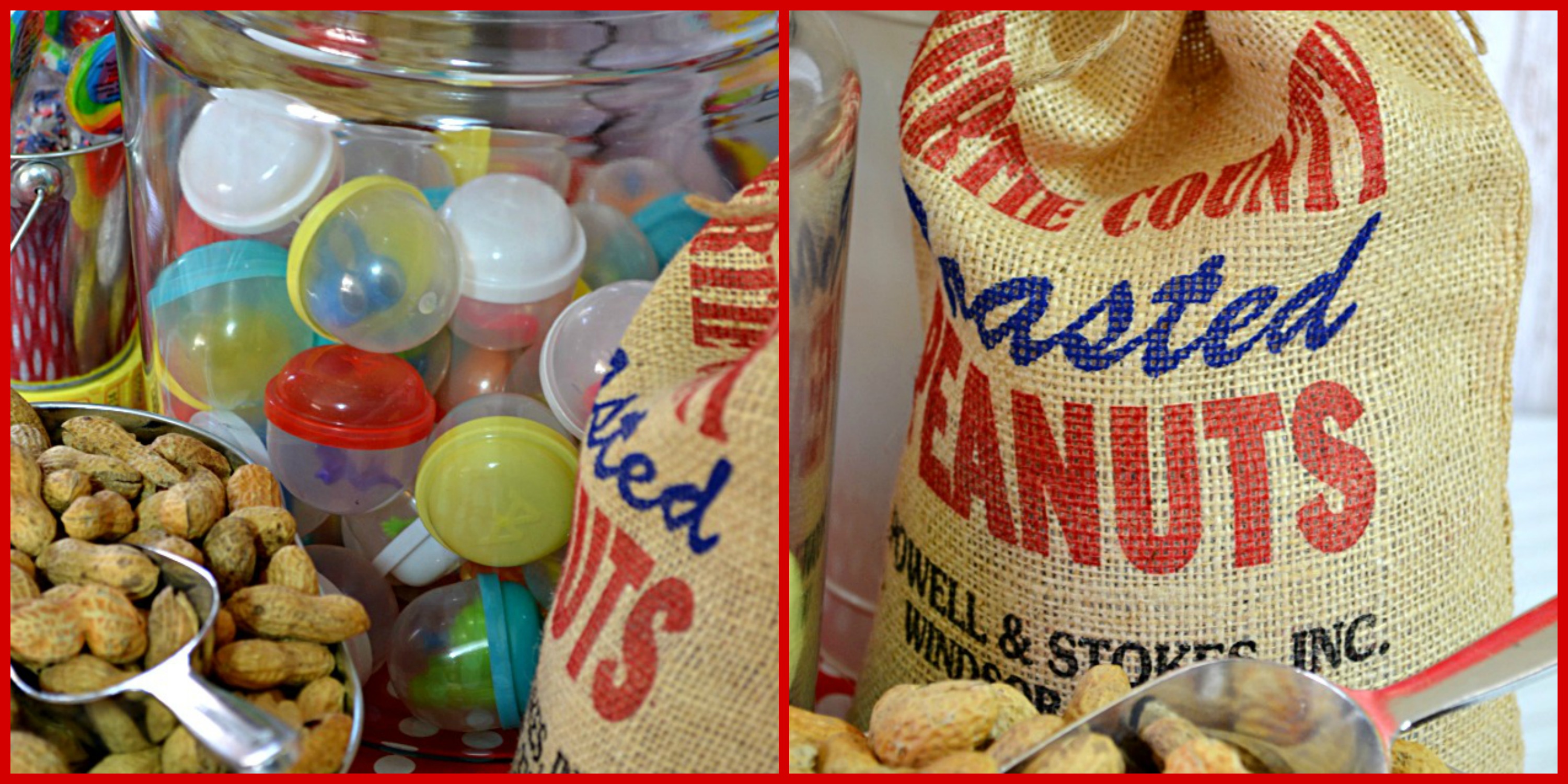 To add to the "old fashioned" look you can serve your popcorn in some VINTAGE POPCORN CONCESSION BAGS, PEANUTS IN VINTAGE SQUIRREL PRINT FRESH ROASTED PEANUTS BAGS.  Set a filled (I used rice) AUTHENTIC ROASTED PEANUTS BURLAP BAG behind to use as a prop.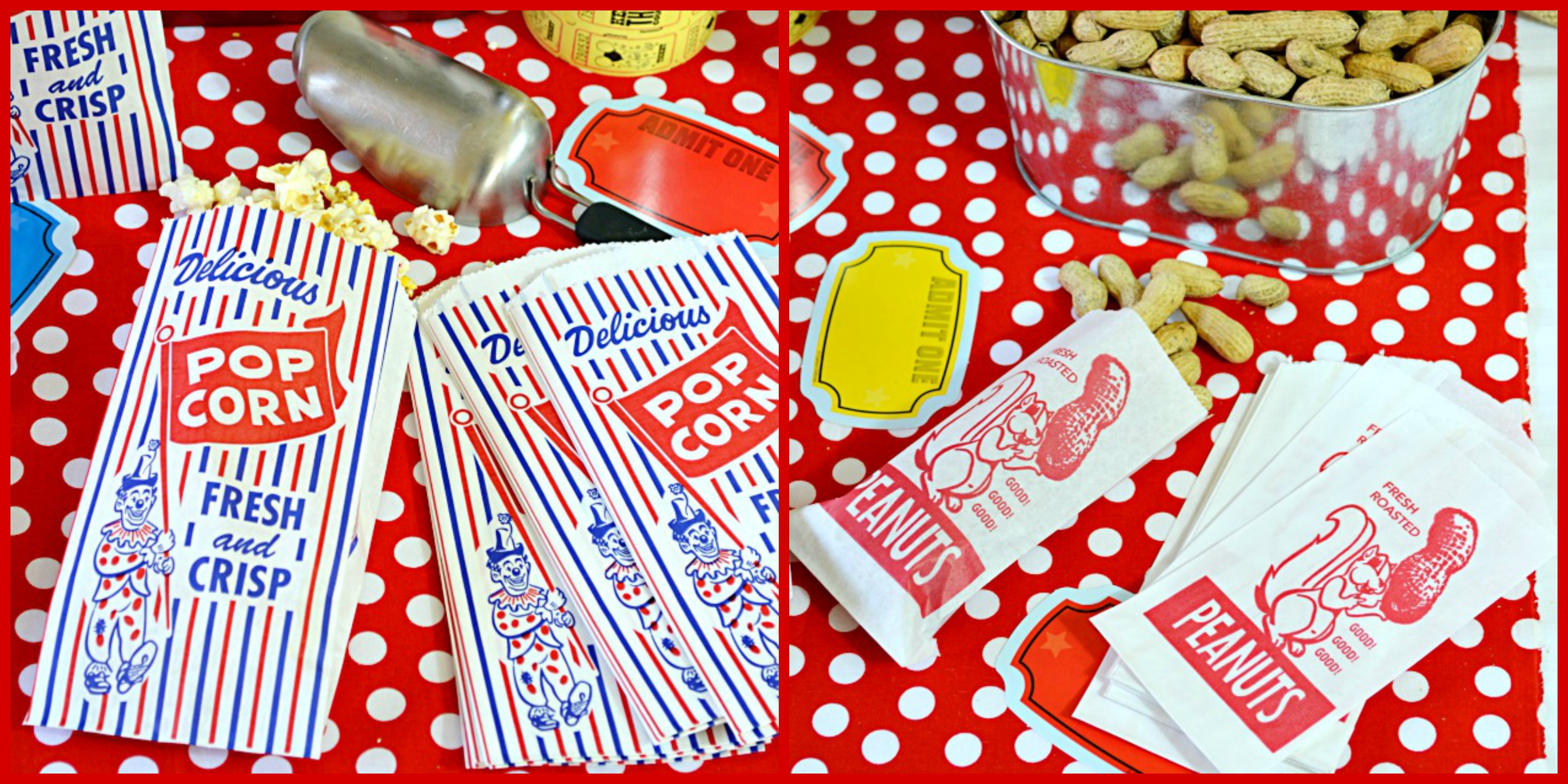 Please!  Don't forget the hot dogs!  You can serve your hot dogs in PLASTIC HOT DOG TRAYS along with some retro KETCHUP/MUSTARD SQUEEZE BOTTLES.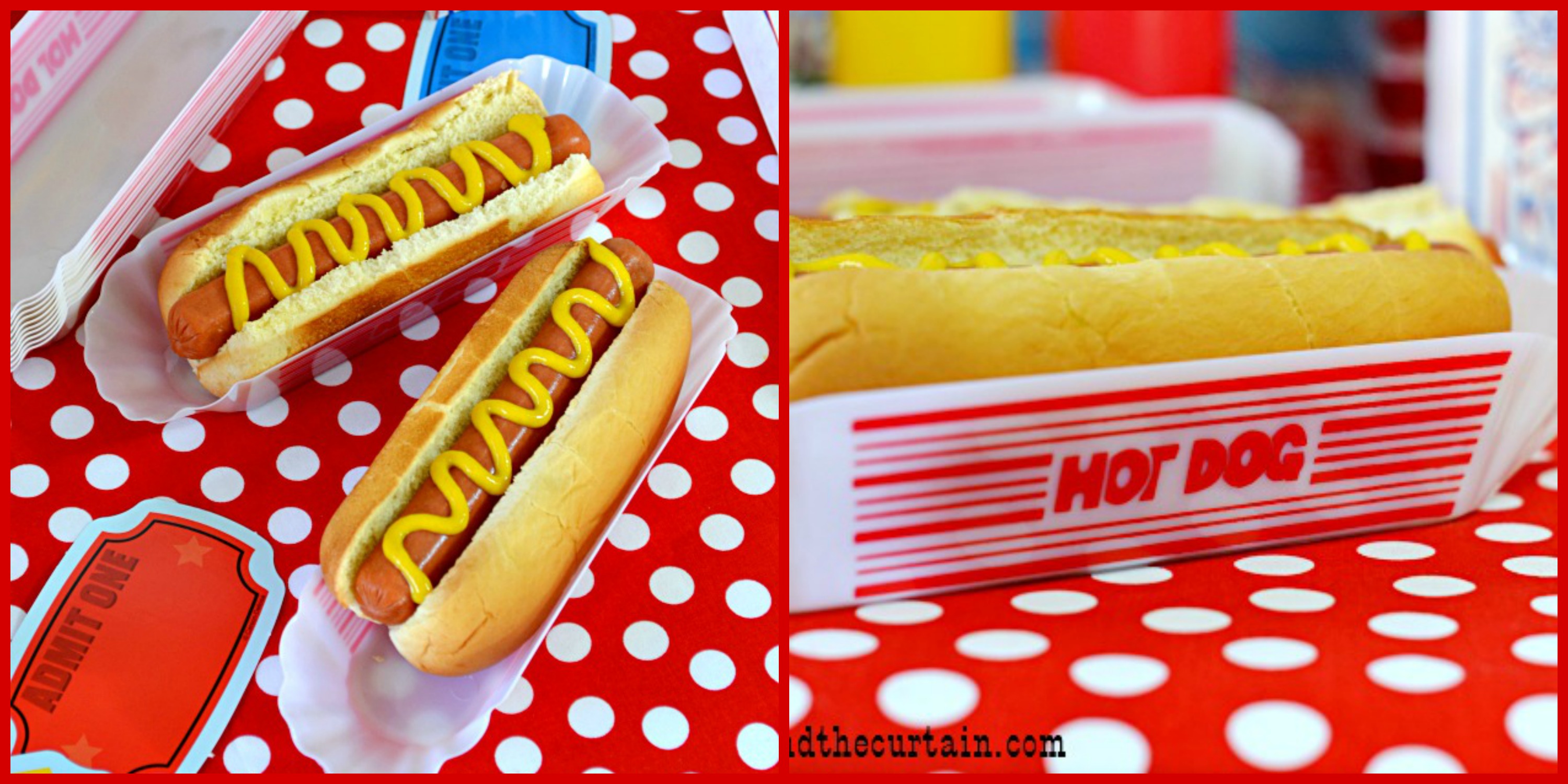 I served my drinks in mason jars fitted with DAISY CUT MASON JAR LIDS and RED, WHITE AND BLUE CARNIVAL PAPER STRAWS.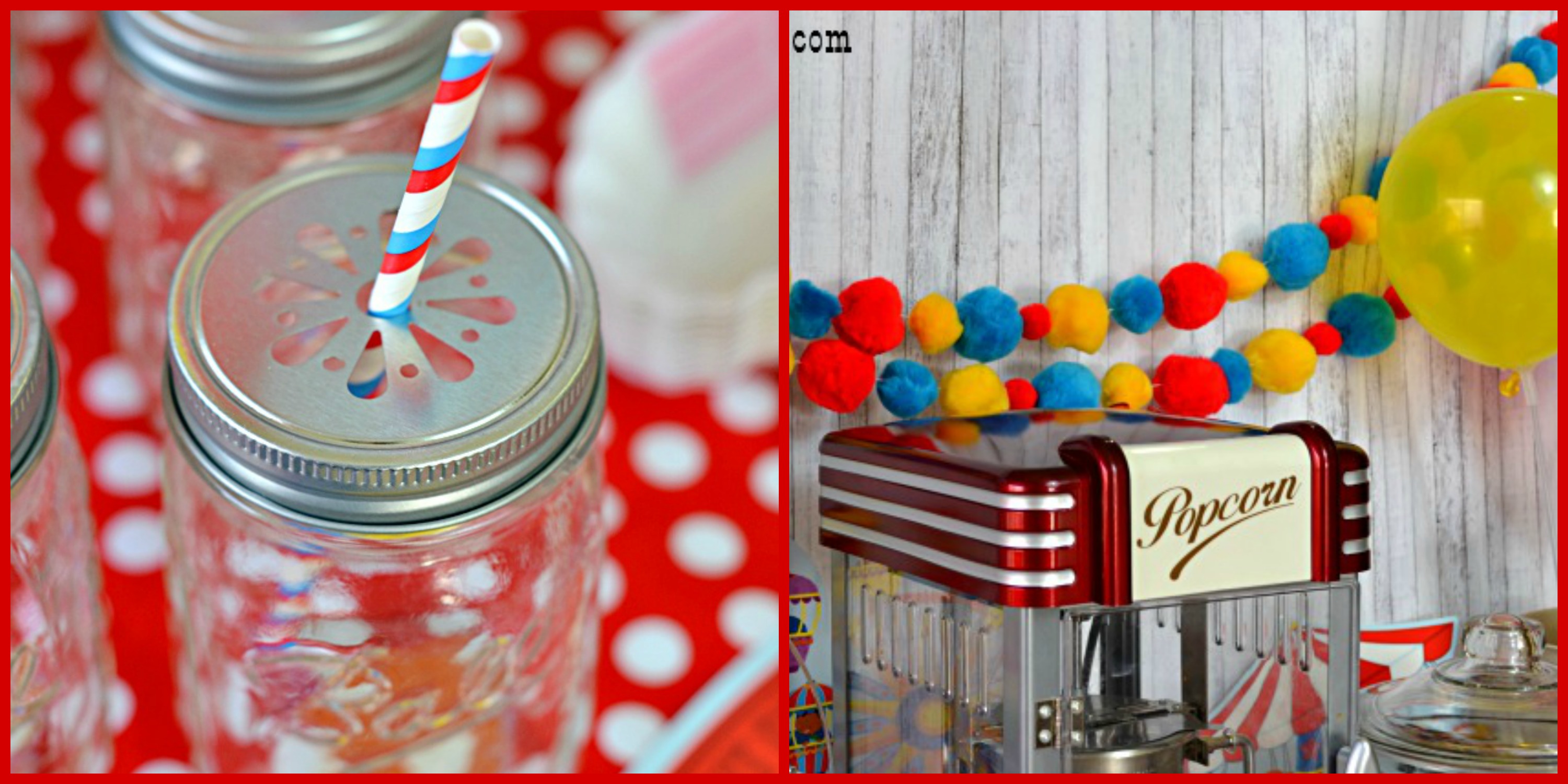 The last 3 items that brings this party all together is the MINI SWIRL LOLLIPOPS, POM POM GARLAND (I'll show you how to make your own garland, the name is the link) and of course BALLOONS!