Double Chocolate Brownie Stuffed Cookies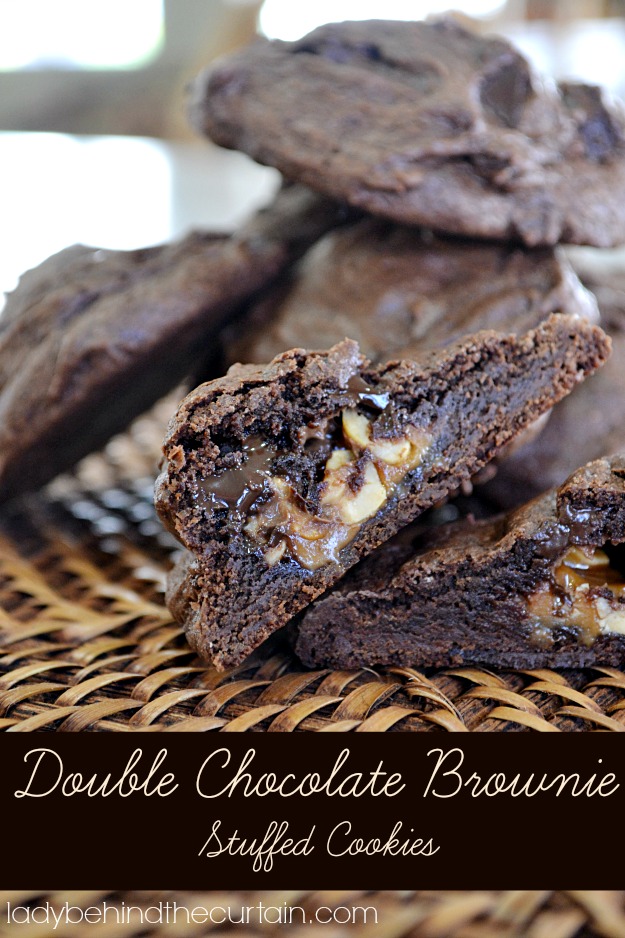 Do you LOVE chocolate or do you know someone who does?  These double chocolate brownie stuffed cookies will leave you on a chocolate high!
A VERY decadent flavorful cookie that has three levels to it.  The crunchy outside the gooey brownie and then the creamy candy bar filling.
WHAT A COOKIE!
ALSO A GREAT WAY TO USE UP LEFTOVER HALLOWEEN CANDY!
Double Chocolate Brownie Stuffed Cookies
Ingredients
9 ounces semisweet chocolate, chopped into chunks
3 ounces unsweetened chocolate, coarsely chopped
6 tablespoons butter
1 cup granulated sugar
3 eggs
1/2 teaspoon vanilla extract
1 cup all-purpose flour
1/4 teaspoon salt
9 snack size candy bars
Instructions
Preheat oven to 375 degrees.
Line cookie sheets with parchment paper.
In a heatproof bowl set over (but not touching) simmering water, melt 5 ounces semisweet chocolate, the unsweetened chocolate, and the butter.
Stir until smooth.
Set mixture aside to cool slightly, about 5 minutes.
Beat chocolate mixture and sugar on medium until well combined, about 3 minutes.
Add eggs, and mix until completely combined.
Beat in vanilla.
Add the flour and salt, and beat until just incorporated.
Stir in the remaining 4 ounces semisweet chocolate.
Cut snack size candy bars in half.
Drop 1 tablespoon of cookie batter onto the parchment lined cookie sheet ( 12 per sheet).
Top with half a candy bar and press into the batter.
Add another tablespoon of batter over candy bar.
Using your fingertips smooth the batter over the candy bar making sure it is completely covered.
Bake 12-15 minutes.
Transfer parchment and cookies to cool completely on wire rack.
https://www.ladybehindthecurtain.com/double-chocolate-brownie-stuffed-cookies/
MORE LEFTOVER HALLOWEEN CANDY RECIPES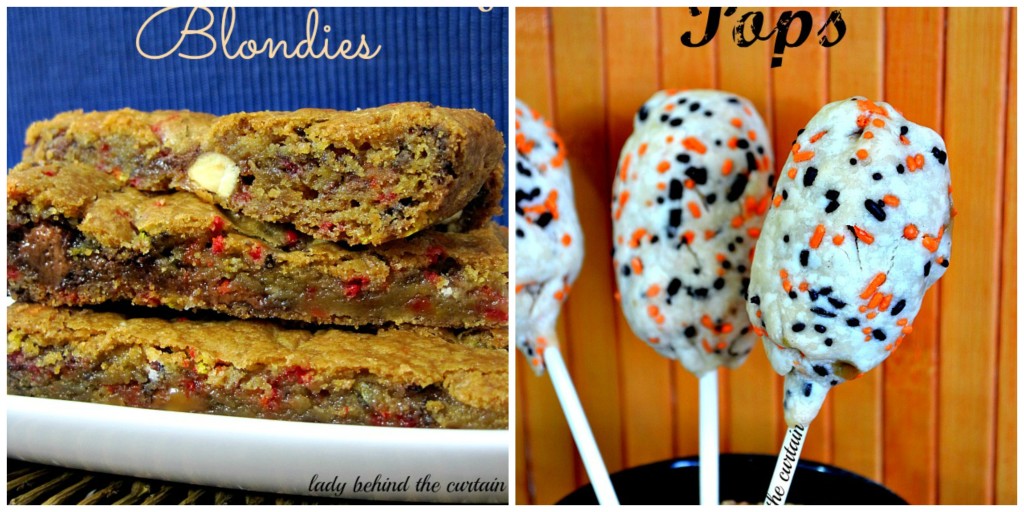 1.  LEFTOVER HALLOWEEN CANDY BLONDIES  2.  CANDY BAR POPS