MAKE THESE PERSIMMON BAGELS FOR BREAKFAST THANKSGIVING MORNING!
You can make these persimmon bagels in advance and freeze until you are ready to serve.
Making your own bagels is easier than you think.  Give the bagel shop a break and make your own.  The bagel shop bagels come in at least 290 calories and that's without any spread.  These bagels are 180 calories!  I made these with a mixer that has a bread dough hook.  If you don't have a mixer with a bread hook you can knead the dough until smooth about 6-8 minutes.
NOTE:  If you want to learn an easy way to make puree from your persimmons HERE is the link to show you how.
Add my LIGHT MAPLE NUT SPREAD only 30 calories per 2 tablespoons!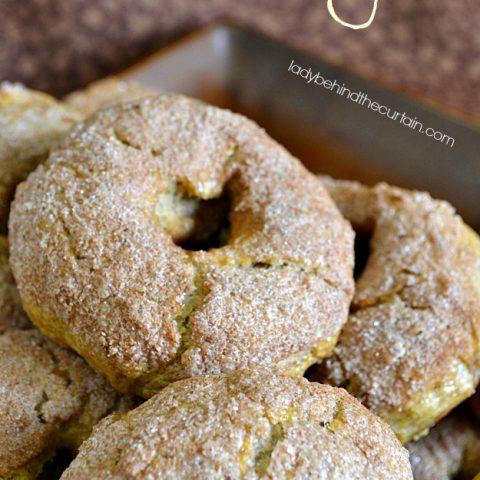 Persimmon Bagels
Prep Time:
1 hour
20 minutes
Total Time:
1 hour
40 minutes
Double the recipe and freeze half!
Ingredients
For the Persimmon Bagels:
2/3 cup water (70 to 80 degrees)
1 package (1/4 ounce) active dry yeast
1/2 cup persimmon pulp
1/3 cup packed brown sugar
1 teaspoon salt
1-1/2 teaspoons ground cinnamon
3/4 teaspoon ground nutmeg
1/2 teaspoon ground allspice
3 cups bread flour
1 egg white
1 tablespoon water
1 tablespoon cornmeal
For the Crunchy Topping:
1/4 cup granulated sugar
1 teaspoon ground cinnamon
Instructions
For the Persimmon Bagels:
In a large mixing bowl dissolve yeast in the warm water.
Add the persimmon pulp, brown sugar, salt, cinnamon, nutmeg and allspice; mix well. If using a mixer: add flour and mix until the dough comes together and forms a ball. If NOT using a mixer: Stir in enough flour to form a soft dough.
Turn onto a lightly floured surface; knead until smooth and elastic, about 6-8 minutes.
Place in a bowl coated with cooking spray, turning once to coat the top.
Cover with plastic wrap and let rise in a warm place until doubled, about 1 hour.
Punch down dough; shape into 9 balls. (I weighed mine, they came out to be about 2.9 ounces)
Push thumb through centers to form a 2-inch hole.
Stretch and shape dough to form an even ring.
Cover and let rest for 10 minutes.
Flatten rings slightly.
Fill a Dutch oven two-thirds full with water bring to boil.
Drop bagels, two at a time, into boiling water.
Cook 45 seconds; turn and cook 45 seconds longer.
My Favorite Turning Tool: Chop Sticks
Remove with a slotted spoon; drain on paper towels.
Whisk egg white and 1 tablespoon water, brush over bagels.
Mix together the crunchy topping ingredients.
Dip bagels into the topping mixture.
Coat a baking sheet with cooking spray and sprinkle with cornmeal.
Place bagels 2-inches apart on prepared pan.
Bake at 400 degrees for 15-20 minutes or until golden brown.
MORE BAGEL RECIPES
1.  LIGHT PUMPKIN SPICE BAGELS  2.  CRANBERRY ORANGE BAGELS