Lemon Leftover Baked Potatoes
Lemon Leftover Baked Potatoes: Leftover baked potatoes just got the most delicious makeover! Transform your leftover baked potatoes with fresh thyme and a lemon infused vinaigrette. So incredible and super easy to make. Who doesn't love fried potatoes?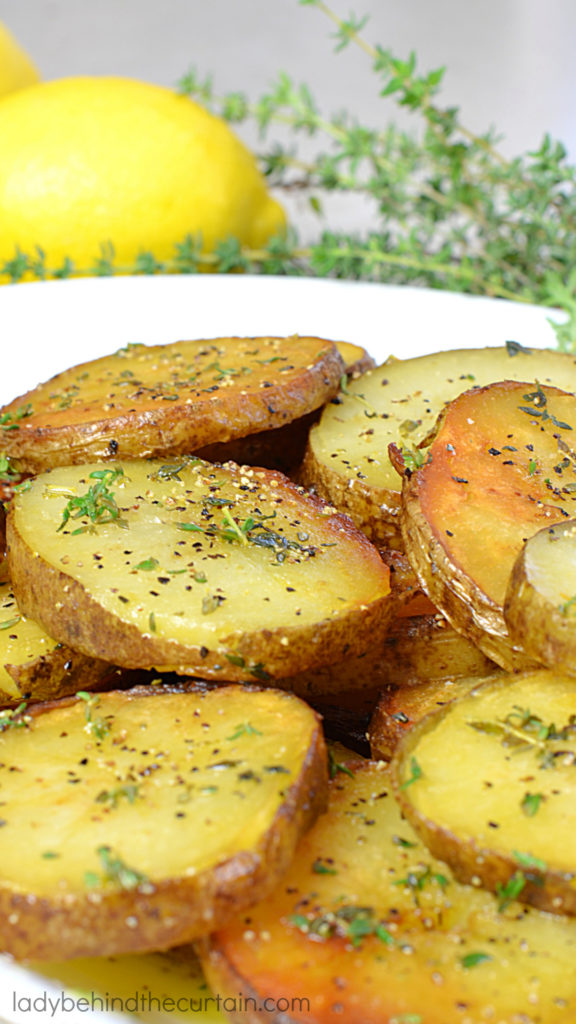 Dinner Party Idea
These potatoes disks are also perfect for dinner parties.  Just bake the potatoes a couple of days before (or the day before).  You can also make the vinaigrette ahead of time.  So these Lemon Leftover Potatoes are basically a hostesses dream side dish!
How to Make Lemon Leftover Baked Potatoes
INGREDIENTS FOR THE POTATOES (full printable recipe below)

5 medium baked potatoes
fresh thyme
olive oil
salt and pepper

INGREDIENTS FOR THE VINAIGRETTE (full printable recipe below)

olive oil
fresh lemon juice
salt
pepper
fresh thyme

DIRECTIONS FOR THE POTATOES (full printable recipe below)

Slice cold leftover baked potatoes into 1/4-inch slices.
Heat oil in a medium skillet; brown both sides of your potato slices.
Place on a plate lined with paper towels to drain.
Transfer potato slices to a bowl; drizzle vinaigrette over hot potatoes and stir to combine.

DIRECTIONS FOR THE VINAIGRETTE (full printable recipe below)

Add the oil, lemon juice, salt, pepper and thyme into a container with a lid.
Shake to combine; set aside until potatoes are ready.
The Best Baking Potato for the Job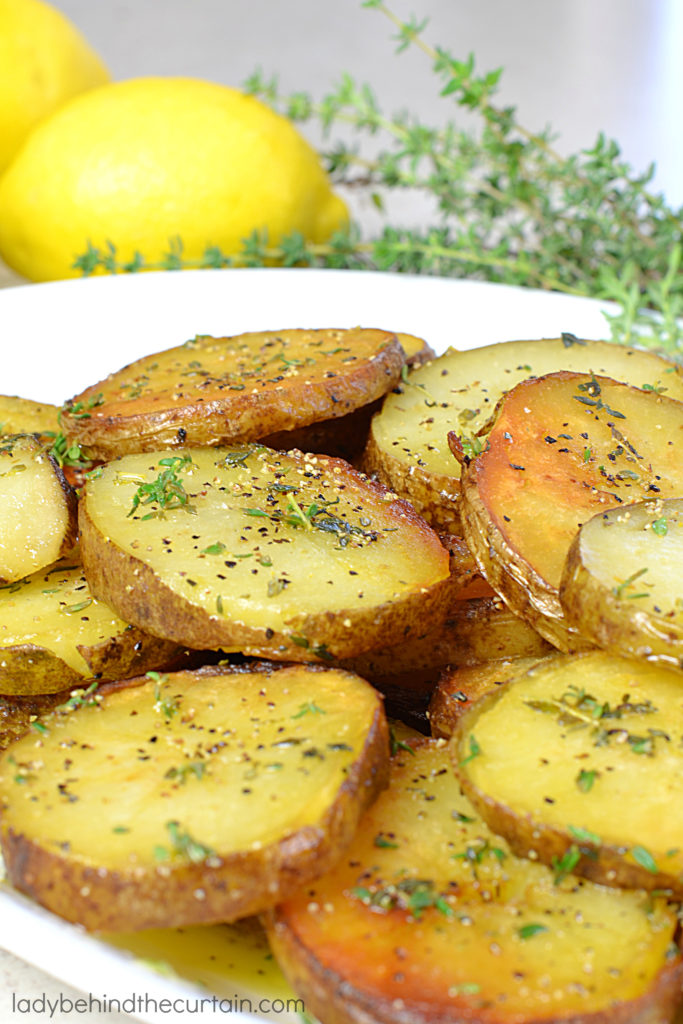 The best potatoes for baking aren't the same ones to dice into a chunky vegetable soup or slice into a gratin because potatoes have a range of sizes, textures, absorbency, and starchiness.
STARCHY POTATOES: Russet or Idaho potatoes are ideal for baking, mashing, and frying.
WAXY POTATOES: Red Bliss, Russian Banana, and Fingerlings are best to use in any recipe where you want the potato to keep its shape.
ALL-PURPOSE POTATOES: Yukon Gold and Purple potatoes have moderate amounts of starch and moisture, so they can be used in most recipes (mashed, steamed, or roasted).
FOR THIS LEMON LEFTOVER BAKED POTATO RECIPE….USE RUSSET OR IDAHO POTATOES
MORE POTATO RECIPES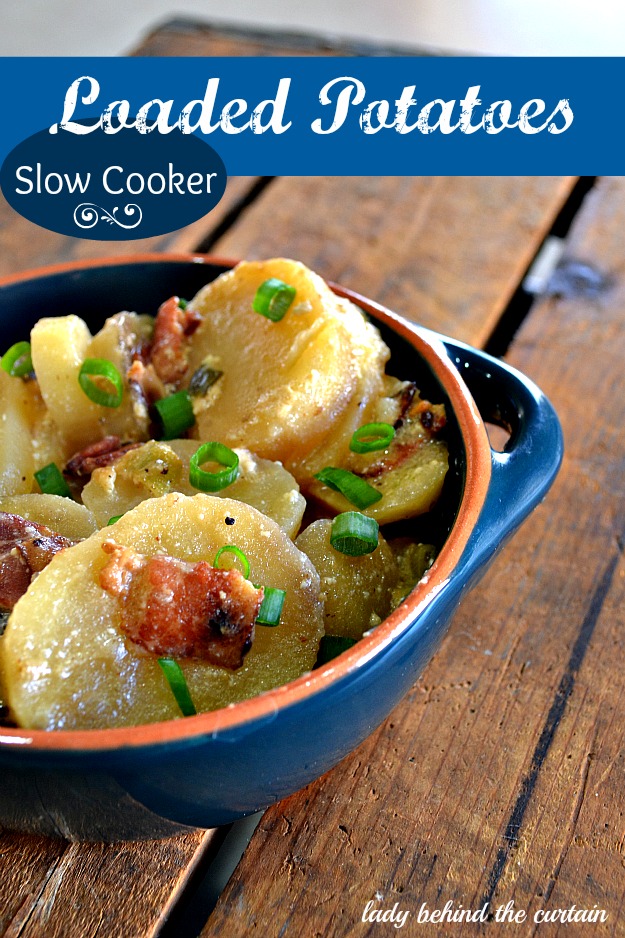 SLOW COOKER LOADED POTATOES 2. CREAMY SLOW COOKER SCALLOPED POTATOES 3. CREAMY RANCH POTATOES
SIGN UP FOR THE LADY BEHIND THE CURTAIN NEWSLETTER AND FOLLOW THE LADY BEHIND THE PARTY ETSY SHOP
THANKS FOR VISITING♥