Cheesy Roasted Garlic Potato Croquettes
These Cheesy Roasted Garlic Potato Croquettes are full of flavor.  I mean how can you go wrong with a WHOLE bulb of GARLIC!  These are super easy to make, and can be served either at a nice dinner party or on GAME DAY!!  TIP:  This would be a GREAT solution to all the leftover mashed potatoes from your Thanksgiving or Christmas dinner.  The next day while the men are watching their football, serve these along with their turkey sandwiches.  YUM!  You can roast the garlic a couple of days in advance.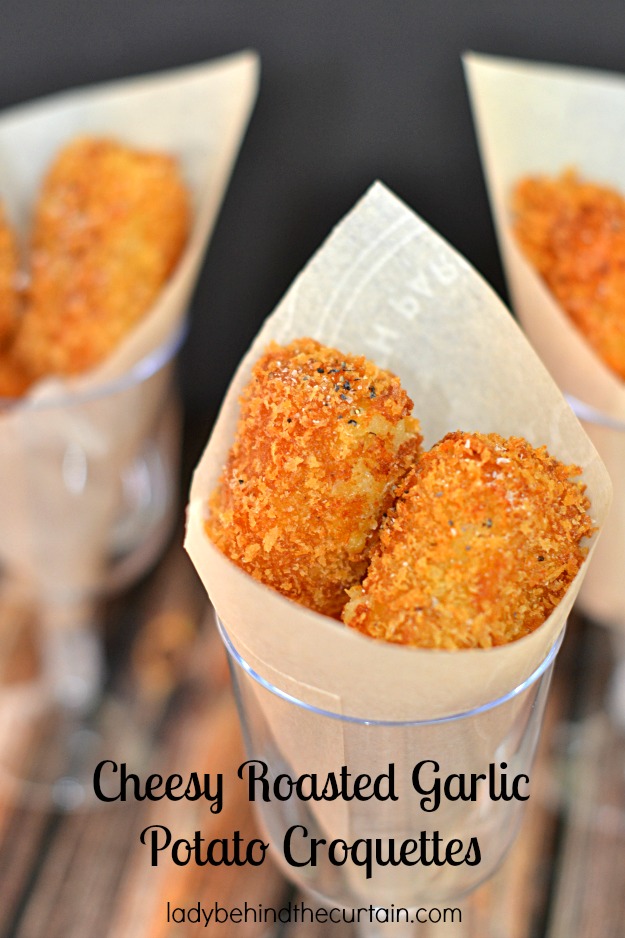 Have you ever roasted garlic?  If you a big fan of garlic then are you going to love the rich and believe it or not sweetness roasting gives garlic.  Even if you're not a fan (like me) you will love the delicious flavor of roasted garlic.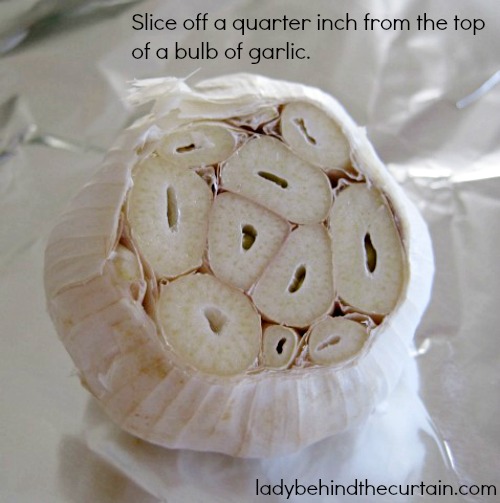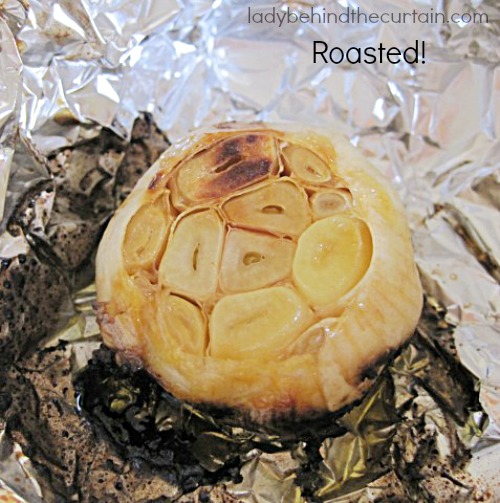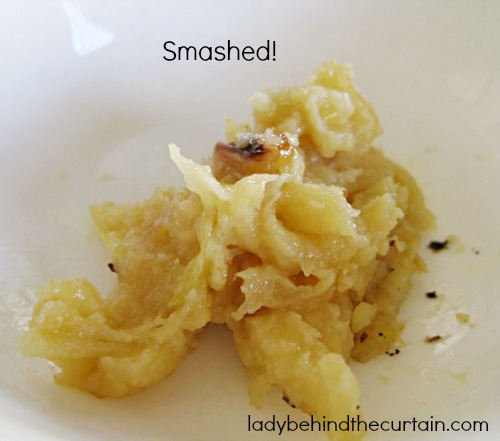 Once the ingredients have been mixed together, form into short logs almost like tater tot but a little longer, roll in the eggs, bread crumbs, egg again and lastly the panko and fried until golden brown.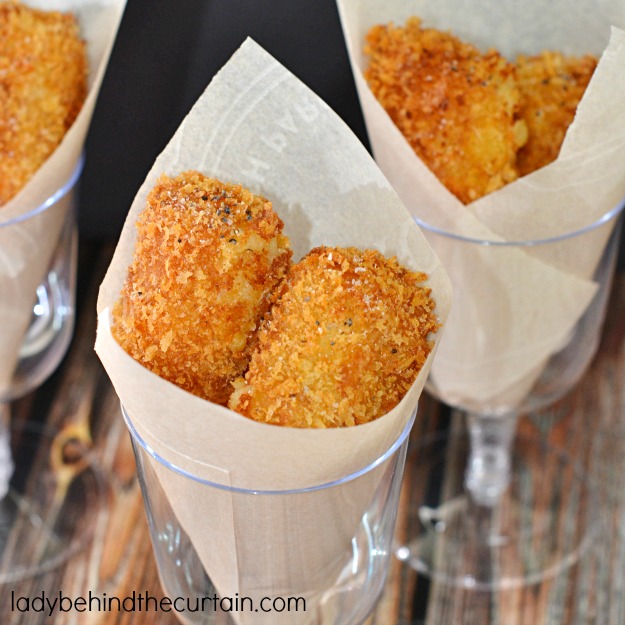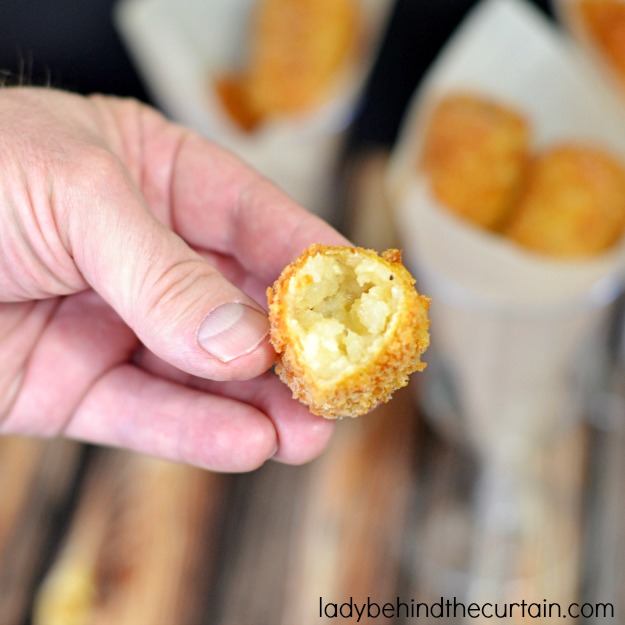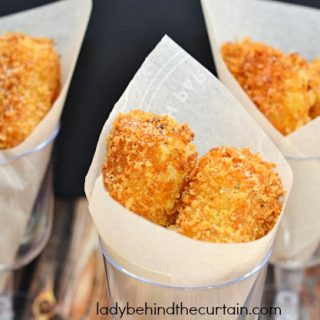 Cheesy Roasted Garlic Potato Croquettes
Yield:
Makes 25 appetizers
Ingredients
For the Garlic:
1 bulb garlic
1 olive oil
salt and black pepper to taste
For the Potatoes:
3 to 4 medium potatoes, baked (to make 2 cups of potatoes)
3 tablespoons butter
1 1/2 teaspoons salt
1/4 teaspoon black pepper
For the Assembly:
2/3 cup freshly shredded Gruyere cheese
3 large eggs, slightly beaten
1 1/2 cups plain bread crumbs
1 1/2 cups panko crumbs
oil for frying
Instructions
For the Garlic:
Preheat oven to 400 degrees.
Cut 1/4-inch off the top of the bulb of garlic to expose the cloves beneath but do not peel the garlic, you want to roast it in the skin.
Place clove on a piece of aluminum foil, drizzle some olive oil on top and sprinkle with salt.
Bring up all sides of foil and twist to close.
Cook for 60 minutes or until garlic cloves are soft and golden.
Allow to cool.
In a bowl either squeeze or use a fork to get out the roasted garlic and smash with a fork.
For the Potatoes:
Cut baked potatoes in half and scoop out the inside.
Add the potato to the bowl with the smashed garlic along with the butter, salt and pepper.
Stir to combine until butter is melted.
Stir in cheese.
For the Assembly:
Using a tablespoon of the mixture form into short logs and place on a cookie sheet lined with wax paper.
Use three pie plates or shallow bowls, add the slightly beaten eggs to one, plain bread crumbs to another and the panko crumbs to the third.
Dip each croquette into the egg, then coat in bread crumbs; then dip in egg and bread crumbs again to double coat.
Repeat with remaining potato croquettes.
Heat 2 inches of oil in a large pan or pot.
TIP: Once oil starts to shimmer sprinkle in a few bread crumbs, if it sizzles the oil is ready.
Fry potato croquettes in batches until golden brown, about 3-4 minutes.
Using a slotted spoon or two forks transfer to a paper towel lined wire rack.
Sprinkle with salt, allow to cool for a couple of minutes or keep warm in a 250 degree oven until ready to serve.

MORE GAME DAY APPETIZERS
1. TWICE BAKED POTATOES  2. JALAPENO POPPER POPS  3. SLOW COOKER MUFFULLETTA DIP
NEVER MISS A POST!
Sign up for my newsletter and receive my recipes in your inbox. Easy to see anytime and saved for safe keeping. Click Here and sign up today! —->>>>CURTAIN CALL NEWSLETTER