Microwave Vanilla Krispy Treats
These easy to make Microwave Vanilla Krispy Treats have a few changes.  Like everyone I have been making Rice Krispy Treats since the beginning of time and being the AWESOME grandma that I am 🙂  I decided to make some for my granddaughters FULL OF SPRINKLES!  You know my motto EVERYTHING is better with SPRINKLES!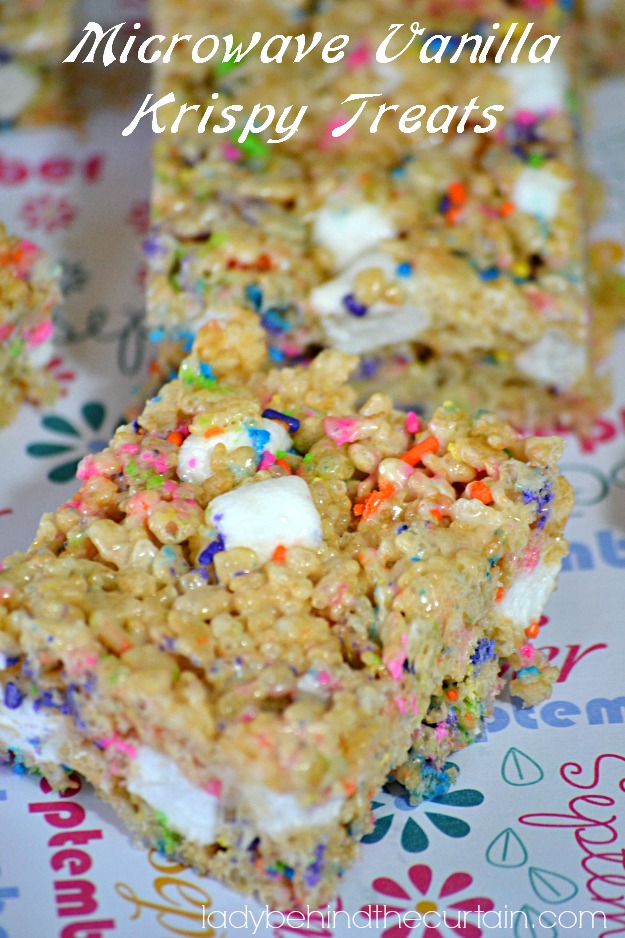 This time I did several things differently.  First, (this is my favorite NEW step) I started by melting my butter and marshmallows in the microwave and added vanilla.  Then I had a bag of mini marshmallows that only had a cup in it so I decided to add those whole without melting them.  With my NEW steps I not only simplified the making process but I added a couple more layers of flavor with the additions of vanilla and whole mini marshmallows.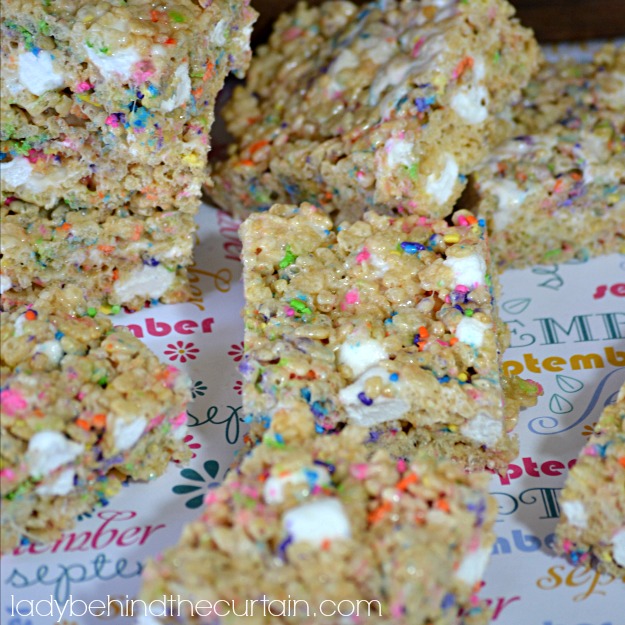 Create your own Recipe Box and save your favorite Lady Behind The Curtain recipes.  Make a Meal Plan with your favorite recipes and ZipList will automatically add the ingredients to a Shopping List.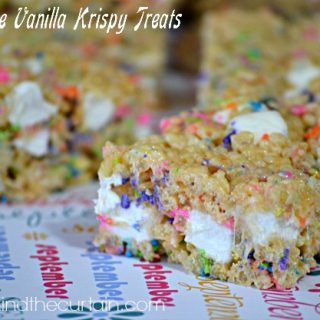 Microwave Vanilla Krispy Treats
Ingredients
6 cups crispy rice cereal
3 tablespoons butter
1 (10 ounce) bag mini marshmallows
1 teaspoon vanilla extract
4 tablespoons sprinkles
1 cup mini marshmallows
Instructions
Measure cereal into a bowl and set aside.
Spray 9x13-inch baking dish with non stick cooking spray and set aside.
In a large microwave safe bowl add the butter and marshmallows.
Microwave 30 seconds, stir... continue microwaving in 30 second intervals until the marshmallows and butter are melted and creamy (about 1 minute and 30 seconds).
Add vanilla, stir until combined.
Pour measured cereal into marshmallow bowl, stir until almost combined; add the sprinkles and mini marshmallows; continue stirring until heated marshmallow mixture has coated all the cereal.
Pour into prepared baking dish, press cereal into dish.
Cover with plastic wrap and let cool completely before cutting into squares.