Mini Candy Corn Pinata Cake Pop Cones
Mini Candy Corn Pinata Cake Pop Cones | Two treats in one!  A delicious candy corn cake pop on top and candy corn on the inside!  The kids will go crazy for this fun Halloween party treat!
PRODUCTS:  Mini candy corn (found at Target), regular size candy corn VS mini, mini ice cream cones (found at Walmart) and candy corn candy melts (found at Michaels).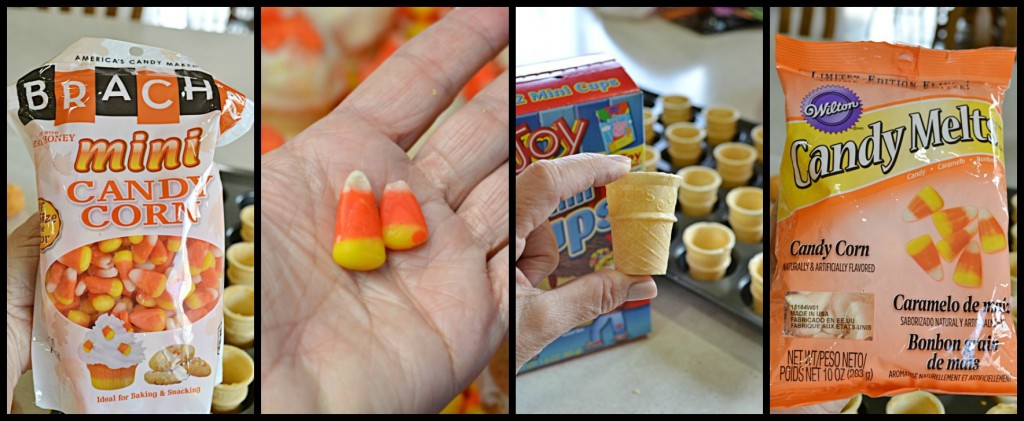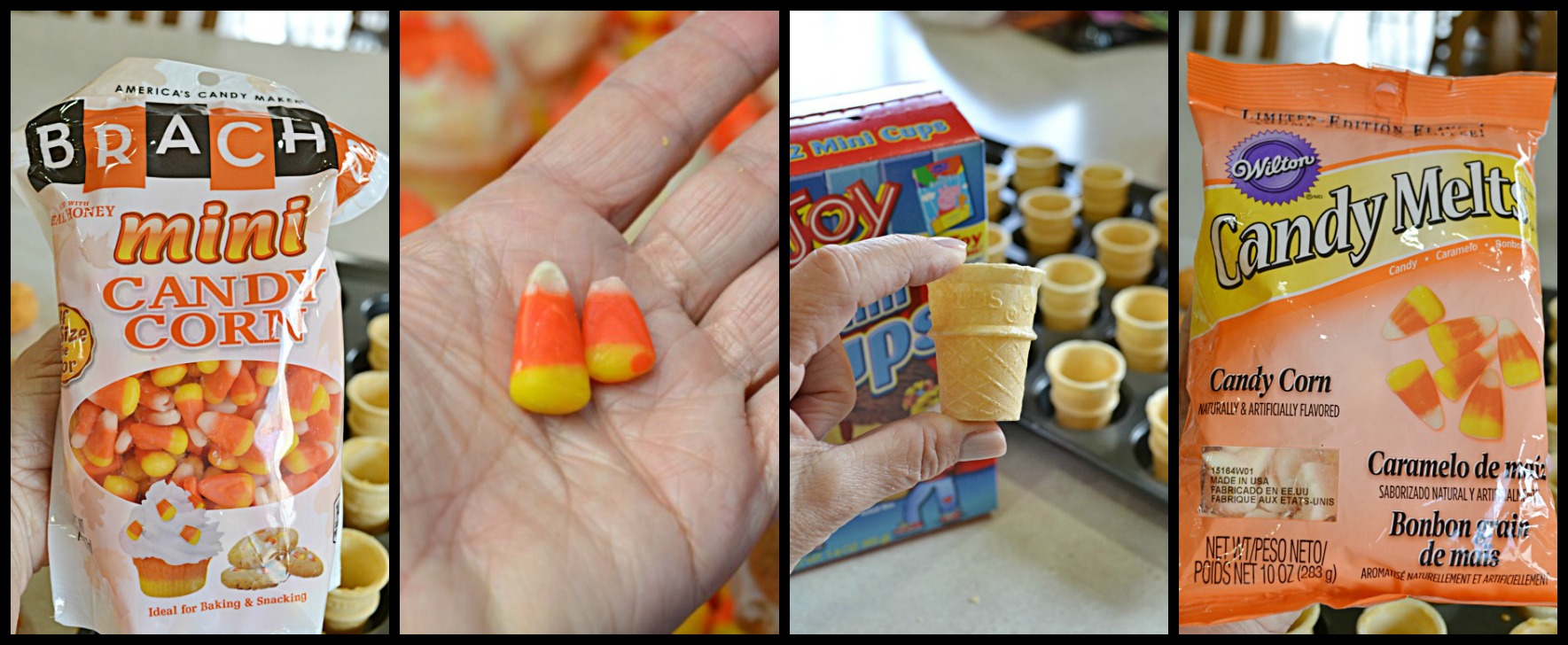 Fill and zip top bag with the batter; snip one corner and fill each mini cone up to three-fourths full.  Bake and color the frosting.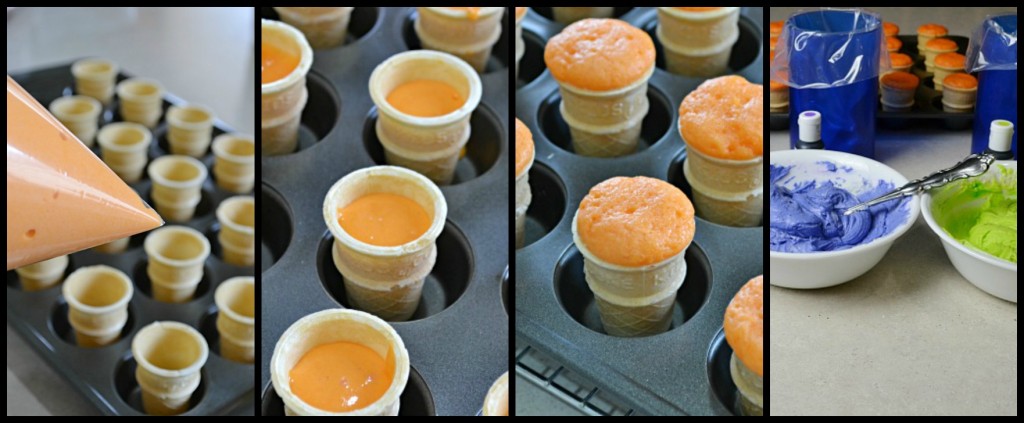 Make the cake pops and fit them on top of the cones; take the cake pops off, dip the tops of the cones in melted candy, fill with mini candy corn and place cake pops make on top of cone.  Wait for the candy to harden and then dip the whole top in melted candy.  NOTE:  The reason for fitting the cake pops to the top of the cones before, is so that the whole process of putting these fun pops together will go quickly before the candy has a chance to harden.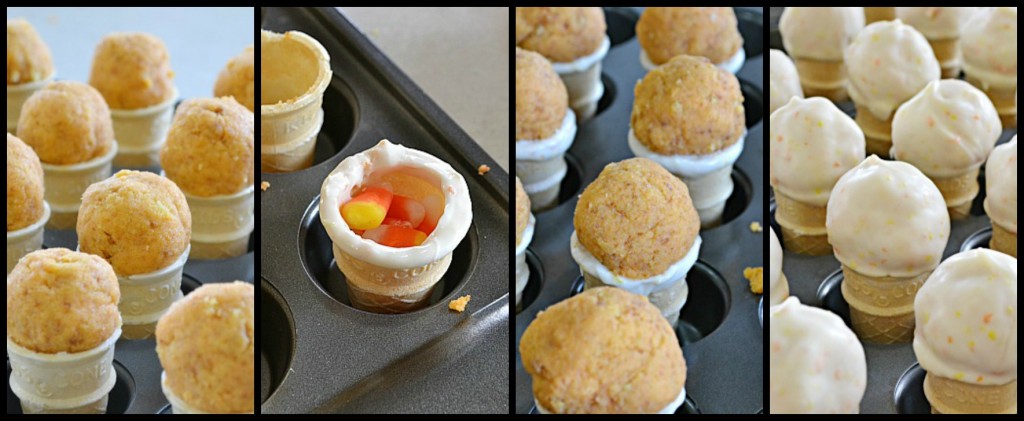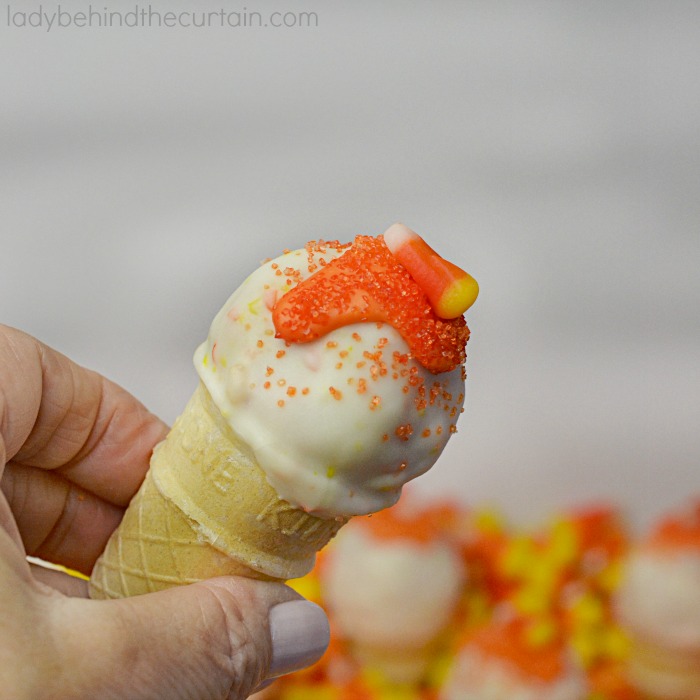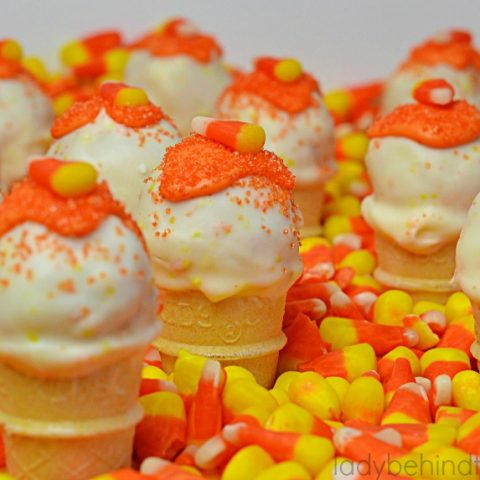 Mini Candy Corn Pinata Cake Pop Cones
Yield:
Makes 30 Mini Cake Pop Cones
Ingredients
1 (15.25 ounce) yellow cake mix plus ingredients on box to make a cake
1 (16 ounce) can candy corn frosting
30 mini cones
candy corn flavored candy melts
1 (14 ounce) bag mini candy corn
Instructions
Bake cake as directed on the box in a 9x13-inch baking pan.
Let cool completely (best if used the next day).
Crumble cake into a large bowl; add 3/4 cup frosting and mix until the cake forms a ball.
Place mini cones in the well of mini muffin tins.
Form the balls and fit them on the cones. This is done ahead of time to ensure that the balls fit properly.
Take the balls off the cones.
Melt some of the candy corn flavored candy melts in the microwave about 30 seconds or until melted and creamy.
Dip ONE cone at a time into the melted candy; fill with mini candy corn and fit a pre-made ball on top.
Place the cone back into the mini muffin well.
Once all the cones have been dipped, filled and the balls have been place on top; store in the refrigerator until candy hardens (about 10 minutes)
Melt enough of the candy melts to cover all the cake pops.
NOTE: If candy melts are too thick try adding a tablespoon of shortening. This should loosen up the candy and make dipping a lot easier.
Dip the whole cake pop into the melted candy; place back into the well of the mini muffins pans and place in refrigerator one more time to harden (about 10 minutes).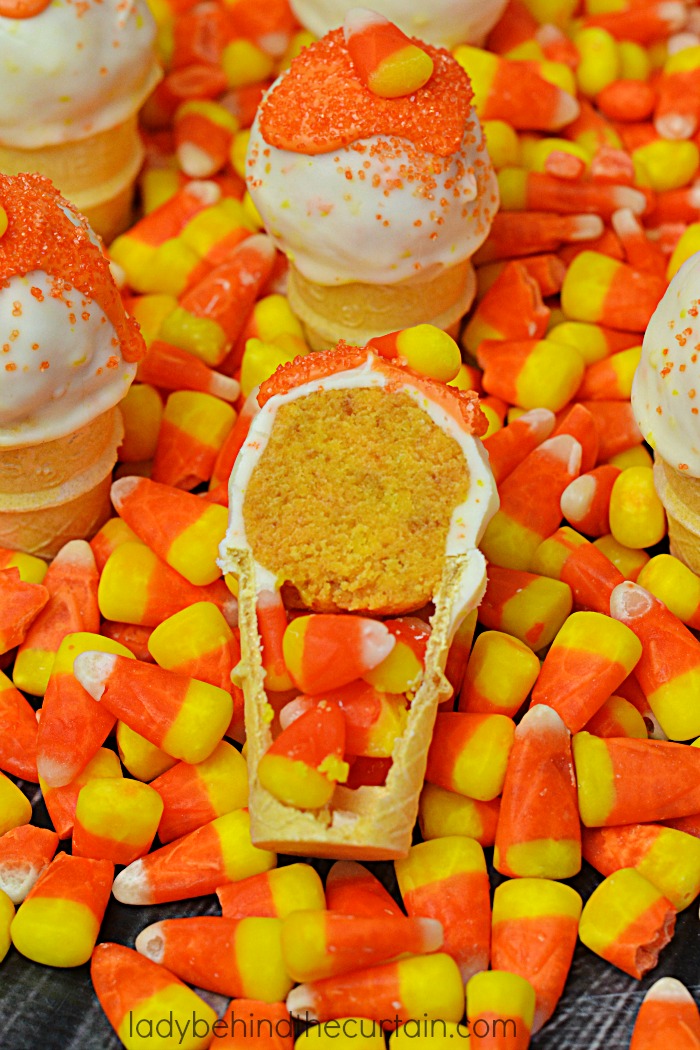 MORE HALLOWEEN PARTY RECIPES