Wicked Witch Finger Halloween Pretzels
Wicked Witch Finger Halloween Party Pretzels: Create a fun and creepy Halloween Dessert Table starting with these amazing Halloween Decorated Pretzels. The finger pretzels are super easy to make, taste great and can go with many Halloween Party Themes. The sweet and salty flavors go perfectly together.
Wicked Witch Finger Halloween Pretzel Party Themes
Even though these Halloween Party Pretzels are intended for a witch themed party, there are some other party themes for these fun decorated pretzels.

Halloween (any theme)
Zombie
Monster (Halloween or Birthday)
Wizard of Oz
For a Closer Look… Watch My Video—How to Decorate Pretzels
How to Make Wicked Witch Finger Halloween Pretzels
INGREDIENTS (complete printable recipe below)

pretzel rods
lime green candy melts
sliced almonds
unsweetened cocoa powder

DIRECTIONS

Put a piece of parchment paper on a cookie sheet.
Go through the sliced almonds to find the "perfect" fingernails and set aside.
Pour candy in a microwave safe bowl or jar.
Microwave 60 seconds at 100% , stir, microwave again in 30 second intervals at 60% until candy is melted and creamy.
NOTE: If the candy is too thick…add 1 tablespoon of shortening to thin out the candy.
Once the candy is melted and coating consistency, use a spoon and coat the pretzel rod with candy, tap on the edge of the bowl to get rid of any excess candy.
Lay on prepared cookie sheet and add an almond.
Place the finished pretzels in the refrigerator to harden.
Once candy has hardened, use a spoon and add a thick layer on the top in a squiggly line. Place back in the refrigerator to harden.
When last layer of candy is hardened use a paint brush and dust on cocoa.
Make sure you also add cocoa to the fingernails (almonds).
HOW EARLY CAN I DECORATE THE PRETZELS?
THE VERSATILITY OF THESE WICKED WITCH FINGER HALLOWEEN PRETZELS
First, I'll add the obvious and that is to simply put them in a jar and place them on the dessert table.
Use a serrated knife and cut the pretzel rods the height of a cake, decorate pretzels and place them around the outside of a frosted layered cake. BAM!
Hand out as party favors. You can purchase cellophane bags made specifically for pretzels. Add a thank you tag and you're set!
Create a centerpiece! Fill containers (like jars or buckets) with the decorated pretzels and line them down the center of a table. Perfect for a kids party!
DID YOU KNOW?
There is a whole category dedicated to decorated pretzels? CLICK HERE FOR OVER 30 IDEAS→DECORATED PRETZELS FOR ANY OCCASION
PLANNING A HALLOWEEN PARTY? LOOK BELOW FOR ALL MY HALLOWEEN THEMED PARTY DEOCRATIONS DESIGNED BY LADY BEHIND THE PARTY (ME)
WITCH WAY TO THE TREATS HALLOWEEN PARTY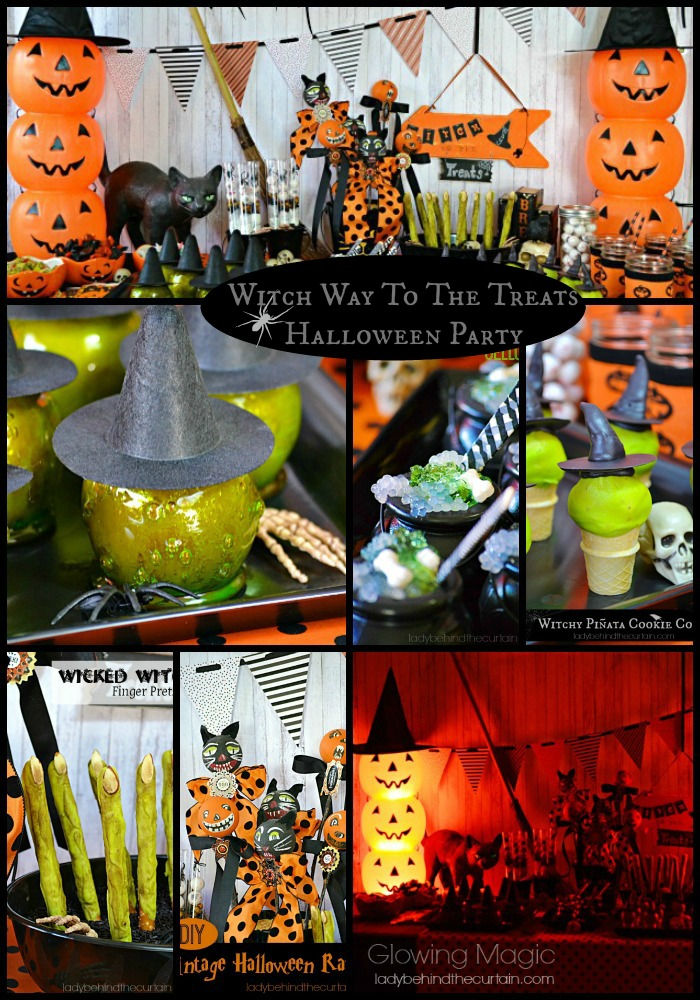 MORE DECORATED HALLOWEEN PRETZEL IDEAS
NEVER MISS A POST