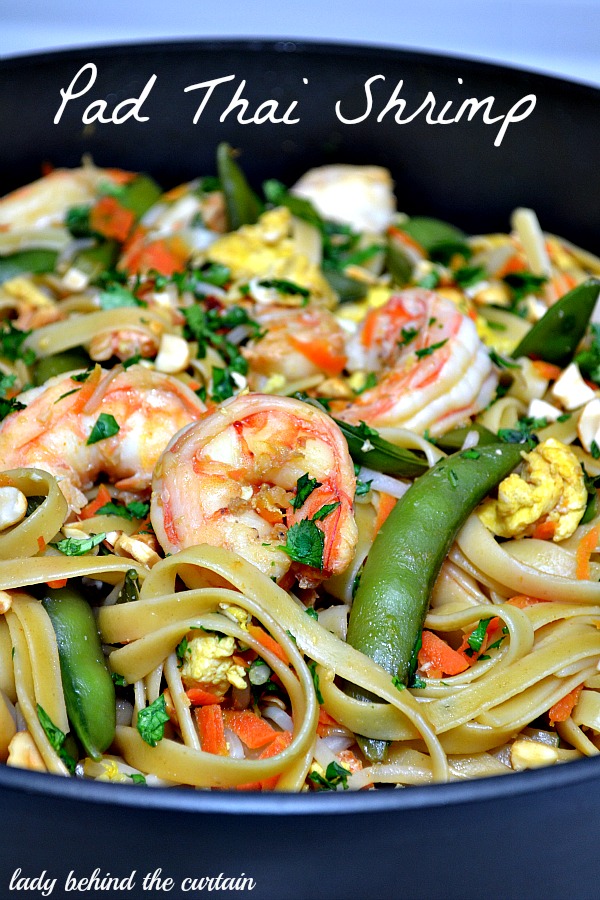 Spicy, saucy and tasty.  This recipe offers such a great combination of flavors.
Pad Thai Shrimp Recipe (serves 6)
Ingredients
12 ounces fettuccine noodles
1/2 cup rice vinegar
6 tablespoons reduced-sodium soy sauce
4 tablespoons sugar
4 tablespoons fish sauce or additional reduced-sodium soy sauce
2 tablespoons lime juice
2 teaspoons Thai chili sauce
2 teaspoons sesame oil
1/4 teaspoon crush red pepper flakes
1-1/2 pounds uncooked jumbo shrimp, peeled and deveined
3 teaspoons sesame oil, divided
2 cups fresh snow peas
2 medium carrots, grated
2 garlic cloves, minced
3 eggs, lightly beaten
2 cups bean sprouts
3 green onion, chopped
1/4 cup fresh cilantro, chopped
1/4 cup dry roasted peanuts, chopped
Directions
Cook noodles according to package directions.  In a medium bowl or jar, combine the vinegar, soy sauce, sugar, fish sauce or additional soy sauce, lime juice, chili sauce, oil and pepper flakes until blended; set aside.
In a large nonstick skillet or wok, stir fry shrimp in 2 teaspoons oil until shrimp truns pink; remove and keep warm.  Stir fry snow peas and carrots in remaining oil for 1-2 minutes.  Add garlic, cook 1 minute longer or until vegetables are crisp-tender.  Add the eggs; cook and stir until set.
Drain noodles.  Add the shrimp, noodles, bean sprouts and green onions to the vegetable mixture.  Stir in the vinegar mixture.  Bring to a boil.  Sprinkle with cilantro and peanuts.  This recipe is from Taste of Home Healthy Cooking February/March 2012 magazine.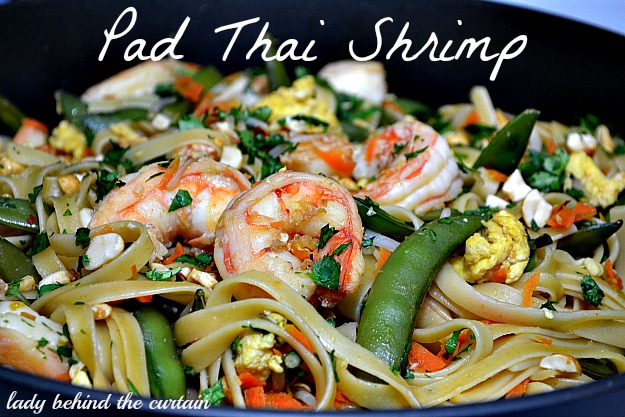 I SHARED THIS IDEA/RECIPE AT THESE PARTIES