Pumpkin Pecan Bread Pudding Recipe
This shop has been compensated by Collective Bias, Inc. and its advertiser. All opinions are mine alone. #YourSeasonIsServed #CollectiveBias
Pumpkin Pecan Bread Pudding Recipe | This semi homemade bread pudding is the best!  With layers of cream soaked Challah bread, dollops of pumpkin pie and a pecan streusel on top that is to die for.  But….wait I didn't stop there!  No…..I also added a generous dollop of rich creamy Reddi-wip® and a drizzle of caramel topping.  Trust me when I say…your guests will flip over this bread pudding and I am confident that it will become a family tradition.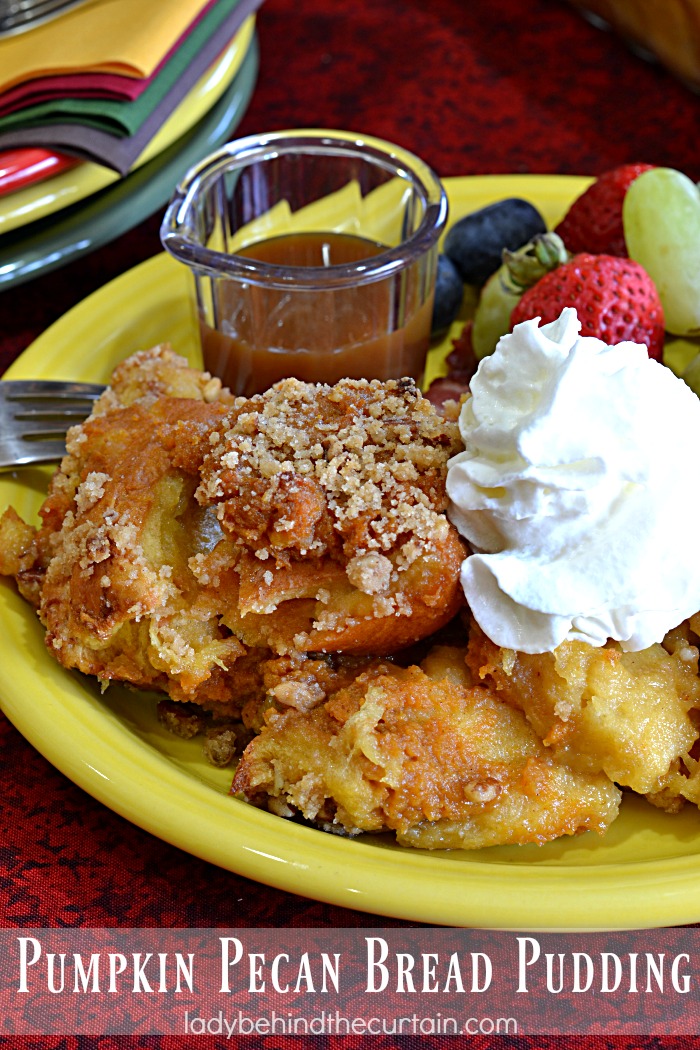 I know the holiday season can be exhausting and stressful.  Picking the perfect tree, shopping for the perfect gift and making the perfect meal.  That's why I created this recipe!  So that no matter what was going on you could provide your guests with the "perfect" breakfast or brunch dish.  The good news is….this bread pudding is made from a Marie Callender's Pumpkin Pecan Streusel Pie!  I know!  I bet you didn't see that coming.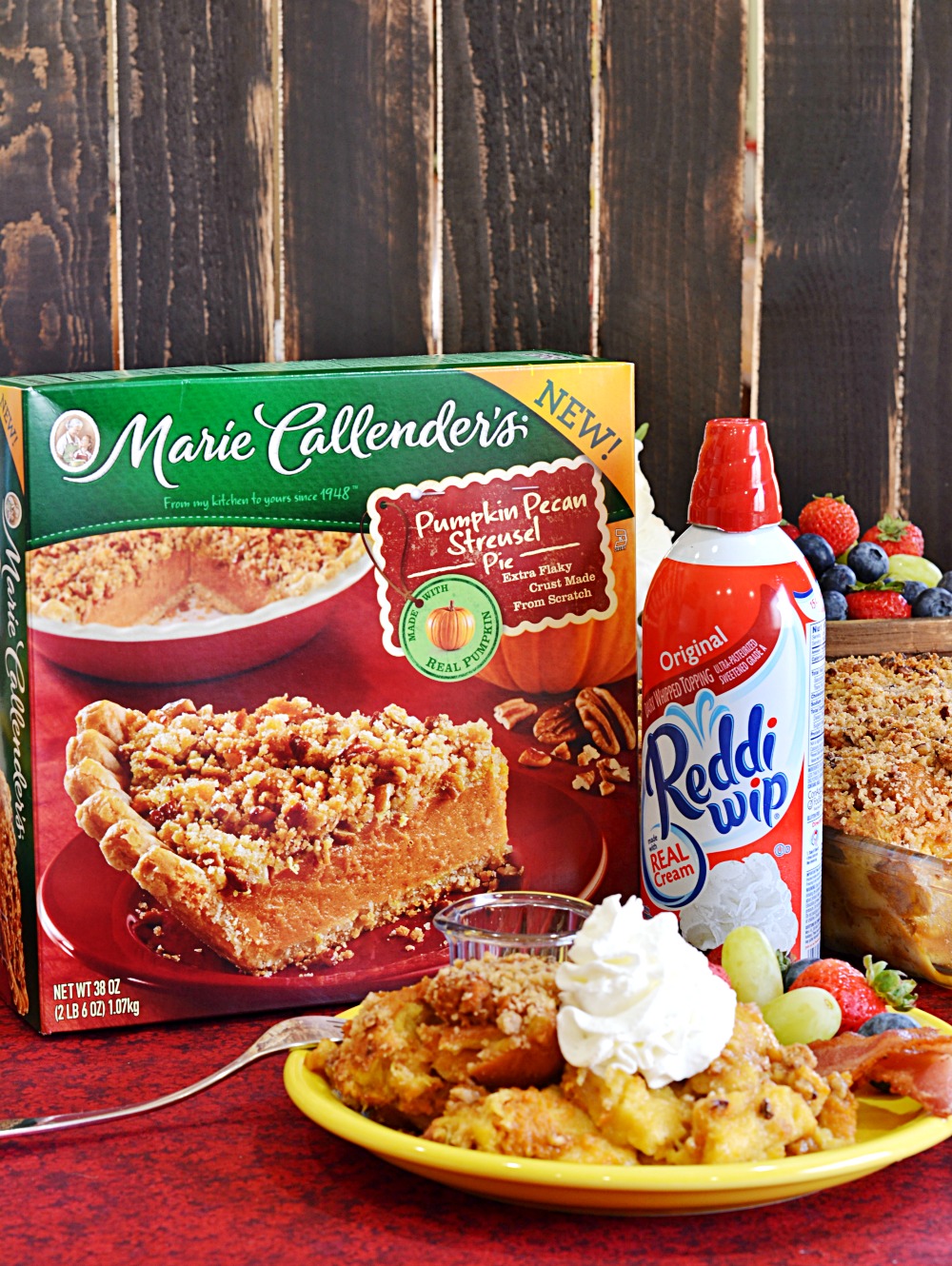 I found both the Marie Callender's Pumpkin Pecan Streusel Pie and the Reddi-wip® at my local Kroger (Fry's) store!
Find Marie Callender's Dessert Pies and Reddi-wip® products in a Kroger or Kroger banner store near you.  Kroger banners includes Dillons, King Soopers, Frys, Fred Meyer, Ralphs, Food 4 Less, QFC, Smiths and Harris Teeter. Find a store near you.

FREE REDDI-WIP® (6.5 ounce): Discount automatically applied at register with qualifying purchase.  Must use shopper card with purchase.  Participating locations only.  Offer starts 11/16/16 and expires 11/24/16.  See store for additional details.  Limit 1 per transaction.
To help simplify your life even more….you can bake the pies two days ahead, make the bread pudding the night before and pop it in the oven the morning of your breakfast or brunch.  NOTE: If you choose to make this recipe the night before, the bread pudding will be ice cold.  Place the bread pudding in a cold oven and then turn it on.  As the oven heats it will also warm up the bread pudding keeping the baking time at approximately 30 minutes.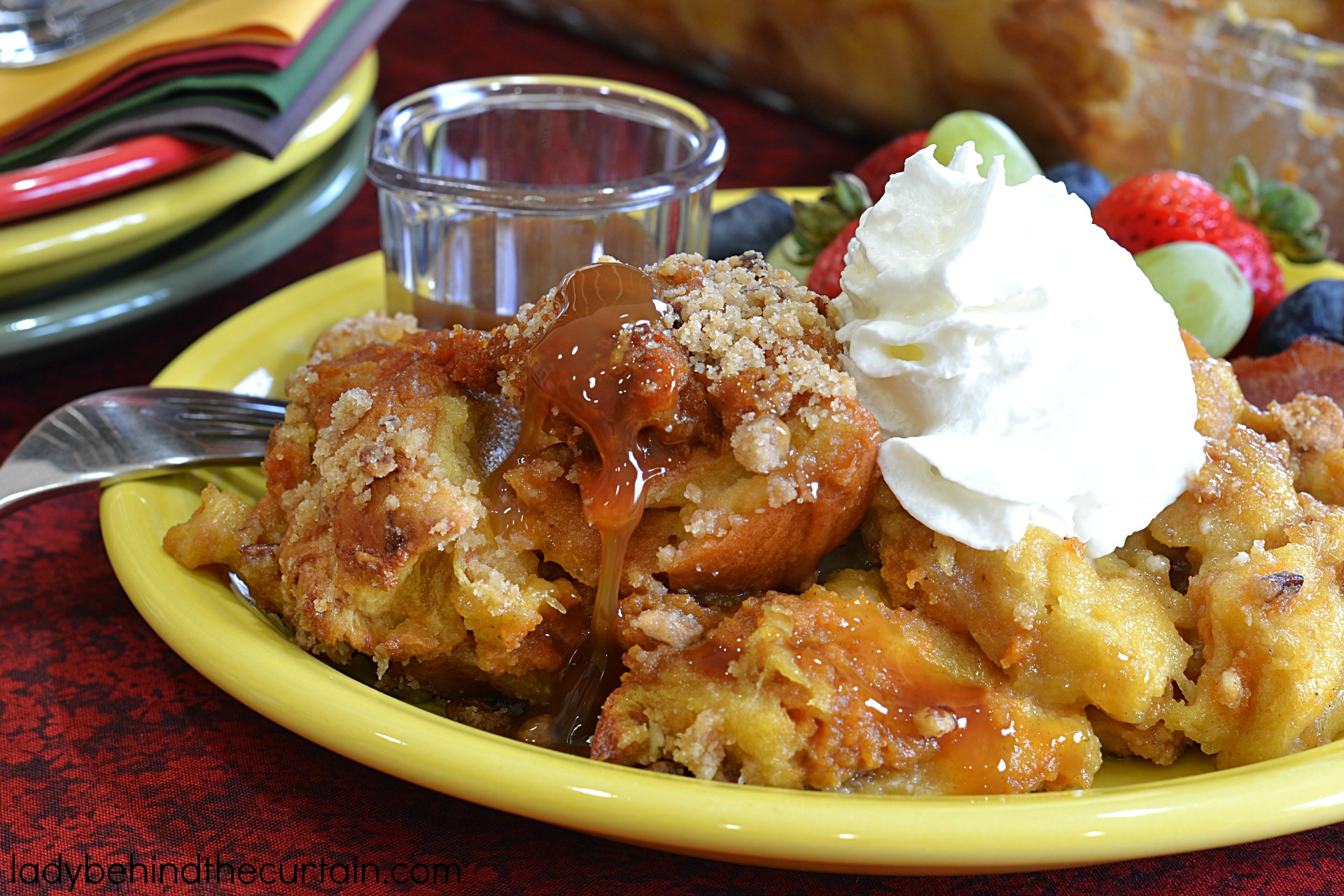 For this recipe bake the Pumpkin Pecan Streusel Pies.  Scoop out the filling and set aside.
Cut Challah bread into cubes.  If you can't find Challah bread you can also use French bread.
Whisk together the eggs, creamer, brown sugar and salt.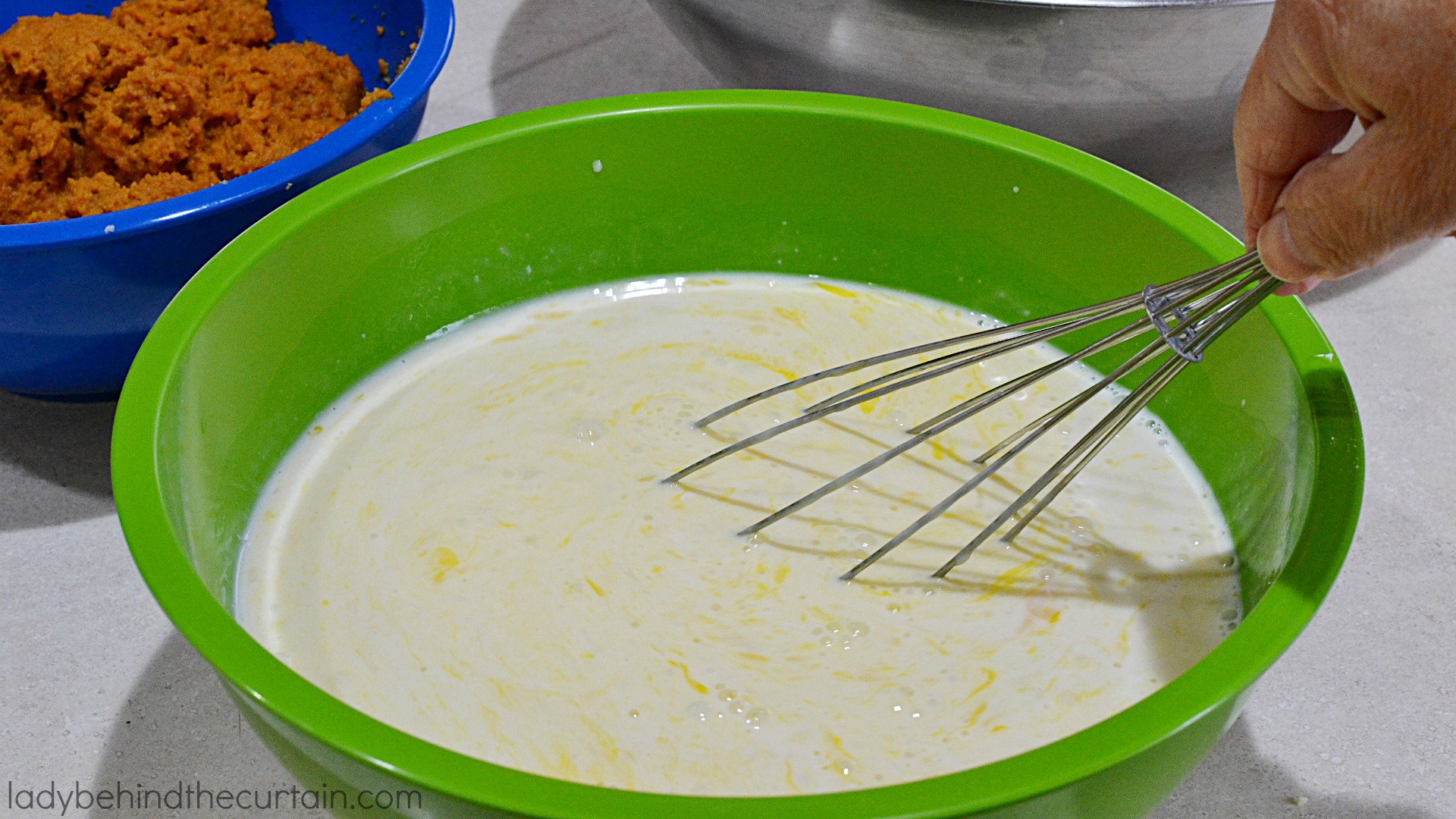 Pour egg mixture over bread and soak until all the bread is moist.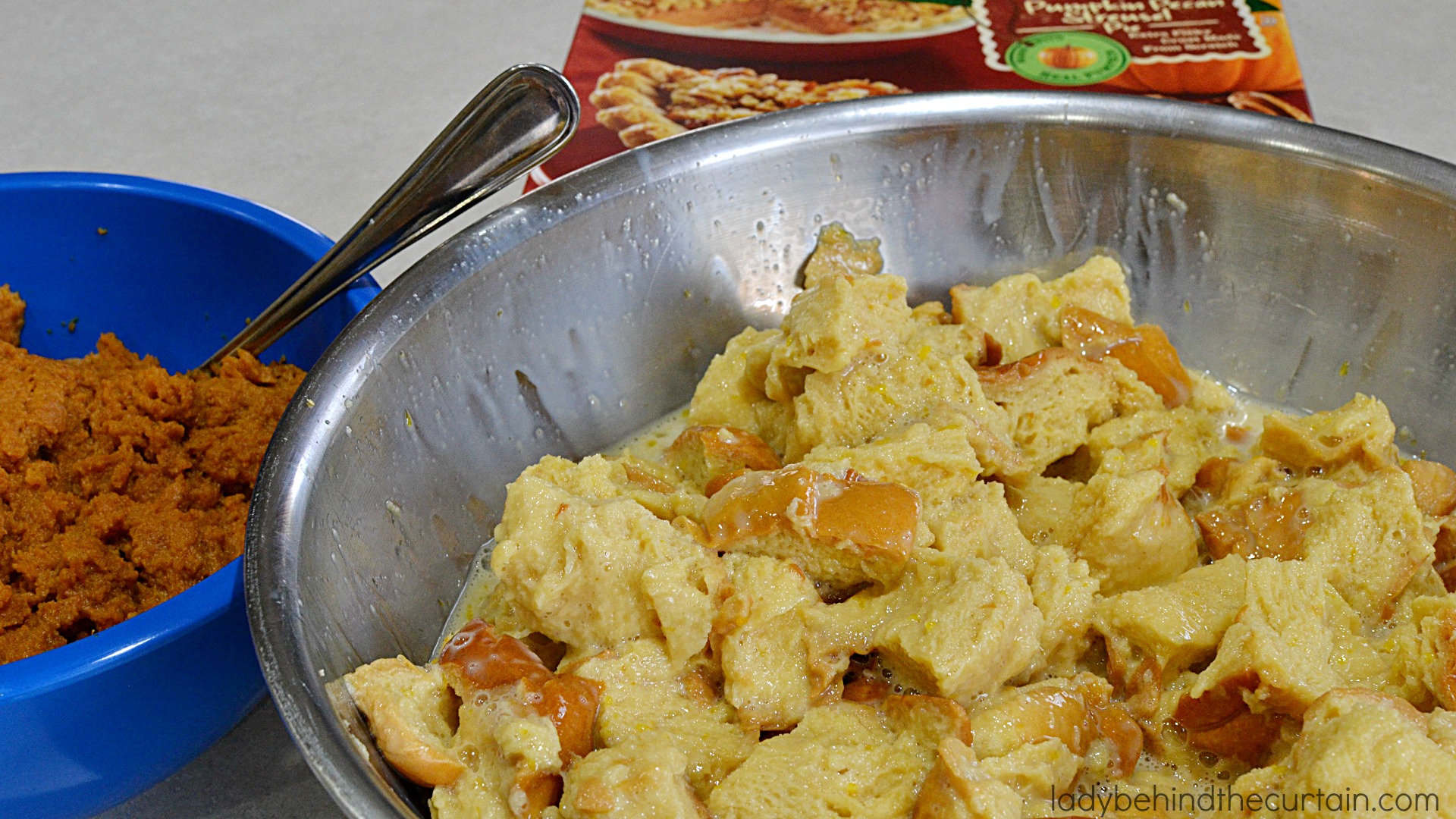 Pour half of the bread mixture into a baking dish.  Add dollops of the pie filling (use one third to a half) onto the bread mixture.  Repeat layers with remaining bread mixture and pumpkin mixture.  NOTE: I used approximately 1 1/2 pies for this recipe but you can use all of the pie.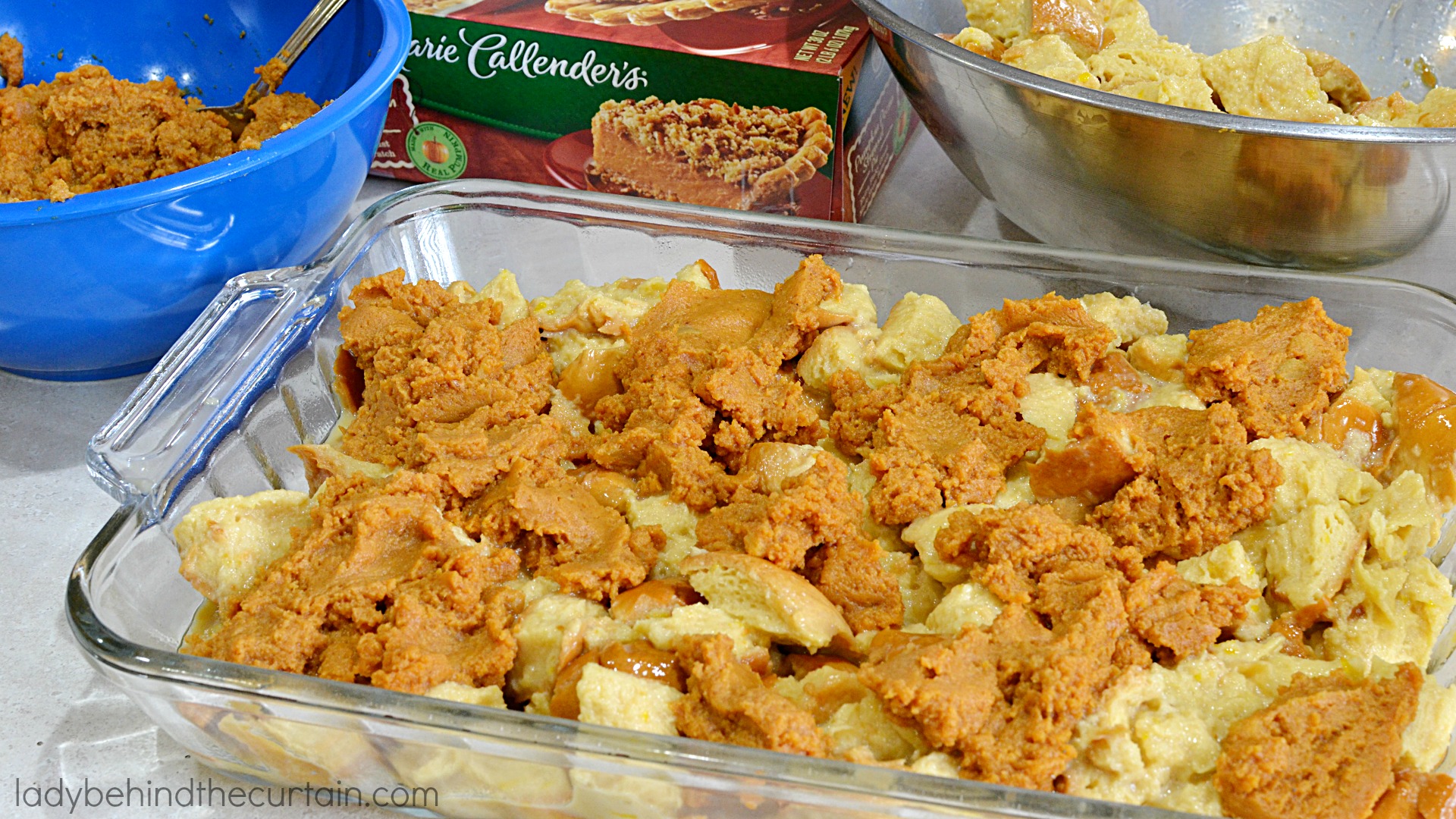 Sprinkle both bags of the pecan streusel on top of the bread pudding and bake.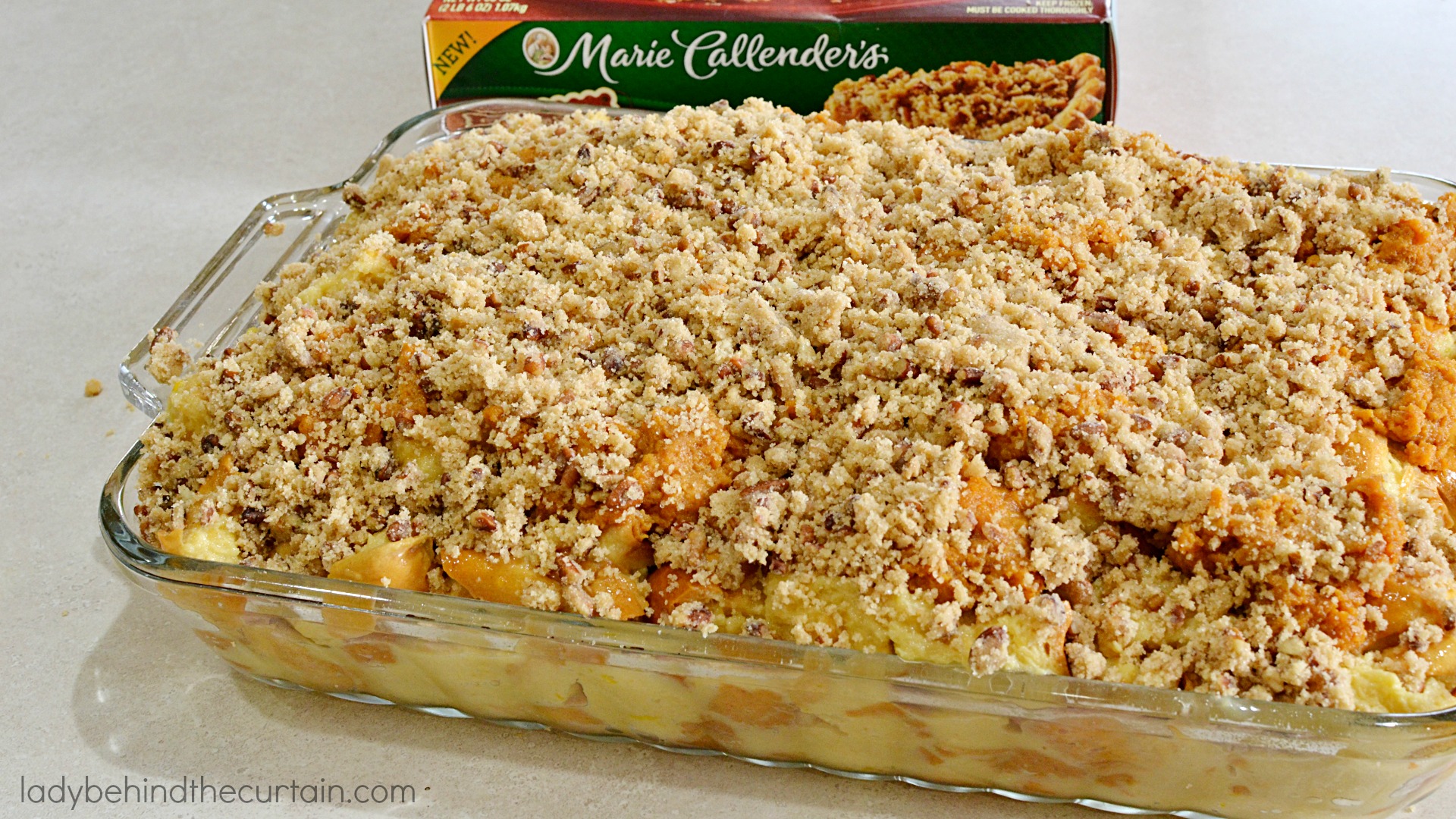 BAKED!
When cooled add the Reddi-wip® and caramel drizzle.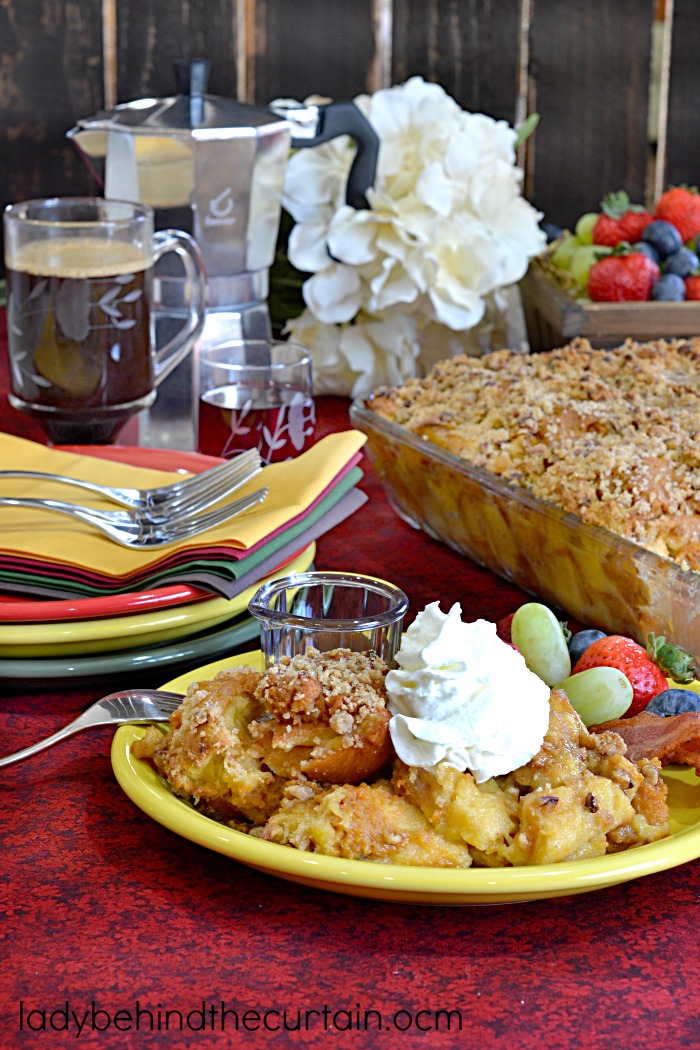 Don't get caught without a yummy breakfast for those unexpected overnight guests!  Go ahead and purchase your Marie Callender's Pumpkin Pecan Streusel pies today!