Birthday Party Ice Cream Cake
Birthday Party Ice Cream Cake: Create this semi homemade birthday cake in no time, perfect for any celebration, and super easy to make. This delicious cake starts with a funfetti cake mix, filled with creamy vanilla ice cream and topped with the most incredible cream cheese frosting.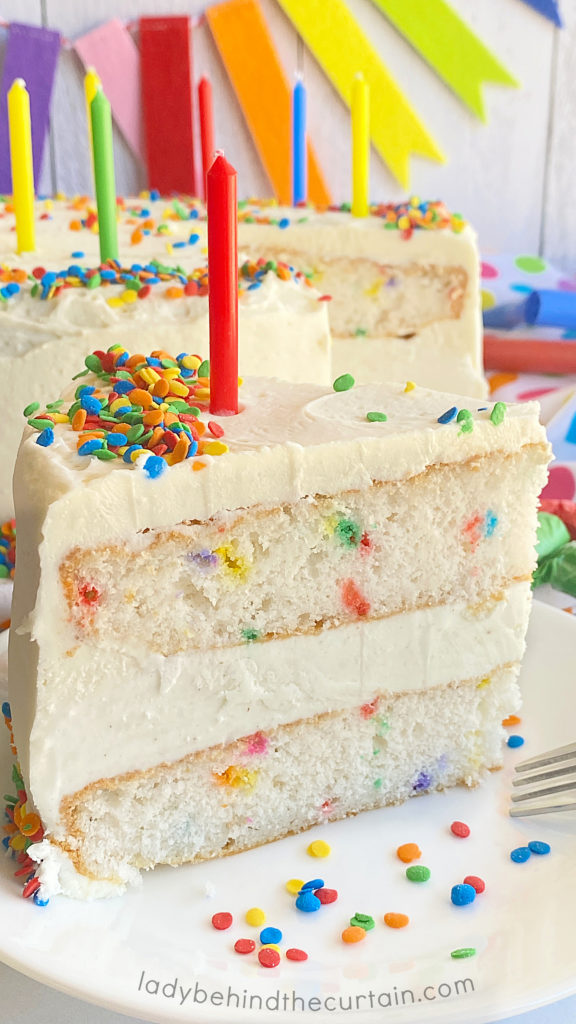 How to Make Birthday Party Ice Cream Cake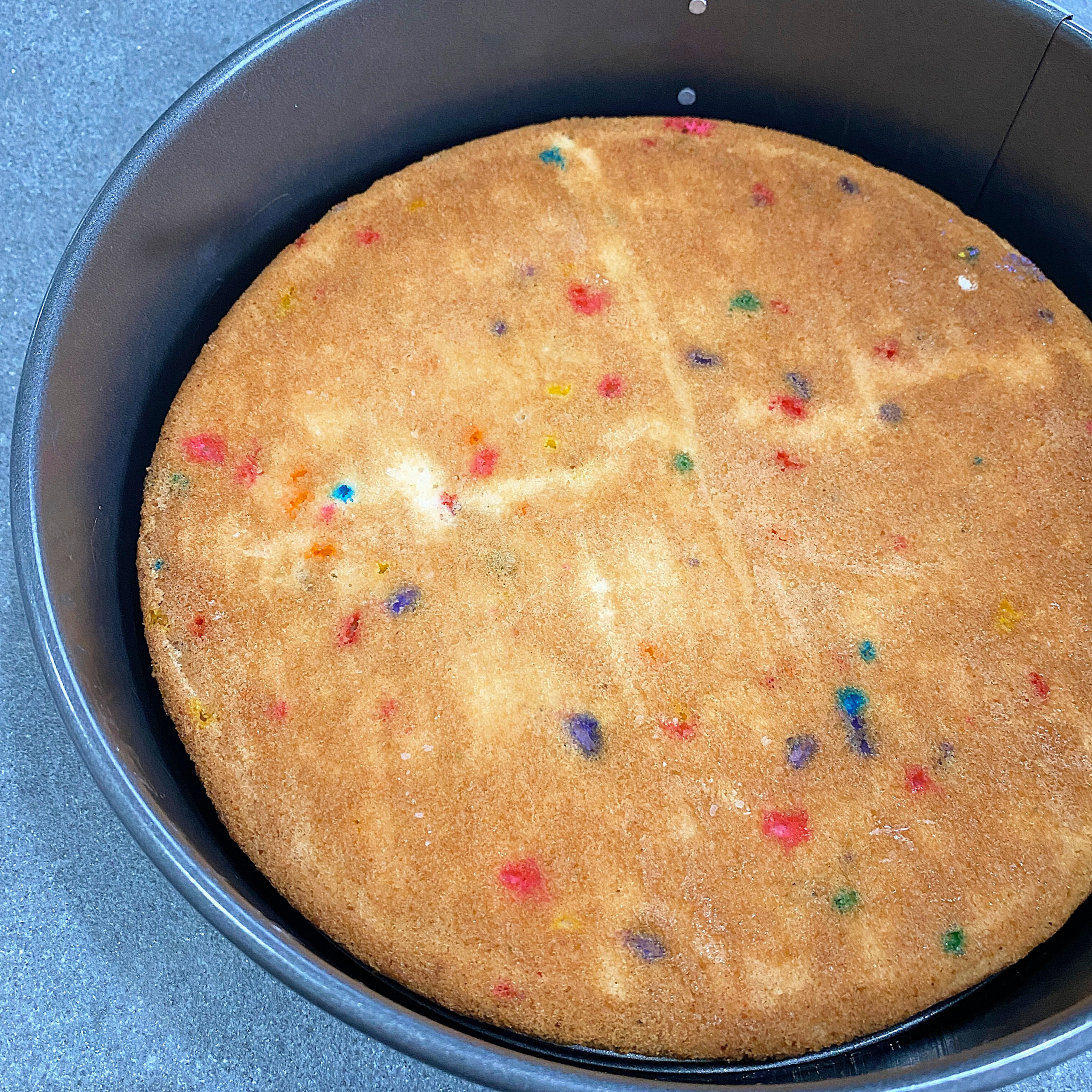 FULL PRINTABLE RECIPE BELOW
Make confetti white cake mix as directed in 2 (9 inch) round cake pans.
Cool completely, transfer one layer to a 9-inch springform pan.
Add all the soft vanilla ice cream on the top of the bottom layer of cake.
Top with the second cake round.
Freeze, uncovered 3-4 hours or until firm.
Remove side of springform pan, transfer cake to a serving plate.
Spread top and sides of cake with frosting (if desired, reserve some to pipe decorative edge).
While frosting is still soft add sprinkles around the bottom and top of the cake.
Freeze uncovered 1 to 2 hours or until firm.
Let stand at room temperature 10 to 15 minutes before serving.
More Ice Cream Cake Recipes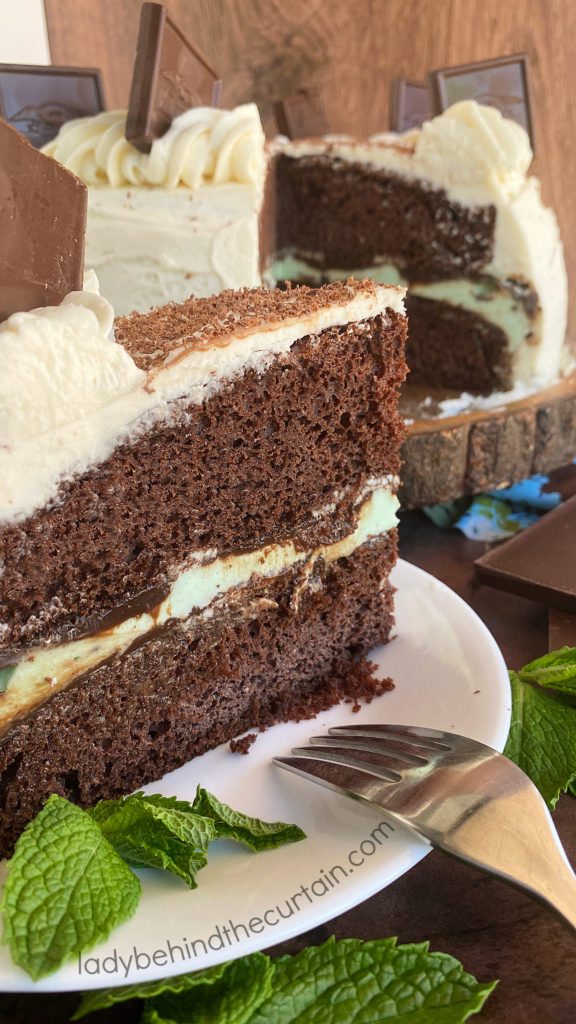 CHOCOLATE CHIP MINT ICE CREAM CAKE 2. PINEAPPLE UPSIDE DOWN ICE CREAM CAKE 3. MOCHA ICE CREAM CAKE
What is in Ice Cream Cake Frosting?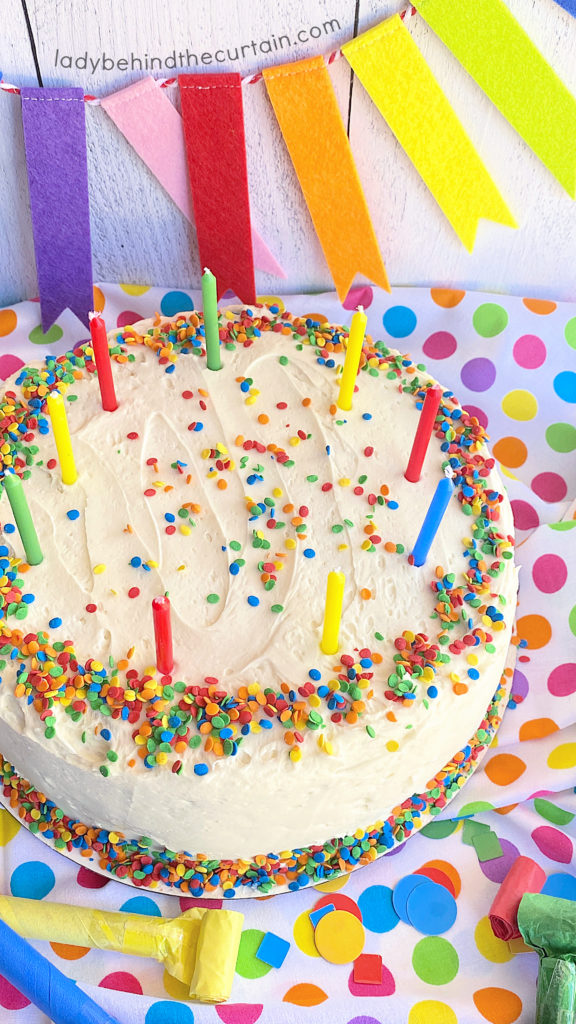 How to Soften Ice Cream for a Cake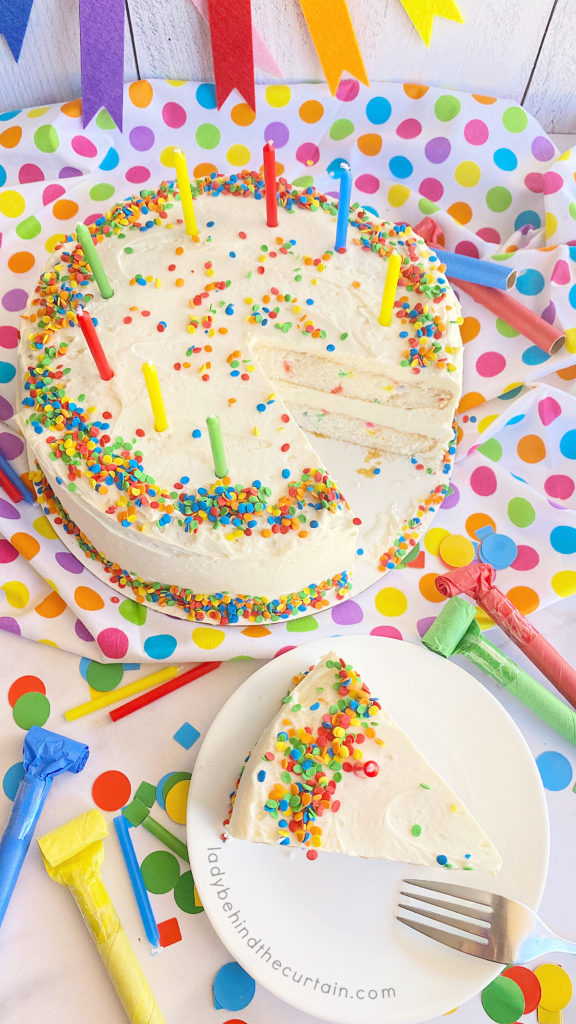 Freeze Your Cake Before Frosting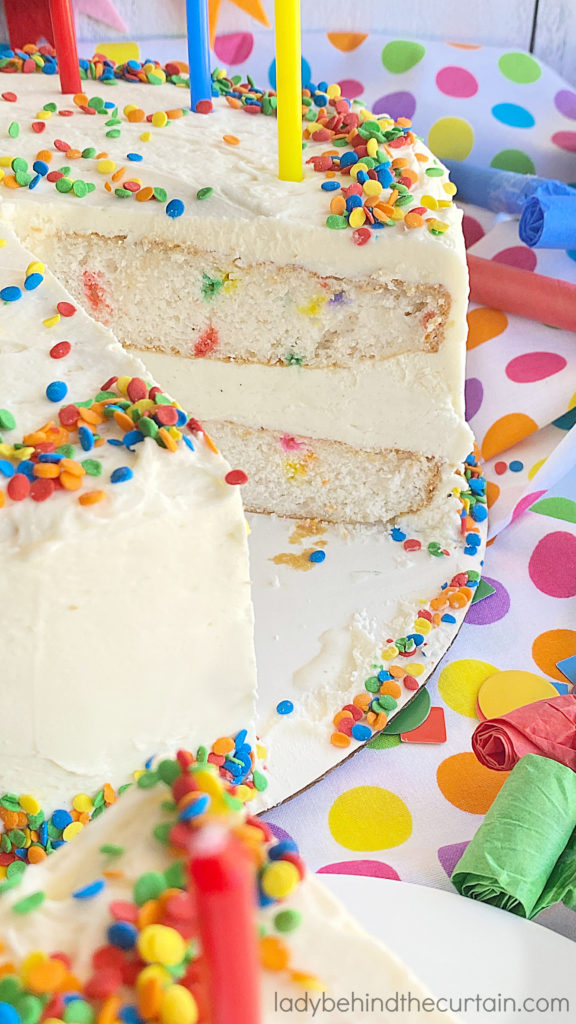 How to Transport and Ice Cream Cake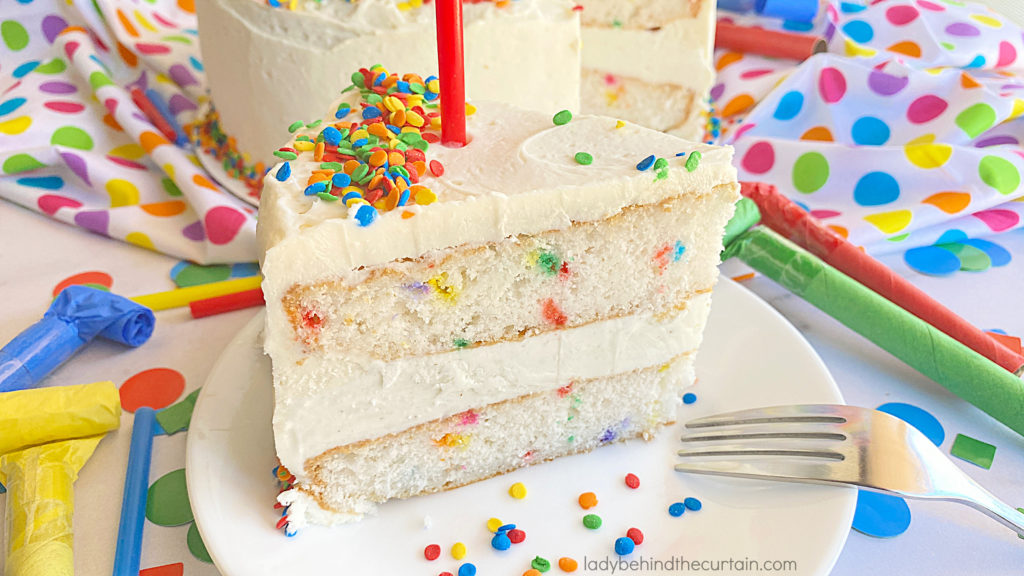 Use a cooler
Use dry ice to keep ice cream frozen
Wrap in foil
Add salt to surrounding ice
Vacuum insulated container
HOW LONG DOES IT TAKE FOR ICE CREAM TO MELT IN A CAKE?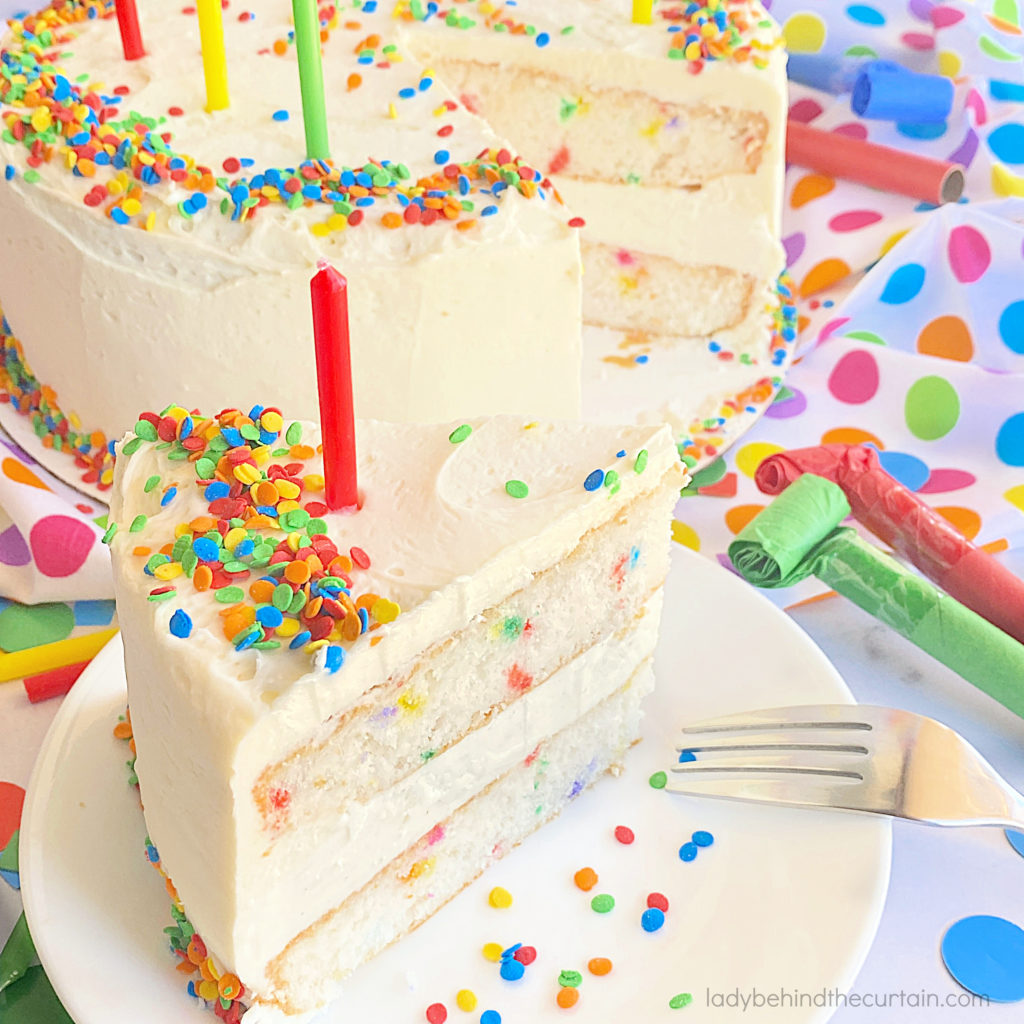 MAKE IT MINE ICE CREAM CAKE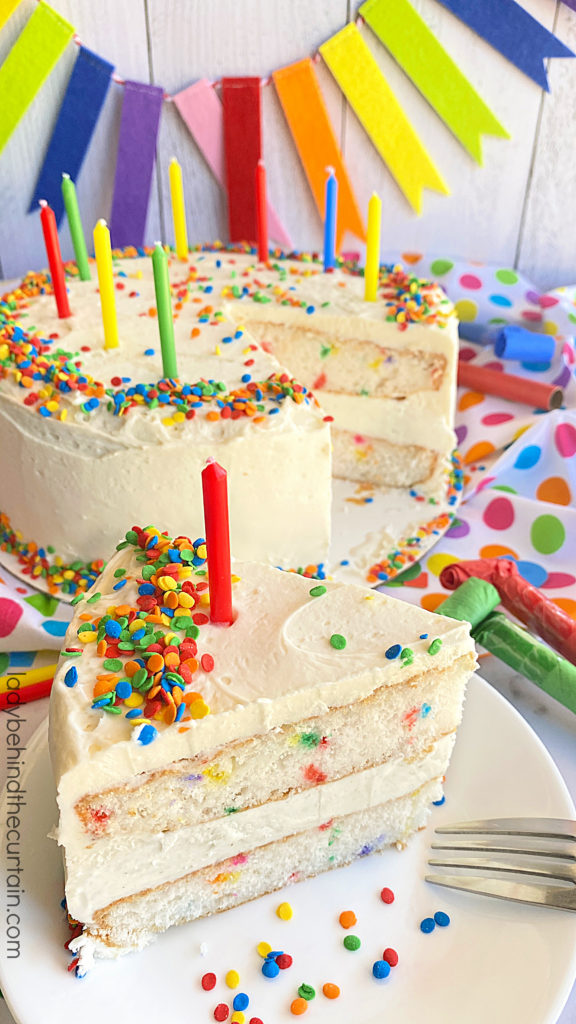 | | | | | | |
| --- | --- | --- | --- | --- | --- |
| CAKE | ICE CREAM/SHERBET | CANDIES/FILLINGS | FROSTING | TOPPERS | DRIZZLE |
| Chocolate | strawberry, cherry, mint chocolate chip, cookie dough, chocolate (ice cream) | fresh strawberries, strawberry jam, hot fudge, pretzels, cookie crumbs, sprinkles, candy | strawberry, cream cheese, chocolate, vanilla | fresh strawberries, chocolate bar pieces, cookies, sprinkles | caramel syrup, chocolate sauce |
| Strawberry | lemon sherbet, neapolitan, vanilla, strawberry (ice cream) | fresh strawberries, strawberry jam, sprinkles, lemon curd | lemon, cream cheese, vanilla | fresh strawberries, candied lemon slices, sprinkles | strawberry syrup |
| Lemon | strawberry, blueberry, vanilla (ice cream) | strawberry jam, fresh berries, blueberry jam, sprinkles | strawberry, blueberry, vanilla, cream cheese | fresh berries, sprinkles | strawberry jam(heated to thin), lemon curd (heated to thin) |
| Yellow | chocolate, funfetti, candy bar, cookie dough, strawberry, neapolitan (ice cream) pineapple (sherbet) | crushed candy bars, M&M's, sprinkles, crushed cookies, hot fudge, nuts | chocolate, vanilla, strawberry, cream cheese | candy bar pieces, cookies, sprinkles | chocolate syrup, caramel syrup |
| White/Funfetti | funfetti, cotton candy, neapolitan, strawberry, bubble gum, chocolate (ice cream) | crushed cookies, chocolate chips, sprinkles, cereal | chocolate, vanilla, cream cheese, strawberry | gum balls, candy bars, M&M's, sprinkles, cotton candy | caramel sauce, chocolate sauce, strawberry sauce |
HOW TO STORE LEFTOVER ICE CREAM CAKE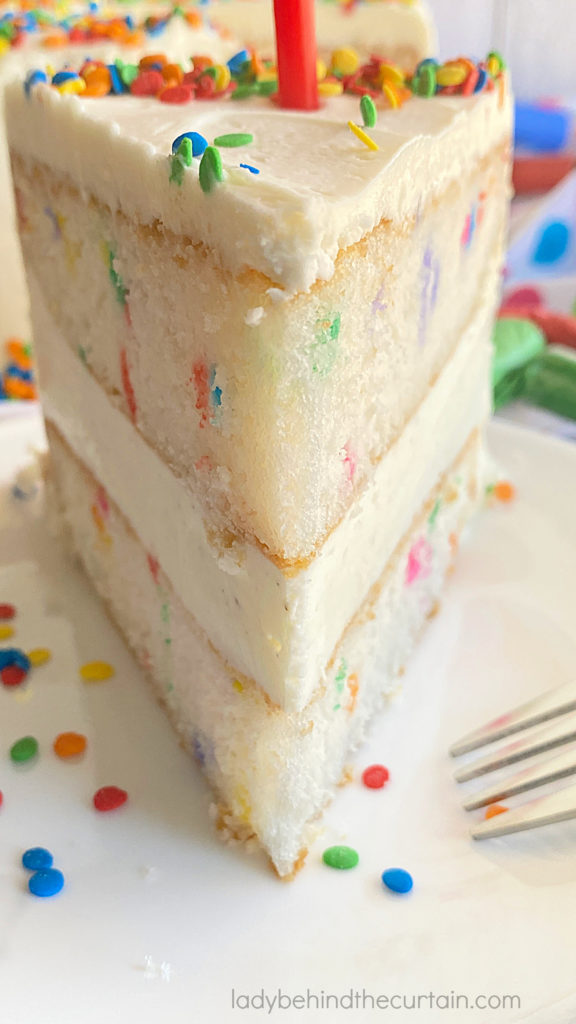 SIGN UP FOR THE LADY BEHIND THE CURTAIN NEWSLETTER AND FOLLOW THE LADY BEHIND THE PARTY ETSY SHOP
THANKS FOR VISITING♥