Lemon Blueberry Pie Ice Cream
This Lemon Blueberry Pie Ice Cream has everything you love about pie and more.  The base is a creamy lemon ice cream with swirls of blueberry pie filling and chunks of pie crust.  Time to cool down for summer with this refreshing ice cream.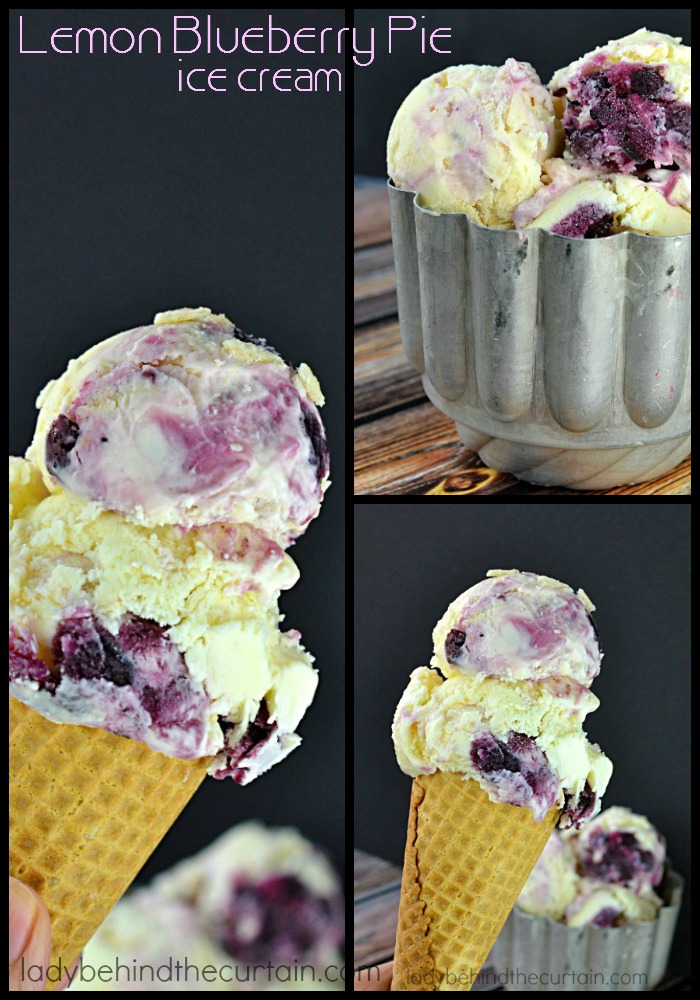 Pucker up!  This ice cream is tart, sweet and creamy all at the same time.  Are you looking for a new flavor of ice cream?  Look no further this is the ice cream of your dreams.  Are you planning a backyard cookout?  Put those warm summer breezes to rest and serve ice cream!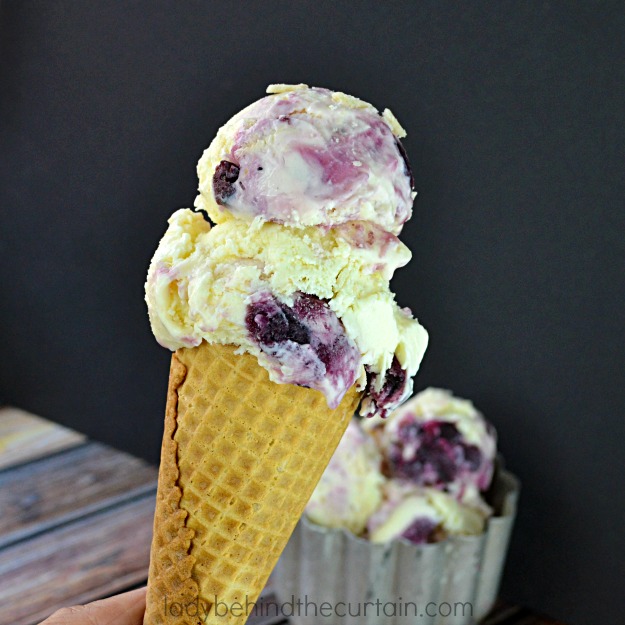 I love everything lemon and adding blueberry is an added bonus.  How about a lemon blueberry dessert table with my LEMON BLUEBERRY SWIRL CUPCAKES, BLUEBERRY LEMON PIE CUPCAKES  and BLUEBERRY LEMON TRUFFLES.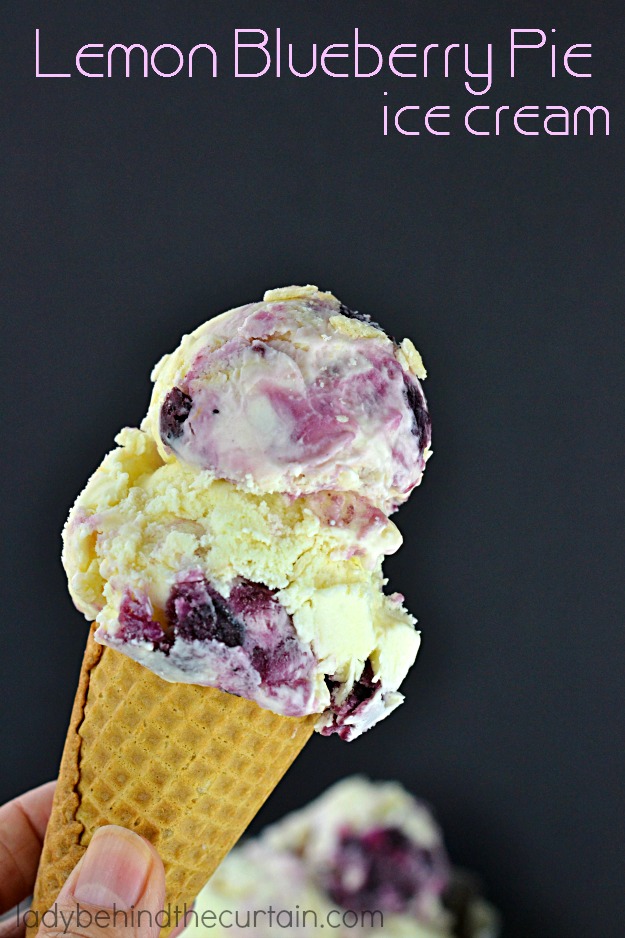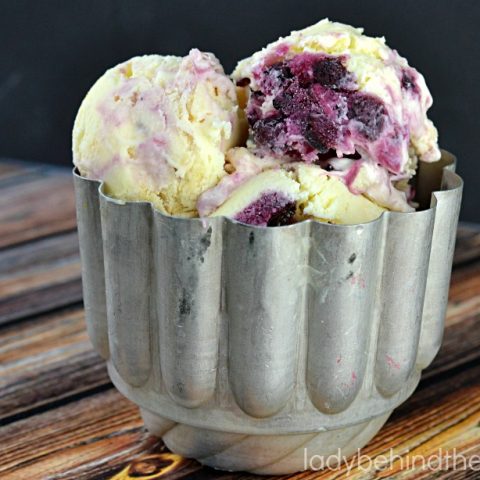 Lemon Blueberry Pie Ice Cream
Ingredients
1 1/2 tablespoons fine lemon zest
1/2 cup fresh lemon juice
1 cup granulated sugar
3 large eggs
1 cup whole milk
1 teaspoon vanilla extract
pinch of salt
1 1/2 cups whipping cream
1 (9-inch) store bought pie crust
1 cup blueberry pie filling
Instructions
Preheat oven to 450 degrees.
Line a cookie sheet with parchment paper.
Roll out dough onto the prepared cookie sheet.
Bake 10 minutes; cool and break into pieces.
In a small pan mix together the zest, juice, sugar and eggs; add the milk, vanilla and salt.
Cook lemon mixture stirring constantly over medium heat until it comes to a simmer.
Strain through a sieve to remove zest into a medium bowl.
To prevent a skin from forming on the top of the custard and any moisture dropping on it lay a piece of plastic wrap on top.
Refrigerate until cold.
Stir in whipping cream and pour into your ice cream maker.
Freeze according to the manufacturer's directions.
NOTE: 5 minutes before done add 1 cup of the baked pie crust pieces.
Spoon half of the blueberry pie filling into the bottom of the container you will be storing the ice cream in.
Add half of the lemon ice cream; using a large knife of spatula swirl the blueberry pie filling into the ice cream.
Add the remaining ice cream and on top of the ice cream add the remaining pie filling.
Swirl into the ice cream.
Optional: Sprinkle with remaining pie crust.
Place in freezer until ready to serve.
MORE ICE CREAM RECIPES

1. PEANUT BUTTER CUP ICE CREAM  2. MINT CHOCOLATE CHIP ICE CREAM  3. BANANA CREAM PIE ICE CREAM