Slow Cooker Pork Tacos | The perfect Taco night recipe to feed a crowd!  Serve these tacos Island (baja) style!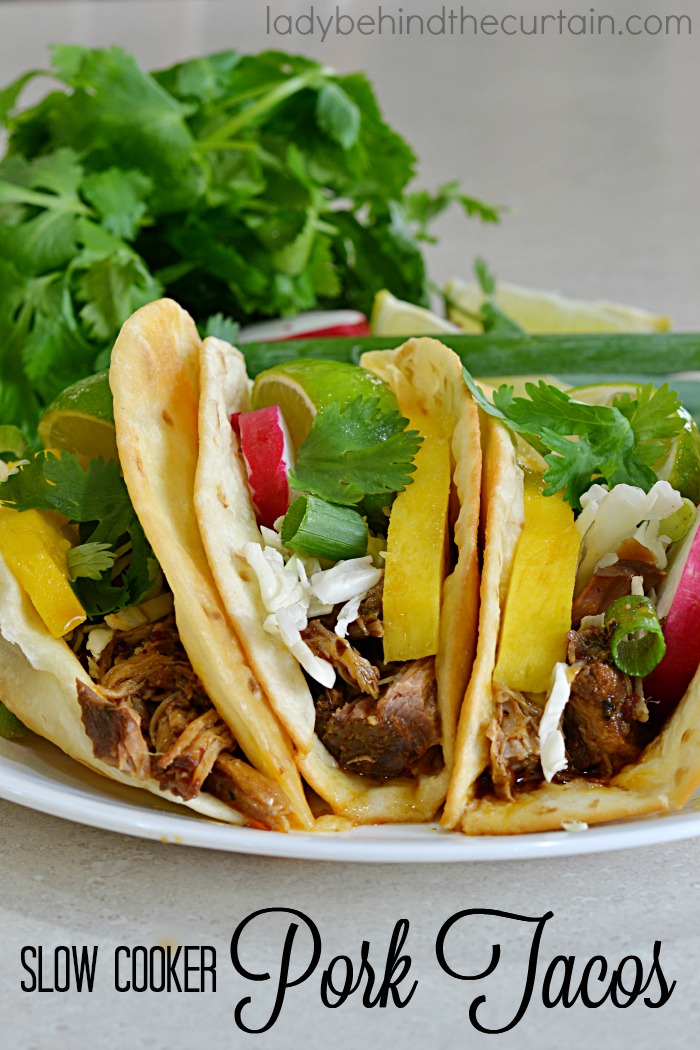 These tacos have so much flavor with the different chilies and just a hint of heat.  I doubled the sauce and froze half for another time.  It tasted just as fresh as the first batch.  *I like serving my tacos baja style with mango slices, lime wedges, avocado slices, shredded cabbage, and chopped cilantro.  Sometimes I also serve sliced jicama or sliced radishes.  I love the spiciness of the taco meat with the sweetness of the mango.
A few facts about the chile peppers in this dish:
Pasilla Chile or Chile Negro  is the dried form of the chilaca chili pepper.
Ancho Chile: is the dried version of a Poblano
NOTE:  I couldn't find the ancho chile but I did find fresh Poblano.  So I roasted them and used those instead of the dried.  The recipe was just as delicious.
MORE TACO RECIPES

SLOW COOKER TOMATILLO CHICKEN TACOS  2. SEMI HOMEMADE SHRIMP TACOS  3. BEER BATTER FISH TACOS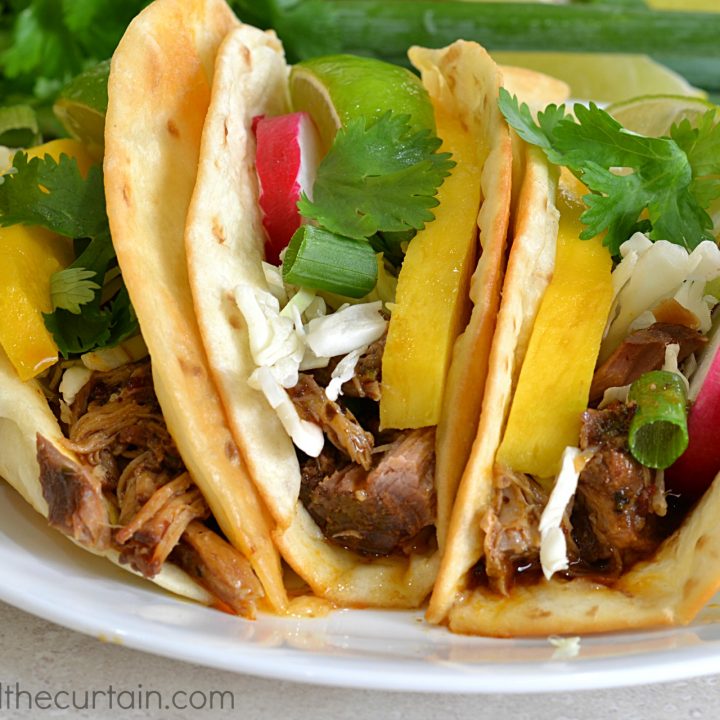 Slow-Cooker Pork Tacos
Yield:
4 Pounds of Taco Meat
Ingredients
3 whole ancho chiles
3 whole pasilla chiles
4 cloves garlic, unpeeled
2 to 3 chipotle chiles in adobo sauce
1/2 medium white onion, roughly chopped
3 tablespoons olive oil, divided
2 tablespoons honey
1 tablespoon cider vinegar
1 tablespoon salt
2 teaspoons dried oregano
3 3/4 cups chicken broth
4 pounds boneless pork shoulder
freshly ground pepper
2 bay leaves
Optional: 1 cinnamon stick
Assorted taco topping (*see above for my suggestions)
Instructions
Put the ancho and pasilla chiles and the garlic in a bowl; microwave on high until soft and pliable. 2 to 3 minutes.
Stem and seed the chiles; peel the garlic; transfer the chiles and garlic to a blender or food processor.
Add the chipotle chiles, onion, 2 tablespoons olive oil, honey, vinegar, salt and oregano to the blender/ food processor; puree until smooth.
Heat the remaining 1 tablespoon olive oil in a large skillet over high heat; add the chile sauce and fry, stirring, until thick and fragrant (about 8 minutes).
Pour in the broth and reduce until slightly thickened.
Season the pork all over with salt and pepper and transfer to a large slow cooker.
Add the bay leaves and optional cinnamon stick, then pour in the sauce.
Cover and cook on high until the meat is tender (about 7 hours).
Discard the bay leaves and cinnamon stick.
Shred the pork with 2 forks.