Nothing like a cool crisp salad to cool you down on a hot summer evening.  There is something for everyone in this Southwestern Salad.  So hearty, all you need is a side of meat to complete your meal.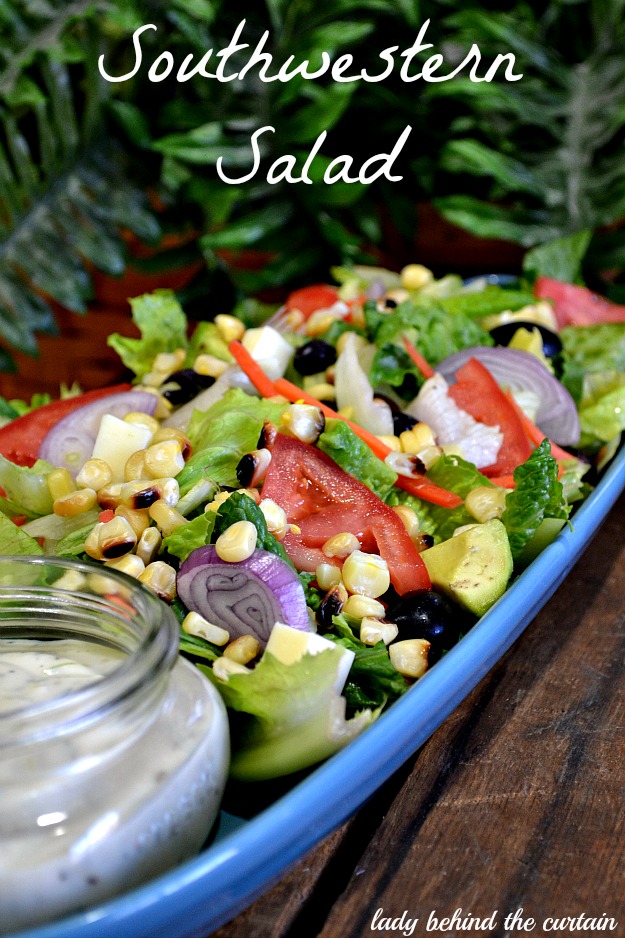 I love the smokey grilled corn, black beans and the creamy avocado.  This Southwestern Salad is definitely a salad I will have throughout the summer.  Perfect for those summer days by the pool.
Create your own Recipe Box and save your favorite Lady Behind The Curtain recipes.  Make a Meal Plan with your favorite recipes and ZipList will automatically add the ingredients to a Shopping List.
Southwestern Salad
Ingredients
8 cups iceberg lettuce, chopped
8 cups green leaf lettuce, chopped
2 cups grape tomatoes ,halved
1 cup canned black beans, drained and rinsed
1 cup matchstick or shredded carrots
2 cups grilled corn pieces
1 cup whole, pitted small black olives
1/2 cup red onion slices
2 cups avocado, cubed
2 cups Monterey Jack cheese, cubed
garnish: crispy tortilla strips or corn chips
Instructions
In a large bowl lightly toss together, iceberg lettuce, green leaf lettuce, tomatoes, black beans, carrots, grilled corn, black olives, onion, avocado and cheese. Serve with Cilantro Lime Ranch Dressing
Garnish with tortilla strips.