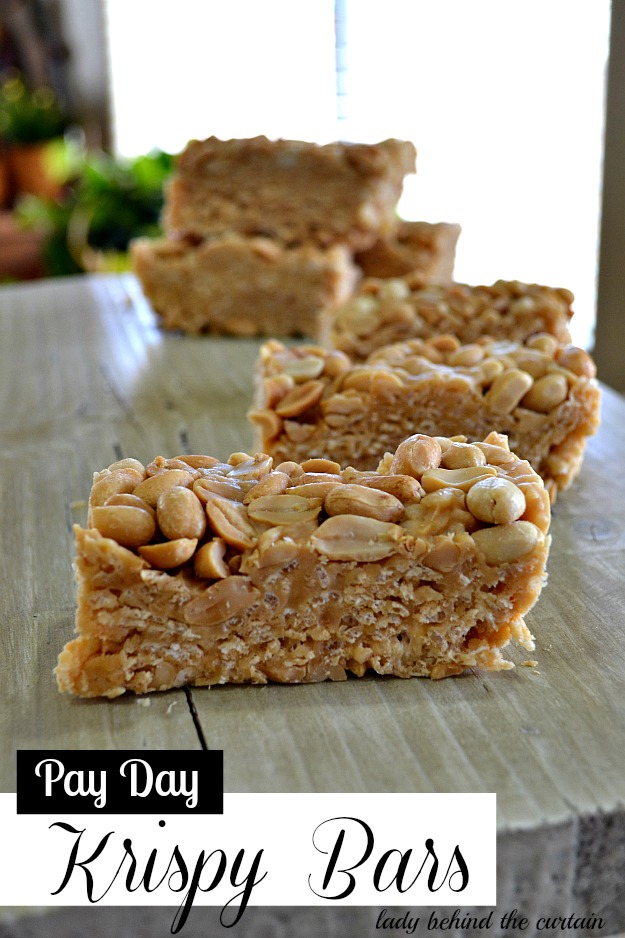 Creamy nougat, salty peanuts and crunchy rice cereal.  These Pay Day Krispy Bars are such a TREAT!  (no pun intended 🙂 )  The perfect take along dessert.  PERFECT at room temperature.  A dessert not only kids will love but adults too!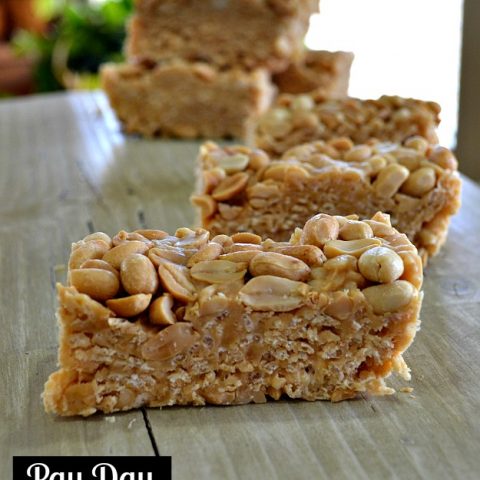 Pay Day Krispy Bars
Ingredients
3 cups salted peanuts (no skins), divided (16 ounce container)
2-1/2 tablespoons butter
2 cups peanut butter chips
14 ounces sweetened condensed milk
3 cups miniature marshmallows
6 cups rice cereal
Instructions
Place 1-1/2 cups peanuts in the bottom of an ungreased 7 x 11-inch baking dish lined with parchment paper.
In a large saucepan melt the butter and peanut butter chips.
Stir until smooth.
Remove from heat.
Stir in the condensed milk and marshmallows.
Stir until smooth and combined.
Add cereal and mix until coated with the marshmallow mixture.
Pour cereal mixture over peanuts in pan.
Coat hands with non stick cooking spray, evenly distribute the cereal mixture.
Sprinkle with remaining 1-1/2 cups peanuts over top of mixture and press firmly.
Leave on the counter in the pan to cool completely before lifting out of pan and cutting into bars.