This Strawberry Glaze Pie has piles of fresh strawberries all encased with a homemade glaze.  It's time for picnics, barbecues and family reunions.  So why not be the "popular" guest!  Bring this pie and you will be!  You can NEVER go wrong bringing this Strawberry Glaze Pie.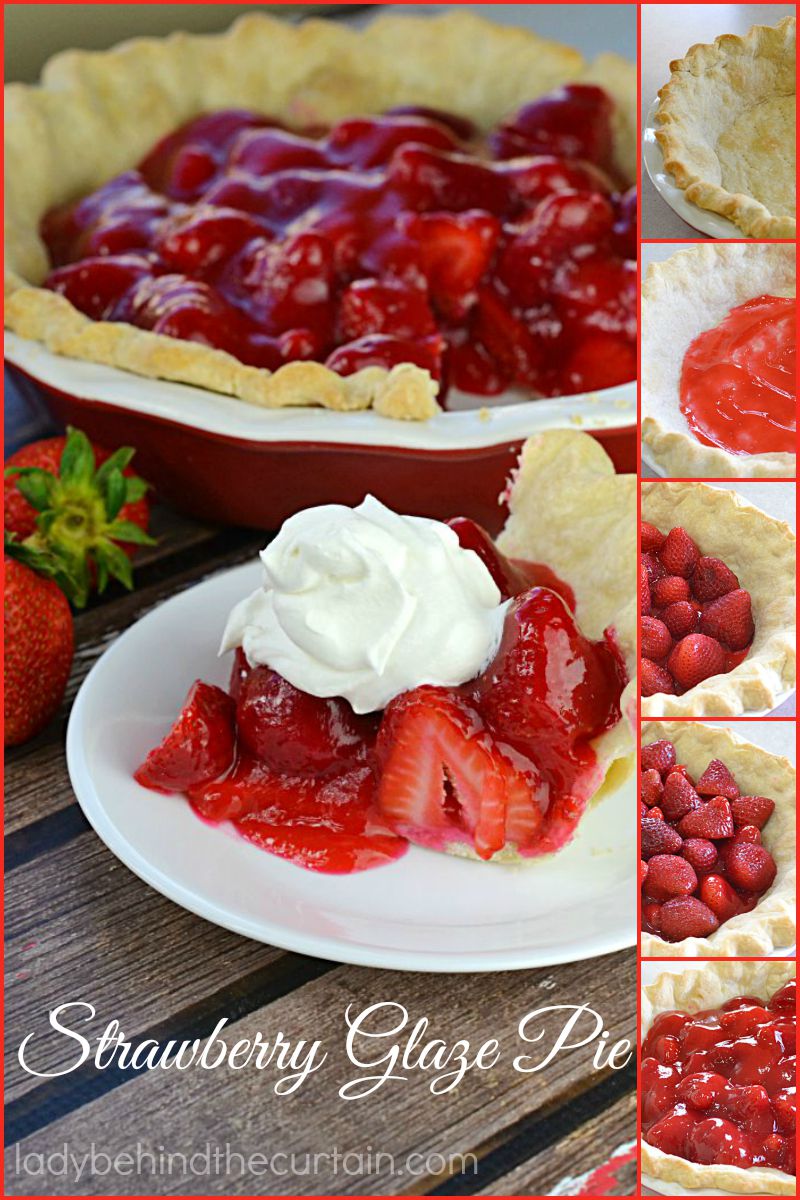 I probably make this pie once every two weeks during strawberry season.  I know that when my family spots the first batch of fresh strawberries at the grocery store I  will be making a pie that week.  Make sure to use my Perfect Every Time 10 Minutes Pie Crust.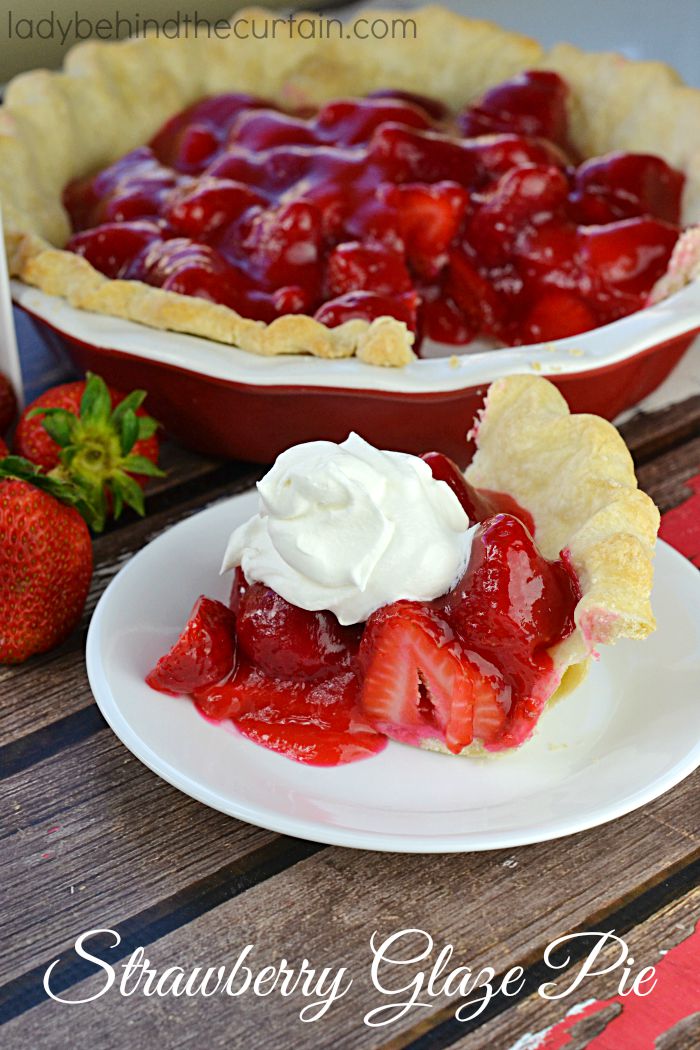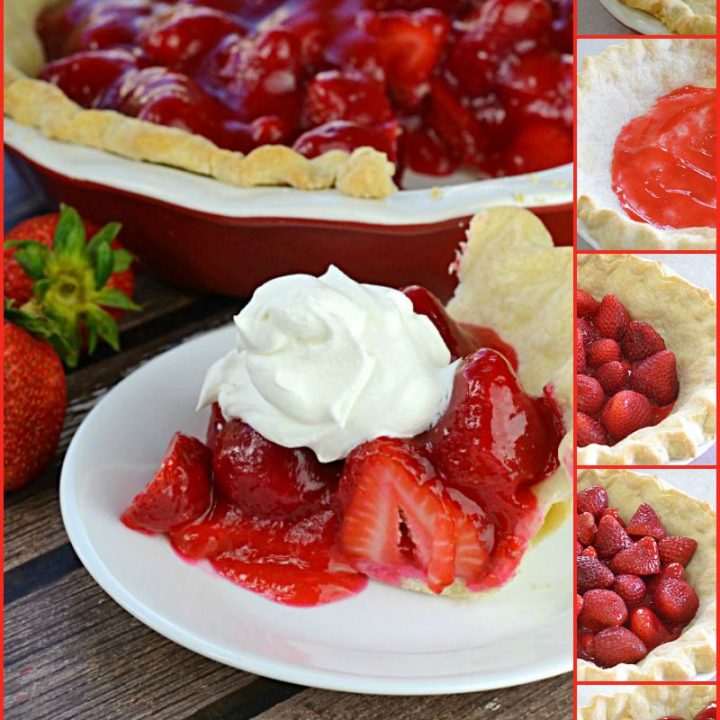 Strawberry Glaze Pie
Ingredients
1 single pie crust
6 cups fresh medium strawberries, divided
1 cup water
¾ cup granulated sugar
3 tablespoons cornstarch
5 drop red food coloring (optional)
whipped cream topping (optional)
Instructions
For the Pie Crust:
P reheat oven to 450°.
Prepare and roll out pastry, line a 9-inch pie dish, trim to ½ inch, pinch edges.
Prick pastry with a fork and bake until golden (about 10 to 12 minutes).
Set aside to cool.
For the Pie Filling:
In a small saucepan, crush 1 cup of the smaller berries, add the water.
Bring to a boil, simmer 2 minutes.
Run the berry mixture through a fine sieve.
In a saucepan, combine sugar and cornstarch; stir in sieved berry mixture.
Cook and stir over medium heat until the glaze has thickened and is clear.
Stir in food coloring (if desired).
Spread about ¼ cup of the glaze over the bottom and sides of the cooled pastry crust.
Arrange *half* of the whole berries (stem end down), in the pie shell.
Carefully spoon *half* of the remaining glaze over the berries (making sure to cover each berry.
Arrange remaining berries (stem down), on top of the bottom layer.
Spoon the remaining glaze over the berries making sure to cover each berry.
Chill pie 3 to 4 hours.
If desired garnish with whipped cream topping (homemade or cool whip)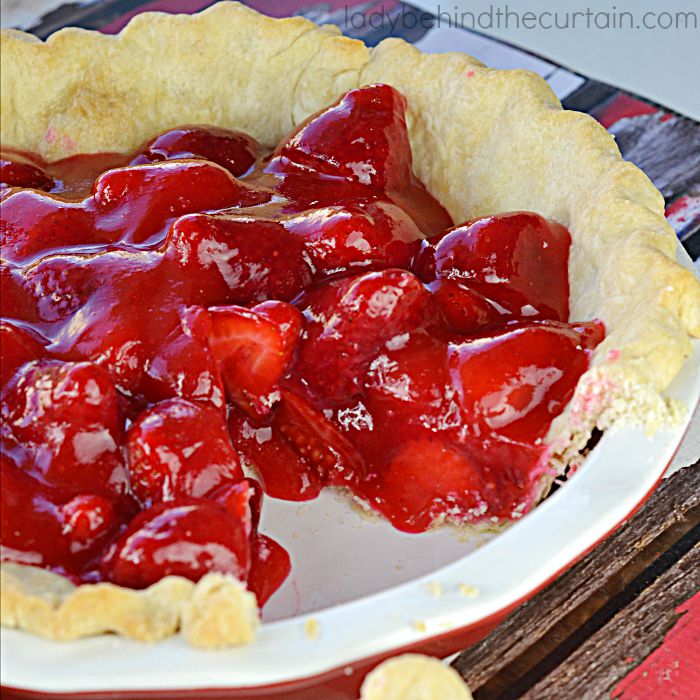 MORE PIE RECIPES

1. MASON JAR LID CHERRY PIES  2. MINI PUMPKIN PIE TARTS  3. COOKIE AND CREAM MOUSSE MINI PIES