Pumpkin Latté Biscotti: This pumpkin latté biscotti will add the perfect touch to any holiday brunch or breakfast buffet table. Packed with pumpkin, spices and nuts. These delicious little treats also have the best white chocolate coffee drizzle that will set this biscotti aside from all the others. You don't have to be a coffee drinker to lover these crisp twice baked cookies
What is Biscotti?
MORE BISCOTTI RECIPES
HELPFUL TIPS
Don't attempt to make biscotti on a humid day: The cookies will absorb too much of the air's moisture and won't be crispy.
The dough should be a bit wet and sticky: If the dough is too dry, add water a teaspoon at a time.
Space the logs apart on the baking sheet: They will spread
Use a serrated knife: Using the right tool will make it so much easier to cut the biscotti. Also, don't wait too long (about 10 minutes max) after you take it out of the over after the first bake.
Bake longer for more crunch: if you want your biscotti to be crunchier, just keep them longer in the oven during the second bake. Make sure to check them often, you don't want burnt biscotti.
CAN BISCOTTI BE FROZEN?
After the FIRST bake, slice the loaf. Freeze the slices in an airtight container. Defrost and second bake the cookies whenever you need fresh biscotti.
Store fully baked cookies (including the second bake) in airtight containers and freeze.
HOW TO FREEZE BISCOTTI
NOTE: THIS SHOULD BE DONE BEFORE ANY DRIZZLE IS ADDED
Let biscotti fully cool.
Lay the cookies in a single layer on baking sheets lined with parchment paper. Place in freezer until cookies are frozen.
Remove from the baking sheet and into a freezer safe container or zip top bag.
Label, freeze up to 3 months.
HOW TO DEFROST BISCOTTI
MORE PUMPKIN RECIPES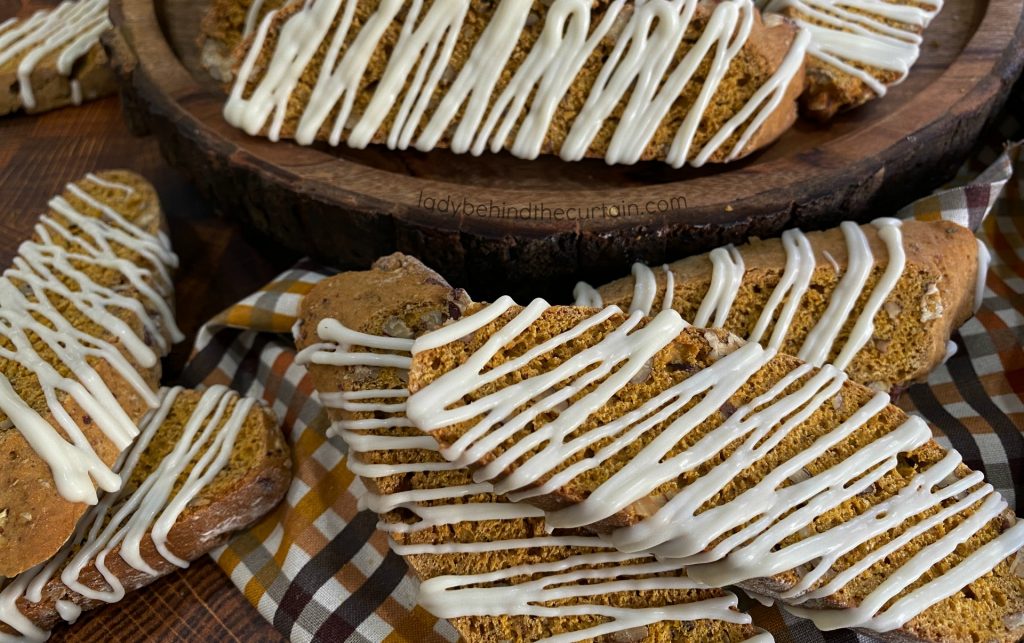 Pumpkin Latté Biscotti
Yield:
MAKES 24 BARS (cookies)
These crunchy cookies are the perfect addition to your pumpkin latté.
Ingredients
For the Biscotti:
1 heaping cup toasted pecans, chopped
3½ cups all-purpose flour
1¾ teaspoons baking powder
1 teaspoon salt
1½ teaspoons ground cinnamon
¾ teaspoon ground ginger
¼ teaspoon ground nutmeg
¼ teaspoon ground allspice
1/8 teaspoon ground cloves
½ cup pumpkin puree
1 cup light brown sugar, packed
2 tablespoons maple syrup
2 teaspoons vanilla extract
2 large eggs
For the Drizzle:
1 (10 ounce bag) white chocolate wafers (Ghirardelli)
1 tablespoon espresso powder
Instructions
How to Toast Nuts:
Preheat oven to 350°
On a rimmed baking sheet, spread out the pecans.
Roast 5-6 minutes for a light toast.
Roughly chop the nuts; set aside.
For the Biscotti:
Line a baking sheet with parchment paper; set aside.
In a medium bowl, whisk together the flour, baking powder, salt, cinnamon, ginger, nutmeg, allspice and cloves. Set aside.
In a large mixing bowl beat together the pumpkin, brown sugar, maple syrup and vanilla. Add the eggs one at a time, mixing well after each addition.
Slowly add the flour mixture to the spice mixture, mix only until just combined.
Fold in nuts.
Dump dough on a well floured surface, divide into two equal portions. Shape each portion into a log about 12 inches long and 2-3 inches wide.
Transfer each log onto the prepared baking sheet, space at least 2 inches apart.
Place pan on the center rack and bake for 25-30 minutes, or until dough is lightly golden.
Remove from oven and let cool 20 minutes. While the logs cool, reduce the oven temperature to 325°.
Carefully transfer logs to a cutting board. Using a sharp serrated knife, cut each log on the diagonal into slices (about ½ inch thick).
Return slices to the baking sheet, laying them cut side up.
Return the bistotti to the oven and bake for 12 minutes. Flip over each cookie and bake them again for another 10-12 minutes. Or until the cookies are mostly dry.
Let them cool completely on a wire rack.
Once the cookies are completely cooled, dip or add a drizzle of the espresso white chocolate.
Cookies can be stored in an airtight container in a cool dry place for up to a few weeks.
For the Espresso White Chocolate Drizzle:
Add chocolate to a medium microwave safe bowl. Heat 1 minute at full power, stir. If there are still lumps, continue heating in 30 second intervals at 60% power until chocolate is creamy and melted.
Stir espresso powder into melted chocolate.
NEVER MISS A POST