Pumpkin Latté Biscotti: This pumpkin latté biscotti will add the perfect touch to any holiday brunch or breakfast buffet table. Packed with pumpkin, spices and nuts. These delicious little treats also have the best white chocolate coffee drizzle that will set this biscotti aside from all the others. You don't have to be a coffee drinker to lover these crisp twice baked cookies
What is Biscotti?
MORE BISCOTTI RECIPES
HELPFUL TIPS
Don't attempt to make biscotti on a humid day: The cookies will absorb too much of the air's moisture and won't be crispy.
The dough should be a bit wet and sticky: If the dough is too dry, add water a teaspoon at a time.
Space the logs apart on the baking sheet: They will spread
Use a serrated knife: Using the right tool will make it so much easier to cut the biscotti. Also, don't wait too long (about 10 minutes max) after you take it out of the over after the first bake.
Bake longer for more crunch: if you want your biscotti to be crunchier, just keep them longer in the oven during the second bake. Make sure to check them often, you don't want burnt biscotti.
CAN BISCOTTI BE FROZEN?
After the FIRST bake, slice the loaf. Freeze the slices in an airtight container. Defrost and second bake the cookies whenever you need fresh biscotti.
Store fully baked cookies (including the second bake) in airtight containers and freeze.
HOW TO FREEZE BISCOTTI
NOTE: THIS SHOULD BE DONE BEFORE ANY DRIZZLE IS ADDED
Let biscotti fully cool.
Lay the cookies in a single layer on baking sheets lined with parchment paper. Place in freezer until cookies are frozen.
Remove from the baking sheet and into a freezer safe container or zip top bag.
Label, freeze up to 3 months.
HOW TO DEFROST BISCOTTI
MORE PUMPKIN RECIPES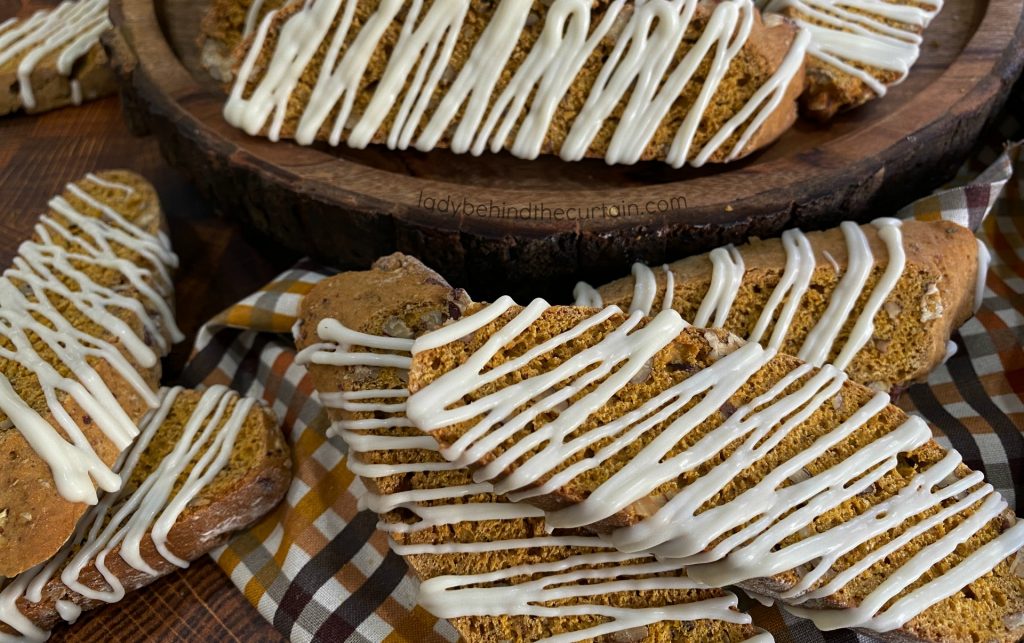 NEVER MISS A POST