Pistachio Cheesecake | Yes!  A pistachio cheesecake!  The tallest cheesecake I've ever made.  Beautiful green color.  Perfect for a special occasion especially St. Patrick's Day or Christmas!  This cheesecake is very creamy and doesn't have the traditional graham cracker crust it has an almond crust.  My favorite time of year for this cheesecake is summer!  The brightness of the color and the rich creamy flavor are two of the reasons but my number one reason is the size.  Because this cheesecake is a generous size I know I can feed more then the normal 12.  So it's the perfect size for family barbecues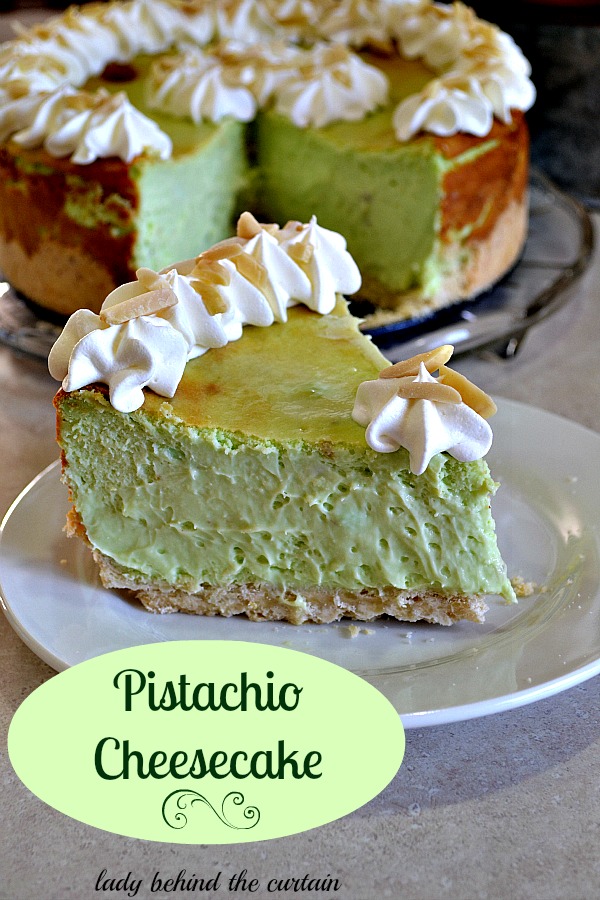 You can also make the traditional graham cracker crust or even chocolate graham crackers would work!  Do you know someone who LOVES pistachio?  Make them this cheesecake and watch the huge grin appear as they take their first bite!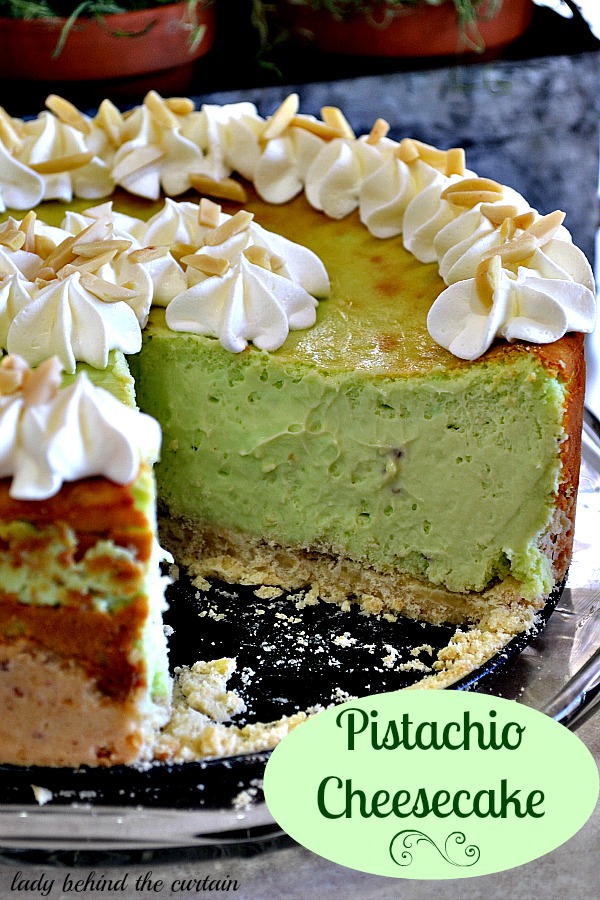 If pistachio is your favorite flavor you might also like these recipes: Pistachio Fudge, Pistachio Salad Mousse Pie or Pistachio Triple Layer Bars.

Yield: Serves 12 regular portions or 18 smaller portions
Pistachio Cheesecake
Ingredients
For the Crust:
1 cup all-purpose flour
1/2 cup ground almonds
1/4 cup granulated sugar
1/2 cup cold unsalted butter
1/4 teaspoon almond extract
For the Filling:
6 (8 ounce) packages of cream cheese, softened
1 (14 ounces) can sweetened condensed milk
2 (3.4 ounce) boxes instant pistachio pudding mix
5 large eggs
garnish with whip cream and almond slivers (optional)
Instructions
For the Crust:
Add the flour, almonds and sugar to a food processor; pulse a couple of times to combine.
Place in the butter and almond extract; process until combined and crumbly.
Pour into a 9 OR 10-inch springform pan (I used a 9-inch pan), press up the sides (about 1-inch) and in the bottom; refrigerate 30 minutes.
For The Filling:
Preheat oven to 350°
In a large bowl, beat cream cheese, milk and pudding mixes until smooth.
Add eggs; beat on low speed just until combined.
Pour over crust.
Place pan on a baking sheet.
Bake 55-60 minutes or until the center is almost set.
Cool on a wire rack for 10 minutes.
Carefully run a knife around the edge of the pan to loosen; cool 1 hour longer.
Refrigerate overnight.
Loosen and remove ring; garnish and serve.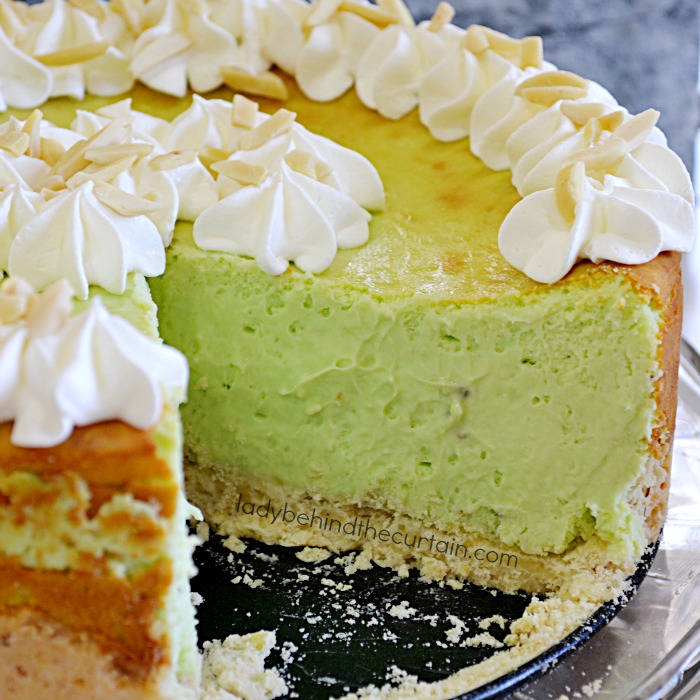 MORE CHEESECAKE RECIPES

APPLE CRUMB CHEESECAKE  2. S'MORE CHEESECAKE  3. LEMON GLAZED CHEESECAKE
NEVER MISS A POST!
Sign up for my newsletter and receive my recipes in your inbox. Easy to see anytime and saved for safe keeping. Click Here and sign up today! —->>>>CURTAIN CALL NEWSLETTER