Triple Berry Baked Oatmeal
This Triple Berry Baked Oatmeal is full of blueberries, raspberries and blackberries which makes having breakfast not only delicious but easy.  Morning meal make aheads are awesome.  Most mornings are full of scrambling around just to get out the door in time  This recipe was designed to go from refrigerator to oven.  You can make them in individual ramekins or in a 2 quart baking dish.  Breakfast just got amazing!
For portion control I make my Triple Berry Baked Oatmeal in 6 ounce ramekins.  As an added bonus when I'm ready to eat I spoon some vanilla Greek yogurt on top.  You can also bake this oatmeal in jars, screw on the lid and wait to eat it at the office for the perfect grab and go breakfast.  I need something that is going to carry me through the morning so I figure any recipe that starts with oats, oat bran and steel cut oats has got to be super hardy.
Yield: Fills 12 6 ounce Ramekins
Triple Berry Baked Oatmeal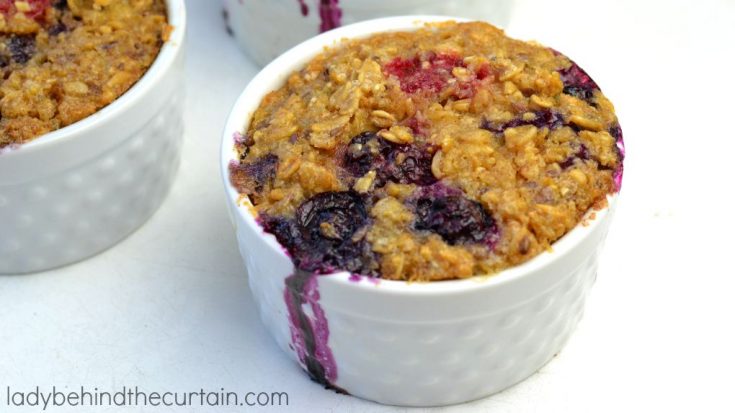 Ingredients
2 1/2 cups regular rolled oats
1/4 cup oat bran
1/4 cup steel-cut oats
2 teaspoons baking powder
1/2 teaspoon salt
1/2 teaspoon ground cinnamon
2 teaspoons chia seeds
2 teaspoons flax seeds
1 large egg
2 cups milk
1/3 cup applesauce
1/4 cup granulated sugar
1/4 cup light brown sugar, packed
2 teaspoons vanilla extract
1/4 cup vegetable oil
2 cups fresh fruit (a mixture of blueberries, raspberries and blackberries)
Instructions
In a large bowl stir together the oats, oat bran, steel cut oats, baking powder, salt, cinnamon, chia seeds and flax seeds.
Make a well in the center and add the egg, milk, applesauce, sugars, vanilla and oil.
Stir until combined.
Gently stir in fruit.
Divided oat mixture into 12 (6 ounce) ramekins or a 2 quart baking dish.
Cover and refrigerate 12 to 24 hours.
Place cold ramekins or baking dish into a cold oven.
Heat oven to 350 degrees.
Bake 35 to 40 minutes for ramekins; 45 to 50 minutes for baking dish or until tops are evenly browned and bubbly.
Serve warm with optional vanilla yogurt.
MORE BAKED OATMEAL RECIPES

1. BANANA NUT BAKED OATMEAL  2. CRANBERRY ORANGE BAKED OATMEAL  3. BERRY BAKED OATMEAL