Celebration Pretzel Sticks
These Celebration Pretzel Sticks are possibly the easiest dessert you can make.  Fit for ANY celebration!  The perfect combination of sweet and salty! Place on your next dessert table or give as a delicious party favor.  All you need are pretzel rods, candy melts and sprinkles (colors to fit your celebration).  Fill small buckets and line them down the center of your table to make a fun and eatable centerpiece!
For a detailed look on how to make these pretzels watch my video below.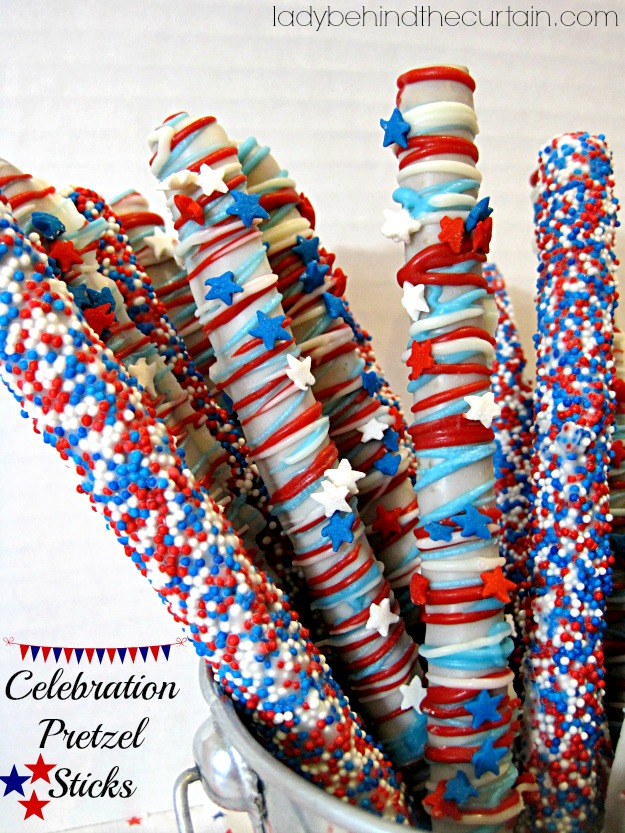 WATCH MY VIDEO FOR A DETAILED LOOK AT HOW TO DECORATE PRETZELS.

Place a piece of wax paper on a cookie sheet.  Melt the candy.  I chose to coat the pretzels in white first.  TIP:  If your candy melts don't get loose enough to dip into add a little shortening that will loosen the candy and make it easier to coat your pretzels.  The key to coating the pretzel without the candy dripping everywhere is in the temperature of the candy.  Not too hot and not too cold.  Once the candy is the right consistency it's time to dip.  I put mine in a bowl and used a spoon to drizzle and coat the pretzel.  Swirl the pretzel to let any extra candy drip off and tap on the side of the bowl.  Add sprinkles immediately.  For adding sprinkles I put my sprinkle container into a larger bowl and spooned the sprinkles over the pretzel making sure to keep twisting it around.  That helps cool off the candy and stop it from dripping so much into your sprinkles.  Let the extra sprinkles fall into the larger bowl.  (Place finished pretzel on a wax paper lined cookie sheet.)  Once there is enough sprinkles in the bottom use some of those sprinkles on the your pretzels too.  If you choose to drizzle on your pretzels melt the candy melts the same as you did with the white.  Put melted candy into squeeze bottles.  TIP: Only melt one color at a time.  Drizzle over pretzels and melt your next color….