Out of this World Galaxy Decorated Pretzels
Out of this World Galaxy Decorated Pretzels |  Blast off to another planet with these fun Out of this World Galaxy Decorated Pretzels.  Whether your birthday party theme is galaxy, space or Star Wars, these decorated pretzels will fit right in.  Perfect as party favors or on a dessert table.  These super easy treats will be loved by all (even the adults)!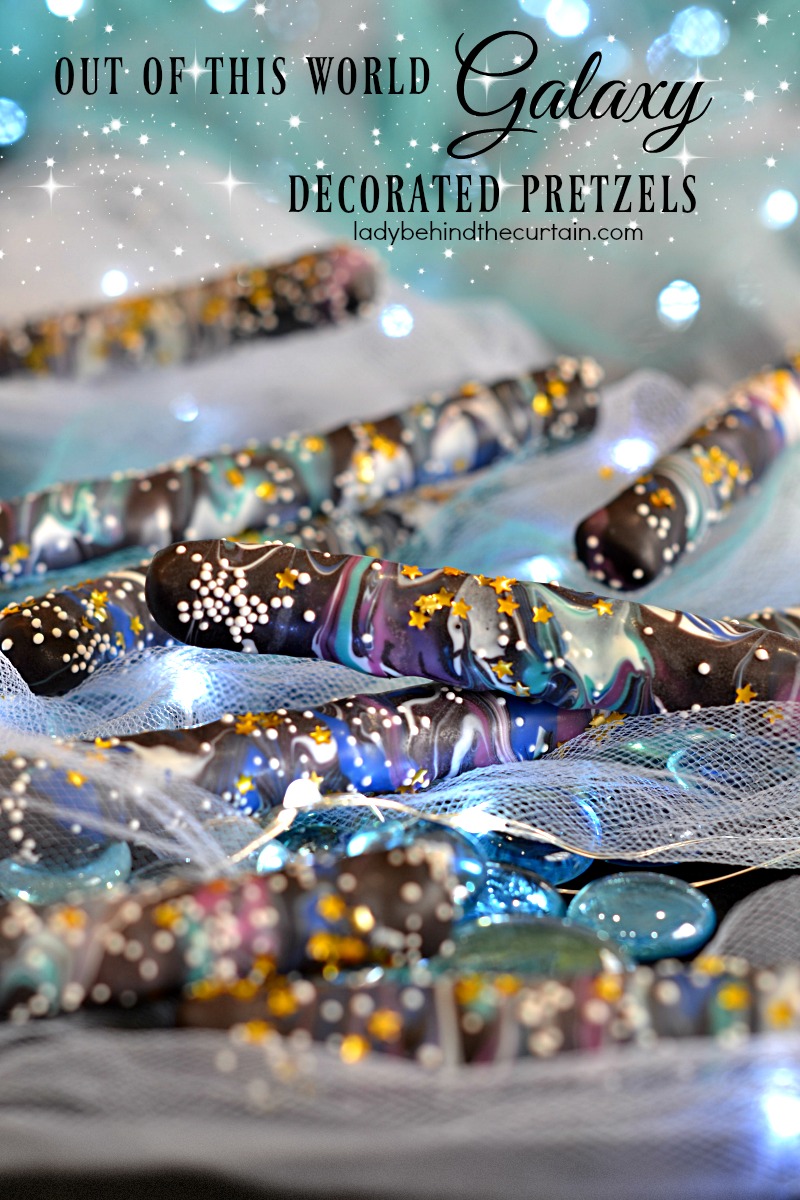 These marbled pretzels are just what your party needs; with swirls of black, teal, blue, purple and white.  White non pareil sprinkles represent tiny planets.  The gold star sprinkles are what makes these pretzels stand out.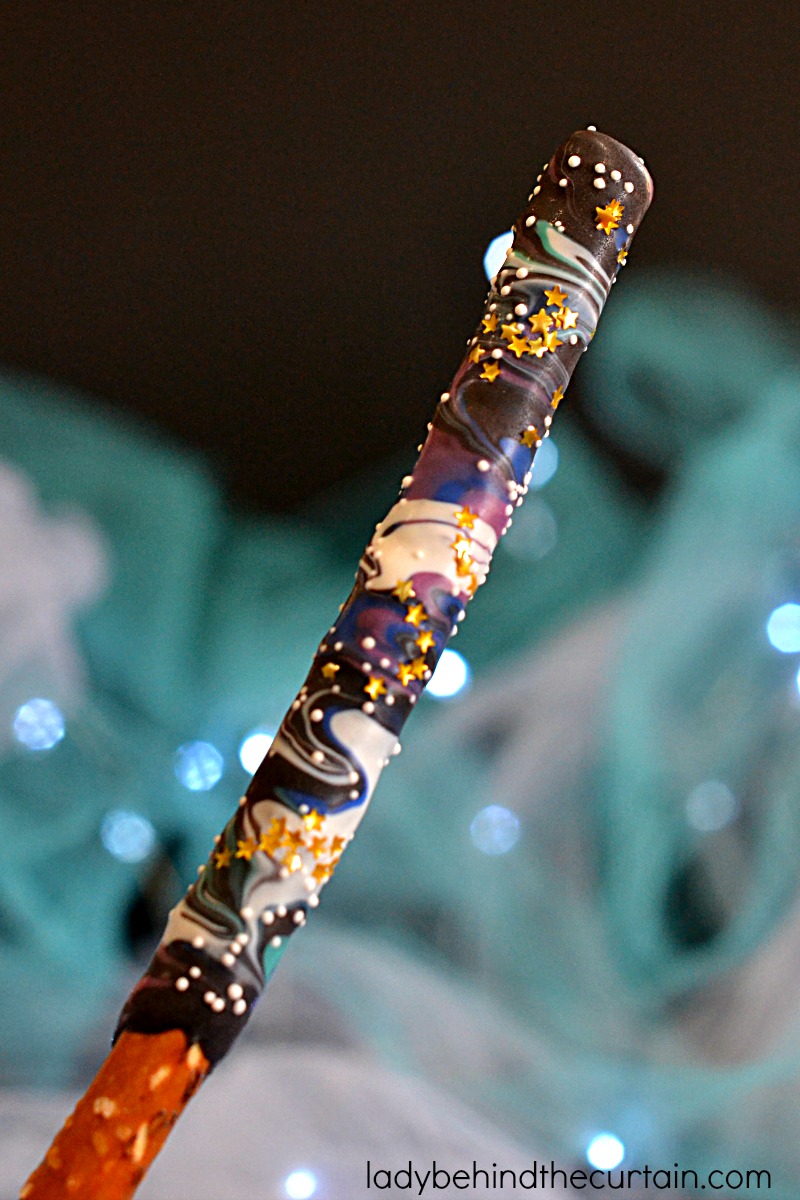 MARBLING PRETZELS
When you look at my technique for the marbling effect you may see that their is some waste.  Remember this…..you will be creating TWELVE incredible looking party pretzels for under $10.  Most techniques call for a tub of melted candy (the main color), drizzling the other colors on top and then dipping the pretzel in through the drizzled colors.  I don't think that technique works as well as the one I do here.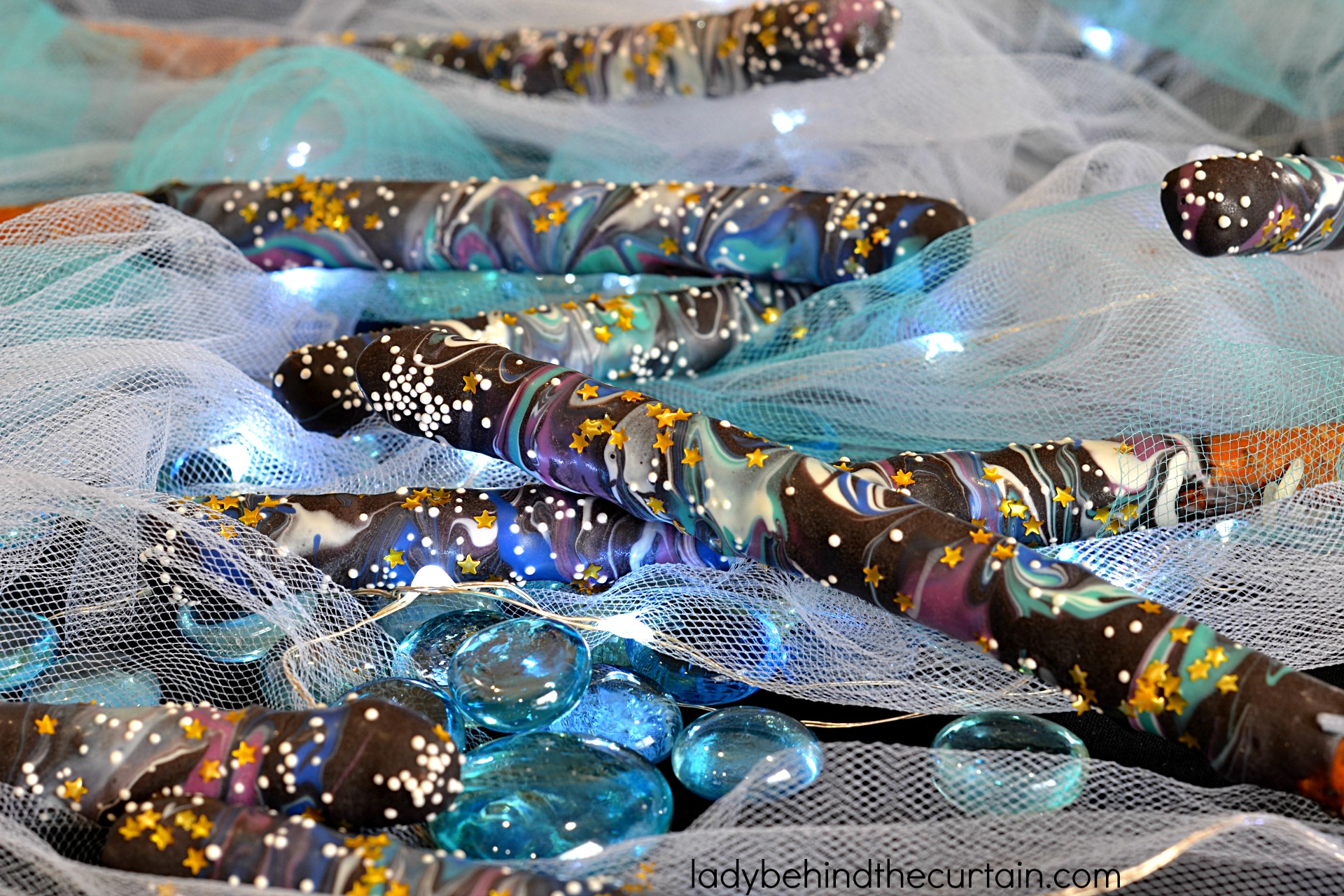 Click here for a tutorial on how to marble pretzels—->>>>MARBLED VALENTINES DAY PRETZELS
HERE'S A VIDEO ABOUT MARBLING.  In this video you will see that I skipped pouring the melted candy into piping bags.  I later found, there was less waste if I added the candy to a piping bag.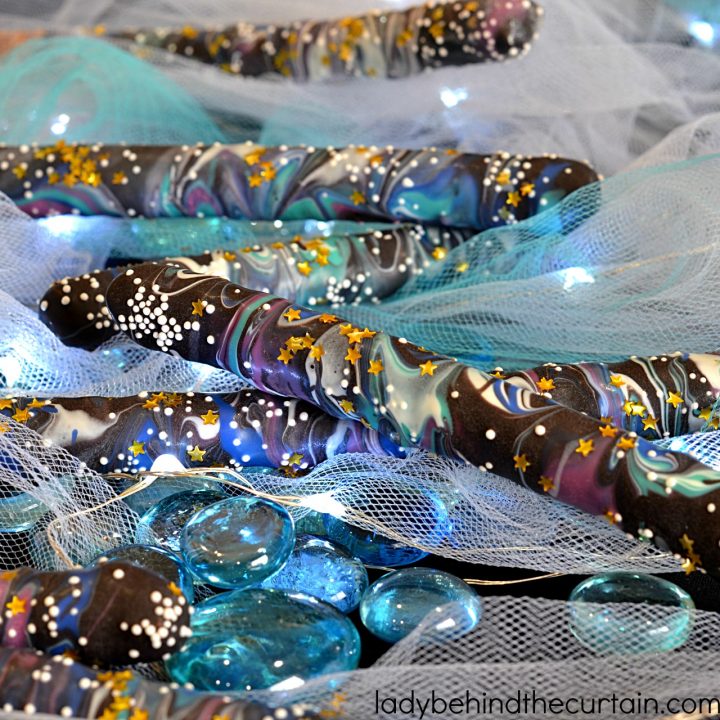 Out of this World Galaxy Decorated Pretzels
Yield:
12 Decorated Pretzels
 Blast off to another planet with these fun Out of this World Galaxy Decorated Pretzels.
Ingredients
1 (12 ounce) bag black candy melts
1 cup turquiose candy melts
1 cup bright white candy melts
1 cup purple candy melts
1 cup navy blue candy melts
5 tablespoons shortening
5 (12-inch) piping bags
12 pretzel rods
white non pareil sprinkles
gold star spinkles
Instructions
Pour candy and 1 Tablespoon of shortening into each small microwave safe bowl.  Microwave 1 minute and 30 seconds in 30 second increments, stirring between each increment (or until completely melted); until creamy.  Pour each melted color (except the black) into their own piping bag.  Snip the tip off of each bag and set aside.

Dip the pretzel into the black melted candy making sure to leave about 2-inches without candy. DO NOT TAP OFF EXCESS CANDY   Drizzle each color on top of the black.  As you tap the side of the pretzel with your finger turn the pretzel, continue turning in the same direction.  If you don't like the way it looks (it needs more of one color or you can't see the black) add to the pretzel.  Continue building, taping and turning until the pretzel reaches the desired look.
While the candy it still wet, sprinkle on a few white non pareil sprinkles and star sprinkles.  Place finished pretzels in a container filled with rice in the refrigerator until the candy hardens (about 15 minutes).  Store at room temperature in a pretzel bag or air tight container.
Nutrition Information
Amount Per Serving
Calories

0
Total Fat

0g
Saturated Fat

0g
Cholesterol

0mg
Sodium

0mg
Fiber

0g
Sugar

0g
Protein

0g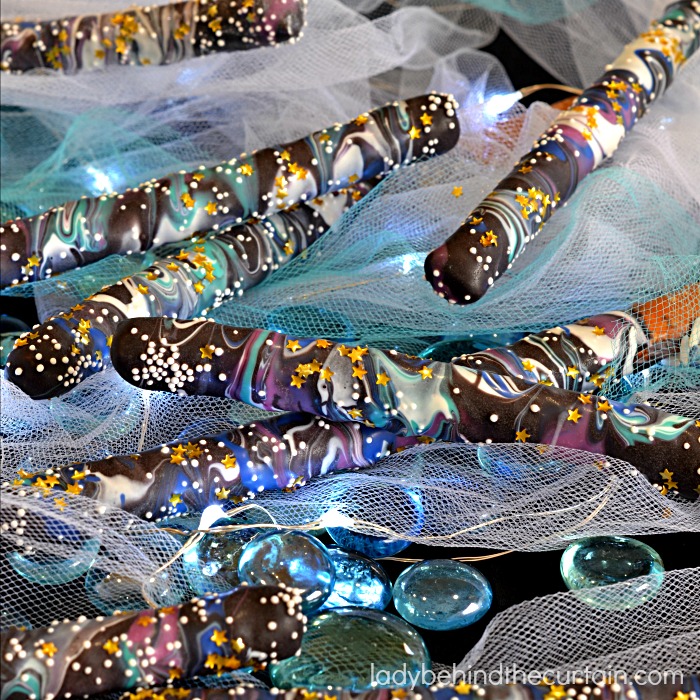 WATCH THIS VIDEO TO LEARN MORE PRETZEL DECORATING TECHNIQUES!
MORE PRETZEL IDEAS
WICKED WITCH FINGER PRETZELS  2. LIGHT SABER PRETZELS  3. WINTER ICICLE PRETZELS
NEVER MISS A POST!
Sign up for my newsletter and receive my recipes in your inbox. Easy to see anytime and saved for safe keeping. Click Here and sign up today! —->>>>CURTAIN CALL NEWSLETTER