Light Saber Pretzels | Celebrate the NEW Star Wars The Force Awakens movie with these easy to make treats!  Nothing beats the sweet and salty flavor of a pretzel dipped in candy.
I am a super Syfy nerd.  I was 19 when the first Star Wars movie came out. It was HUGE!  All the creatures and new space vehicles visually I was in heaven.  I have ALL 6 DVD's and am anxiously awaiting the NEW movie!  I was so excited when I heard that my granddaughter (who is 5) was already a fan and wants to see the movie as badly as I do.  Now these movies can be passed down to the new generation of movie goers.
I joined with some of my friends to bring you some fun ideas to help you celebrate with us!  Scroll down to see their fun creations!
Here is what you will need to create these fun and yummy pretzels.
Supplies
pretzel rods
white melting candy (I used Wilton candy melts)
black melted candy ( I used Wilton candy melts)
assorted colors of sugar sprinkles
Optional: shortening
Directions
Line a cookie sheet with parchment or wax paper (I prefer parchment).
Add black candy to a medium microwave safe bowl along with some shortening (about 1 tablespoon).  Heat until melted in 30 second intervals, stir until creamy.  Once candy is ready, dip one third of the pretzel into the melted candy.  Place on prepared cookie sheet.  Once all the pretzel ends have been dipped; place the cookie sheet in the refrigerator to harden (about 10 minutes).  Pour the remaining melted black candy either in a squeeze bottle or a zip to bag and set aside.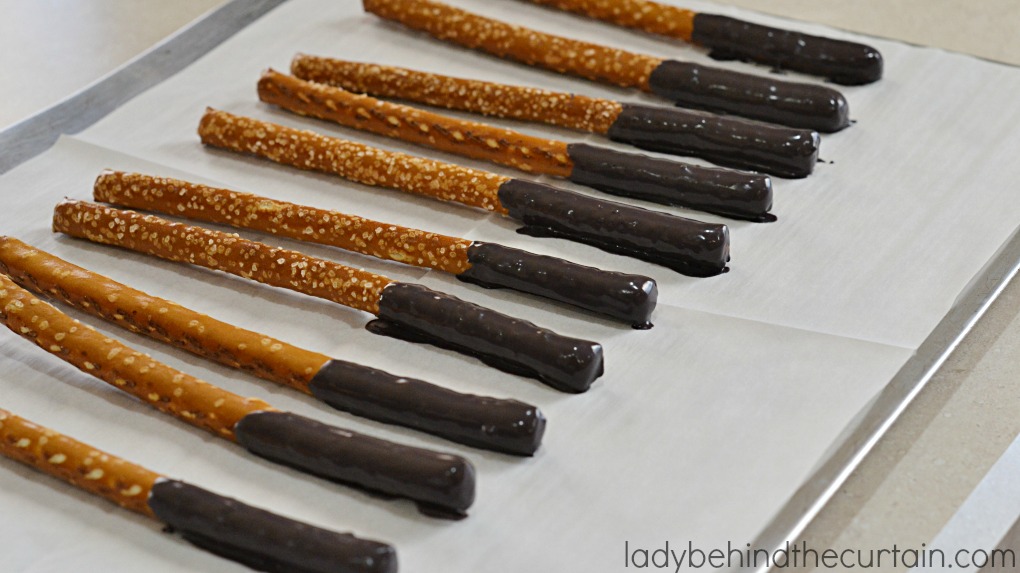 While the pretzel ends are hardening prepare the white candy and sugar sprinkles.  NOTE:  Only work with one color of sprinkles at a time.  Prepare the white candy the same way as you did the black candy.  When the black candy has hardened; dip the remaining pretzel in the white candy making sure to touch the black.  TIP:  I wrapped the black candy with wax paper to protect it from melting.
Add colorful sugar to the white portion of the pretzel and place on a cookie sheet lined with parchment paper or wax paper.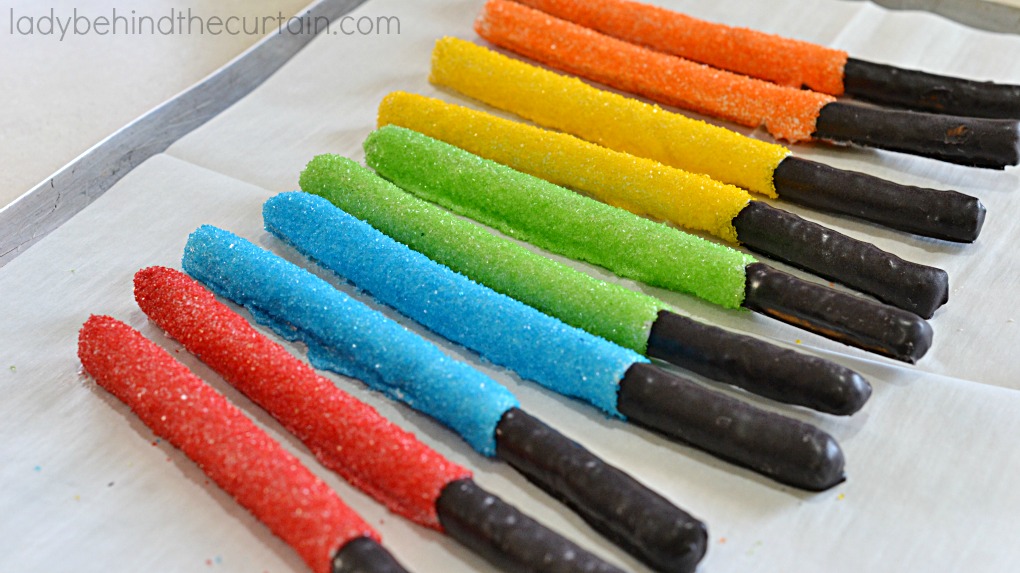 Once all the pretzel have been dipped and coated set aside to harden (about 15 minutes).  By this time the black candy should have thickened up.  Drizzle some of the thickened black candy over the handle portion of the pretzel.
FOR MORE OF A VISUAL HELP PLEASE VIEW MY VIDEO "HOW TO DECORATE PRETZELS".
MORE GREAT IDEAS FOR YOUR STAR WARS PARTY!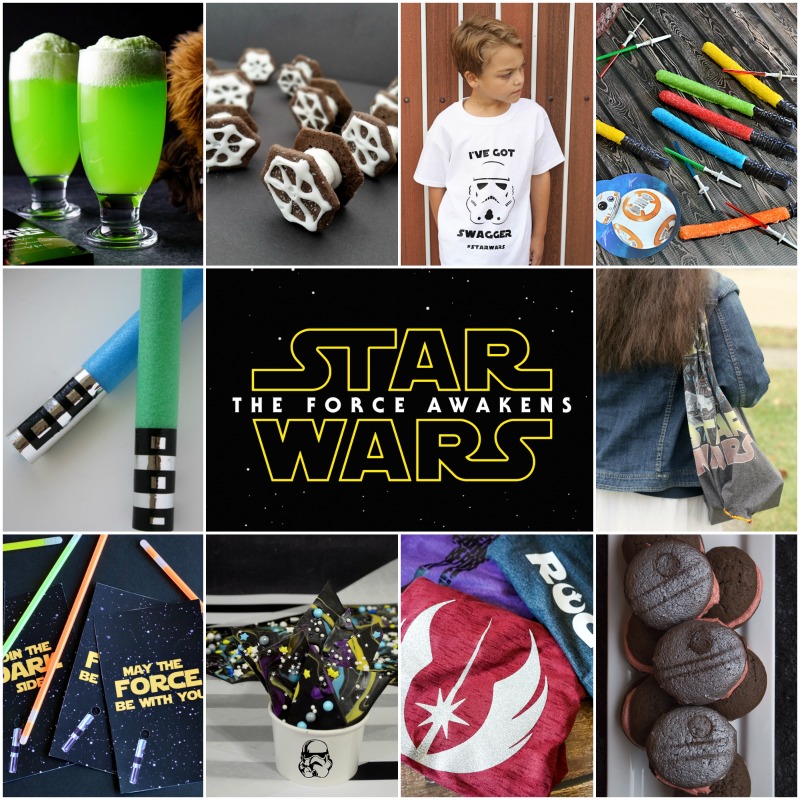 Darth Malt Milkshakes from Around My Family Table
Death Star Whoopie Pies from Bread Booze Bacon
Star Wars Glowstick Lightsaber Party Favors from Home.Made.Interest.
Set of DIY Star Wars Shirts from The Love Nerds
Tie Fighter Cookies from Celebrating Family
Quick and Easy Princess Leia Cinnamon Rolls from Love Bakes Good Cakes
Light Saber Pretzel Rods from Lady Behind The Curtain
Stormtrooper T-shirt from Liz on Call
DIY Star Wars T-Shirt Tote Bag from All Roads Lead to the Kitchen
Star Wars Inspired Bento Box from East Valley Mom's Guide
Yoda Soda Float from Sugar & Soul
Light Saber Mocktails from Whimsicle
Intergalactic Bark from Pink Cake Plate
DIY Star Wars Soap from Mom's Messy Miracles
DIY Lightsabers from Life Anchored