Cinnamon Vanilla Peach Pie Ice Cream
Everything is better with pie and this delicious Cinnamon Vanilla Peach Pie Ice Cream is no exception!  The Cinnamon Vanilla Ice Cream is yummy on its own but throw in a piece of pie and you have a masterpiece!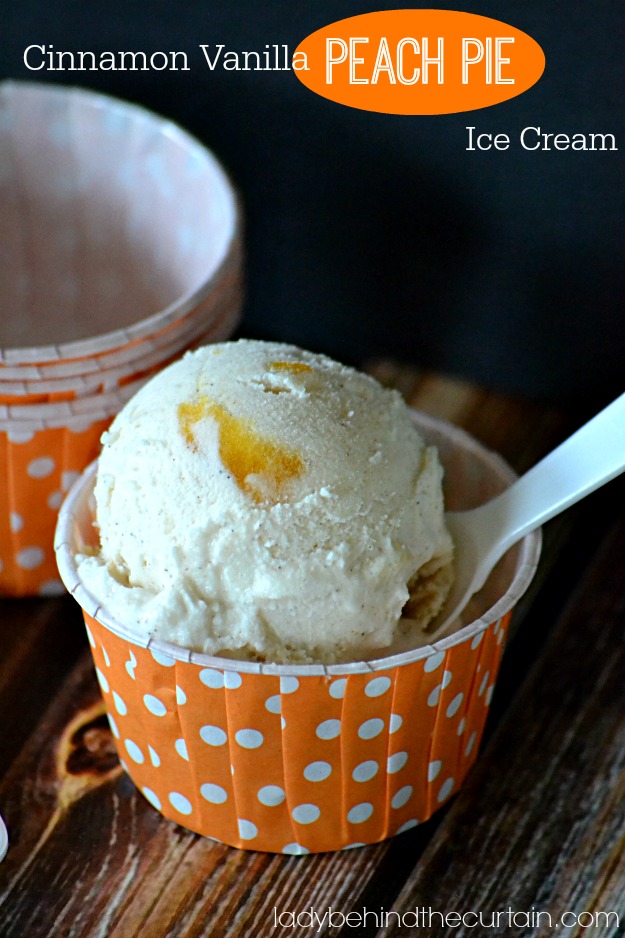 The best part is you don't have to make a peach pie to make this fabulous ice cream.  I used a 10 ounce 2 serving frozen pie from Marie Calenders and it was amazing!  Also, I cooked the pie in the microwave so it was done in just a few minutes.  Have a favorite place you like to get a slice of pie?  Order an extra slice, take it home and make ice cream!  🙂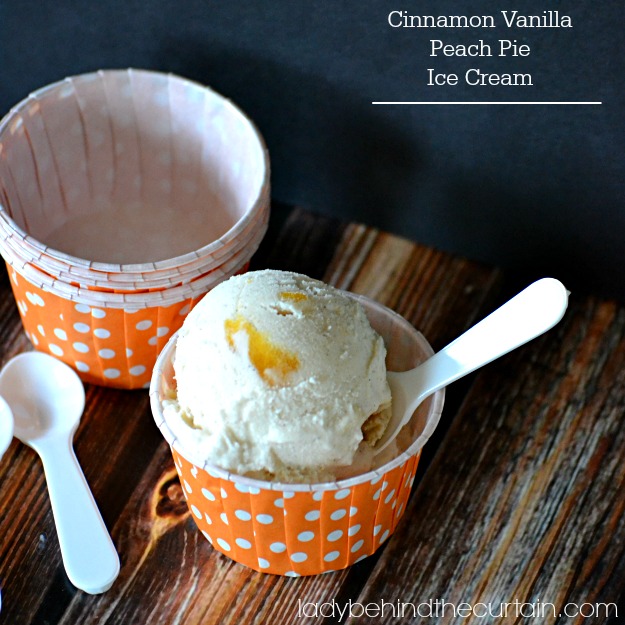 I served this fun ice cream in polka dot ice cream cups with tiny taster spoons from Shop Sweet Lulu.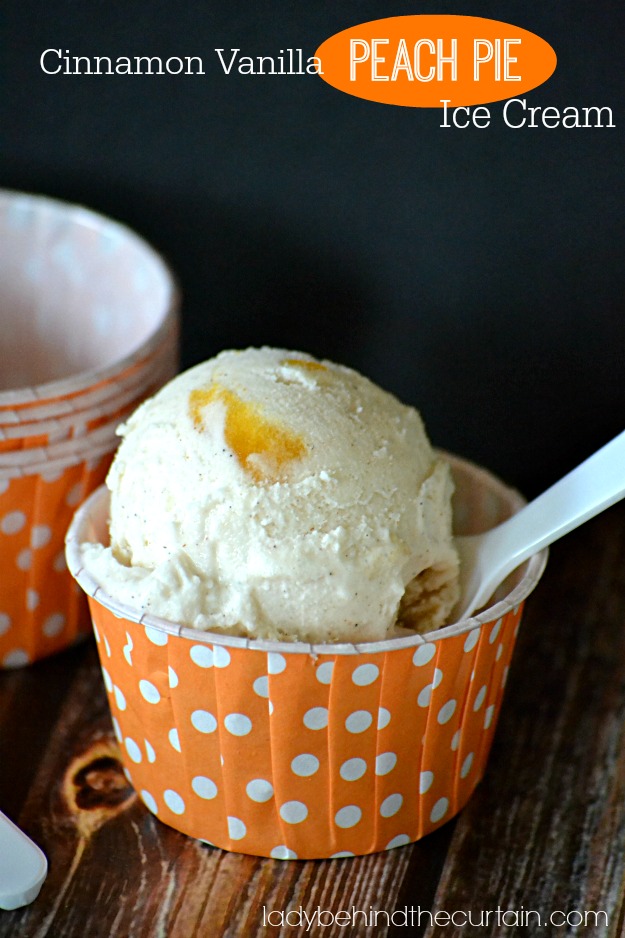 Want more Ice Cream recipes?  Stay in the know and follow my Frozen Treats Pinterest Board.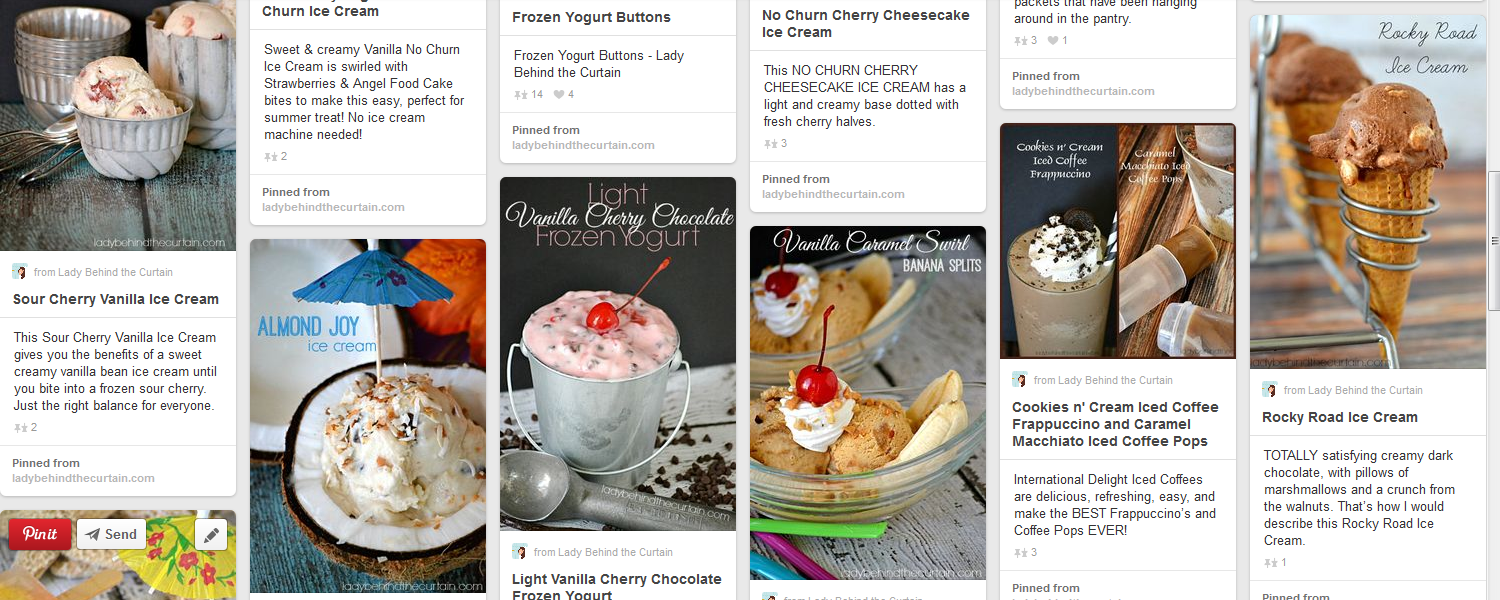 Create your own Recipe Box and save your favorite Lady Behind The Curtain recipes.  Make a Meal Plan with your favorite recipes and ZipList will automatically add the ingredients to a Shopping List.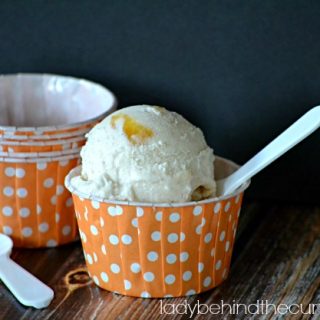 Cinnamon Vanilla Peach Pie Ice Cream
Yield:
Serves 14 (2 quarts)
Ingredients
1 1/2 cups whole milk
1 1/8 cups granulated sugar
3 cups heavy cream
1 1/2 tablespoons vanilla paste or vanilla extract
1 teaspoon ground cinnamon
1 (10 ounce) piece of pie cut into bite size pieces
Instructions
In a medium mixing bowl, use a hand mixer and on low speed combine the milk and sugar until the sugar is dissolved.
Stir in the heavy cream,vanilla and cinnamon.
Turn the machine on; pour the mixture into the freezer bowl.
Let mix until thickened, about 20 to 25 minutes.
The last 5 minutes add the peach pie pieces.
The ice cream will have a soft, creamy texture. If a firmer consistency is desired, transfer the ice cream to an airtight container and place in freezer for about 2 hours.