Sweet Apple Dumplings | There are many ways to make apple dumplings… this is my favorite.  Plump and juicy on the inside encased with a crispy crust and topped with a drizzle of maple cream.  These super easy to make Sweet Apple Dumplings will make an impression on your guests while helping you spend less time in the kitchen preparing them.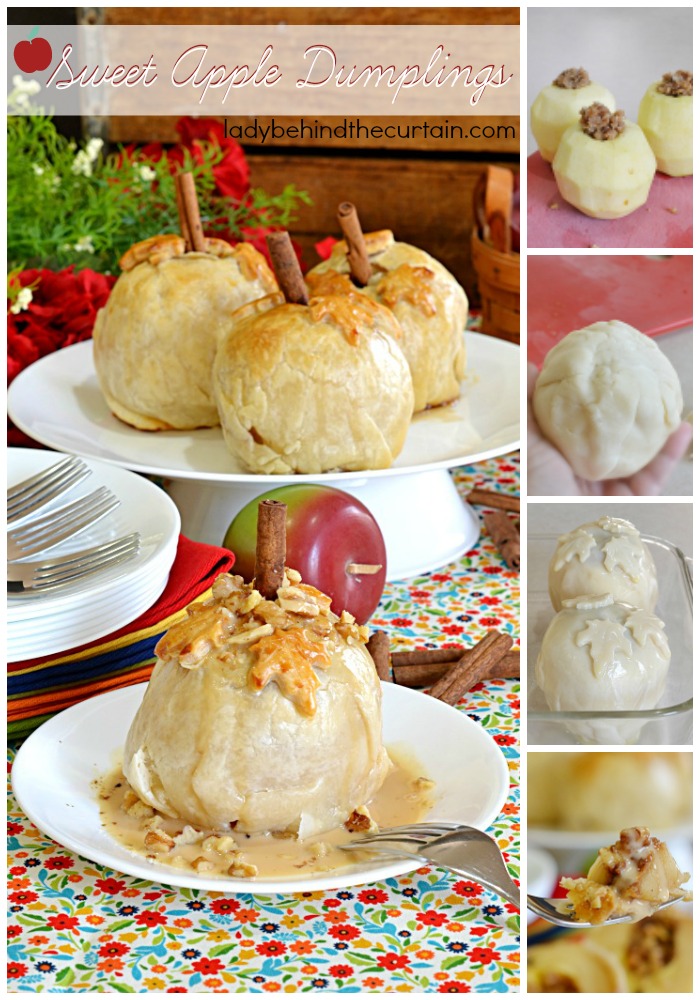 Serve these dumplings with a scoop of Old Fashioned Vanilla Bean Frozen Custard.  But first…..have a light meal like a bowl of Chicken and Potato Florentine Soup.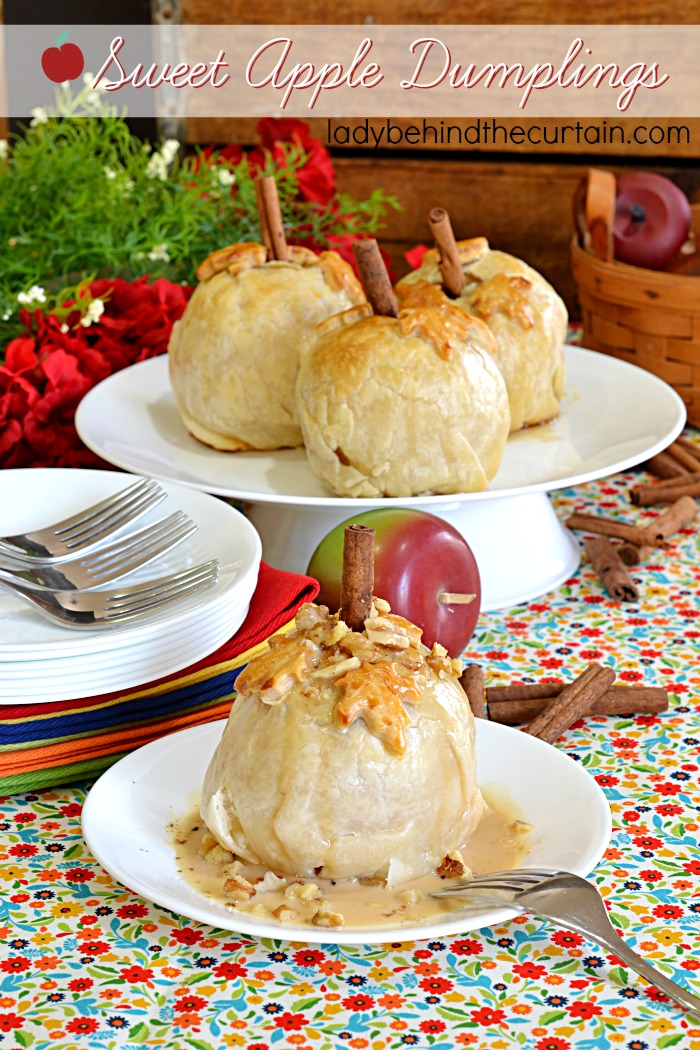 Here's how easy it is to make!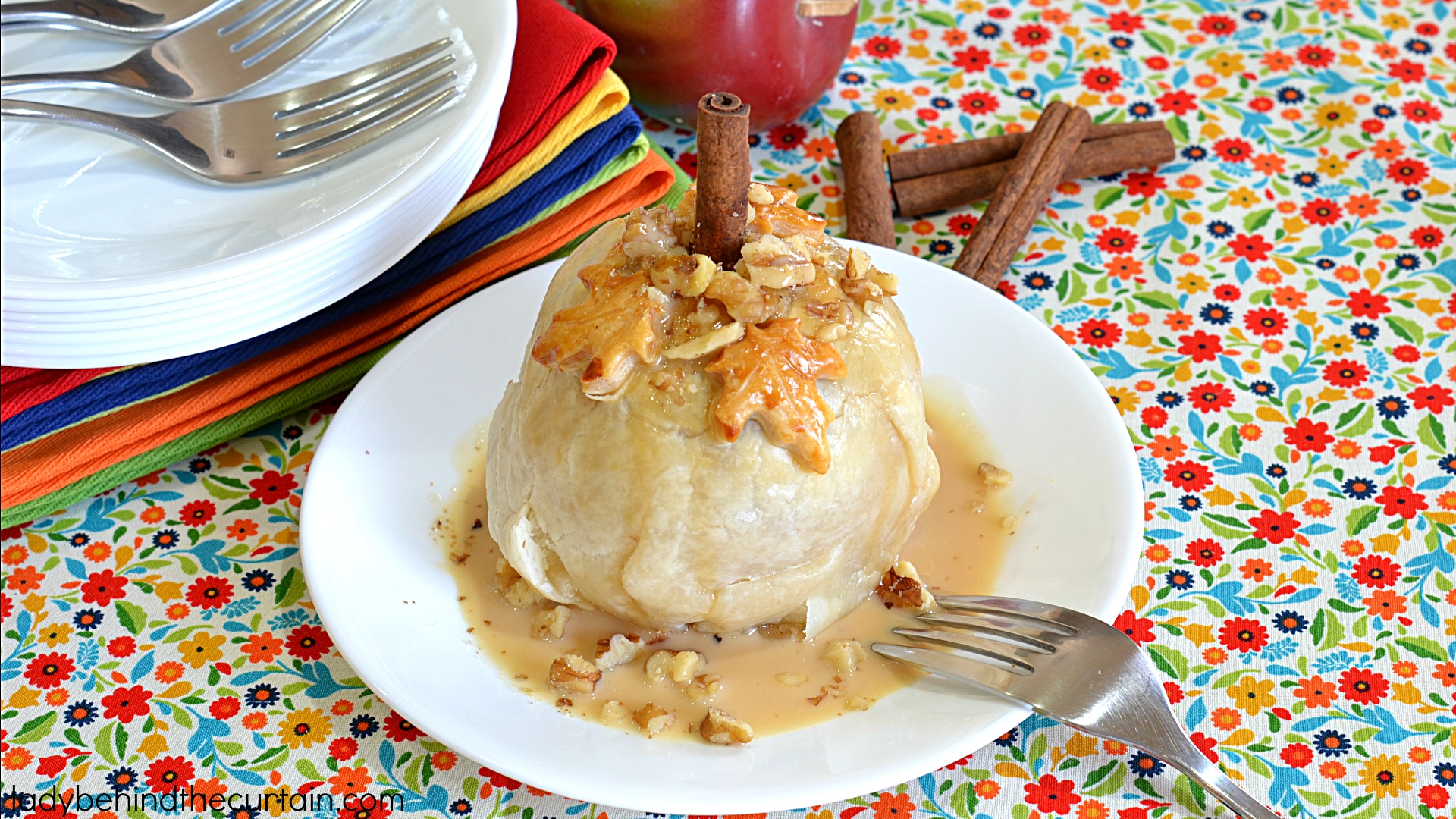 Peel apples.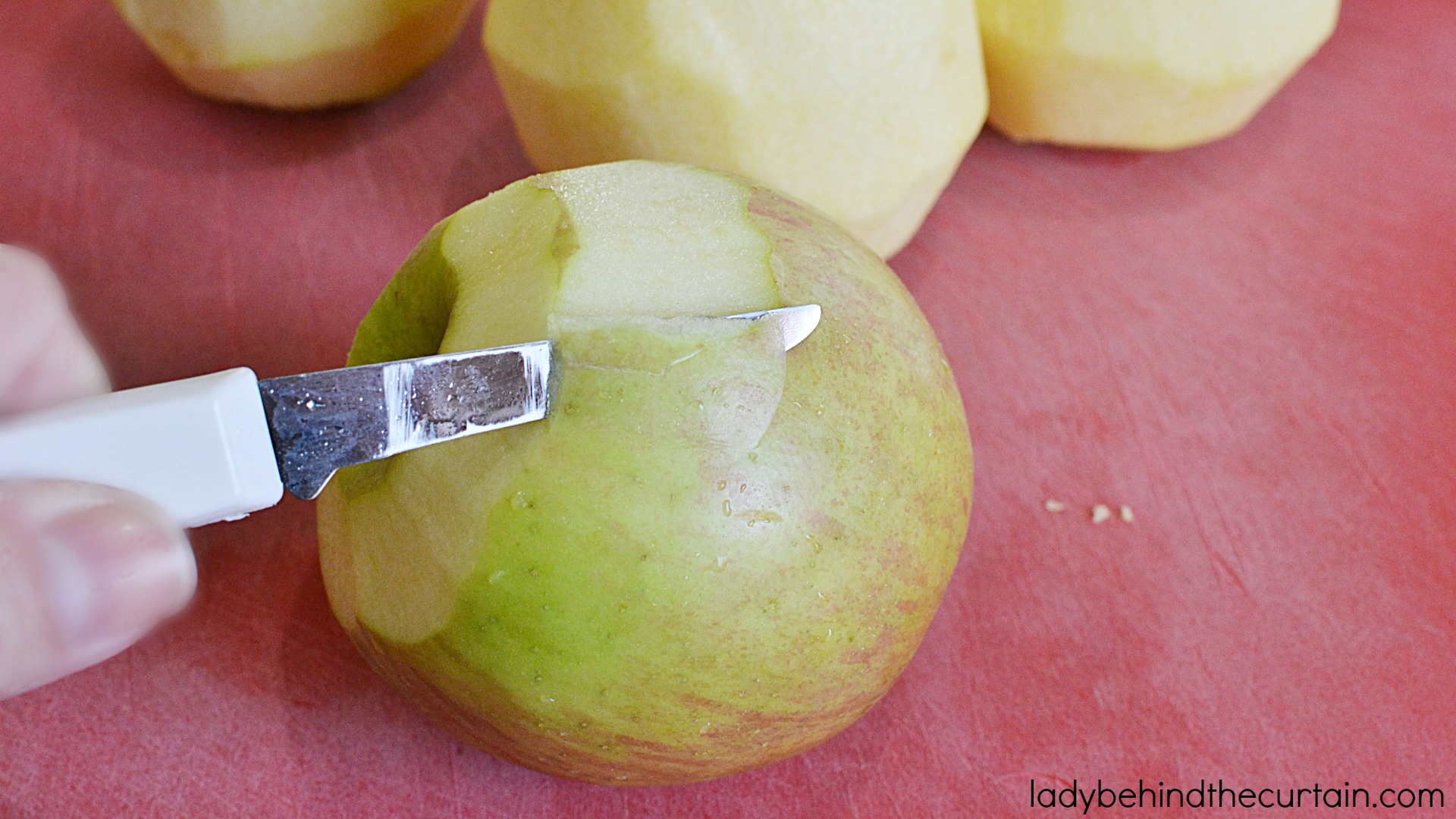 Core the apples using a melon baller.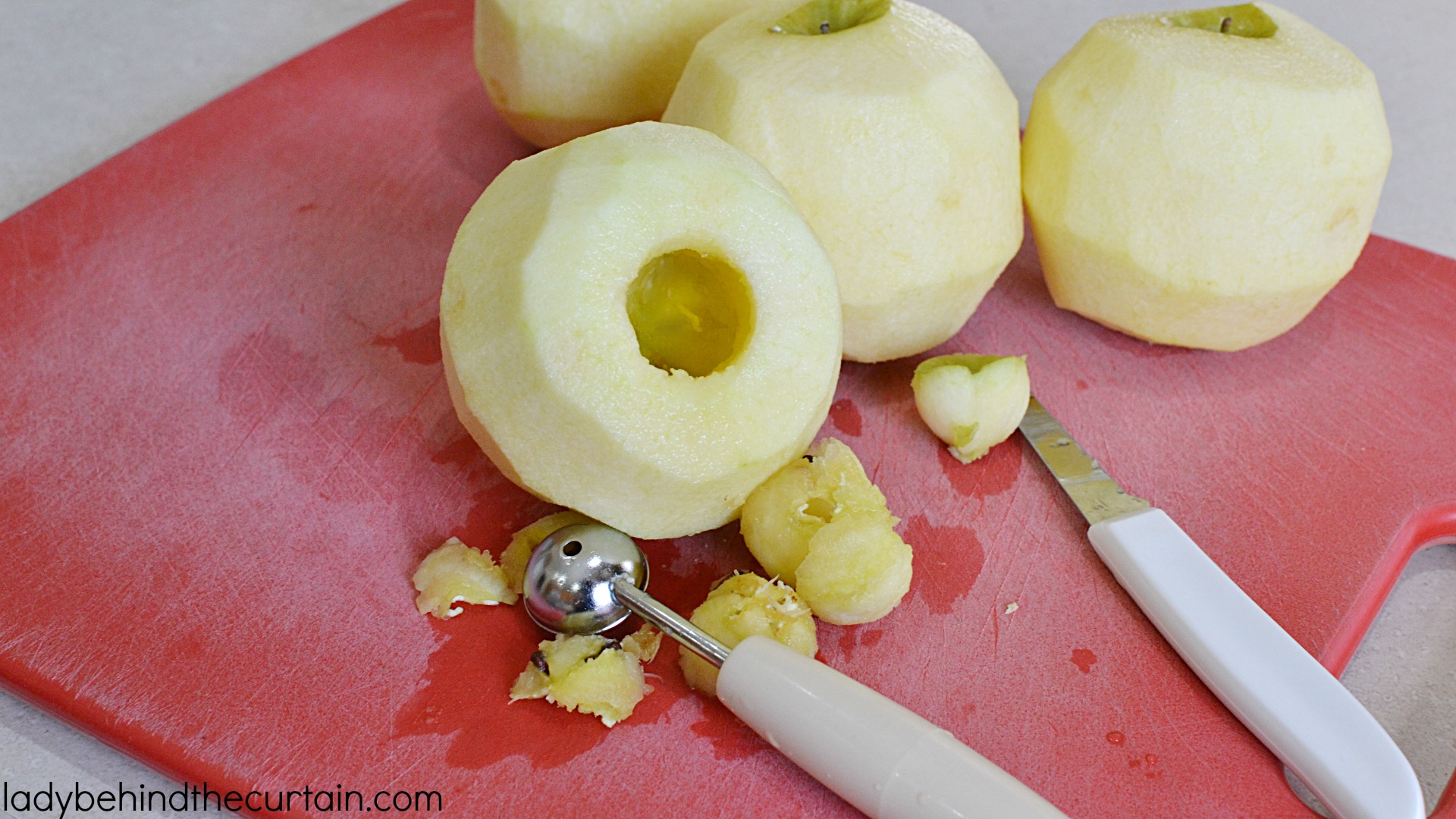 Fill with brown sugar filling.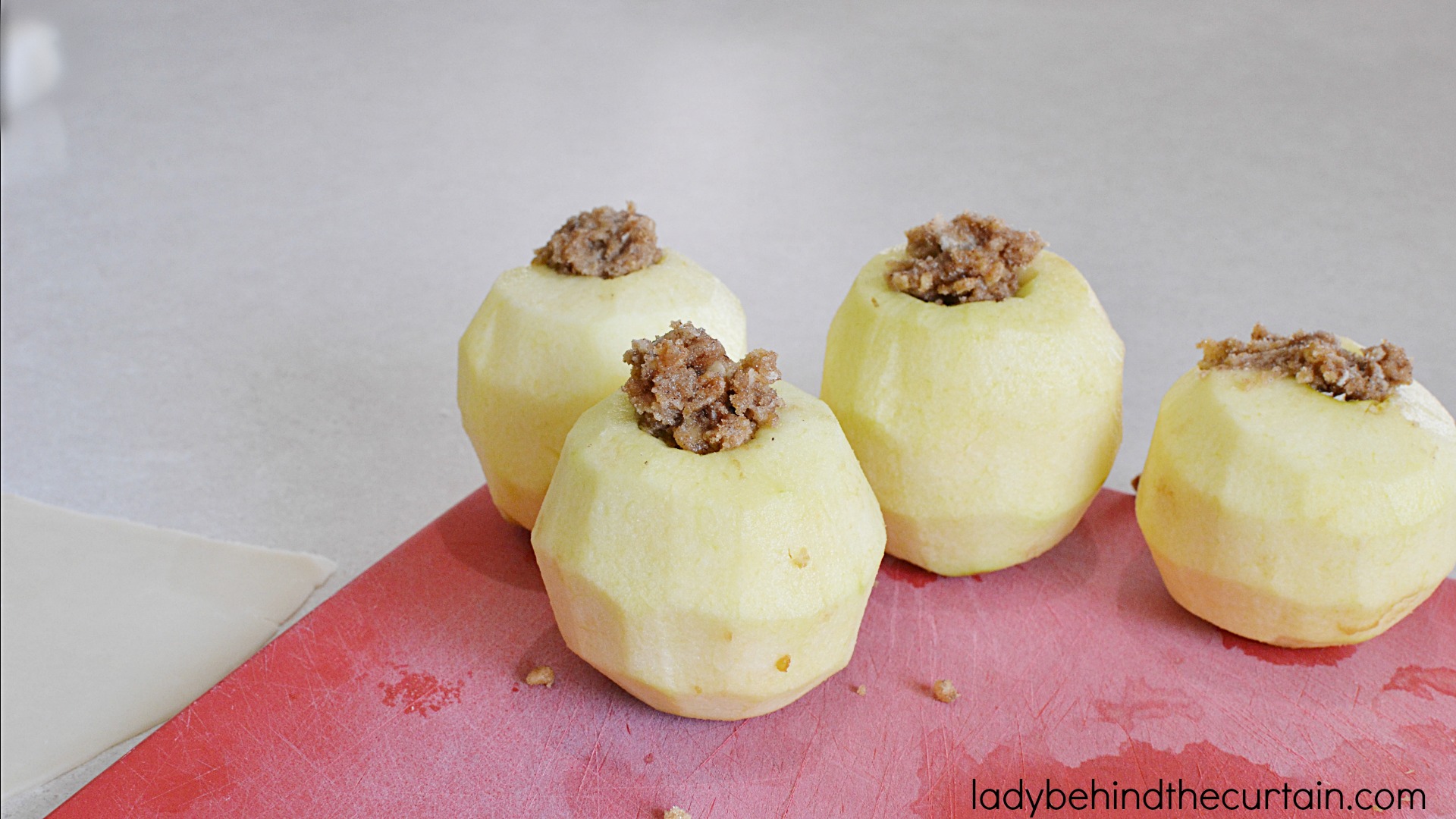 Cut store bought pie crust in half.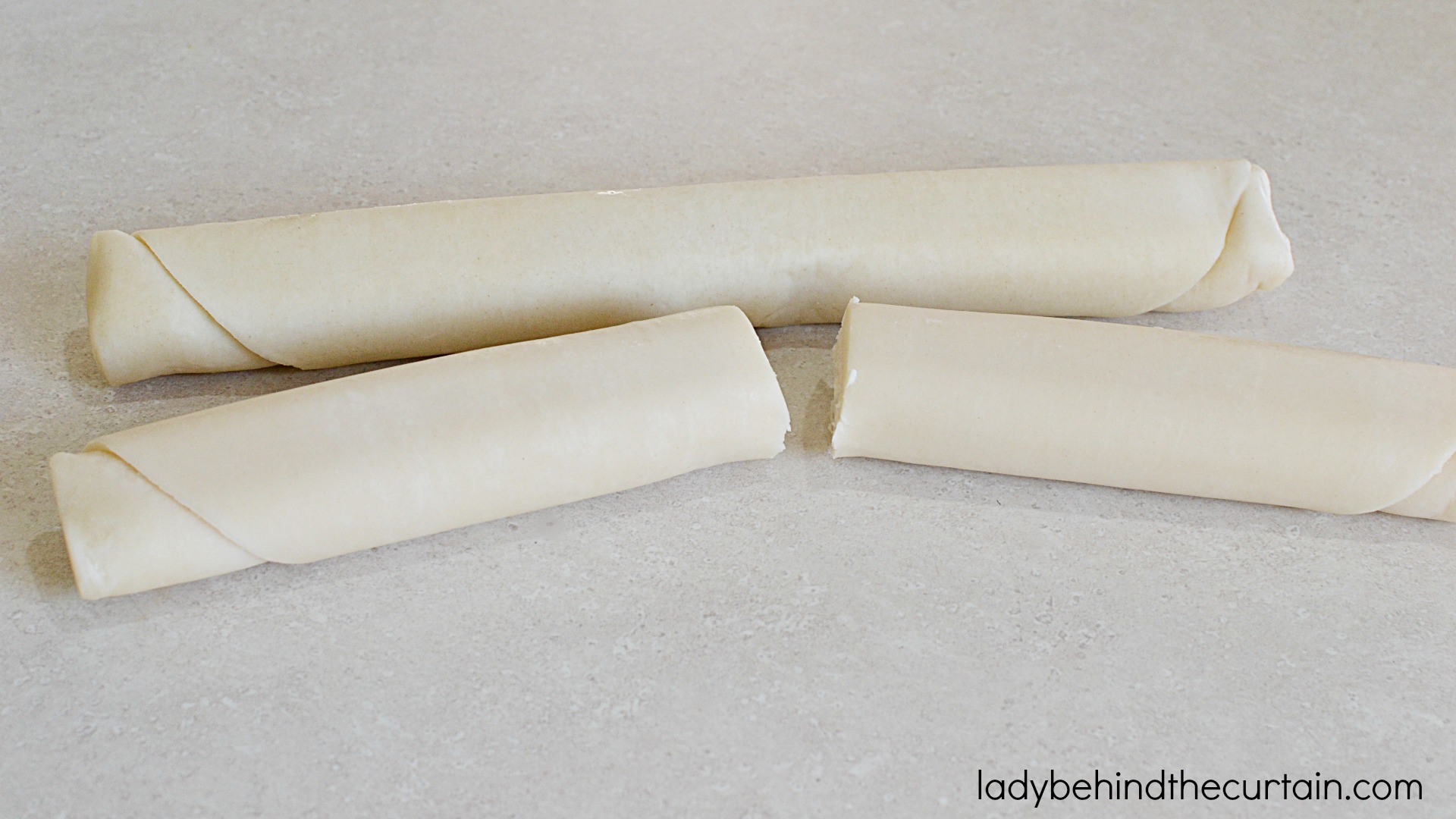 Roll large enough to drape over apple.  Lay pie crust over filled apple.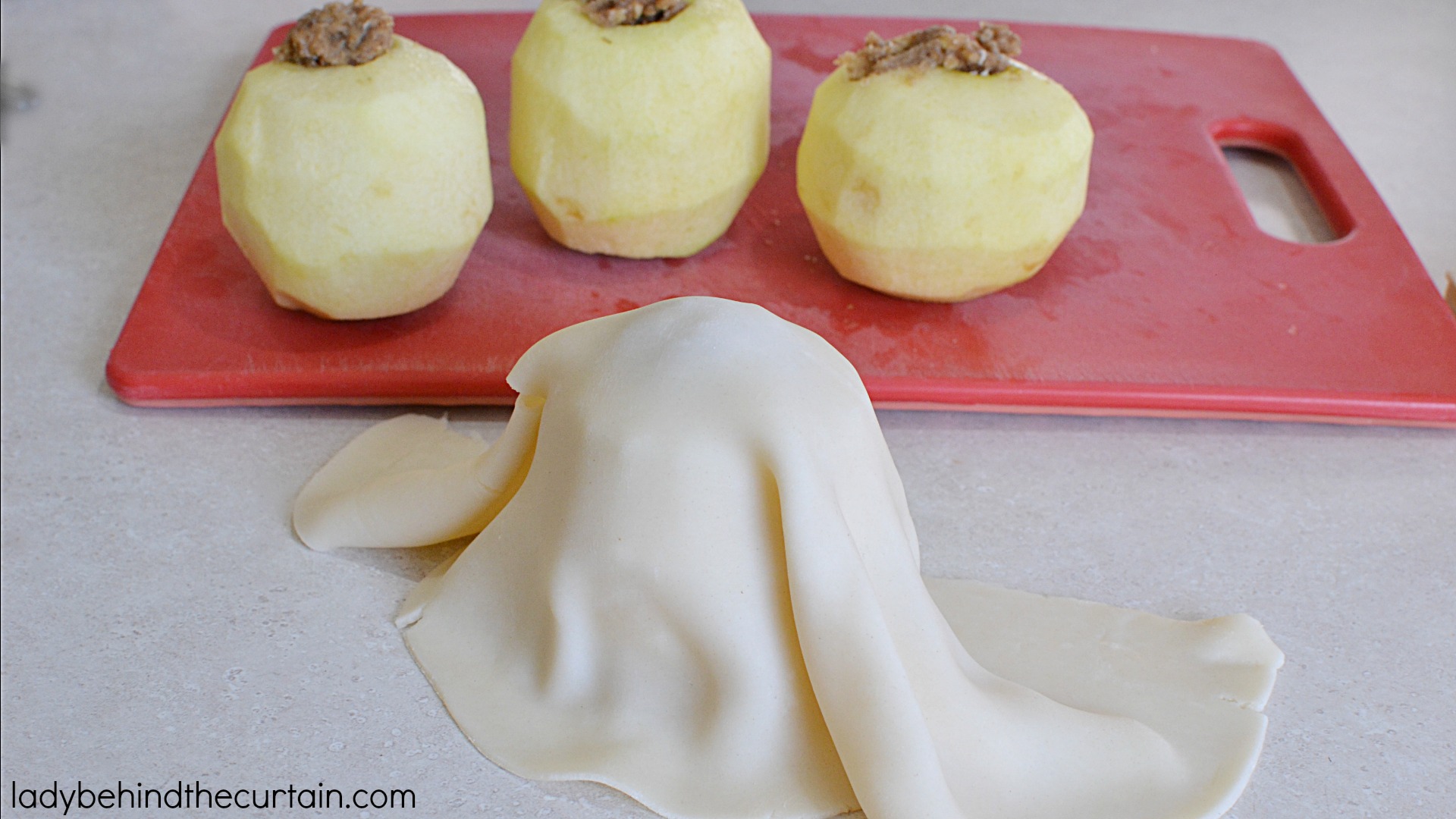 Mold to fit.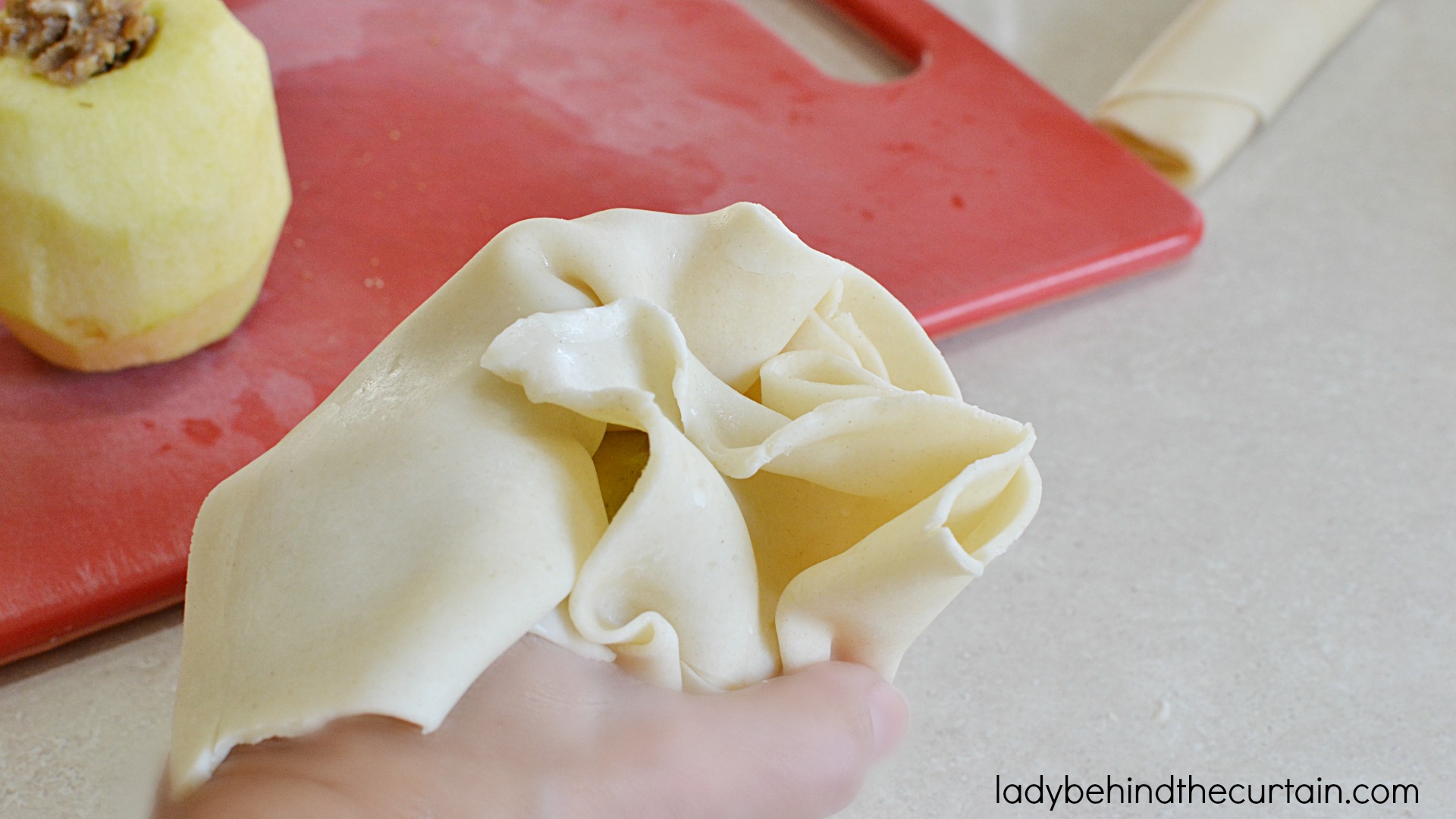 Tear off extra crust and set a side for later.
Once all the apples have been covered; roll together the remaining extra pie crust and cut out maple leaf shapes.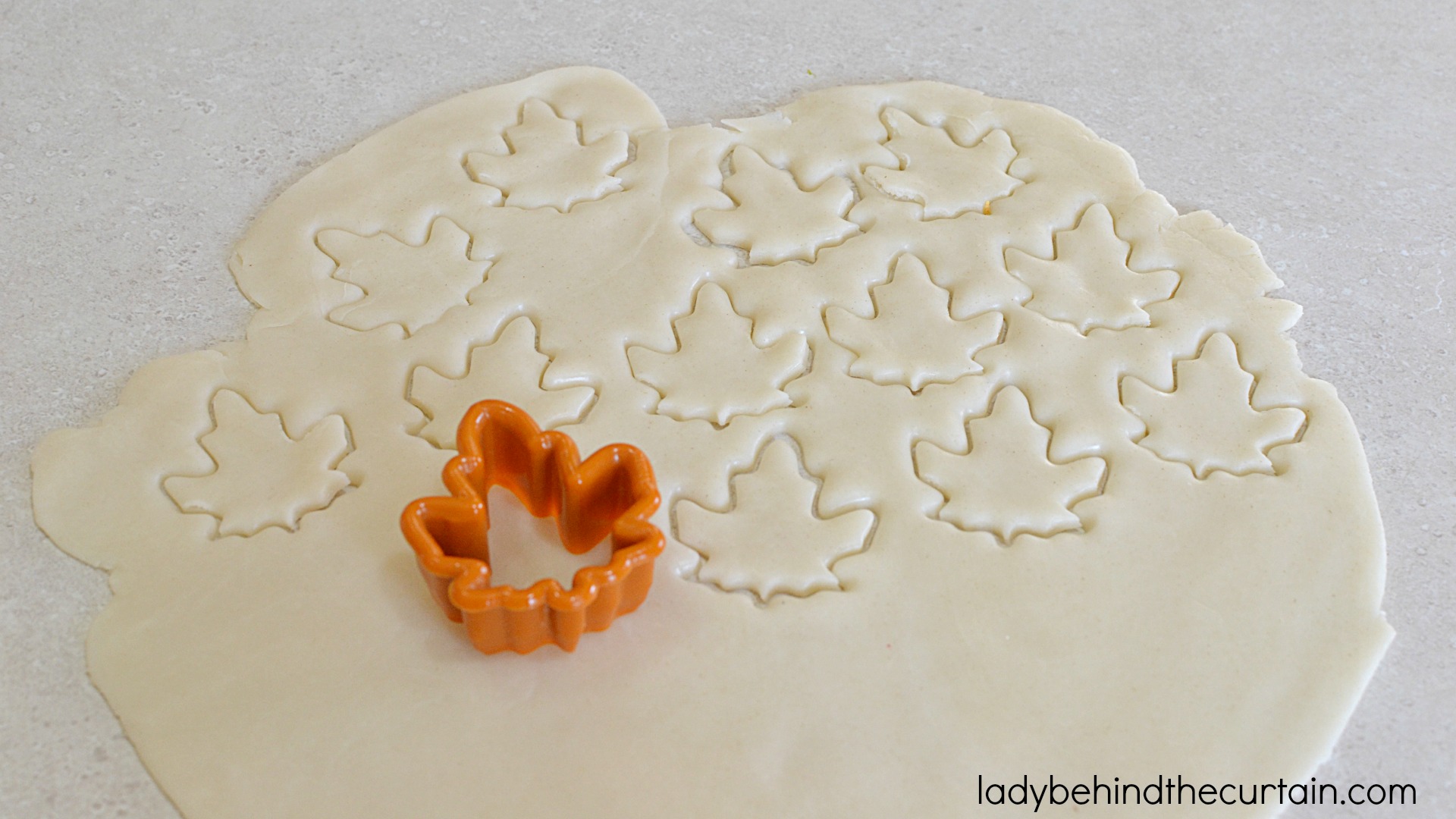 Brush on egg wash and adhere the leaves.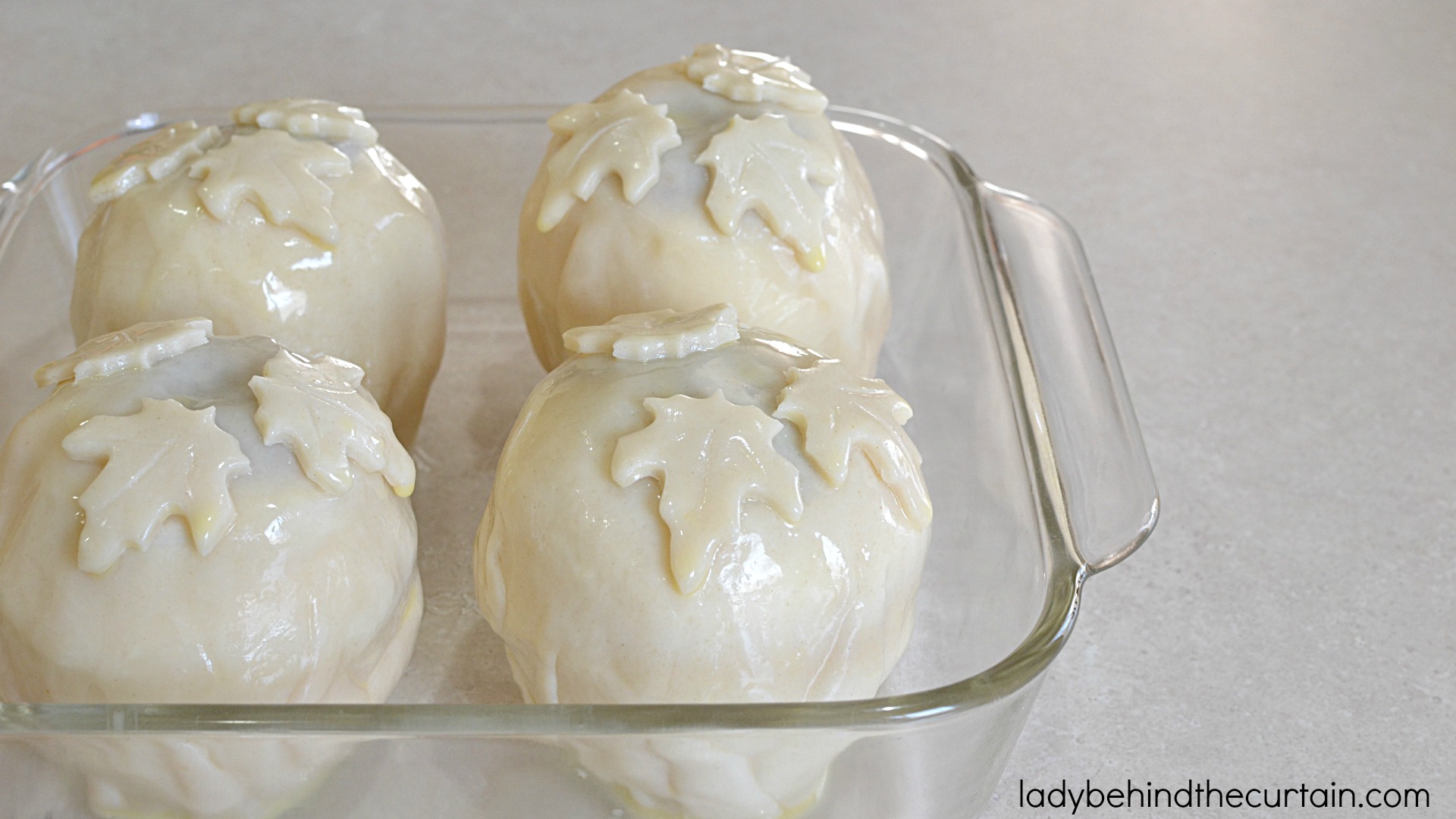 Once finished baking add a small cinnamon stick to the center; drizzle with maple cream and sprinkle chopped walnuts over the apple.
THE PERFECT BITE!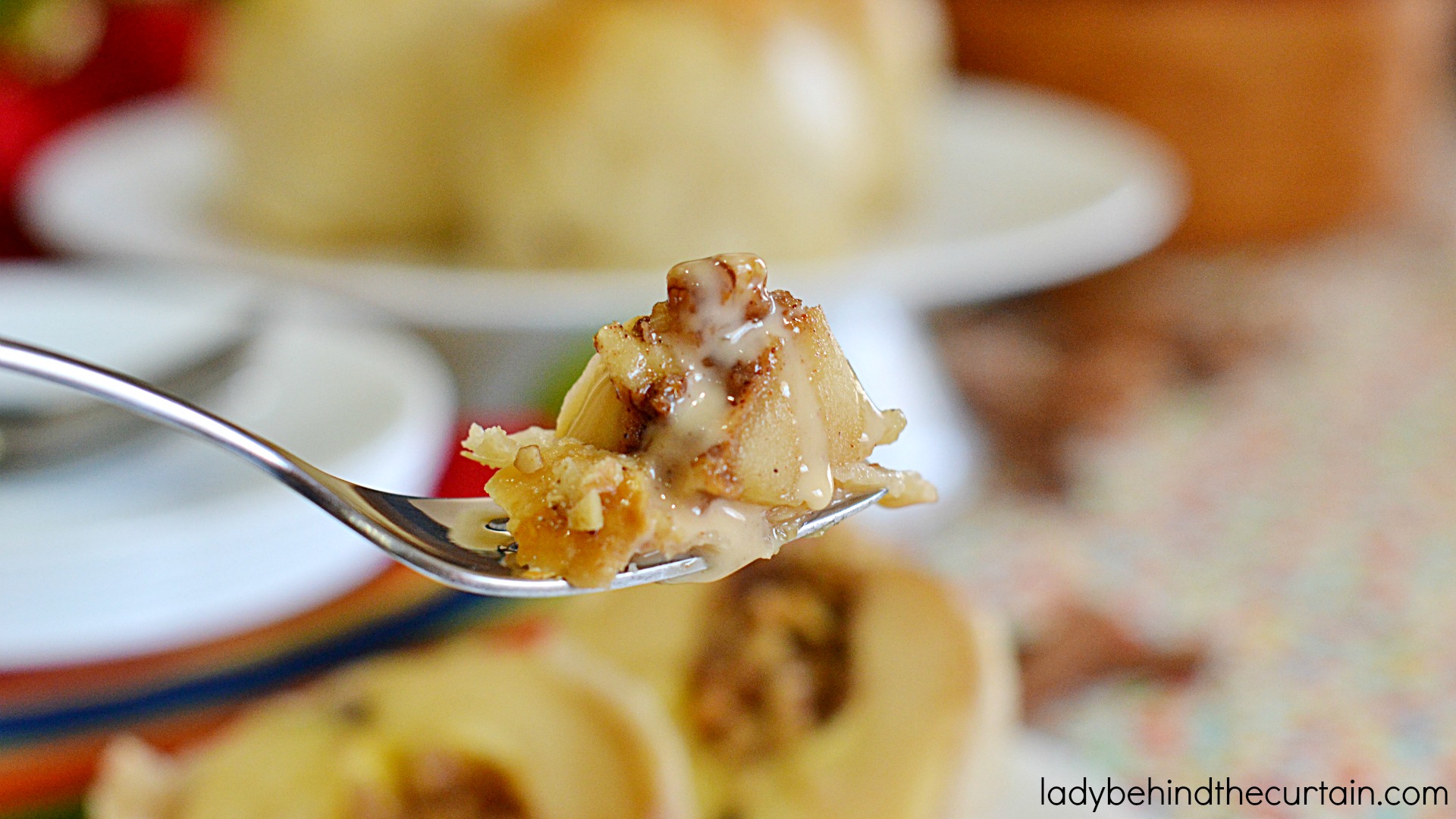 MORE APPLE DESSERTS

APPLE DANISH CHEESECAKE  2. PUFF PASTRY APPLE HAZELNUT WRAPS 3. CHEESECAKE BAKED APPLES
Sweet Apple Dumplings
Ingredients
For the Apple Filling:
4 - small baking apples, cored and peeled
1/2 cup chopped walnuts, divided
1/4 cup firmly packed brown sugar
2 tablespoons butter, softened
1/8 teaspoon cinnamon
1/8 teaspoon ground nutmeg
Store bought package of Pillsbury ready made 2-pie crusts
1 large egg
1 tablespoon milk
4 - cinnamon sticks, garnish
For the Maple Cream:
1/4 cup maple-flavored syrup
1/4 cup heavy cream
1 teaspoon vanilla extract
Instructions
For the Apple Filling:
Preheat oven to 425 degrees.
In a small bowl, using a fork, blend 1/4 cup walnuts, brown sugar, butter, cinnamon and nutmeg to form a thick paste.
Cut 1 pie crust in half.
Roll dough into a round large enough to cover your apple.
Peel and core apples, taking care not to cut all the way through bottoms. I used the small end of a melon baller
Spoon 2 tablespoons walnut mixture into the core of each apple.
Drape crust rounds over apples, pressing dough together under bottom of apple.
In a small bowl, beat the egg with the milk.
Brush egg wash over each apple dumpling and place in a 9-inch square baking pan.
Roll out the reserved pie crust and cut maple leaf shapes.
Press shapes gently onto dumplings; brush with egg wash.
Bake dumplings for 10 minutes; reduce heat to 350 degrees; bake until apples are tender (about 40 to 45 minutes).
For the Maple Cream:
In a small saucepan, heat maple-flavored syrup, cream and vanilla over low heat just until warm, about 1 minute.
To serve, place each dumpling on a dessert dish; spoon 2 tablespoons maples cream around each and drizzle a bit over the top.
Garnish with the cinnamon sticks and sprinkle with remaining walnuts.