Soft Apple Oatmeal Cookies
Incredibly soft and full of fresh apples, these soft apple oatmeal cookies are the perfect fall cookie. With the warm spices of Fall, hearty oats, and freshly picked juicy apples. You'll want to add the applesauce cookies to your holiday cookie tray list.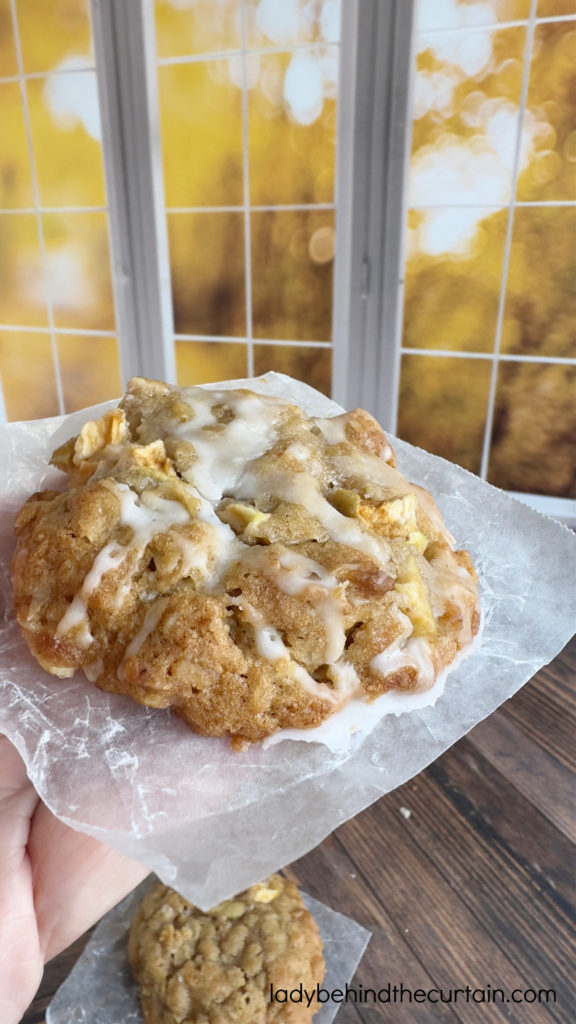 These soft apple oatmeal cookies are transformed from your favorite oatmeal cookie into a Fall inspired cookie recipe that are almost impossible to resist. With chunks of apples in every bite, no chilling required, and simple ingredients.
How to Make Soft Apple Oatmeal Cookies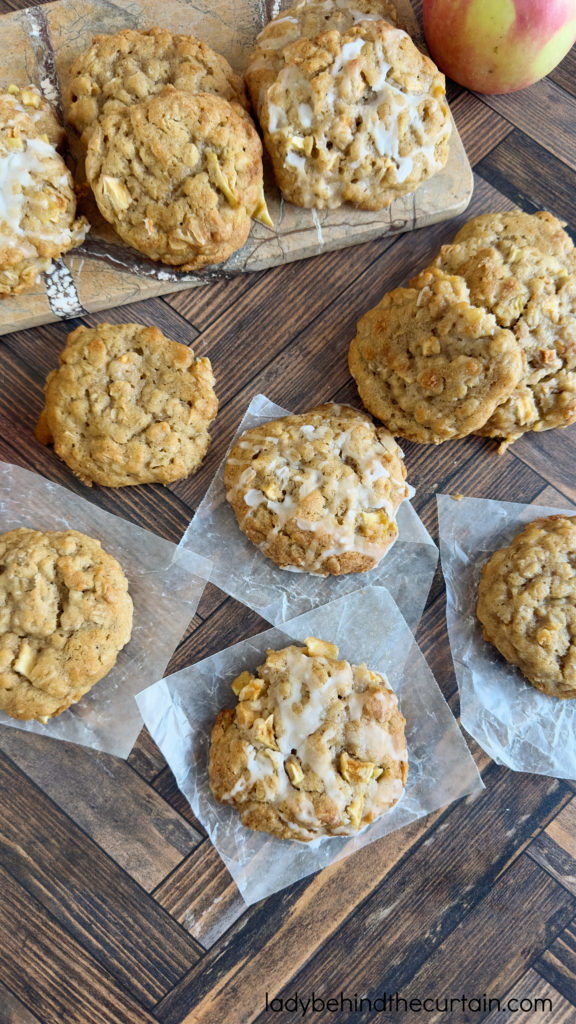 In a large bowl, beat butter and brown sugar until creamy.
Add the apple pie spice, baking powder, baking soda, and salt. Beat until fluffy.
Add the egg, applesauce, and vanilla, beat until combined.
Beat in flour, stir in oats and apples.
On cookie sheets lined with parchment paper, drop ¼ cup or ice cream scoop of cookie dough.
Bake 10-12 minutes.
Cool completely and if desired add a drizzle of glaze.
How to Freeze Oatmeal Cookies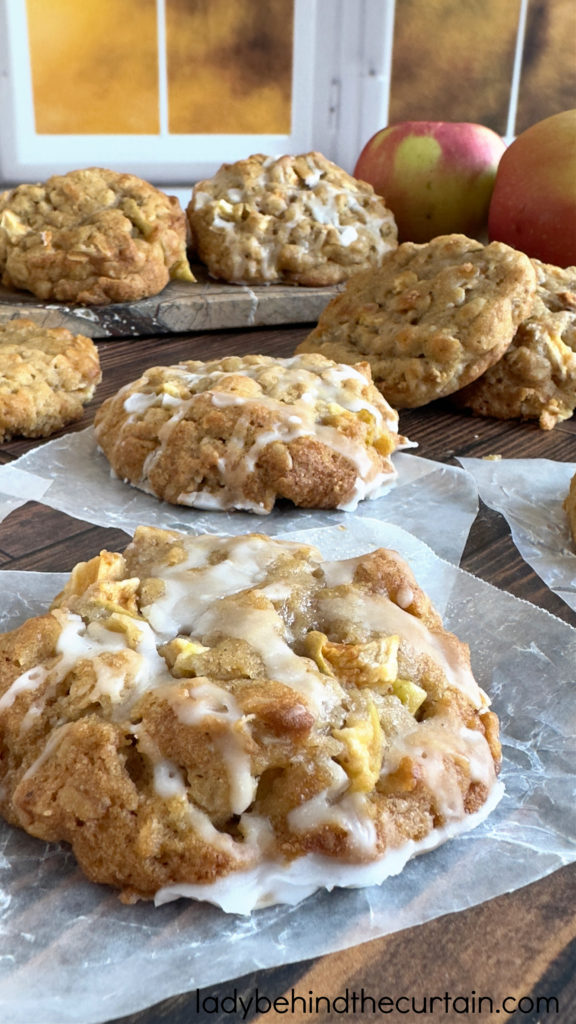 Whether you want to freeze cookie dough or freshly baked cookies the process is easy even with fresh chopped apples.
HOW TO FREEZE COOKIE DOUGH: Make the cookie dough as instructed in the recipe. Scoop ¼cup or ice cream scoop of dough onto a cookie sheet lined with parchment paper. Place cookie dough into the freezer. Once the dough is frozen, store it in a freezer bag or container in the freezer for up to 3 months. When you're ready to bake the cookie dough, you can bake them from frozen and just add 1 to 2 minutes of baking time if needed.
HOW TO FREEZE BAKED COOKIES: Once the cookies have cooled completely, store the cookies in a freezer bag or container. For added protection from sticking (remember these are soft apple oatmeal cookies), place a piece of parchment paper between cookie layers. When ready to serve, place them on the kitchen counter a few hours and allow them to come to room temperature.
What Apples Should I Use For To Make These Soft Apple Oatmeal Cookies?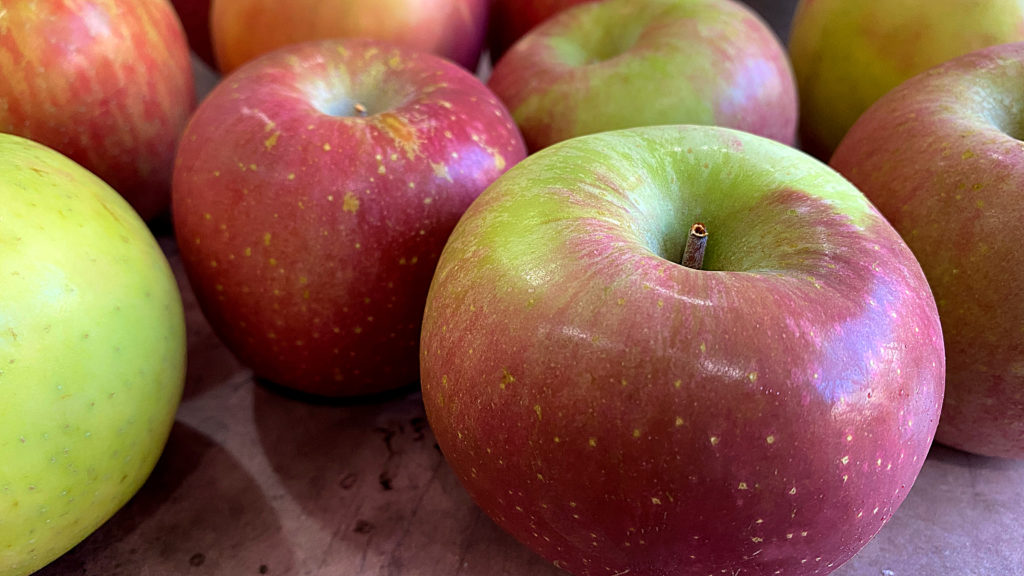 BEST APPLES FOR BAKING AND COOKING
BRAEBURN
CAMEO
CORTLAND
CRISPIN
EMPIRE
FUJI
GALA
GOLDEN DELICIOUS
IDARED
JAZZ
JONAGOLD
JONATHAN
LUCY
PINK LADY
SUNRISE MAGIC
Mix Your Apples
Have you ever thought of mixing your apples? I love splitting them into half sweet and half tart. If baking with one variety is good, two (or more) varieties make it even better!
| | | | | |
| --- | --- | --- | --- | --- |
| TASY TART | SWEET | SWEET + TART | CRISP | JUICY |
| Granny Smith, Idared, Cameo, Cortland | Empire, Fuji, Gala, Golden Delicious, Honeycrisp, Pink Lady | Jonathan, Jonagold | Braeburn, Empire, Gala, Honeycrisp, Pink Lady | Cameo, Granny Smith, Fuji, Sunrise, Magic |
Change up the recipe!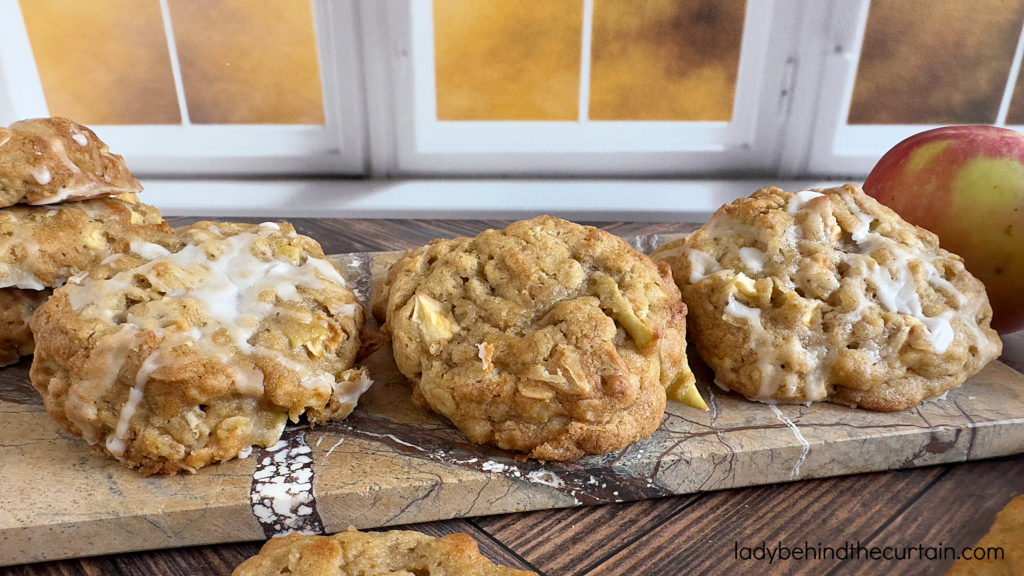 While these soft apple oatmeal cookies are delicious the way they are, there are a few ways that you can change them up. I love it when you can make several different cookies using the same cookie dough recipe as a base.
CINNAMON GLAZE: Add ½ teaspoon of ground cinnamon to the glaze recipe. BONUS: Also add a ½ teaspoon of maple flavoring. DELISH!
OATMEAL SANDWICH COOKIES: Add a swirl of homemade vanilla buttercream frosting between two cookies.
CINNAMON BAKING CHIPS: Add ½ to ¾ cup of baking chips to the cookie dough.
SOFT APPLE OATMEAL COOKIES FAQ's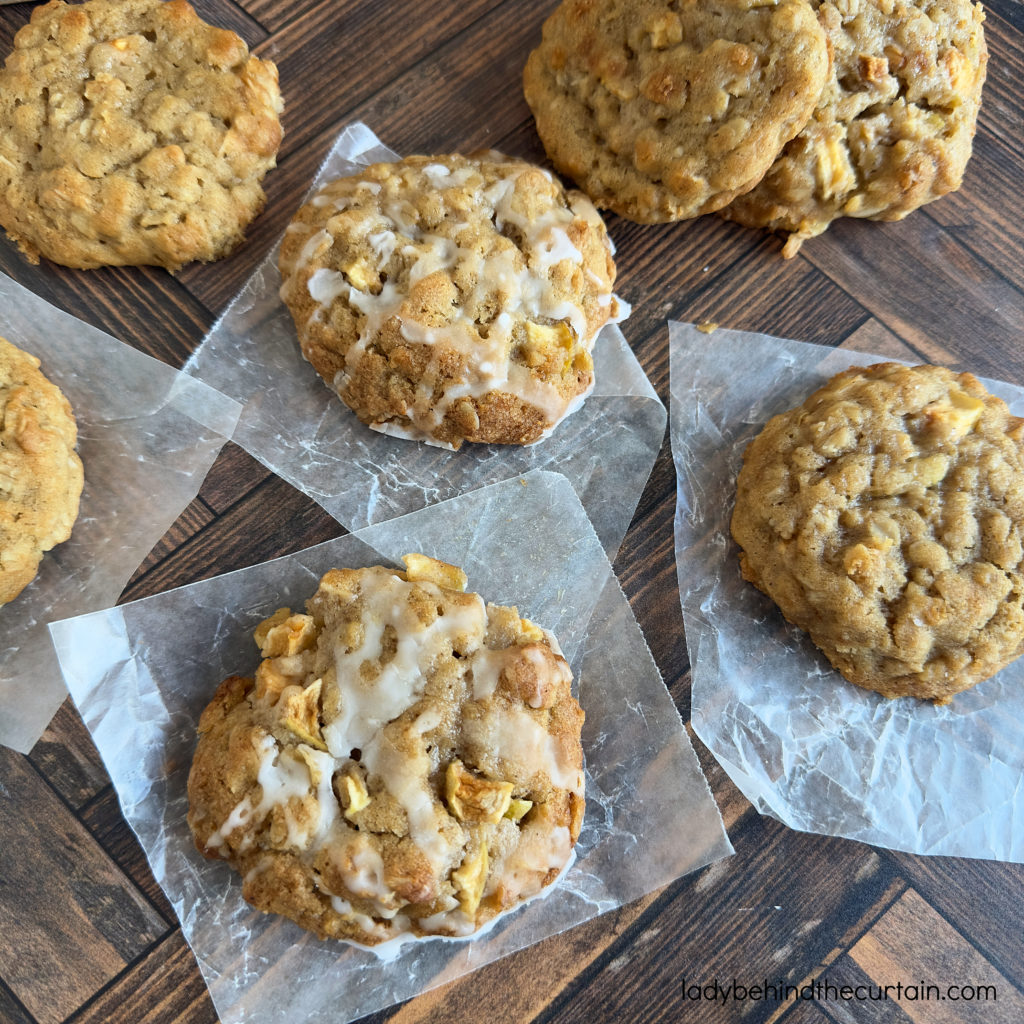 Do I need to peel the apples?
NO, The apples are diced up small enough that the peel doesn't matter.
Does the Apple Oatmeal Cookie dough need to be refrigerated?
Not only are these cookies delicious but THEY DON'T HAVE TO BE REFRIGERATED!
How do I store these apple cookies?
Keep in mind that the chopped apples add moisture to these cookies, so if they are not eaten the first day, I would recommend storing them in the refrigerator with pieces of parchment paper between the layers.
What can I use in place of apple pie spice?
It's super easy to make your own apple pie spice. Mix together 3 tablespoons ground cinnamon, 2 teaspoons ground nutmeg, and 2 teaspoons of ground all spice. Store in an airtight spice bottle. If you only want to make enough for this recipe (1 teaspoon) Mix together ½ teaspoon of ground cinnamon + ¼ teaspoon of ground nutmeg, and ¼ teaspoon of ground all spice.
What's the BEST apple for the job?
Any kind of baking apple is fine in these cookies. My favorites are Honeycrisp, Fuji, or Granny Smith.
MORE COOKIE RECIPES YOU MIGHT LIKE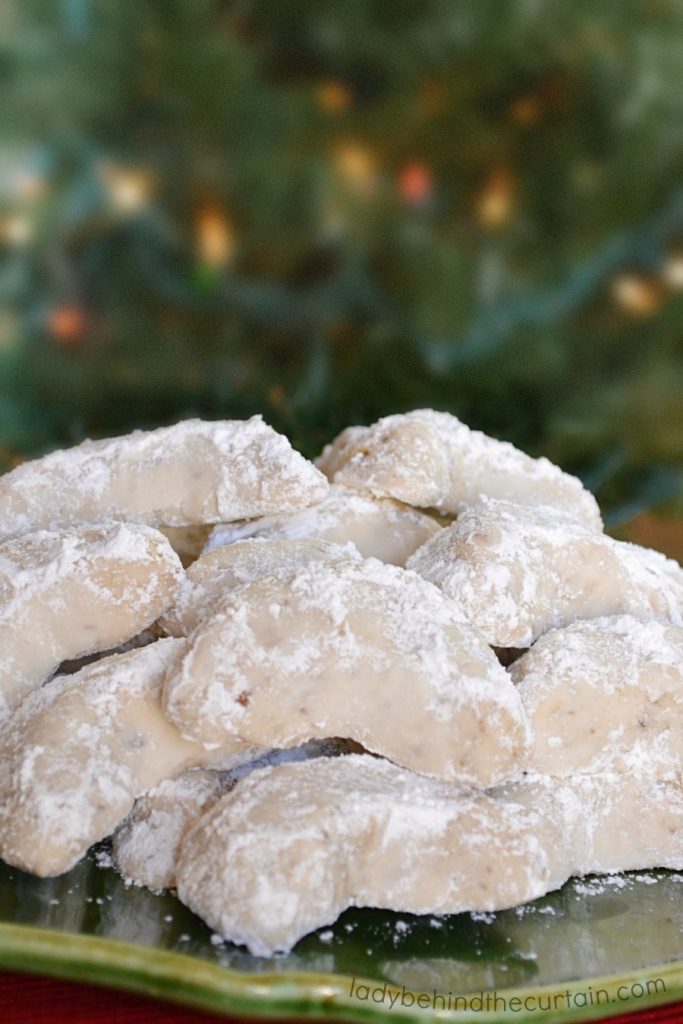 PECAN CRESCENT COOKIES 2. CRANBERRY ORANGE PINWHEEL COOKIES 3. CARROT CAKE COOKIES 4. MORE THAN 180 COOKIE/BARS RECIPES→COOKIES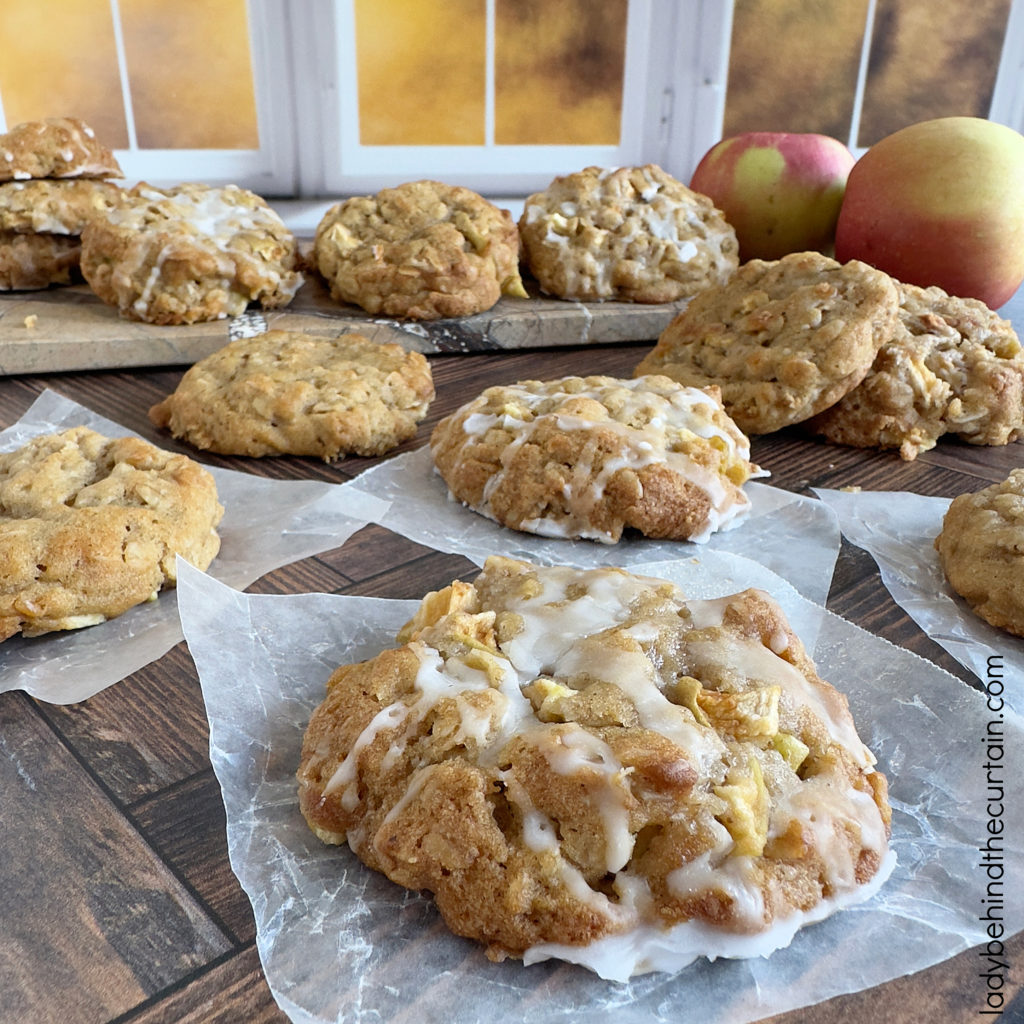 SIGN UP FOR THE LADY BEHIND THE CURTAIN NEWSLETTER AND FOLLOW THE LADY BEHIND THE PARTY ETSY SHOP
THANKS FOR VISITING♥