Classic Birthday Cake: Take a trip back to your childhood with this traditional birthday cake! This amazing cake has layers of homemade yellow cake covered with light and creamy milk chocolate frosting. The yellow cake recipe can be made into a layered cake, cupcakes or sheet cake. No Birthday would be complete without the perfect birthday cake.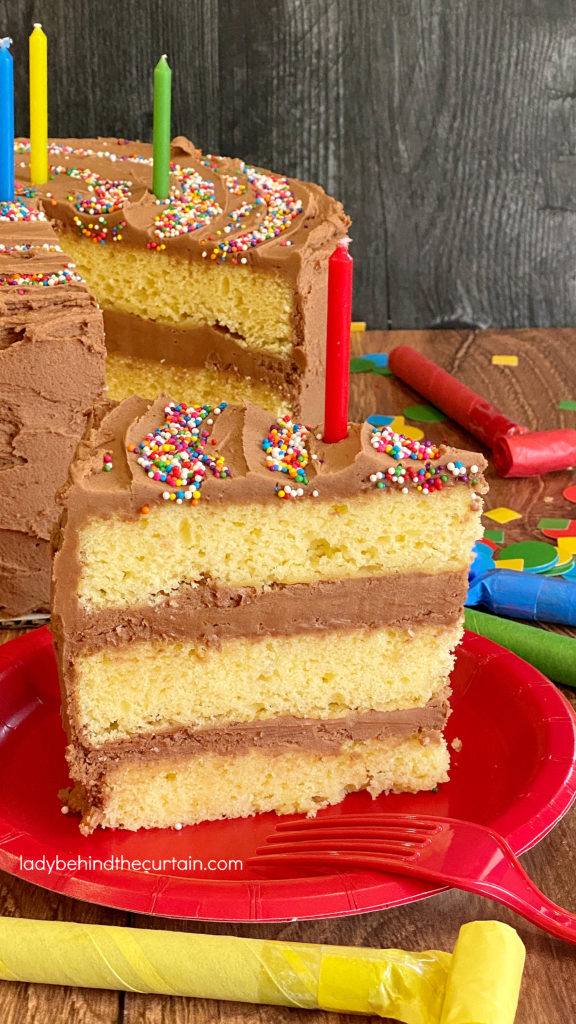 How to Transform This Cake To Fit Your Pan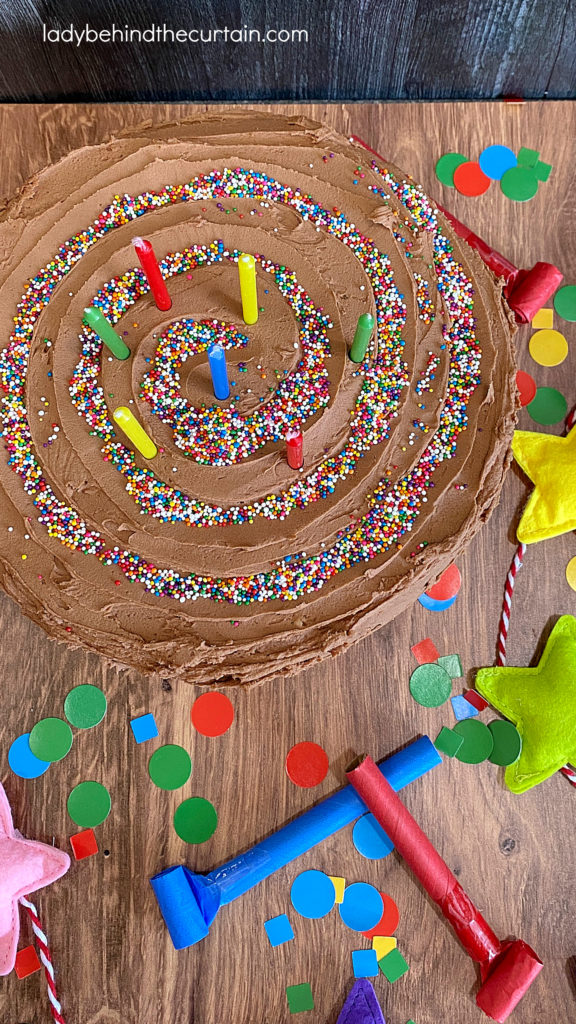 CAKE PANS: The Yellow Cake was made in three-9 inch cake pans. The great thing about this cake recipe is that it can be adapted to different size pans. Like two-9 inch cake pans, a 9×13 inch baking pan or 34 regular cupcakes.
Classic Birthday Cake Ingredients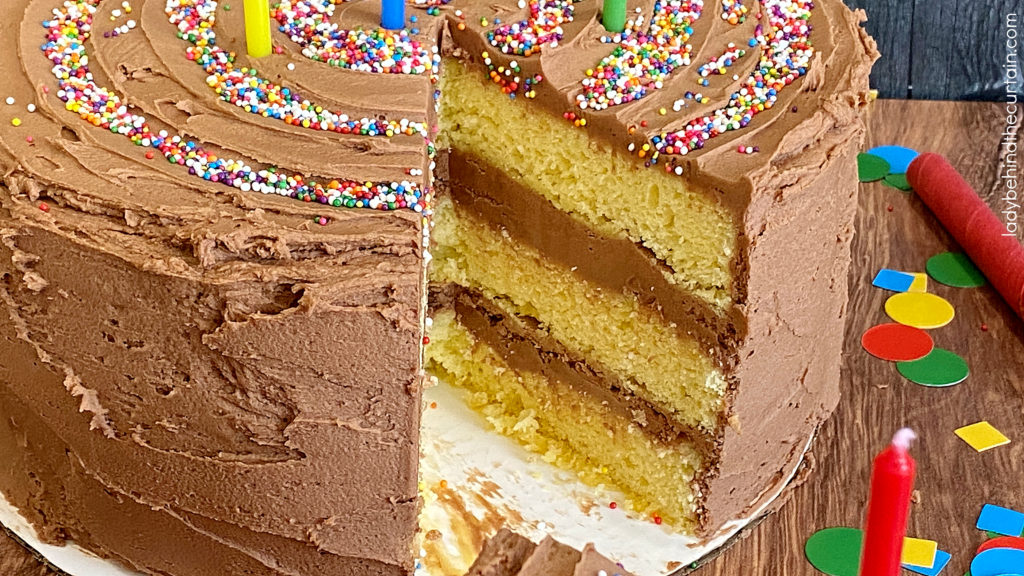 CAKE FLOUR: Ground extra fine, which results in a lighter, loosely-structured crumb and fluffy texture.
UNSALTED BUTTER: The butter adds a richness and depth of flavor that most boxed cake mixes are missing
SUGAR: Granulated sugar is the best sugar to use for this cake. It offers a touch of sweetness and no molasses flavor.
LARGE EGGS: Large eggs are best for this recipe. Eggs not only offer moisture but also aid in giving cake height.
VANILLA EXTRACT: To achieve the prefect touch of sweetness and a rich vanilla flavor make sure to use real and not imitation vanilla.
SOUR CREAM: Adding sour cream brings a pleasant tang to cakes while adding very little fat. It also helps tenderize gluten, giving the cake a softer texture and more body.
Pro Tip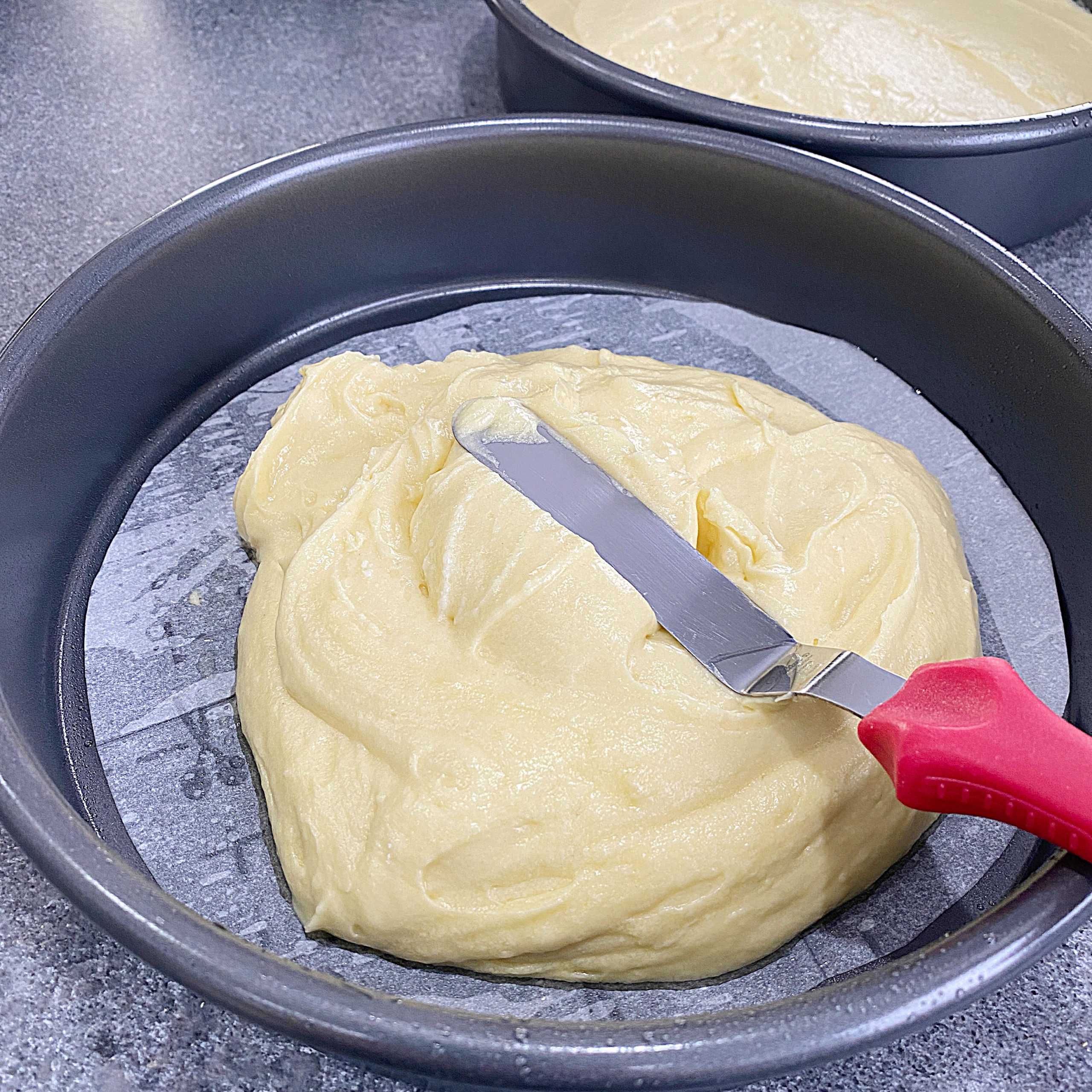 How to Make Traditional Yellow Cake Ahead of Time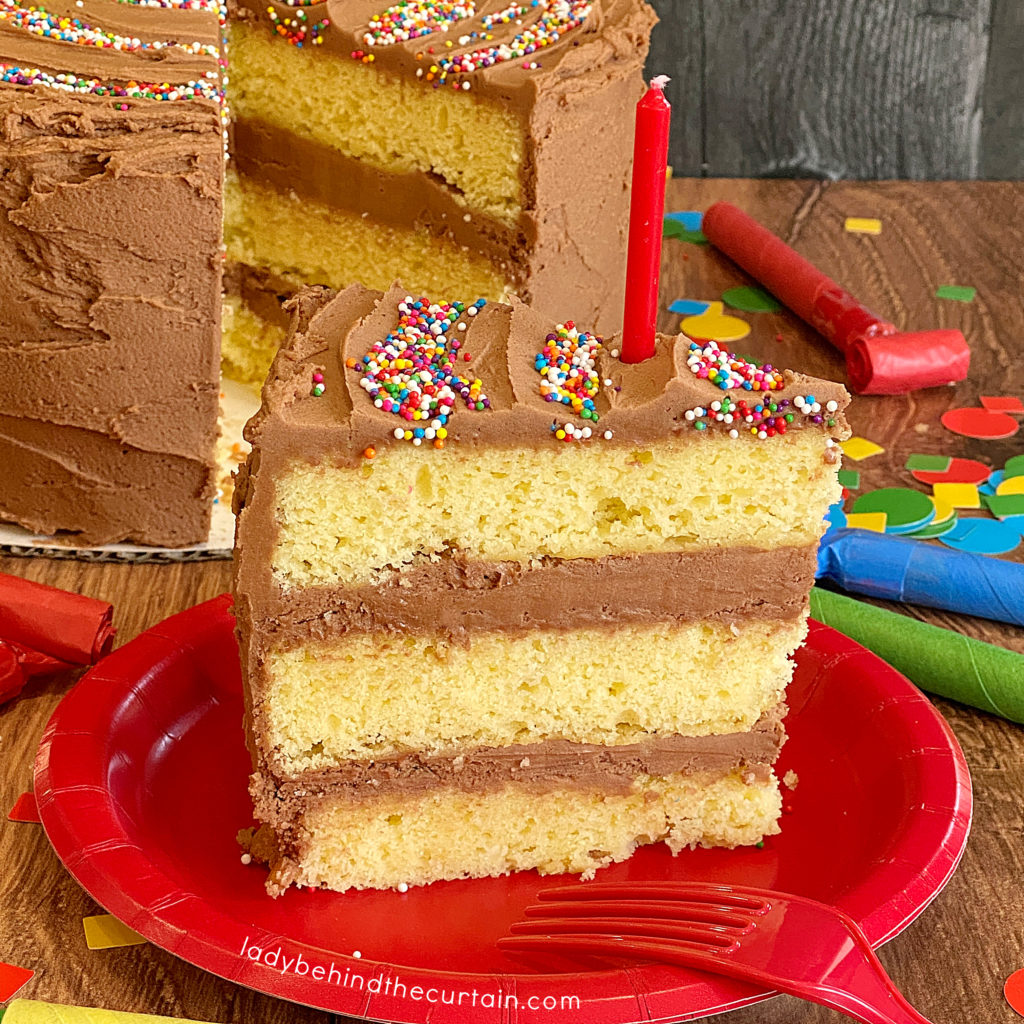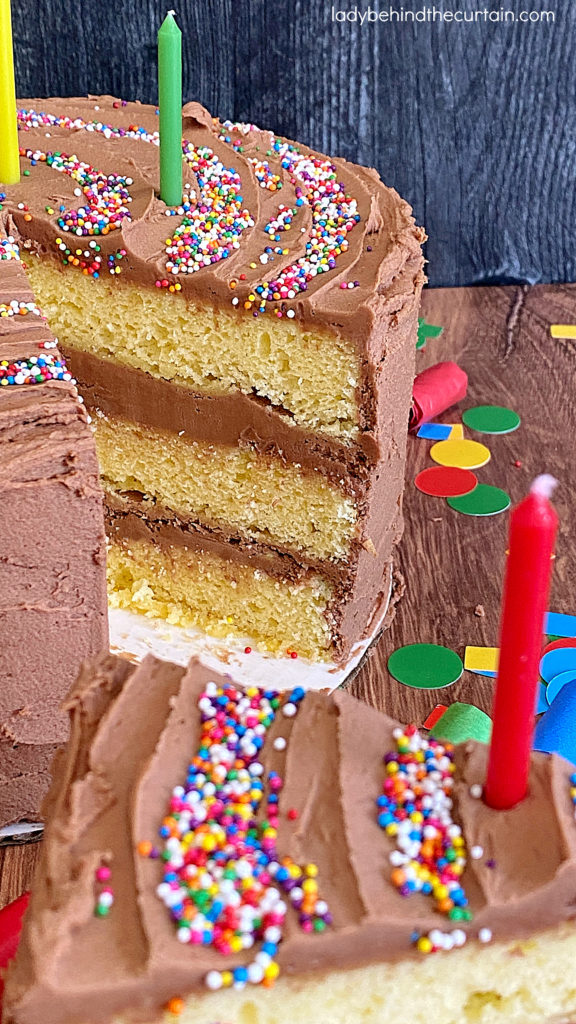 CLASSIC YELLOW CAKE: Once the cake has cooled completely, wrap each layer individually in plastic wrap and then in foil. Can be frozen up to 3 months. When ready to use, unwrap and frost frozen.
MILK CHOCOLATE FROSTING: Frostings that are made with shortening can be stored at room temperature in an air tight container on the counter up to 2 weeks. Frostings with butter and milk should be stored in the refrigerator with an air tight lid up to 2 weeks or freezer up to 3 months. REVIVE: For frostings that are frozen or refrigerated. Set them on the counter and wait for them to come to room temperature. Spoon into a large mixing bowl. Fit the mixer with a paddle attachment, beat on medium high until light and fluffy (about 3 minutes).
HOW TO ADD A MARBLE LOOK TO YOUR MILK CHOCOLATE FROSTING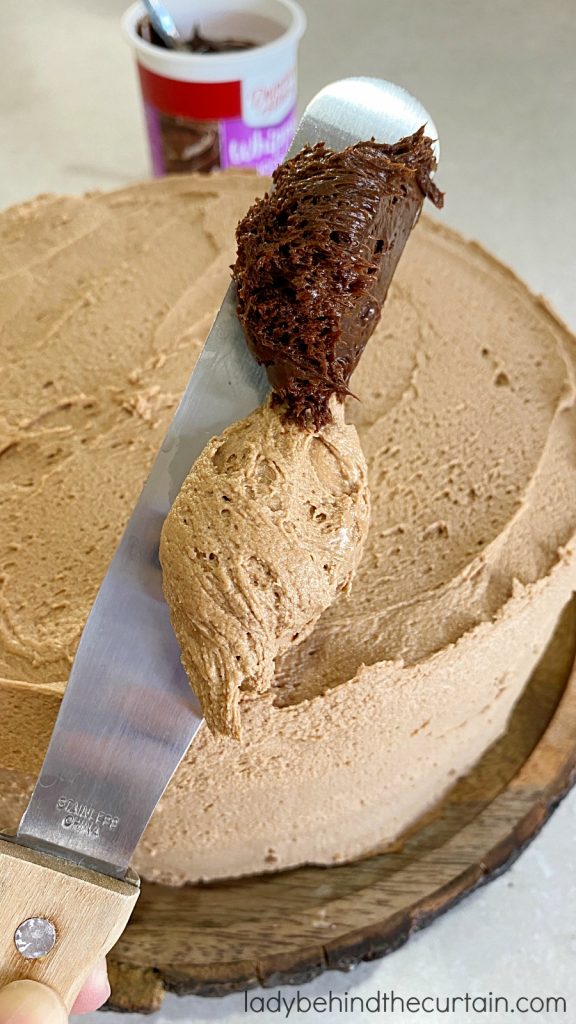 FOR THE MARBLED LOOK: Set aside about ½ cup of the milk chocolate frosting. After frosting the cake, put a scoop of the milk chocolate frosting on a spatula, then add a scoop of store bought canned dark chocolate frosting. Spread around sides.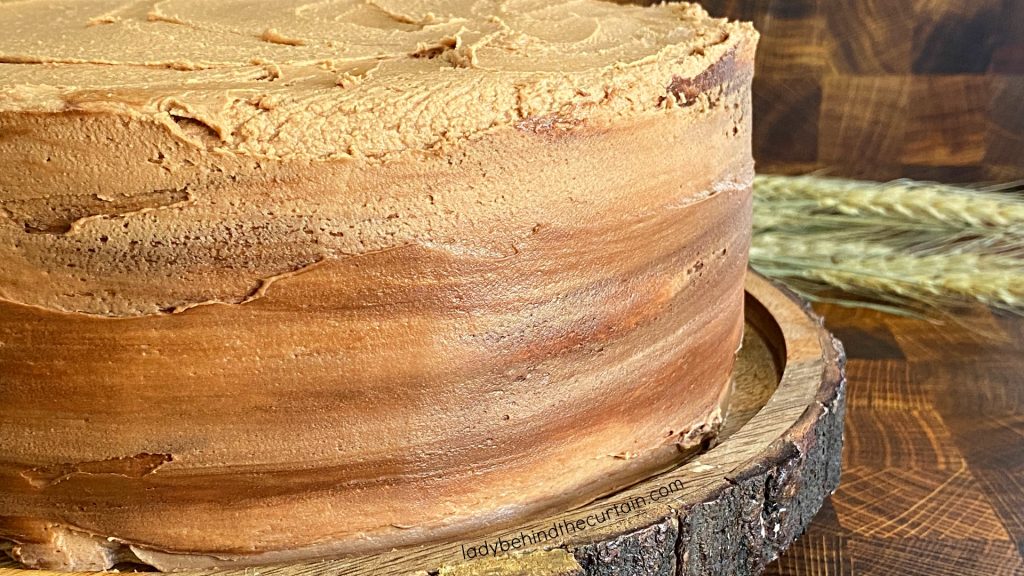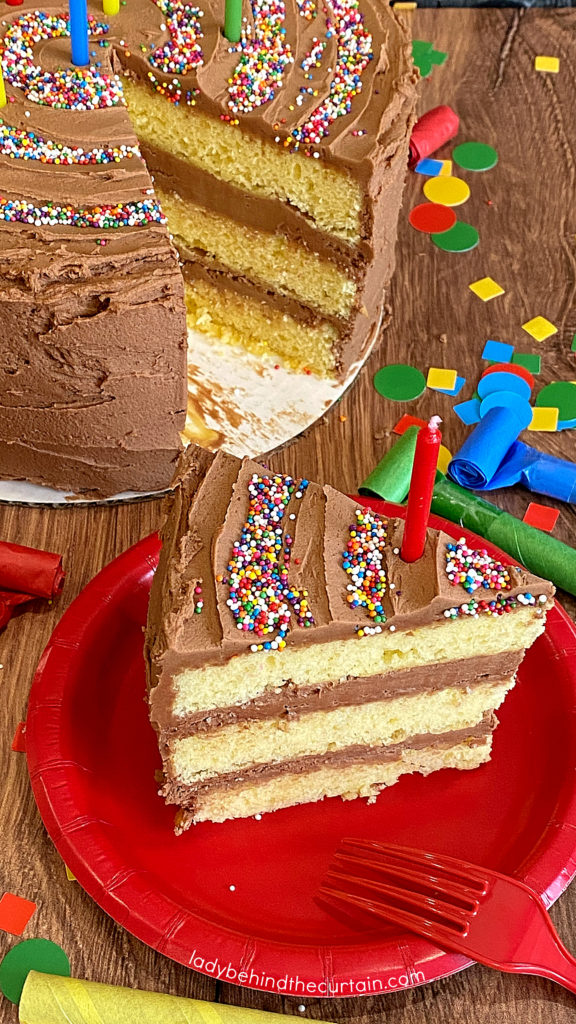 SIGN UP FOR THE LADY BEIND THE CURTAIN NEWSLETTER AND FOLLOW THE LADY BEHIND THE PARTY ETSY SHOP