For all you lovers of the Almond Joy candy bar this ones for you!  You can see how decadent and gooey these Coconut Chocolate Bars are!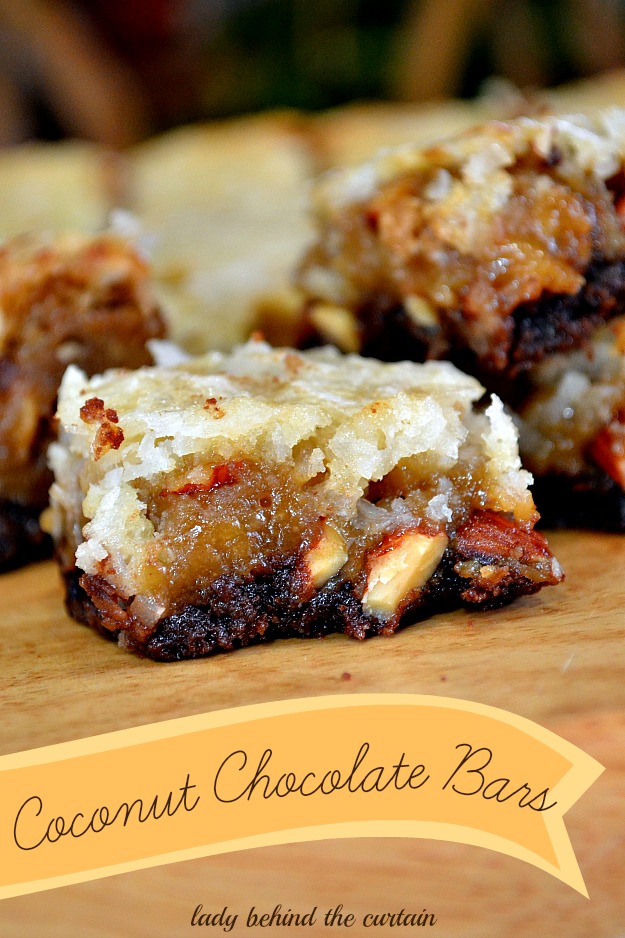 Creamy and delicious is how I would describe these coconut chocolate bars.  These Coconut Chocolate Bars have a dark chocolate crust, creamy brown sugar center and a yummy macaroon topping.  Almost like a candy bar.  With all these wonderful flavors together.  How can you go wrong?  Fit for any social event, bake sale or gift.  These bars will be a hit.
Create your own Recipe Box and save your favorite Lady Behind The Curtain recipes.  Make a Meal Plan with your favorite recipes and ZipList will automatically add the ingredients to a Shopping List.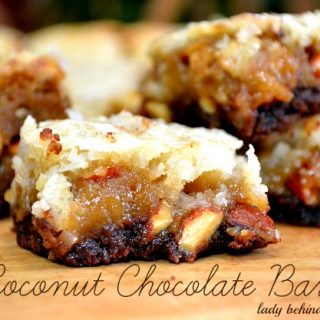 Chocolate Shortbread with Coconut Topping Bars
Total Time:
1 hour
5 minutes
A delicious candy bar treat.
Ingredients
For the Curst:
1-1/2 cups all-purpose flour
2/3 cup granulated sugar
1/2 cup unsweetened cocoa powder
1 cup butter
1/2 cup miniature semisweet chocolate pieces
For the Filling:
2 cups light brown sugar, packed
2/3 cup butter
2 eggs
2 teaspoons vanilla extract
2 cups all-purpose flour
1 teaspoon baking powder
1/4 teaspoon baking soda
1 cup salted cashews or peanuts
milk chocolate, melted (optional
For the Macaroon Topping:
1/3 cup granulated sugar
1/4 cup all-purpose flour
1-1/4 cups sweetened flaked coconut
3 egg whites, lightly beaten
1/2 teaspoon vanilla extract
Instructions
For the Curst:
Preheat oven to 350 degrees.
Line a 13x9x2-inch baking pan with foil and spray with non stick cooking spray.
In a food processor add the flour, sugar and cocoa.
Pulse a couple of times to combine.
Add the butter and pulse until the mixture resembles coarse crumbs.
Stir in the chocolate pieces.
Press mixture evenly into the bottom of the prepared baking pan.
Bake about 8 minutes or until set.
For the Filling:
In a medium saucepan cook and stir brown sugar and the butter until melted and smooth; cool slightly.
Add eggs, one at a time, beating with a wooden spoon after each addition just until combined.
Stir in vanilla.
Add the flour, baking powder and baking soda.
Stir in nuts.
Pour batter evenly over crust.
For the Macaroon Topping:
In a medium bowl stir together sugar and flour.
Add the coconut, eggs and vanilla.
Spoon macaroon topping into small mounds on top of batter; carefully spread to edges of the pan.
Bake 32 to 34 minutes or until topping is light brown.
Cool in pan on a wire rack.
If desired, drizzle with melted milk chocolate.
Using the edges of the foil, lift uncut bars out of pan.
Cut into bars.
MORE GREAT BAR RECIPES
1.  BOYSENBERRY BARS  2.  SALTED CHOCOLATE AND WHITE CARAMEL BARS  3.  TOFFEE CASHEW CRUNCH BARS  4.  PISTACHIO TRIPLE LAYER BARS