Toffee Dip: Love Caramel Apples? Forget about the mess of making caramel. Made with brown sugar, toffee bits and paired with apples this easy to make dip tastes just like caramel apples.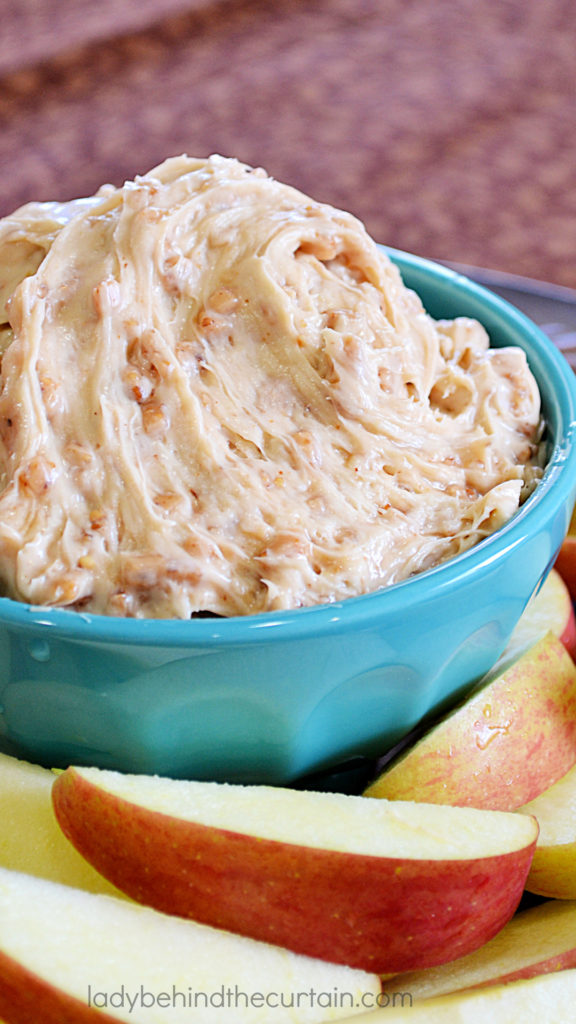 How to Make Toffee Dip with Cream Cheese and Toffee Bits
Are you ready for this? This dip truly is easy to make with no special tools needed. Simply add the cream cheese, sugar and vanilla to a bowl, whip until combined and cream, and then fold in the toffee bits.
Help! My Dip is Grainy!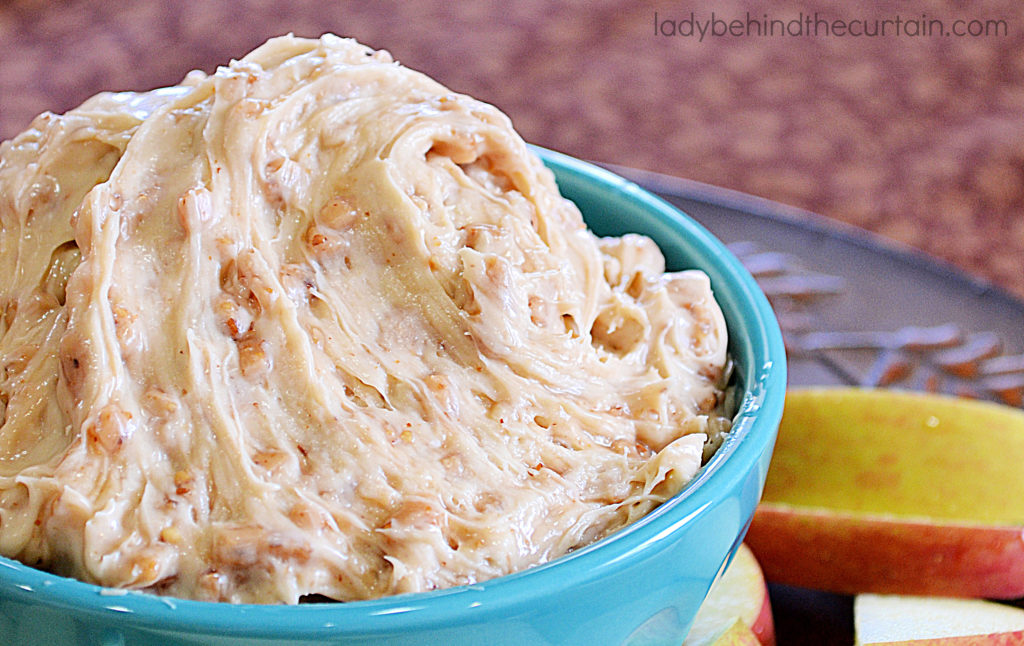 What to Serve With Toffee Dip
This Toffee Apple Dip is named that for a reason. It is fantastic with apples but there are also a few other options you could add to the mix.
Vanilla Wafers
Pretzel Rods
Pecan Sandies
Fresh cherries
Fresh strawberries
What are Toffee Bits?
A crunchy caramel toffee that has been crushed into bits. I use the Heath English Toffee Bits (also called Bits O'Brickle). They are easy to find at most grocery stores with the other baking chips. Just make sure you grab the toffee bits WITHOUT the milk chocolate.
ENJOY CRISP FALL APPLES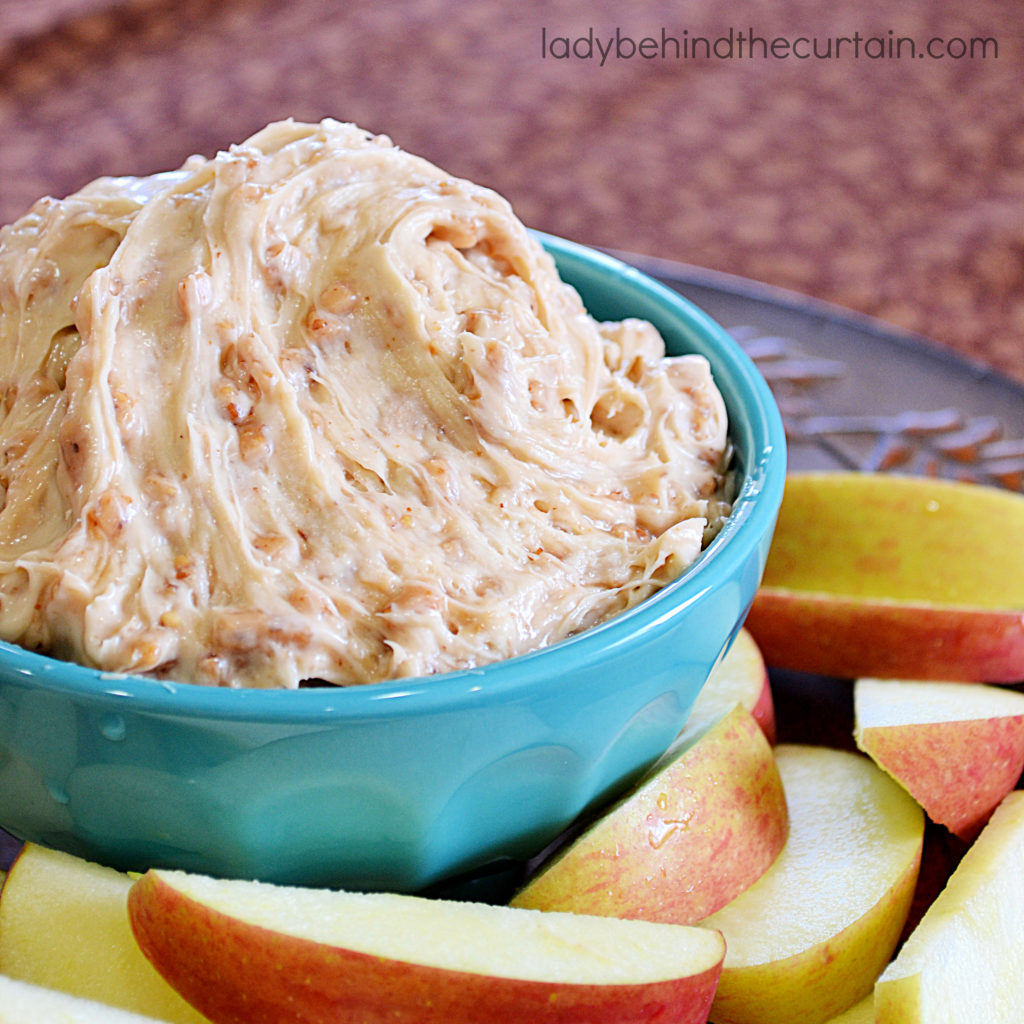 Fall is apple season. I have tons of apple dessert recipes From SKILLET APPLE STRUSEL PIE, APPLE BUTTER CHEESECAKE BARS, ALL AMERICAN APPLE PIE to SEMI HOMEMADE COUNTRY CARAMEL APPLE DUMPLINGS and MORE!
But sometimes you want to enjoy those crisp Fall apples outside of a baked good. That's where this Toffee Apple Dip comes in.
How to Make Reduced-Sugar Toffee Dip
While there is no way of making this dip sugar free (short of removing the toffee bits) you can reduce the sugar by quite a lot simply by substituting full sugar for sugar substitute. My FAVORITE sugar substitute is Swerve. The sugar substitute is offered in several forms. Granulated sugar, brown sugar, and powdered sugar. All measure cup for cup and have a nice sweet taste.
STORING AND FREEZING TOFFE DIP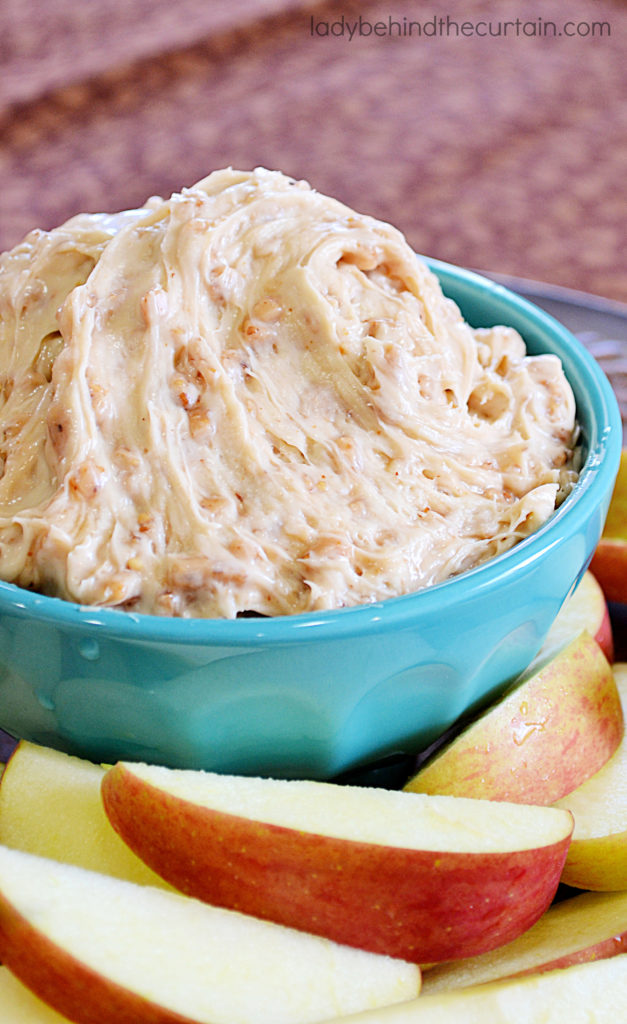 If this recipe makes a little more apple dip than you can eat right away, don't worry!
This apple dip will keep, in an airtight container in the refrigerator, for up to 3 days.
To freeze any leftovers for longer-term storage, place the dip in a super airtight freezer bag or in a lidded container with a layer of plastic wrap pressed on top of the dip. Freeze the dip for up to 3 months.
MORE DIP RECIPES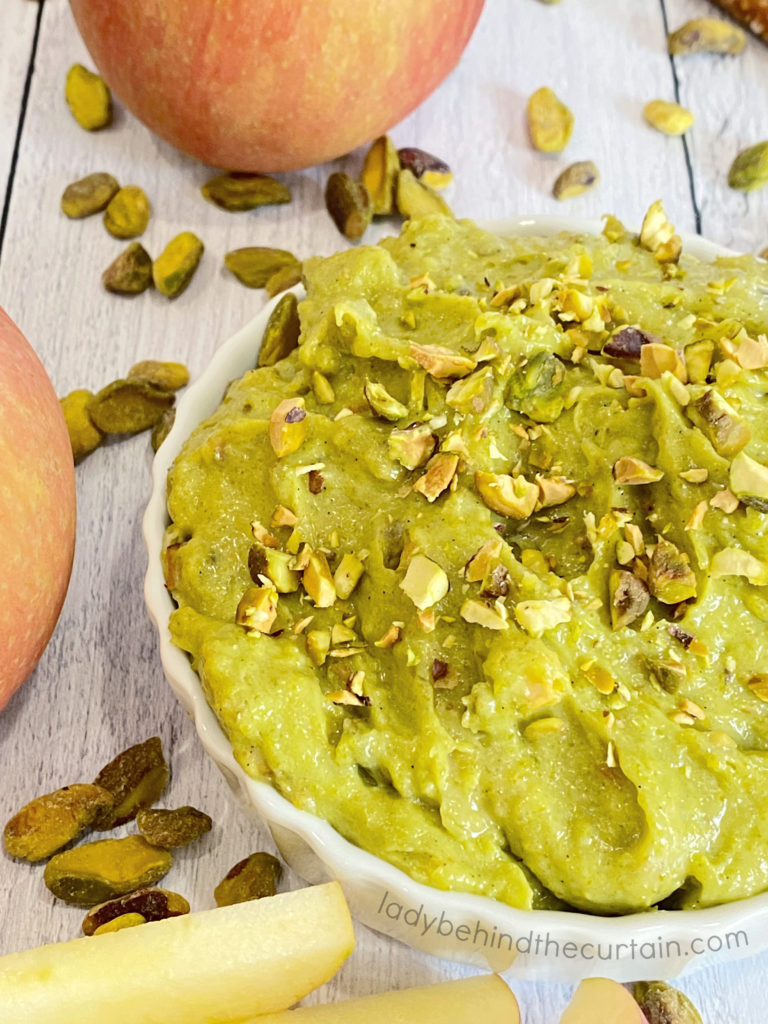 HOMEMADE SWEET PISTACHIO DIP 2. PECAN PIE CHEESECAKE DIP 3. CANNED FROSTING CHOCOLATE FRUIT DIP 4. MORE →DIP RECIPES
SIGN UP FOR THE LADY BEHIND THE CURTAIN NEWSLETTER AND FOLLOW THE LADY BEHIND THE PARTY ETSY SHOP
THANKS FOR VISITING♥