Pistachio Triple Layer Bars
Pistachio Triple Layer Bars:  Light, cool and creamy.  With a pistachio cookie crust, filled with a layer of cheesecake and topped with pistachio pudding. This dessert screams SUMMER!   😮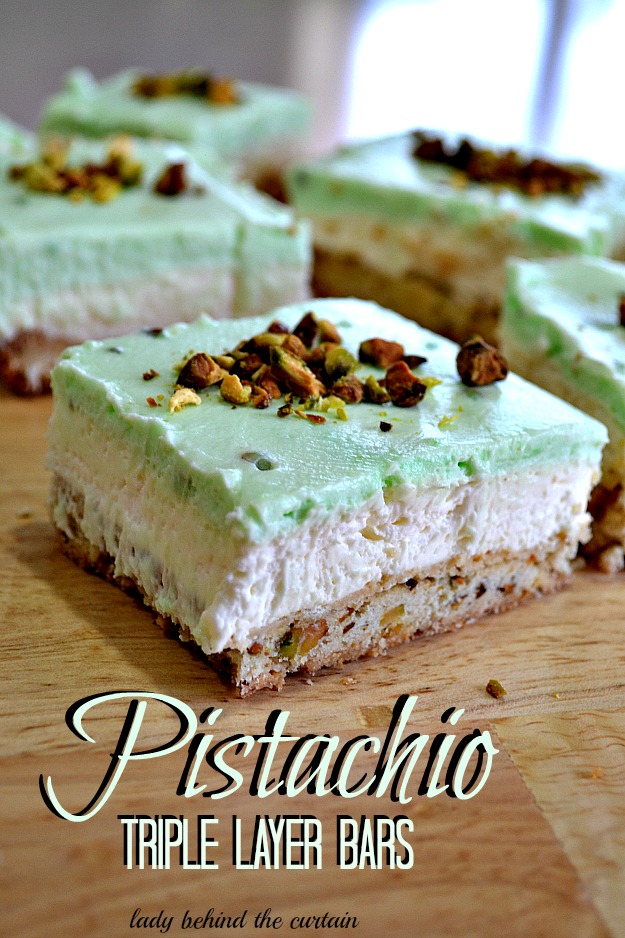 These pistachio triple layer bars are so light and fluffy.  Almost like a pistachio cheesecake.  The perfect summer dessert to serve at a wedding reception, bridal shower or baby shower.
YOU'RE IN TRIPLE LAYER DESSERT HEAVEN!
Pistachio Triple Layer Bars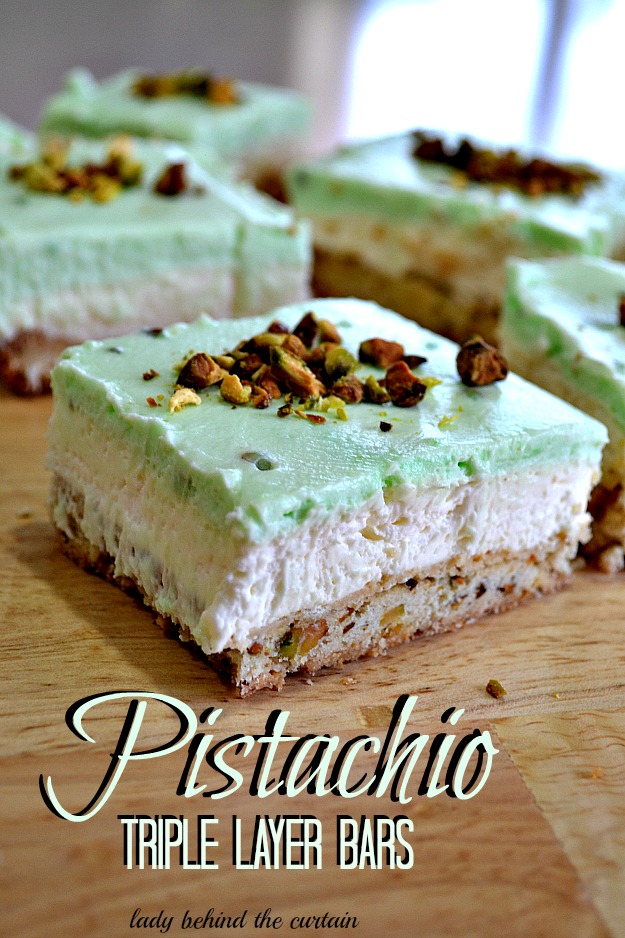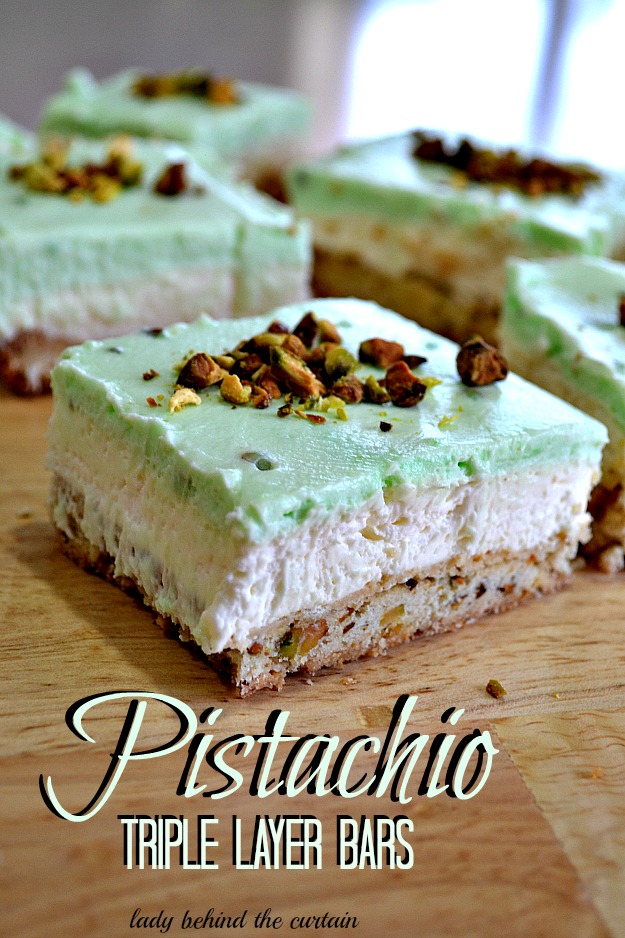 Ingredients
For the Crust
1

cup butter, softened

2/3

cup confectioners' sugar

2

cups all-purpose flour

1/4

teaspoon baking powder

1/2

cup finely chopped pistachios
For the Filling
2-1/2

cups whipping cream, divided

2

- 8 ounce cream cheese, softened

1

cup confectioners' sugar

1/2

teaspoon vanilla extract
For the Topping
1

- 3.4 ounce package pistachio instant pudding mix

2

cups milk

garnish: chopped pistachios
Instructions
For the Crust:
Preheat oven to 350 degrees. Lightly grease a 13x9-inch pan.
Combine butter and 2/3 cup confectioners' sugar.
Beat until fluffy.
Add flour and baking powder, beat until blended.
Stir in pistachios.
Press dough into bottom of pan.
Bake 30 to 35 minutes or until golden brown.
Cool completely in pan on a wire rack.
For the Filling:
Beat whipping cream in a chilled bowl at high speed until soft peaks form.
In a separate bowl beat together cream cheese and 1 cup confectioners' sugar until creamy.
Fold in vanilla and 1-1/2 cups whipped cream.
Spread over baked crust.
Refrigerate while making the third layer.
For the Topping:
Stir together pudding mix and 2 cups of milk as directed on package.
Refrigerate 5 minutes.
Fold in remaining whipped cream.
Spread over cream cheese layer.
Refrigerate at least 2 hours or until chilled.
Garnish with chopped nuts.
MORE PISTACHIO RECIPES:
1. PISTACHIO PUDDING ICE CREAM  2. PISTACHIO SALAD  3. PISTACHIO SALAD MOUSSE PIE  4. MINI PISTACHIO CUPCAKES  5. PISTACHIO CHEESECAKE