Flip Flops And Flamingos Summer Party
Flip Flops and Flamingos Summer Party |  YES!  I put flip flops on my flamingos!  Why not?  The sand is hot and they have places to go!  Flamingos wearing flip flops walking in the sand.  Is there anything more humorous then that?  Your guests will flip over how fun and whimsy you made your summer party.  Have fun in the sun with FLAMINGOS!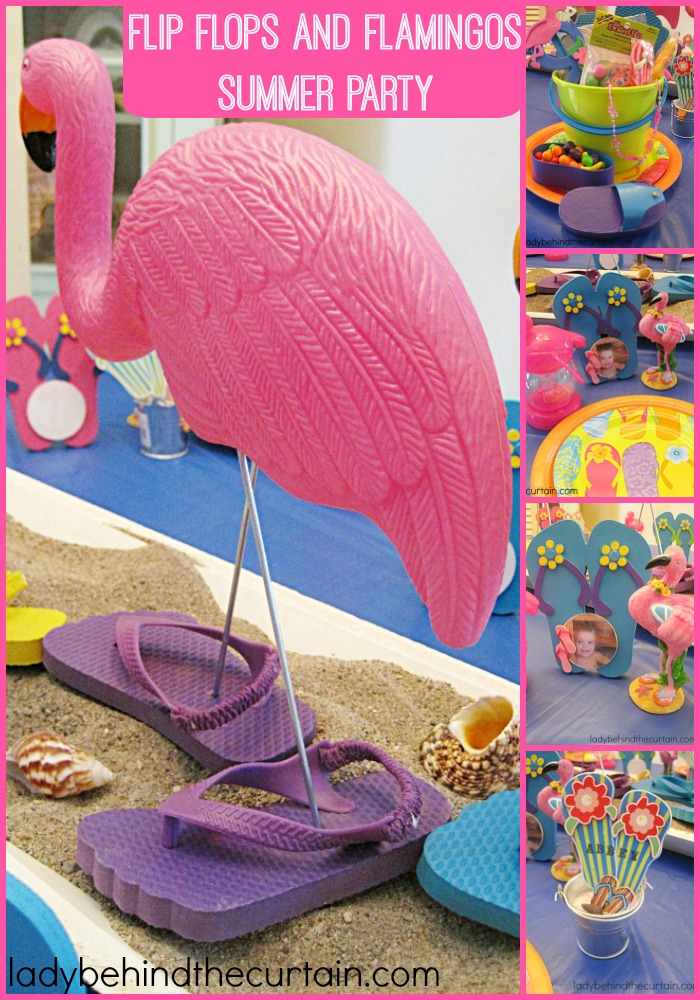 The tray the flamingos are standing in was something my husband made for my daughter's luau themed wedding reception.  This idea works with any long rectangle size piece as long as it can hold sand and can be drilled through.  So wood is best!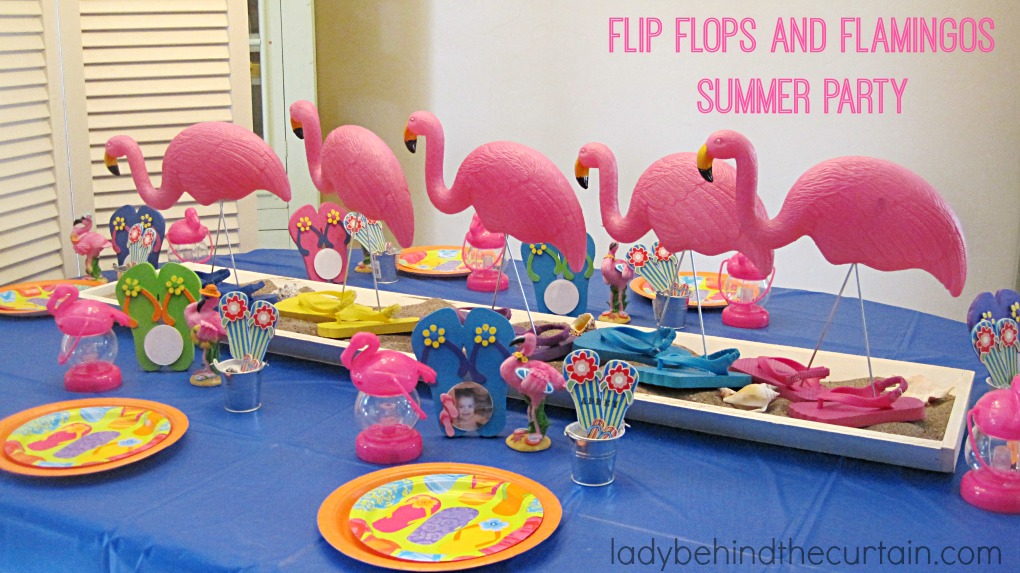 Before we get to the fun flamingos let's start with the place setting.
FLIP FLOP FRAME Party Favor: Take pictures as the guests arrive or they fill them at home.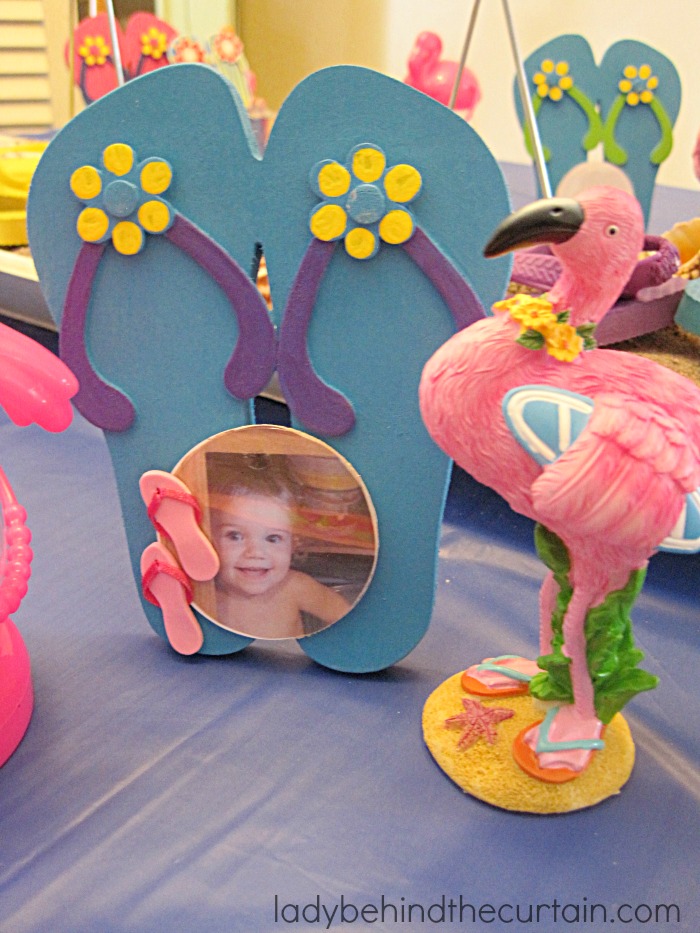 Supplies: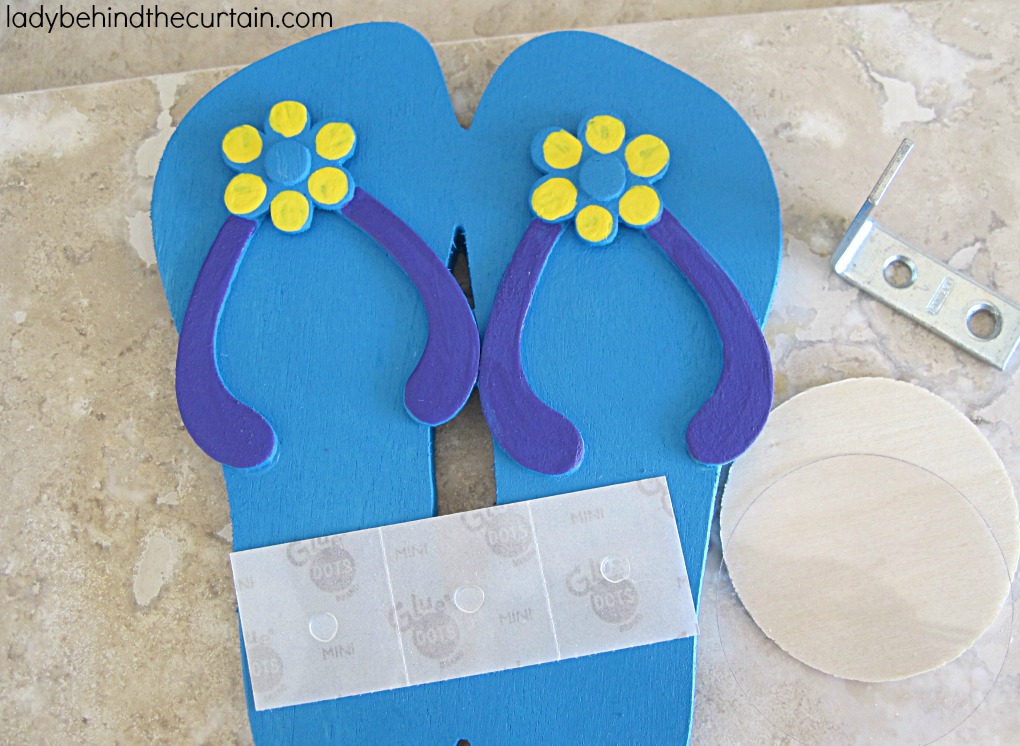 wooden flip flops (found at Michael's)
paint
sponge brush
varnish
L bracket
glue dots
frame works
Directions
Paint and varnish the flip flops to match your party.
I bought 50 cent frames from Michael's and used the wood, paper backing and plastic covering from them.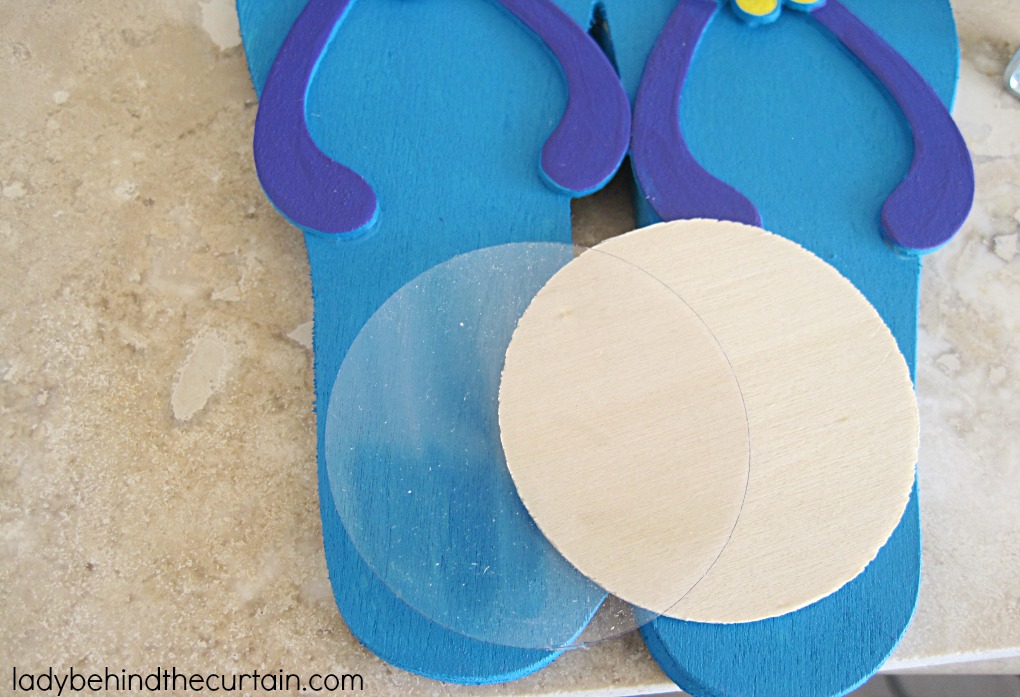 Bend the L bracket in an angle.  This will allow the frame to tilt.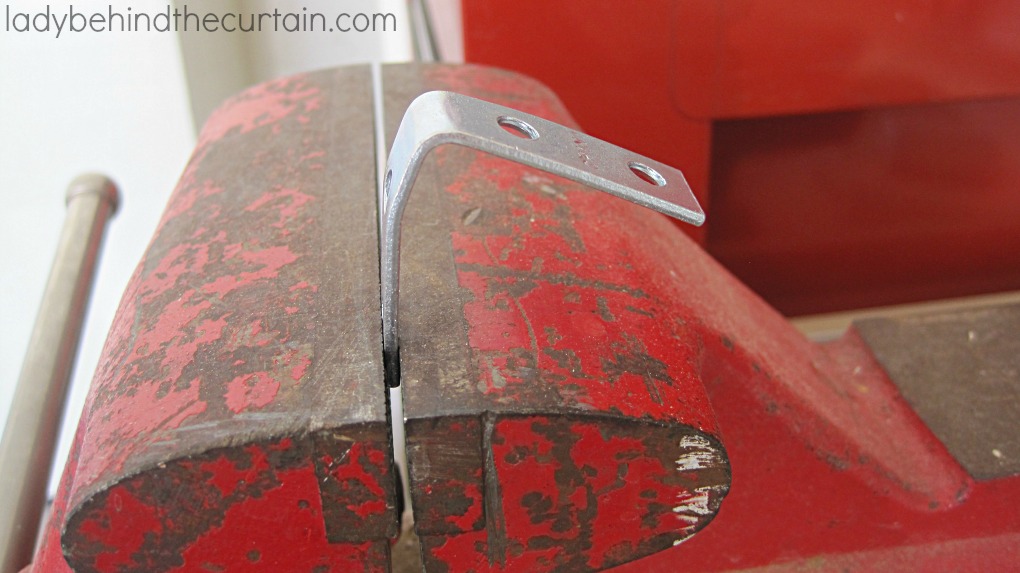 Screw to the back of the flip flop.
Using the glue dots, glue the wooden back and paper to the painted flip flop.  Have an extra glue dot for the kids to take home with their frames.  Once they cut a picture to fit a glue dot can be attached to the top of the circle.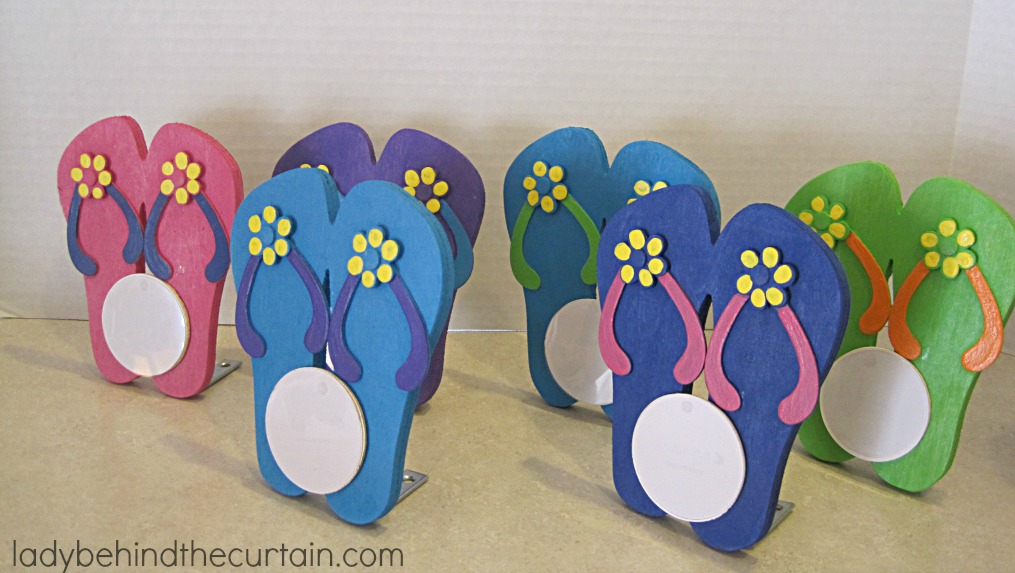 PLACE CARDS: These wooden flip flops from Michael's come already painted!  Tape a skewer to the back and stamp the guests name on the flip flop.  Stick in the sand.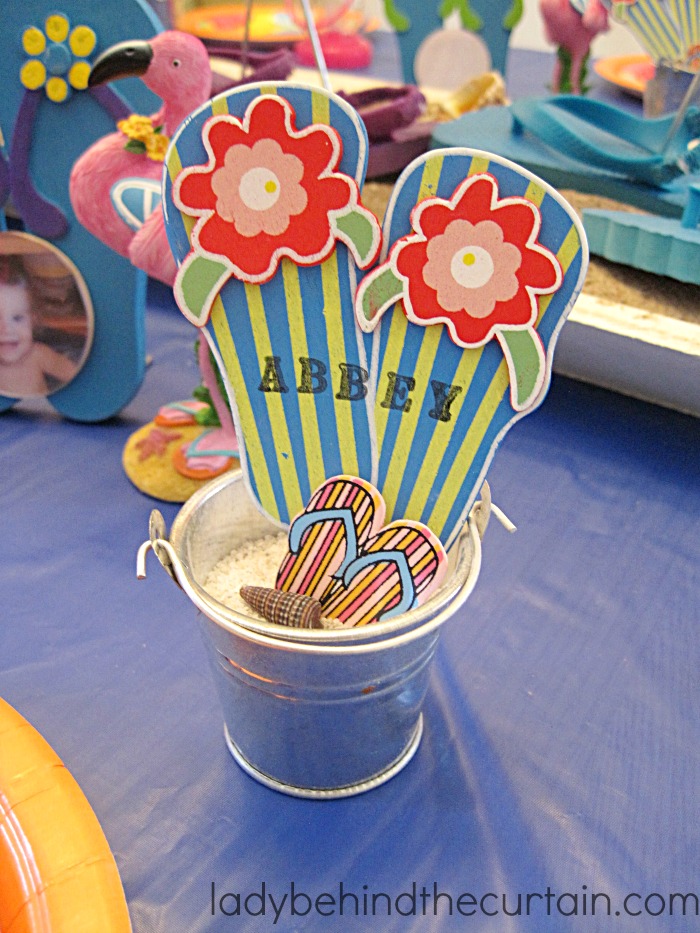 PLACE SETTING:  An assortment of flamingo and flip flop items. ( flamingo lantern, flamingo wearing flip flops statue and a flip flop plate.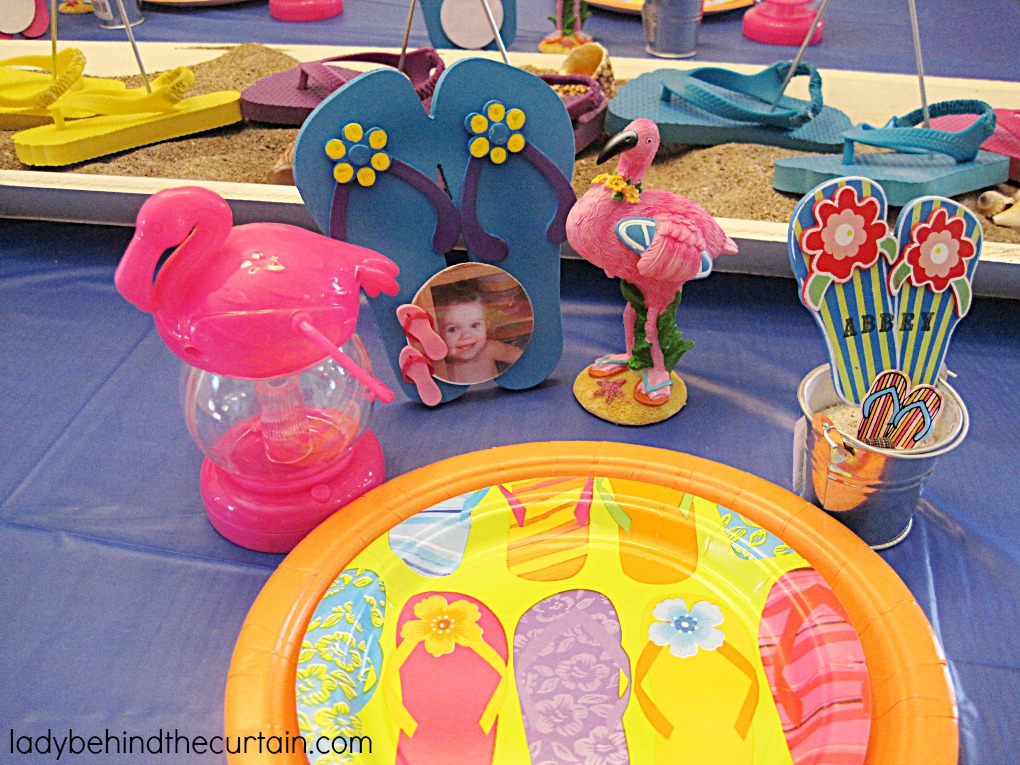 Another PARTY FAVOR  idea:  A bucket filled with an assortment of flip flop and flamingo items. Most items found at Dollar Tree.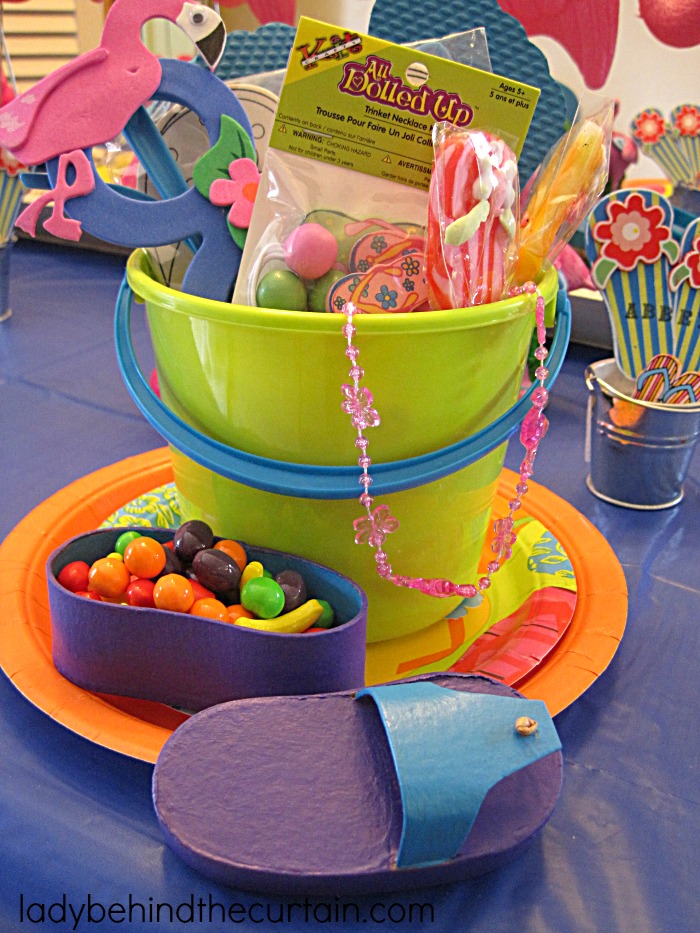 Now for the FUN!  THE CENTERPIECE!!  Drill holes in the bottom of the tray at an angle, push the metal legs through the flip flops, insert the legs into the holes, pushed up the flip flops, add sand, pull down the flip flops to touch the top of the sand and added shells.