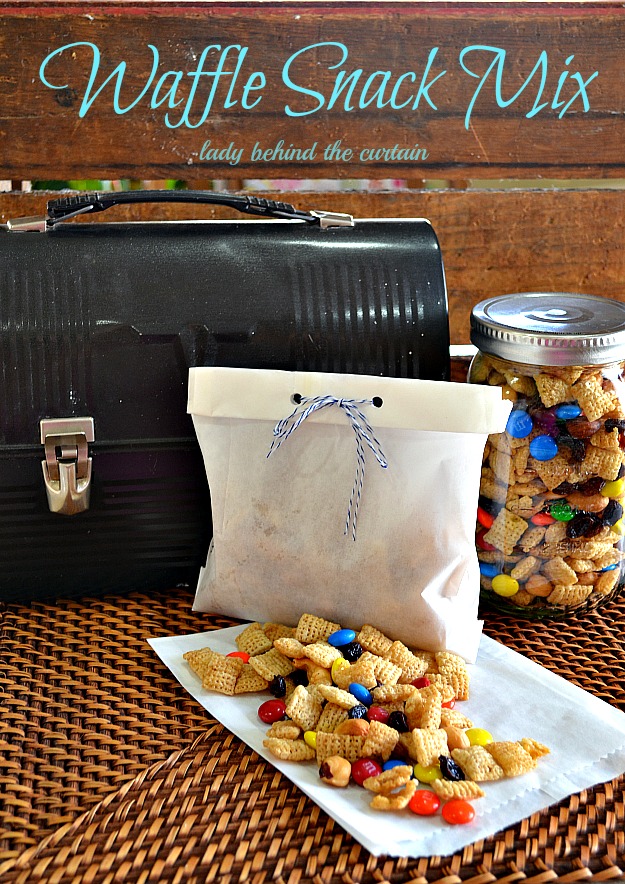 I have been making this waffle snack mix for my husband for years.  He loves having it in a jar on his desk.  Snack while you work 🙂
Pack this easy to make waffle snack mix in your husbands lunch, in a jar for his desk or take it on a road trip, hiking or camping.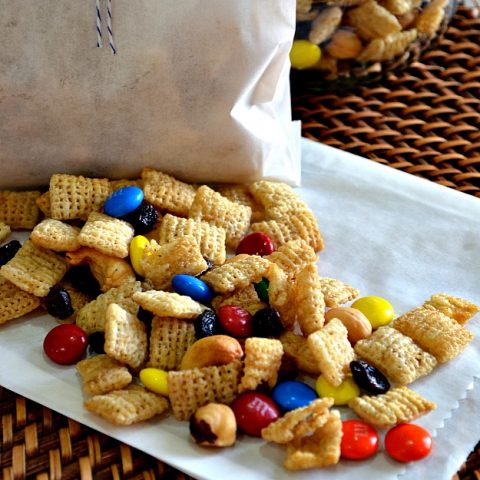 Waffle Snack Mix
Ingredients
4 cups waffle shaped cereal
1/2 cup mixed nuts or peanuts
1/3 cup raisins
2 tablespoons butter, melted
1/2 cup M&M's
Instructions
Pre heat oven to 350 degrees.
Combine the cereal, nuts and raisins in a large bowl.
Gently toss to mix.
Drizzle melted butter on cereal mixture.
Gently toss again making sure to evenly coat the mixture.
Spread on a jelly roll pan.
Bake for 10 minutes, stirring after 5 minute.
Cool in pan.
Add M&M's.
MORE GREAT SNACK MIX RECIPES
1.  SWEET & SALTY PARTY MIX  2.  THREE MUSKETEERS MUDDY BUDDIES  3.  ORANGE DRAM PUPPY SHOW  4.  HERE'S LOOKIN' AT YOU CARAMEL CORN PARTY MIX