Light Vegetable Pizza
Lady Behind the Curtain
Posted on
by
Sheryl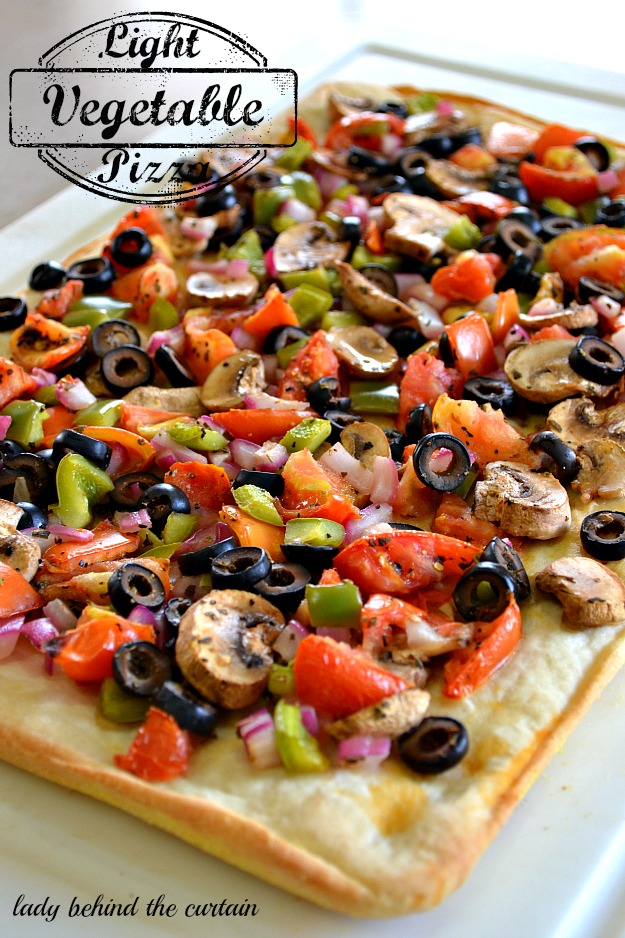 Full of so much flavor you don't even miss the cheese.  Serve this light vegetable pizza as a meal, appetizer or make on Sunday and take to lunch all week.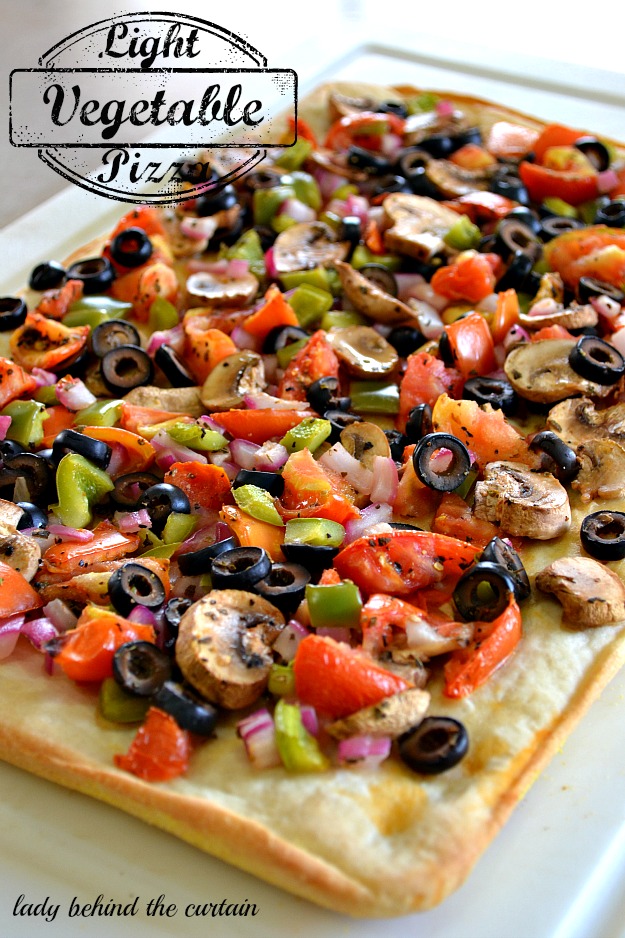 Yield:

12 Slices
Light Vegetable Pizza
Make on Sunday and take for lunch all week!
Ingredients
For the Pizza Crust:
2-1/4 cups bread flour
1 - 1/4 ounce package or 2-1/4 teaspoons quick rise yeast
1 teaspoon salt
1 cup warm water (120 to 130 degrees)
1 tablespoon olive oil
For the Pizza Topping:
3 plum tomatoes, chopped
5 medium fresh mushrooms, sliced
1/2 cup bell pepper, chopped
1/2 cup sliced ripe black olives
1/4 cup red onion, chopped
1 tablespoon red wine vinegar
3/4 teaspoon salt
1/2 teaspoon garlic powder
1/2 teaspoon dried oregano
1/4 teaspoon pepper
2 teaspoons cornmeal
Instructions
For the Pizza Crust:
Preheat oven to 475 degrees.
In a mixing bowl, combine 2 cups bread flour, yeast and salt.
Add water and oil; beat with the hook attachment until smooth.
Make sure to scrap the sides so that all the flour is incorporated.
Stir in the remaining flour and knead with the hook attachment for 1 minute.
Spray a medium size bowl with non stick cooking and spray.
Place pizza dough in bowl, cover and let rest for 15 minutes.
For the Pizza Topping:
In a medium bowl combine the tomatoes, mushrooms, bell peppers, olives, onion, vinegar and seasoning.
Coat a 15-in. x 10-in. x1-in. baking pan with nonstick cooking spray; sprinkle with cornmeal.
Press dough into pan.
Prick dough generously with a fork.
Bake for 5 minutes or until lightly browned.
Cover with vegetable mixture.
Bake 8 to 10 minutes longer or until edges of crust are golden.