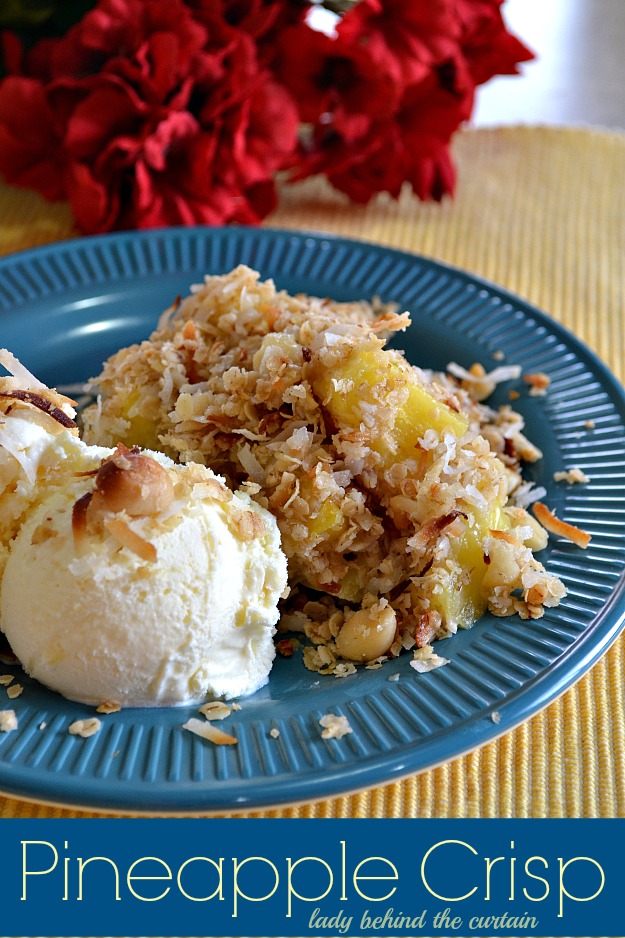 Sit back and enjoy the fresh flavors of pineapple with this pineapple crisp.  Sprinkled with coconut and macadamia nuts really says ALOHA to your taste buds.
Serve with Pineapple Coconut ice cream to complete the tropical experience.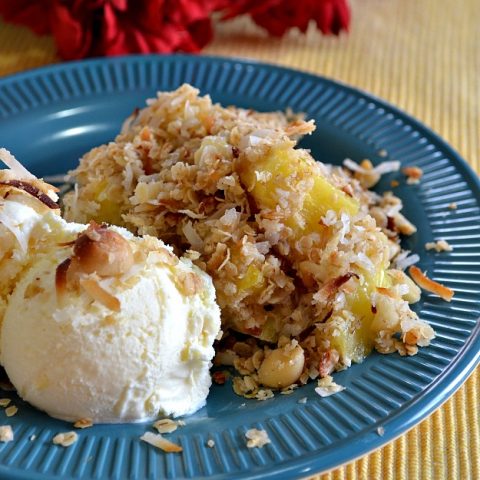 Pineapple Crisp
Ingredients
5 cups fresh pineapple, cubed
8 tablespoons butter, melted and divided
1/4 cup sugar
2 tablespoons all-purpose flour
1 tablespoon lime zest
1 tablespoon fresh lime juice
1-1/2 cups old-fashioned oats
1-1/4 cups sweetened, flaked coconut
1/2 cup chopped macadamia nuts
1/2 teaspoon salt
Pineapple Coconut Ice Cream (optional)
Instructions
Preheat oven to 425 degrees.
In a large bowl, combine pineapple, 2 tablespoons melted butter, sugar , flour, lime zest and juice, tossing gently to combine.
Pour into a 8-inch square baking pan.
In a medium bowl, combine oats, coconut, macadamia nuts, salt and remaining 6 tablespoons melted butter, tossing gently.
Spread over pineapple mixture.
Bake until golden brown and bubbly, 20 to 30 minutes.
Serve with ice cream or gelato.
Notes
This recipe was adapted from the Taste of South's Sothern Pies 2013 magazine