These Mini Pumpkin Pie Tarts are perfect for the holiday season!  I make these way in advance and store them in the freezer.  One less thing I have to worry about making the week of Thanksgiving.  If you have someone in your family that is crazy about pumpkin pie this is the perfect little gift for them!  Surprise them with a batch of these Mini Pumpkin Pie Tarts.  They can freeze them and have pumpkin pie for the next few months….if they last that long.  😆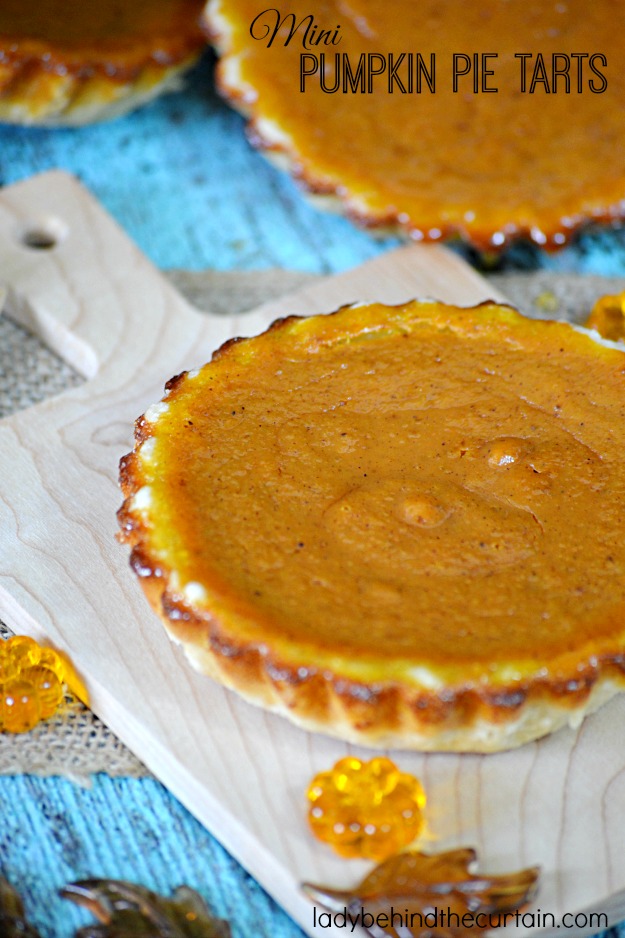 I used my families favorite pumpkin pie recipe and divided it into 8 mini tarts.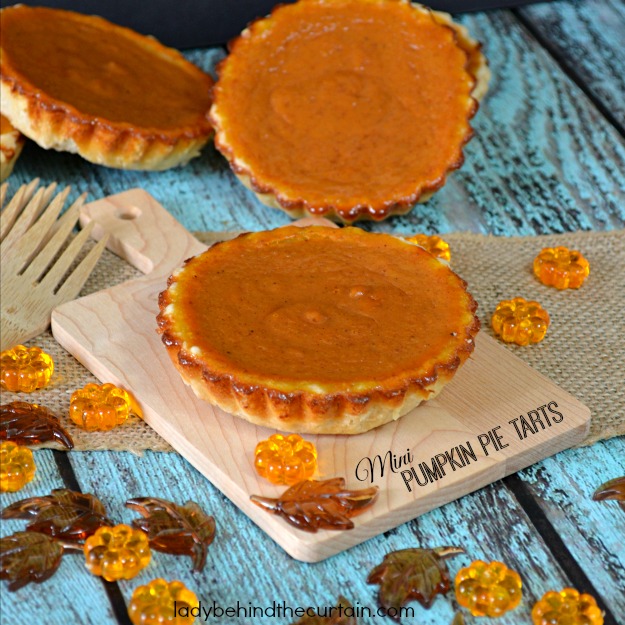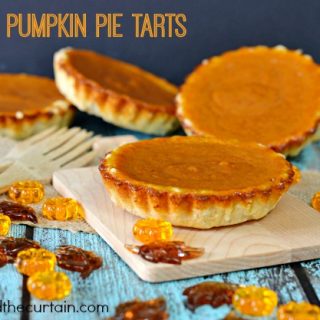 Mini Pumpkin Pie Tarts
Yield:
Makes 8 to 9 3 1/2-nch Tarts or One 9-inch Pie
Total Time:
1 hour
7 minutes
Ingredients
For the Pie Crust:
2 cups all-purpose flour
1 teaspoon salt
2/3 cup shortening
7 to 9 tablespoons water or milk
For the Pie Filling:
1 - 16 ounce can pumpkin
3/4 cup granulated sugar
1 teaspoon ground cinnamon
1/2 teaspoon salt
1/2 teaspoon ground ginger
1/2 teaspoon ground nutmeg
3 eggs
2/3 cup evaporated milk
1/2 cup milk
Instructions
For the Crust:
Preheat oven to 375 degrees.
Stir together the flour and salt to a large mixing bowl.
Using a pastry blender or two knives cut in the shortening until the mixture has pieces that are the size of small peas.
Add water or milk starting with 7 tablespoons, mix together if the dough is too dry add more water or milk as needed. At this time only add 1 tablespoon at a time.
Press pieces of the dough into 8 to 9 - 3 1/2-inch tart pans.
For the Pie Filling:
Mix together the pumpkin, sugar, cinnamon, salt , ginger and nutmeg.
Add eggs, lightly beat eggs into pumpkin mixture with a fork.
Add the evaporated milk and milk; mix well.
Pour filling into prepared tart pans.
Place filled pans on a cookie sheet and bake 40 to 47 minutes.
Cool in pans 15 minutes, take out of pans onto a cooling rack to finish cooling completely.
MORE PUMPKIN RECIPES

1.  EASY PUMPKIN NUT DUMP CAKE  2. PUMPKIN PIE DONUT HOLES  3. CARAMEL PUMPKIN FUDGE