HAPPY NATIONAL DONUT DAY!  What could be more satisfying then waking up to the aroma of Pumpkin Pie Donut Holes submerged in a Maple Glaze?  I say…NOTHING!  In 30 minutes your family and guests can be enjoying the fluffy pumpkin delights.  Scroll down for more delicious donut recipes.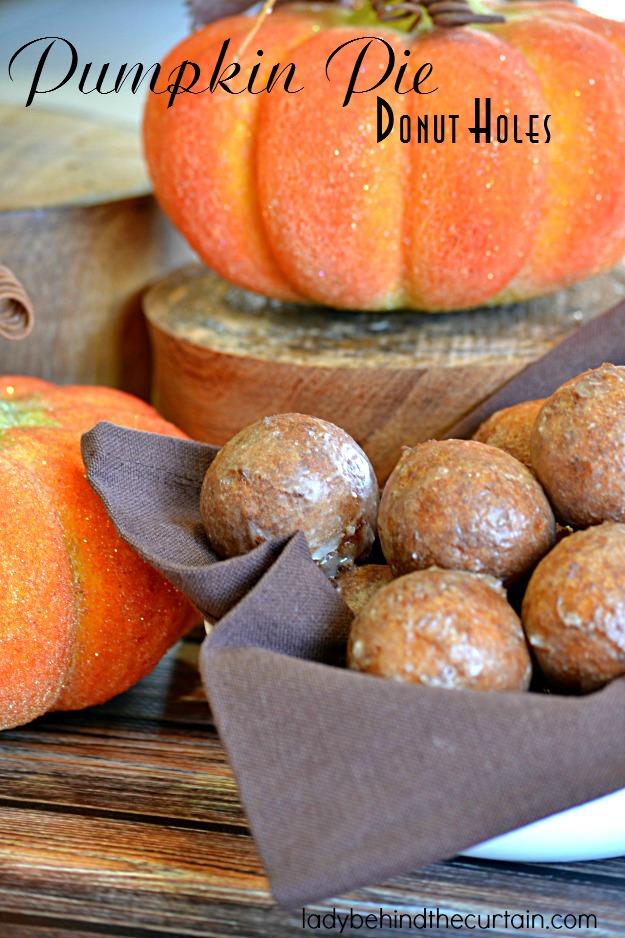 SO PUT THE COFFEE ON…. AND LET'S MAKE DONUTS!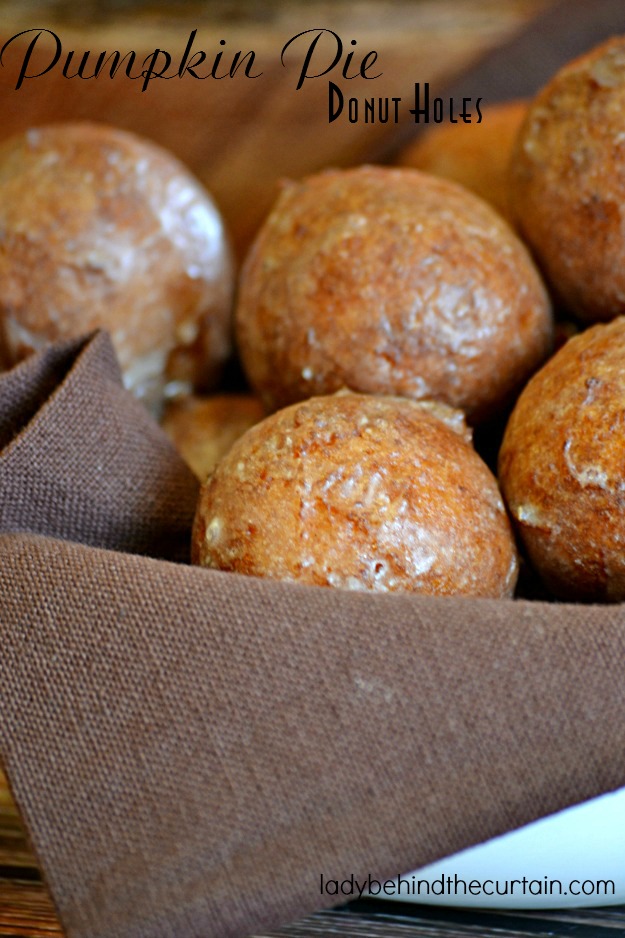 Skip the rolling and cutting step, just simply use a small ice cream scoop, drop and fry these Pumpkin Pie Donut Holes.
These are so easy to make I made them Sunday morning and took them to our Sunday School Class.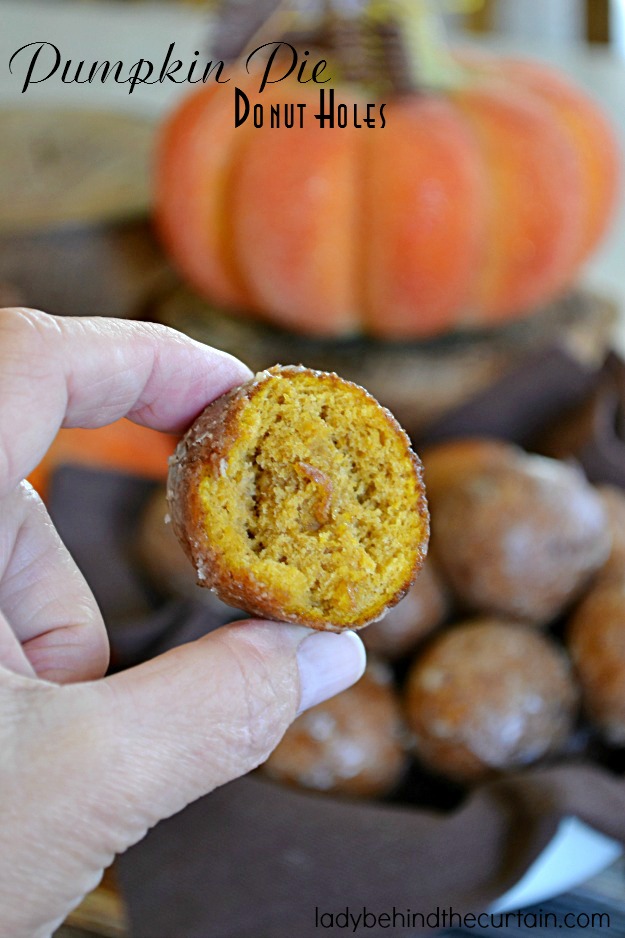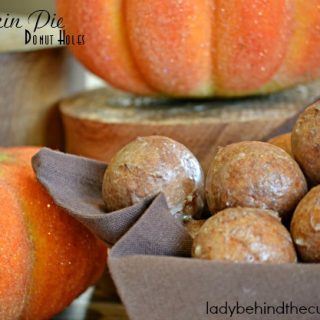 Pumpkin Pie Donut Holes
Yield:
Makes 2 1/2 dozen donut holes
Ingredients
For the Pumpkin Pie Donuts:
72 ounces vegetable oil or enough for 2-inches of oil
1 cup all-purpose flour
3 teaspoons baking powder
1/2 teaspoon ground cinnamon
1/4 teaspoon ground ginger
1/4 teaspoon ground cardamom
1/4 teaspoon salt
3/4 cup canned pumpkin puree
1/4 cup light brown sugar, packed
1 large egg, lightly beaten
1 teaspoon vanilla extract
For the Maple Glaze:
2 cups confectioners' sugar
4 tablespoons maple syrup
3 to 4 tablespoons water
Instructions
NOTE: Most recipes call for the oil to be heating while you make the batter. I prefer to have my batter ready before I heat up my oil so I can watch it. The temperature can rise rapidly.
For the Pumpkin Pie Donuts:
To a medium bowl add the flour, baking powder, cinnamon, ginger, cardamom and salt.
Stir to combine.
To small bowl add the pumpkin, egg, and vanilla.
Stir to combine, add to the flour mixture and stir together.
Line a cookie sheet with paper towels for cooked donuts to drain on.
Pour oil in a Dutch oven, insert thermometer, turn heat on medium high, heat oil to 375 degrees.
Once the oil has reached it's temperature, use a small 1 1/4-inch spring loaded ice cream scoop and drop pumpkin batter into hot oil.
NOTE: Watch the temperature for the oil, if it continues to rise even after adding the donut batter turn the burner down. I have an electric stove and had to turn my burner to #5 which is a medium setting. Once I did that the temperature stayed steady.
Fry batter turning at least once for 1 1/2 to 2 minutes or until golden brown.
Transfer cooked donuts to paper towels to drain.
For the Maple Glaze:
Add the sugar and syrup to a small bowl and stir to combine.
Add water 1 tablespoon at a time until the glaze has reached your desired consistency.
Place a piece of wax paper under a wire cooling rack. NOTE: Make sure the wax paper is as large as the cooling rack.
Glazing only one donut hole at a time, completely submerge a donut hole in the glaze, use a fork or slotted spoon and transfer to the prepared wire rack to cool completely.
Store at room temperature for up to 3 days.
I'm celebrating National Pumpkin Day with some of my friends.  Here are their delicious donut recipes they made for this special day.
1.  ICED PUMPKIN DONUTS by Roxana's Home Baking  2. BAKED PUMPKIN DONUTS WITH VANILLA GLAZE by My Catholic Kitchen
MORE DONUT RECIPES

1. BAKED LEMON BLUEBERRY DONUTS  2. APPLESAUCE DONUTS  3. BISCUIT DONUTS