Easy Pumpkin Nut Dump Cake
Does the thought of having to roll out dough send you into the corner chanting positive thoughts?  How about if you could still get the delicious flavor of pumpkin pie without the hassle of actually making a pumpkin pie?  That's exactly what this Easy Pumpkin Nut Dump Cake will do for you.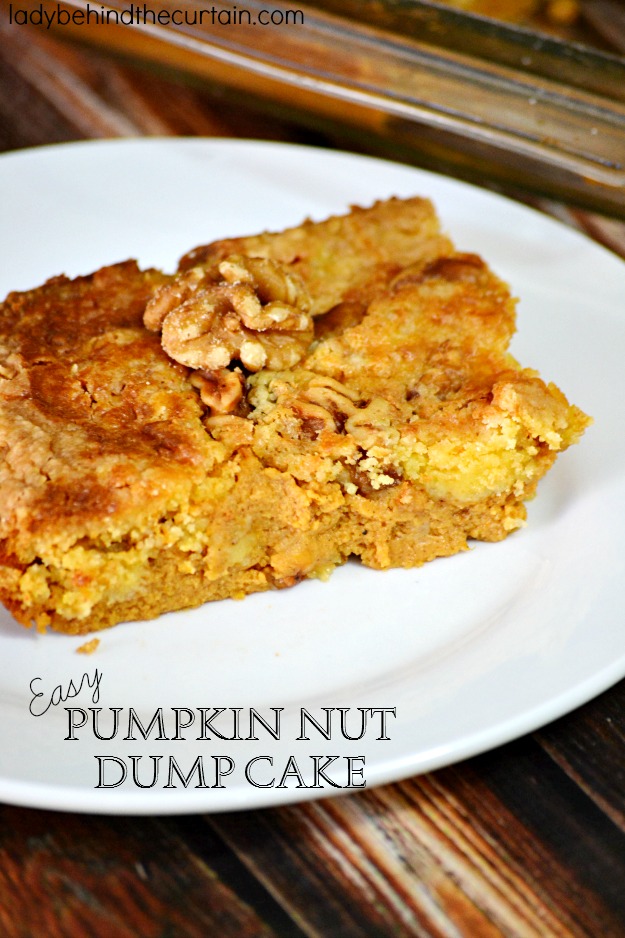 This Easy Pumpkin Nut Dump Cake has a creamy pumpkin base topped with a yellow cake!  So delicious and easy!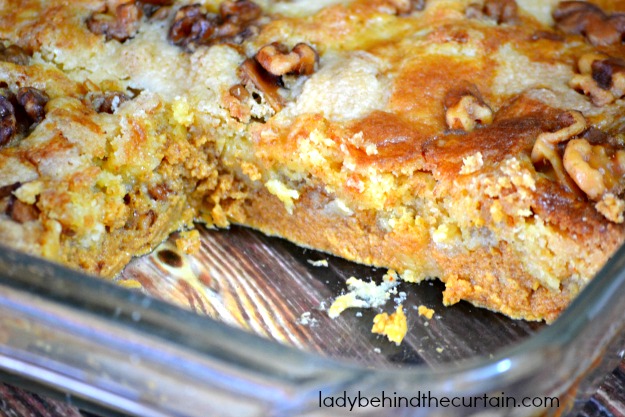 The perfect holiday dessert for church socials, last minute entertaining or if you just started baking.  You can also try my Apple, Cranberry and Pear Dump Cake.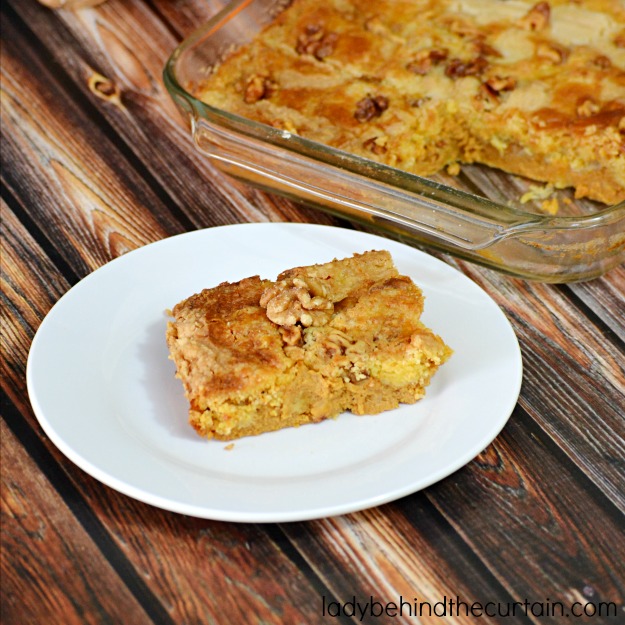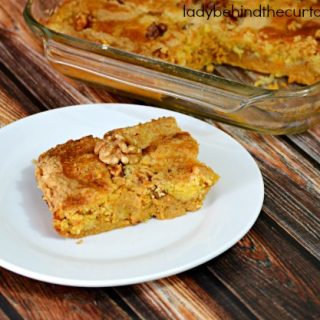 Easy Pumpkin Nut Dump Cake
Total Time:
1 hour
15 minutes
Ingredients
1 (15 ounce) can solid-pack pumpkin
1 (12 ounce) can evaporated milk
1 cup light brown sugar, packed
3 large eggs
1 1/2 teaspoons ground cinnamon
1/2 teaspoon ground nutmeg
1/2 teaspoon salt
1 box of yellow cake mix
3/4 cup butter, cut into thin slices
2/3 cup walnut pieces or chopped
Instructions
Preheat oven to 350 degrees.
Spray a 9x13-inch baking dish with non stick cooking spray.
In a medium bowl combine the pumpkin, milk, brown sugar, eggs, cinnamon, nutmeg and salt.
Pour into prepared pan.
Evenly sprinkle dry cake mix over pumpkin mixture.
TIP: I used an off set spatula to evenly disburse the cake mix.
Add butter on top of the cake mix in one layer.
Sprinkle on nuts.
Bake 55 minutes or until a toothpick inserted into the center comes out clean.
Cool completely before cutting into squares.
MORE EASY RECIPES
1. EASY PUMPKIN CARAMEL SAUCE  2. EASY BISCUIT APPLE PULL APART  3. EASY PIZZA DOUGH