Nestle Football Party Ideas
I am a member of the Collective Bias®  Social Fabric® Community.  This shop has been compensated as part of a social shopper amplification for Collective Bias and its advertiser.

Are you gearing up for THE BIG GAME?  Nestle has the perfect GAME TIME foods that are easy to cook and serve.  So you don't miss a minute of the game!
I like to call this A PARTY IN YOUR FREEZER.  That's what this party is all about.  Delicious, easy to make party food.  Walmart makes it so easy.  They have all these frozen treats.  One stop shopping for #GameTimeGoodies.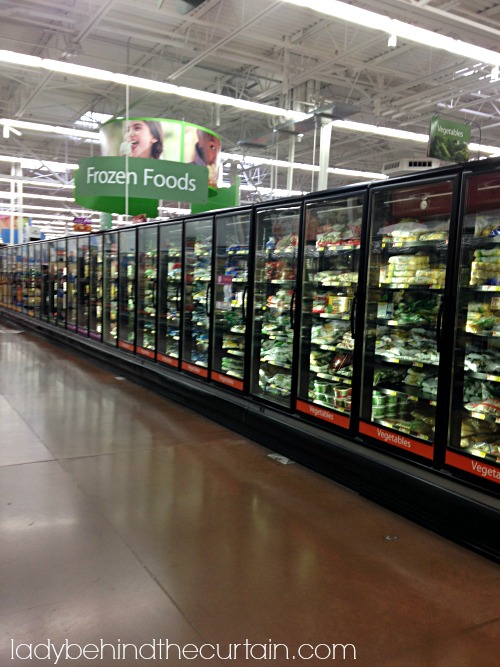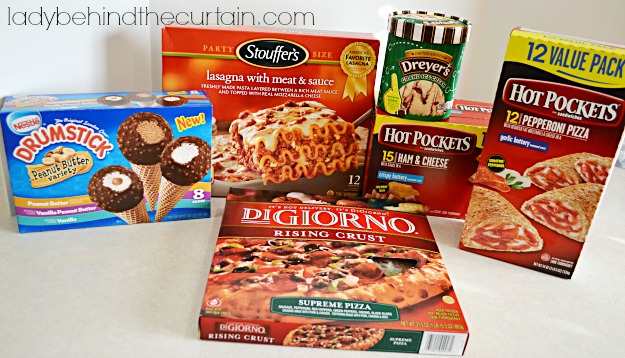 THE DECORATIONS
Starting with simple decorations.  The backdrop for the party table is black wrapping paper, I made my banner out of felt and used a inexpensive plastic black table cloth.
HERE'S HOW I MADE THE BANNER

The utensil holders are clean tin cans with brown paper wrapped around and taped at the back.  I painted on the threads with white acrylic paint.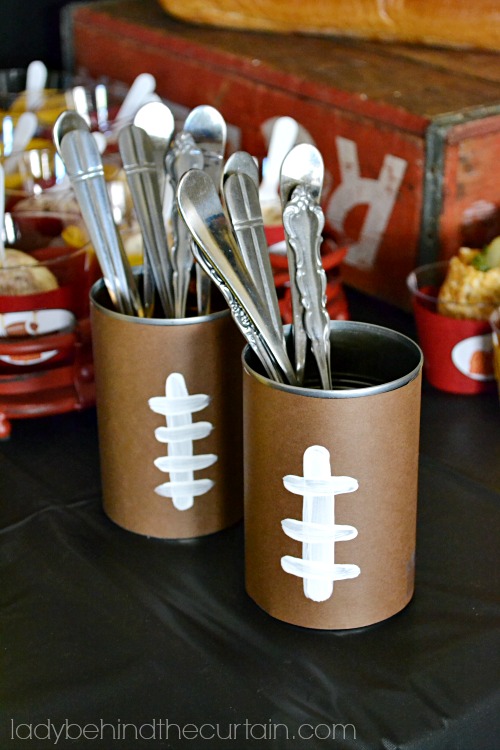 For the cups I punched a hole in the top, threaded through the label and tied it on with string.  HERE is the template for the label.  This is a great way to keep track of whose cup is whose.  Just make sure you drink from the opposite side.  🙂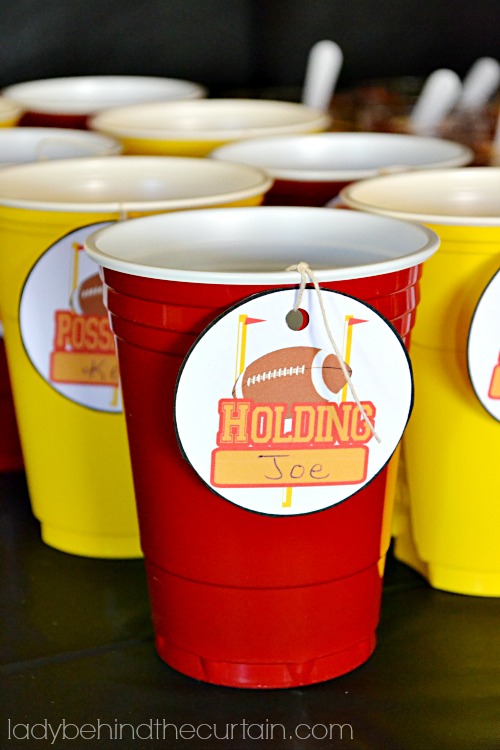 THE FOOD
Party food doesn't have to be complicated just fun to look at.  Be creative with your presentation.  Your guests will love it!
OFF SIDES STUFFED POCKETS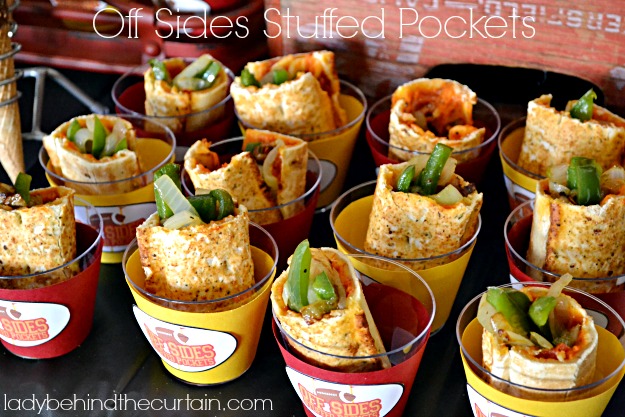 Pepperoni Pizza Hot Pockets are great on their own but let's dress them up a bit for the BIG GAME.
Bake 6 pockets according to the package directions.  (baking helped the pockets get crispy)
Saute 1 onion and 1 bell pepper until tender crisp.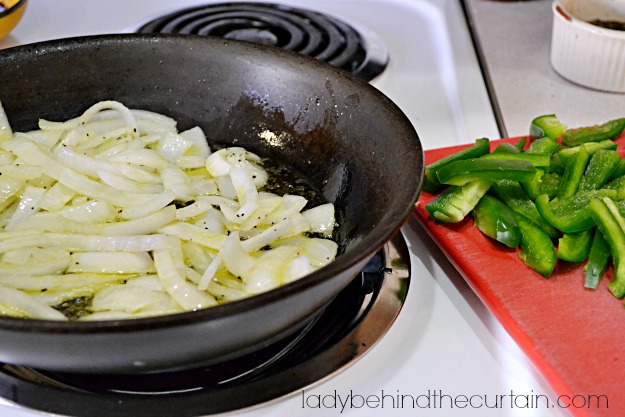 Cut the pockets in half, push together to open them slightly and stuff with vegetables.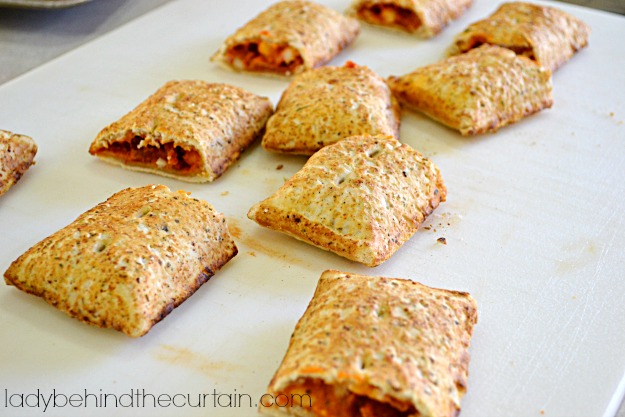 Display in 5 ounce cups.  HERE is the template for the stuffed pockets.
EXTRA POINT HAM AND CHEESE POCKETS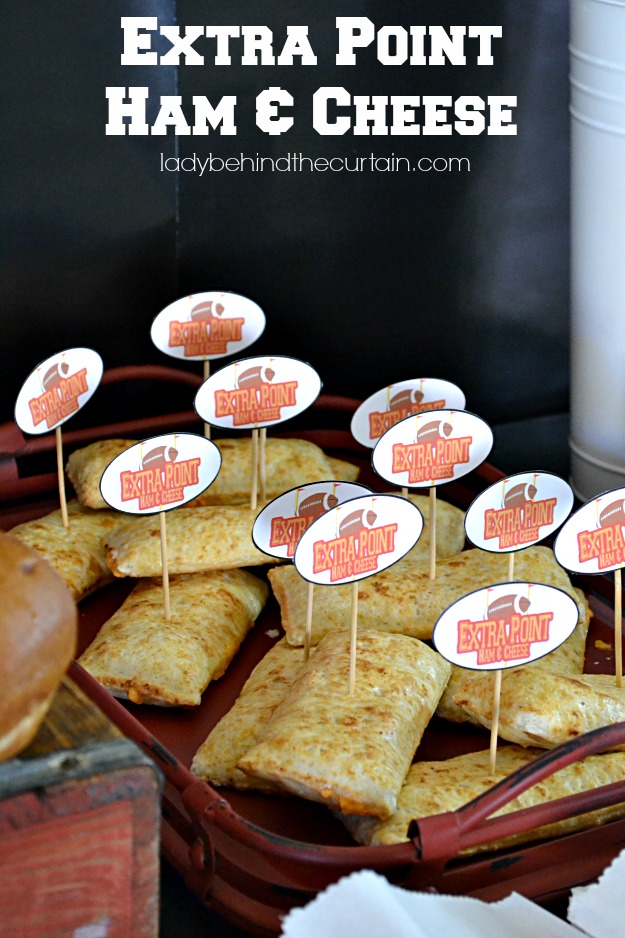 I chose to leave these as they were.  I didn't want to loose any of the creamy cheese filling.  HERE is the template for the Ham and Cheese Pockets.  All you do is cut them out and tape them to toothpick or a small skewer.
HUDDLE PIZZA SUPREME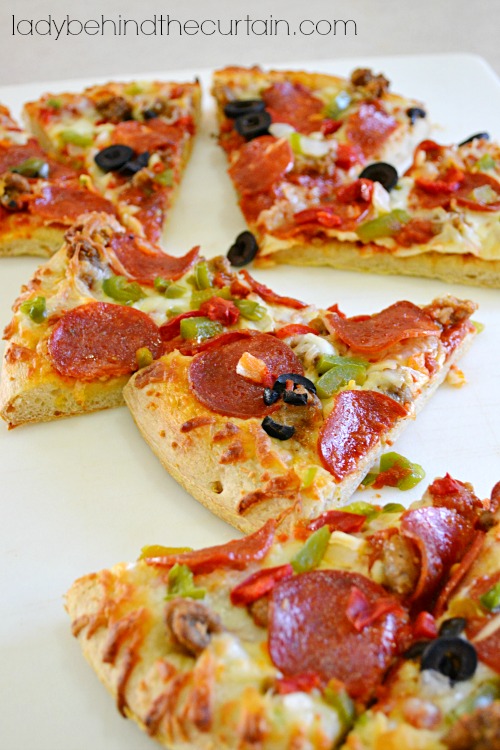 Bake the Digiorno Supreme Rising Crust Pizza according to the package directions.  Cut into slices and slip into a paper pouch or small paper bag.  HERE is the template for the Digiorno Supreme Rising Crust Pizza.
KICK OFF STUFFED BREAD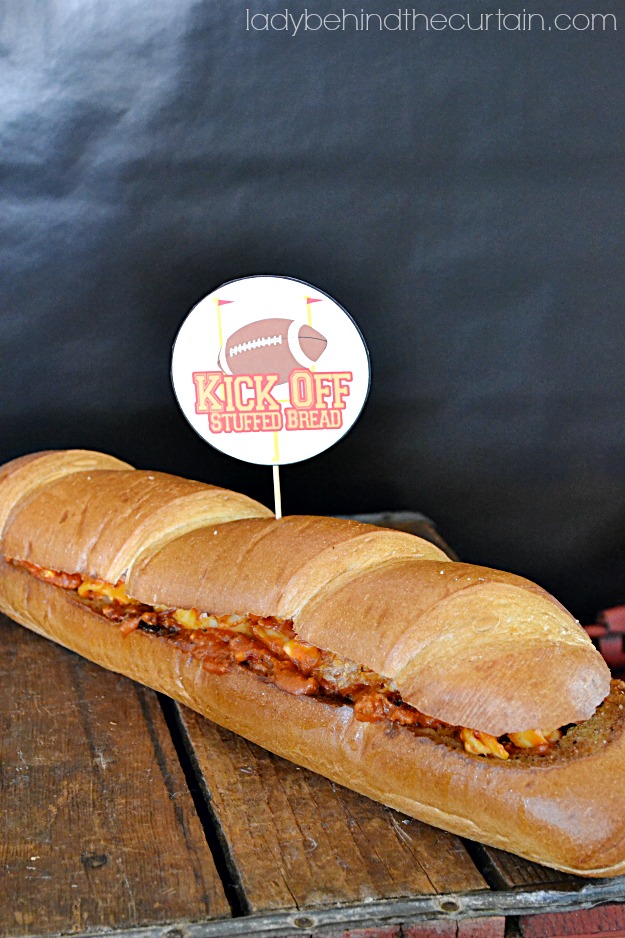 Sure any one can bake a Stouffers Party Size Lasagna with Meat & Sauce.  How about stuffing it into a large loaf of toasted French bread and slicing it like a sub sandwich?  Bake the lasagna according to the package directions.  Slice the top off the french bread and hollow out the inside.  Brush with olive oil and sprinkle with salt and black pepper.  Broil until toasted.  Fill with hot baked lasagna.  NOTE:  There is enough lasagna to stuff TWO French bread loaves.  Put back on the top.  Slice as being served.  HERE is the template for the label.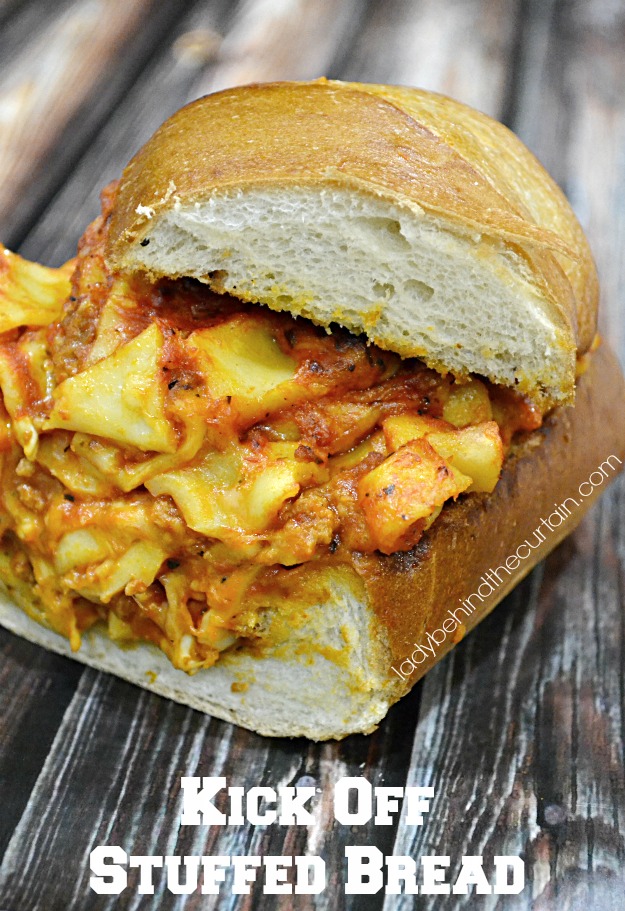 DESSERT – ICE CREAM!
WINNING POINT DRUMSTICKS – Nestle Crunch Dipped Drumstick Cones (PEANUT BUTTER FLAVOR)  DELISH!!!  You get three flavor options in this box.  Peanut Butter, Vanilla Peanut Butter and Vanilla.  All will make the WINNING POINT with your guests.  HERE is the template for the label.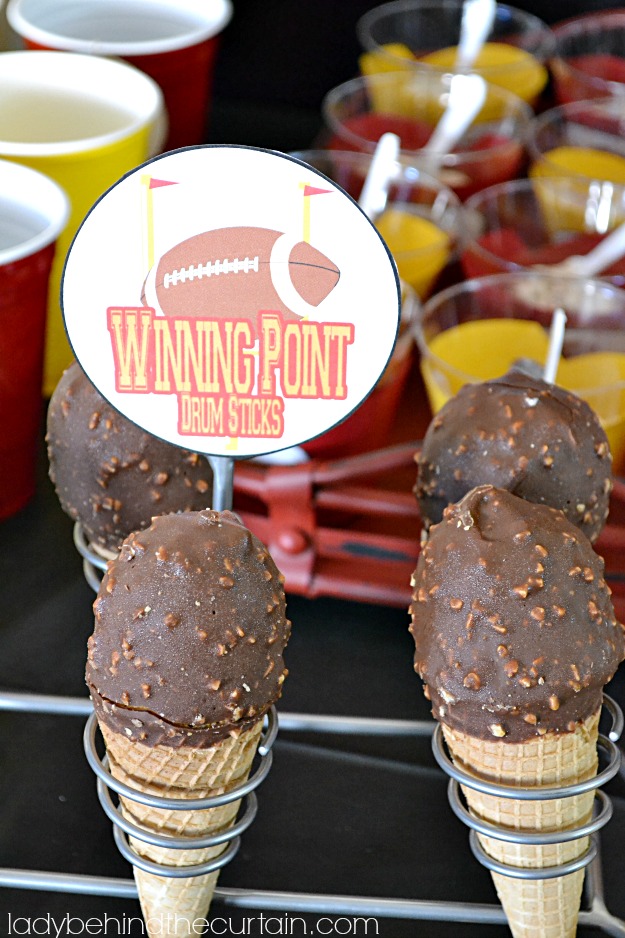 TOUCHDOWN ICE CREAM – Dreyer's Limited Edition Touchdown Sundae Ice Cream served in 7 ounce cups.  Vanilla ice cream with a fudge swirl and caramel filled chocolate footballs.  The name is true to the ice cream!  HERE is the template for the Ice Cream.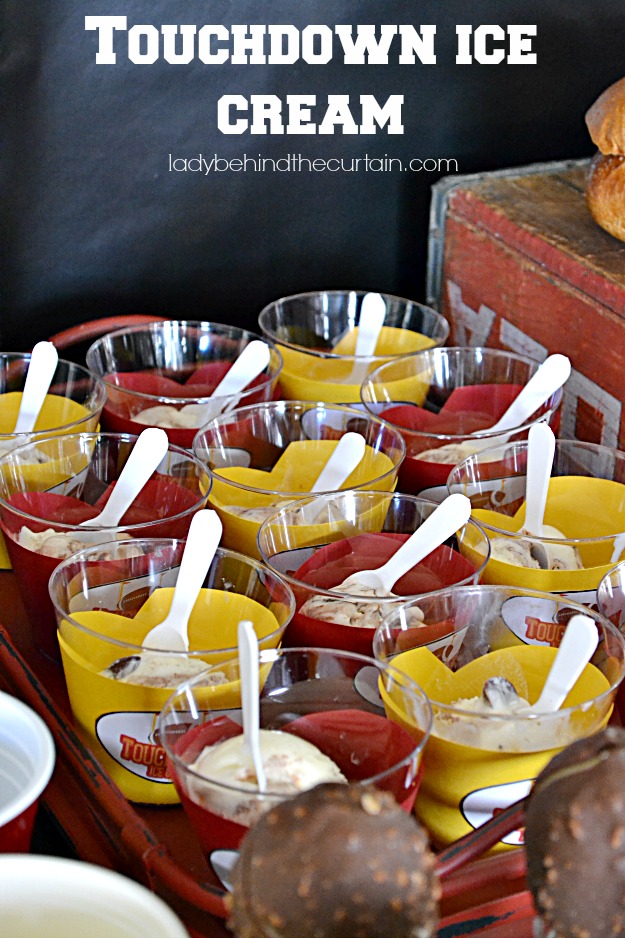 Whenever you plan a party don't forget to include Srouffers Lasagna, Hot Pockets Ham & Cheese, Hot Pockets Pepperoni, Digiorno Pizza, Dreyer's Ice Cream and Nestle Crunch Drumsticks.