Pumpkin Spice Almond Roca
A delicious butter toffee with a crunchy bottom, topped with dark chocolate and salted almonds, this Pumpkin Spice version of the classic Almond Roca is perfection. If you love Spiced Pumpkin Lattés then you are going to love this Pumpkin Spice Almond Roca. Two treats in one! Pumpkin spice and candy! This melt in your mouth almond butter crunch has just a hint of pumpkin spice to help create the perfect fall treat. Scroll down to see my helpful tips on how to make homemade candy.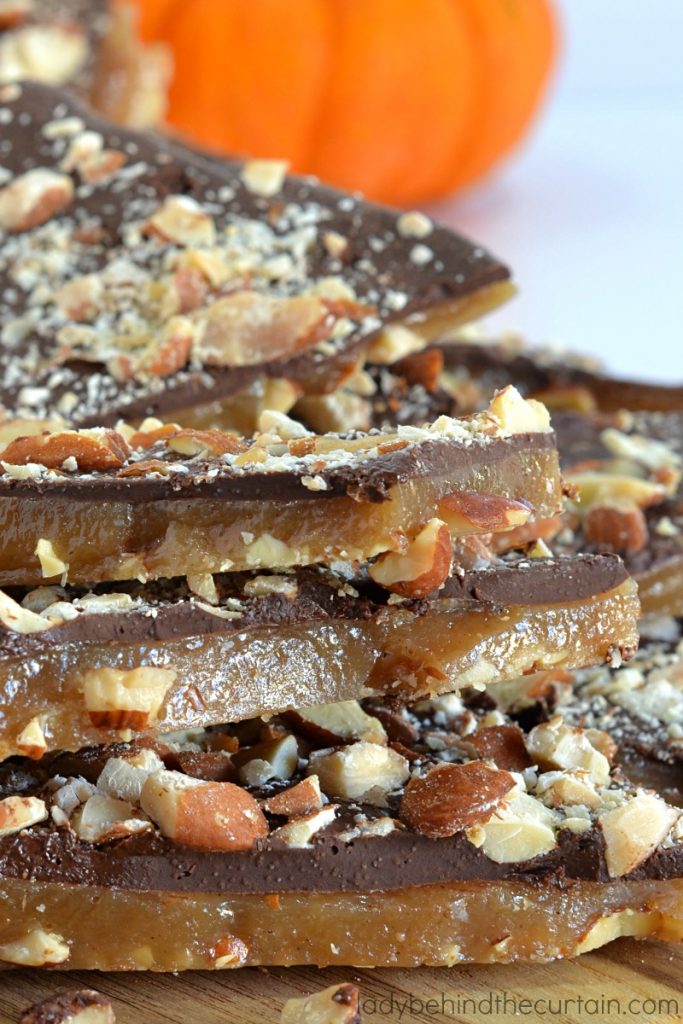 IMPRESS EVERYONE!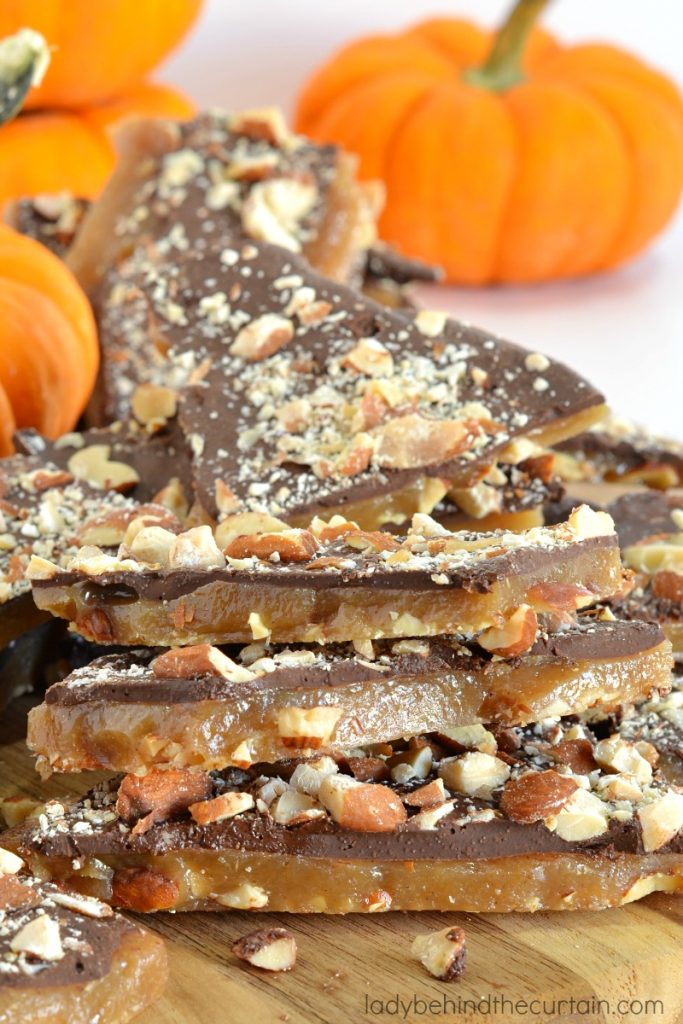 HELPFUL TIPS FOR MAKING HOMEMADE CANDY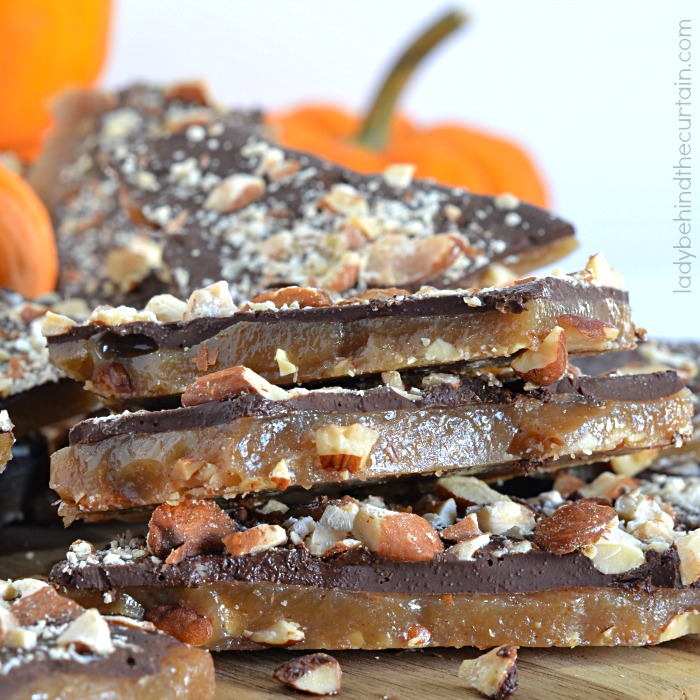 CHECK THE WEATHER: Clear, dry days are best. On rainy or humid days, the cooking time candy increase substantially or your candy may never set up at all.
TEST YOUR THERMOMETER TO MAKE SURE IT IS ACCURATE: Immerse it in a pan of water, and bring the water to a boil. The temperature should 212°.
MEASURE OUT THE INGREDIENTS: Candy making is a science. You'll need to use the ingredient amounts in the recipe. NO GUESSING HERE.
HAVE EVERYTHING READY TO GO: Before you start the candy making process. It takes a while to reach 220° but after that the temperature rises quickly.
COOKING SUGAR AT A HIGH ALTITUDE
As with most cooking at high altitudes, there are modifications you'll need to make with candy recipes. For every 500 feet above sea level, decrease the temperature by one degree. Example: If you live at an altitude of 4000 feet and the recipe calls for cooking to 234° F, cook it to 226°F.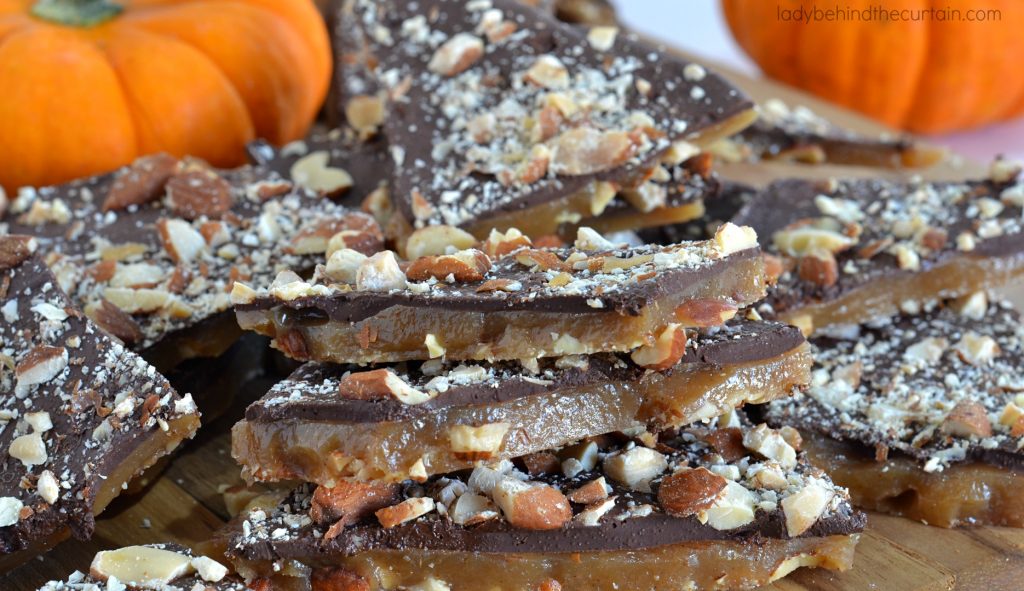 Yield: Makes 2½ Pounds
Pumpkin Spice Almond Roca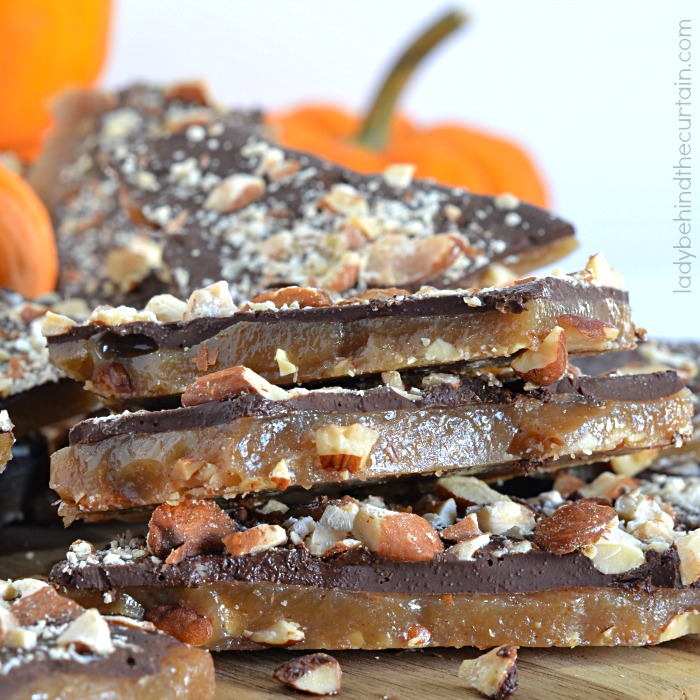 Be a Confectionary Super Star!
Ingredients
1 ½ cups roasted, salted almonds, lightly crushed
1 cup granulated sugar
1 cup light brown sugar
1¾ cups unsalted butter, sliced
¼ cup pumpkin spice syrup ( I used Torani)
½ teaspoon pumpkin pie spice
2 cups good quality dark chocolate ( I used some from Belgium found at Trader Joe's)
Instructions
Spread ¾ cup of the crushed almonds onto a 11½x15½-inch baking pan with sides. Set aside. TIP: Pour almonds into a zip top bag and coarsely crush with a mallet or the end of a rolling pin.
In a medium saucepan, combine the granulated sugar, brown sugar, butter, pumpkin spice syrup and pumpkin pie spice. Bring to a boil, stirring frequently. Insert a candy thermometer. Boil until the temperature reaches a soft-crack stage (290°). Immediately remove saucepan from the stove, spread the hot sugar mixture in an even layer over chopped almonds.
In a medium microwave safe bowl, heat chocolate in 30 second increments, stirring until the chocolate is melted. Pour the chocolate evenly over the toffee layer. Sprinkle on the remaining almonds. Place in the refrigerator until set (about 1 hour). Break into pieces. Store in an airtight container
MORE CANDY RECIPES
NEVER MISS A POST
Christmas cookie recipes to go on your Holiday cookie tray. GINGERBREAD CHOCOLATE CHIP COOKIES and EGGNOG COOKIES.