This Avocado Salsa is a twist on the classic Guacamole.  Full of flavor and ingredients that would be in a salsa.
So get yourself a big bag of tortilla chips, park yourself in front of the television and enjoy.  This salsa is addicting.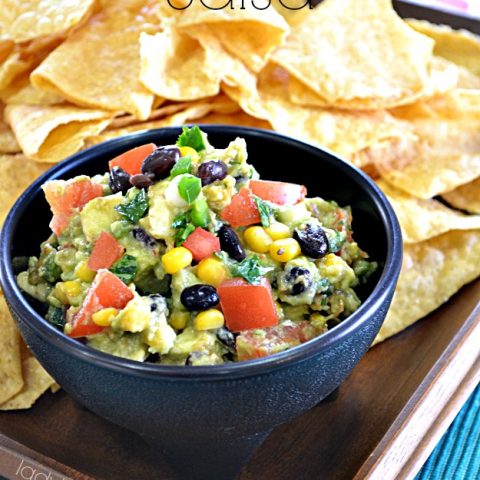 Avocado Salsa
Ingredients
3 ripe avocados, seeded, skins removed and roughly chopped
2 tablespoons green onion, sliced
3 tablespoons sweet corn with red and green peppers
3 tablespoons black beans, rinsed and drained
1 tablespoon jalapeno, seeded and finely chopped
1 tablespoons cilantro, chopped
1 tablespoon fresh lime juice
1 small tomato, seeded and diced
1/4 teaspoon garlic powder
1/4 teaspoon salt
1/2 teaspoon Sriracha hot chili sauce
Instructions
Add all the ingredients to a medium size bowl.
Gently stir to combine.
TIP - I added my leftover corn and beans to white rice. It was delish.