Old Fashioned Vanilla Bean Frozen Custard
Old Fashioned Vanilla Bean Frozen Custard |  Just like Grandma used to make!  Some may call this vanilla ice cream but since this is so rich, thick and creamy I thought it deserved to be in the frozen custard category.  When a total of seven egg yolks are added you know you've got yourself a bowl of rich thick goodness.  Bring back the good ole days of the ice cream social!  Those were the days of rock salt, ice and the hand crank ice cream maker.  We are lucky to have the electric ice cream maker!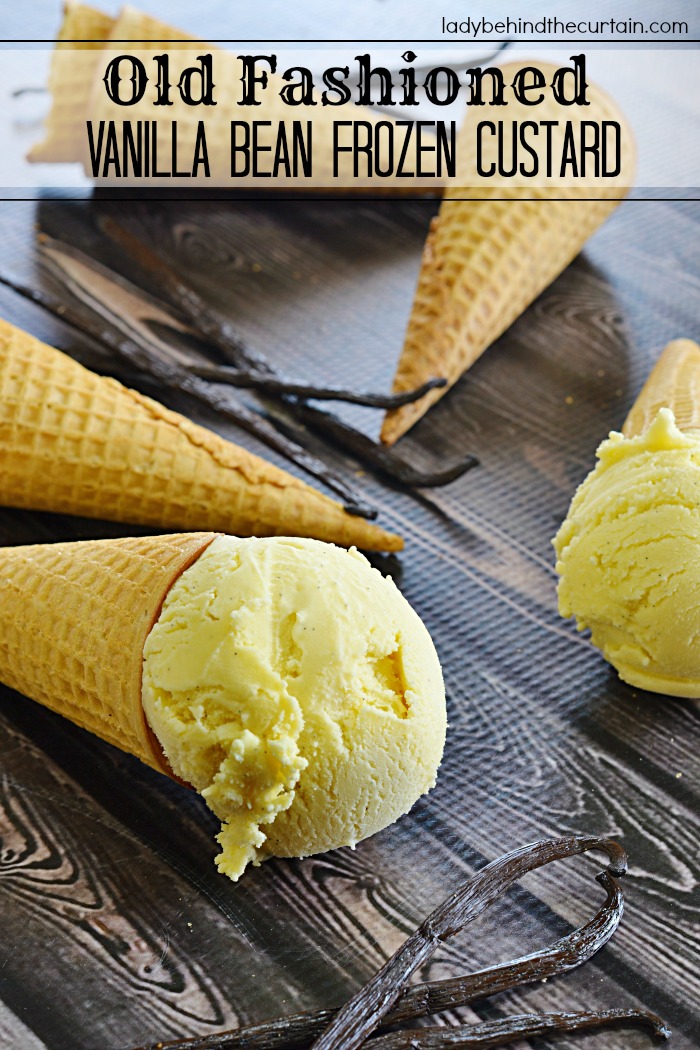 This Vanilla Bean Frozen Custard is extra thick and extra creamy.  It's not plain, it's plain good
Old Fashioned Vanilla Bean Frozen Custard
Ingredients
2 1/3 cups whole milk
2 1/3 cups heave cream
1 whole vanilla beans, seeds removed
3 large eggs
4 large egg yolks
1 1/8 cups granulated sugar
2 teaspoons vanilla extract
Instructions
To a medium saucepan add the milk, cream, vanilla seeds and vanilla bean.
Bring the mixture to a slow boil on medium heat.
Reduce the heat to low and simmer for 30 minutes, stirring occasionally.
Combine eggs, egg yolks and sugar in a medium mixing bowl.
Beat on medium speed until the mixture is thick, smooth and pale yellow (about 2 minutes).
Remove the vanilla bean and discard.
Measure out 1 cup of the milk mixture; with the mixer on low slowly add the hot mixture to the egg mixture in a slow steady stream.
When thoroughly combined, pour the egg mixture into the hot milk mixture and stir to combine.
Cook, stirring constantly, over medium-low heat until the mixture is thick enough to coat the back of a spoon.
Transfer to a bowl, stir in vanilla, cover with plastic wrap placed directly on the custard, and chill completely.
Pour chilled custard into the freezer bowl, follow manufacturers directions.
If a firmer consistency is desired, transfer the frozen custard to an airtight container and place in the freezer for about 2 hours.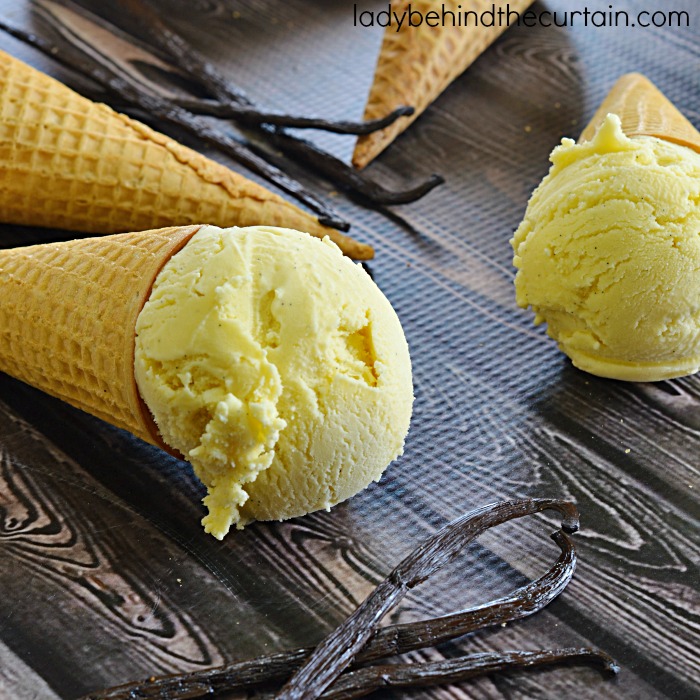 MORE ICE CREAM RECIPES

BUTTERBEER ICE CREAM  2.  HOMEMADE PUMPKIN ICE CREAM  3. LEMON BLUEBERRY PIE ICE CREAM