Homemade Pumpkin Ice Cream Recipe
Homemade Pumpkin Ice Cream Recipe | Like eating a cold rich thick pumpkin pie.  Fall is in the air and pumpkin is ranking supreme.  Instead of serving pumpkin pie surprise everyone with pumpkin ice cream!  Your guests will truly think they are eating pumpkin pie.  In fact I would recommend adding a dollop of whip cream on top.  For a little crunch and even more flavor, crumble some store bought peanut brittle on top.  QUESTION: Why do we wait until Fall to have pumpkin?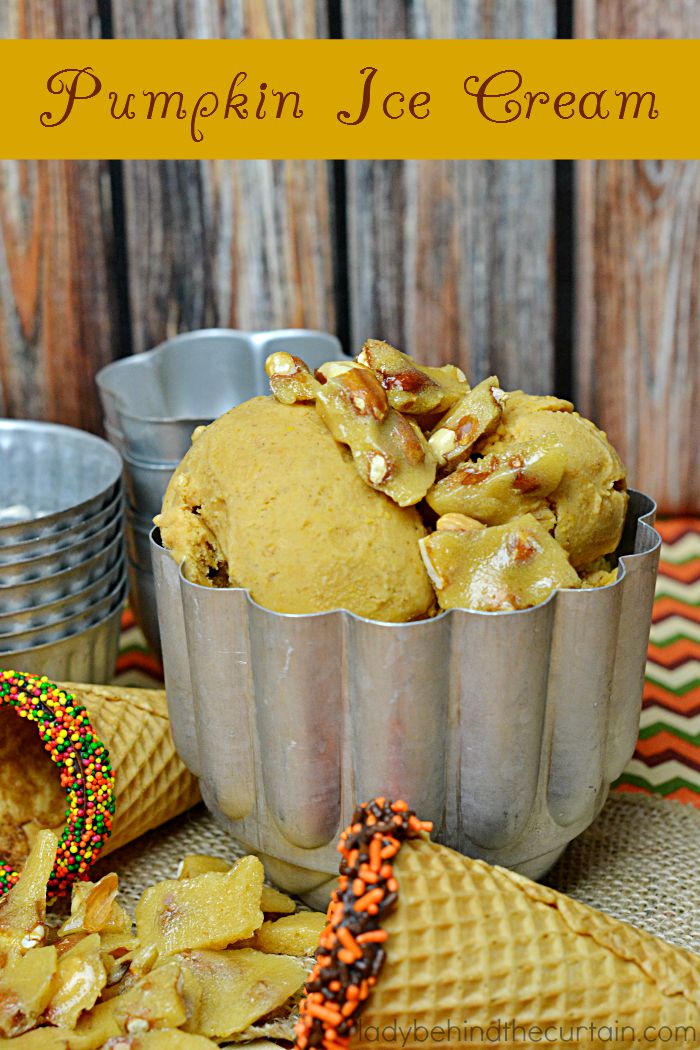 Add this Pumpkin Ice Cream to your Fall Pinterest boards.  Don't have any Fall boards?  Let me help you build one.
LOOK BELOW FOR A LIVE INTERACTIVE PEEK AT MY LBC – FALL/ THANKSGIVING RECIPES AND ENTERTAINING IDEAS BOARD!  PIN FROM THE PICTURES BELOW!  TO SEE MORE»»»»CLICK ON THE "SEE ON PINTEREST" BUTTON BELOW.
Homemade Pumpkin Ice Cream Recipe
Ingredients
1 1/2 cups whole milk
1 cup heavy whipping cream
2/3 cup granulated sugar
1/4 cup light brown sugar, packed
1/8 teaspoon salt
5 large eggs yolks
1 (15 ounce) can pumpkin puree
2 teaspoons Pumpkin Pie Spice
1 teaspoon vanilla extract

Optional Garnish: whip cream, store bought peanut or pecan brittle
Instructions
Add the milk, cream, granulated sugar, brown sugar, and salt to a medium saucepan.
On medium heat simmer, stirring occasionally.
Place egg yolks in a medium bowl; while whisking slowly drizzle into the egg yolks half of the warm milk mixture.
Pour warm egg mixture into the remaining warm milk; whisk to combine.
Cook over medium heat until mixture thickens and coats the back of a wooden spoon.
Strain egg mixture through a sieve.
Stir in the pumpkin, pumpkin pie spice and vanilla.
Cover and refrigerated until chilled (about 4 hours).
Freeze pumpkin mixture in an ice cream maker according to manufacturer's instructions.
Spoon into a freezer safe container (*I like to use a loaf pan*) and freeze until firm (about 3 hours).
Serve with optional whip cream and brittle.
https://www.ladybehindthecurtain.com/homemade-pumpkin-ice-cream-recipe/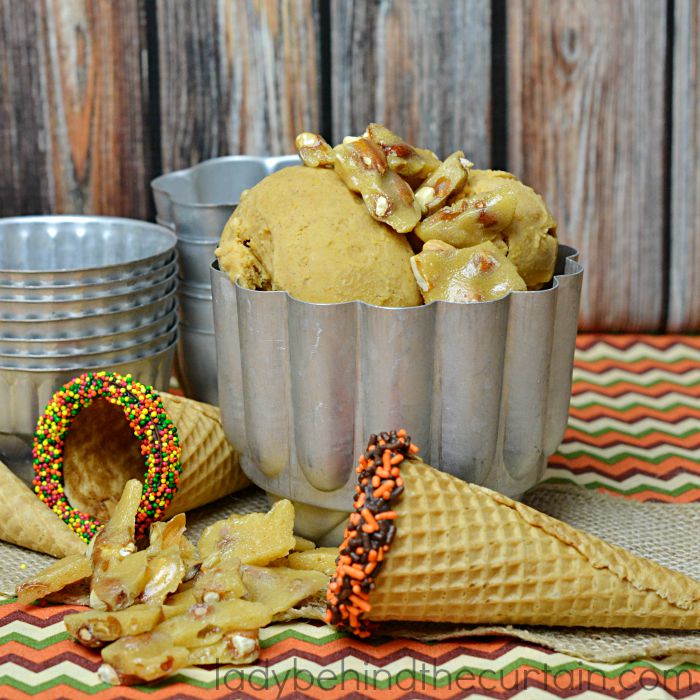 MORE ICE CREAM RECIPES
1. LEMON BLUEBERRY PIE ICE CREAM  2. PEANUT BUTTER CUP ICE CREAM  3. MINT CHOCOLATE CHIP ICE CREAM