If you didn't tell anyone they would never know that these Oven Fried Pork Chops aren't really fried.  These pork chops have such wonderful crispy flavor and are topped with a delicious chimichurri sauce.  The perfect easy weeknight dinner.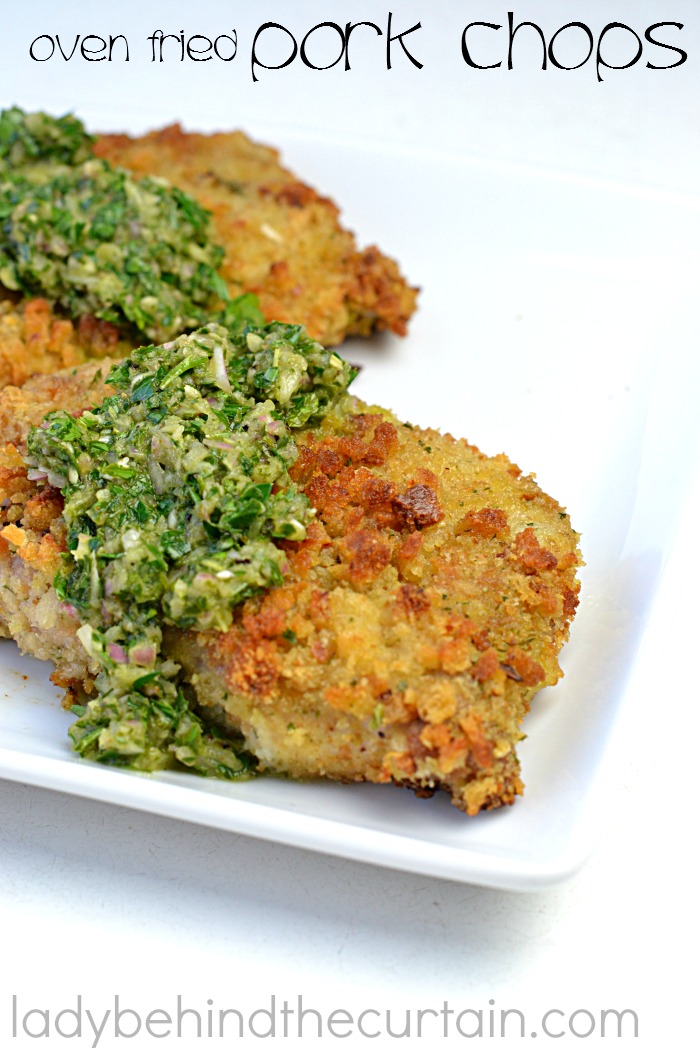 This recipe is so versatile you can swap out the pork chops for chicken or fish and for the crunchy topping you can swap out the stuffing mix for corn flakes or panko.  I even served these pork chops the next day as leftovers.  I don't normally like leftovers (they usually end up being my husbands lunch the next day), I reheated them in the oven, it gave them their crunch back and the didn't get dry!  That's a total win! ♥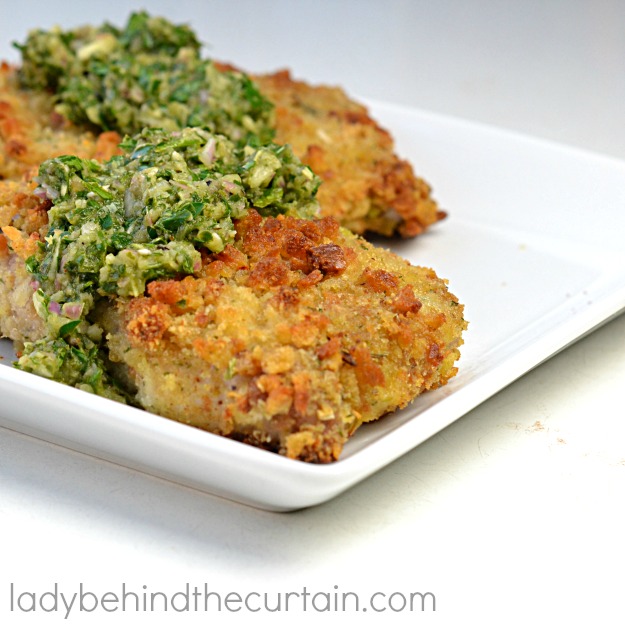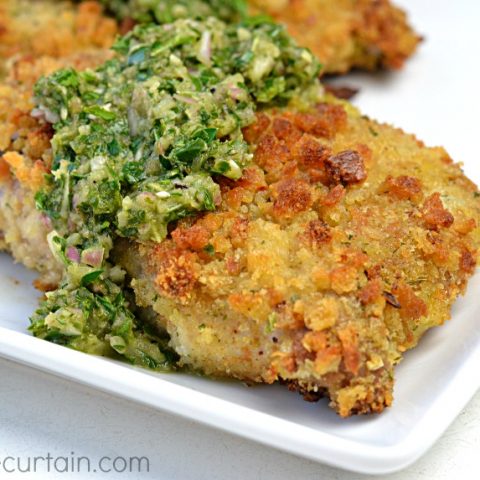 Oven Fried Pork Chops
Ingredients
For the Pork Chops:
4 boneless pork loin chops
1/4 teaspoon salt
1/4 teaspoon ground black pepper
1 egg, lightly beaten
2 tablespoons milk
1 cup herb-seasoned stuffing mix, finely crushed
2 tablespoons butter, melted
non stick cooking spray
For the Chimichurri Sauce:
1 cup Italian parsley, packed
1 medium shallot, chopped
2 tablespoons fresh oregano
2 tablespoons red wine vinegar
2 tablespoons lime juice
1 tablespoons olive oil
2 garlic cloves, minced
1/2 teaspoon salt
1/4 teaspoon black pepper
1/8 teaspoon ground cayenne
Instructions
For the Pork Chops:
Preheat oven to 425 degrees.
Line a baking sheet with parchment paper and set aside.
Sprinkle chops with salt and pepper.
In a shallow dish combine the egg and milk.
In another shallow dish add the stuffing mix.
Dip the chops in the egg mixture and then into the stuffing; turning over to evenly coat.
Place on prepared baking sheet.
Drizzle butter over each chop and spray with the non stick cooking spray.
Bake uncovered for 20 to 25 minutes or until juices are clear.
For the Chinichurri Sauce:
In a food processor or blander combine the parsley, shallot, oregano, vinegar, lime, oil, garlic, salt, pepper and cayenne.
Process or blend until finely chopped.
Serve on top of pork chops.
MORE MAIN DISH RECIPES
1. TOUCHDOWN BREWSKY BURGERS  2. CHICKEN FILLED POBLANO PEPPERS  3. CREAMY CHICKEN ENCHILADA CASSEROLE