These Jello Snow Cone Cupcakes are just what my granddaughters ordered.  In three flavors; watermelon, lime and berry blue.  The frosting is creamy like marshmallow.  The combination of a fruity cupcake, marshmallow frosting covered with crunchy colored sugar reminds me of peeps.  I know that may sound weird but they do.  This summer make these fun cupcakes that look like real snow cones.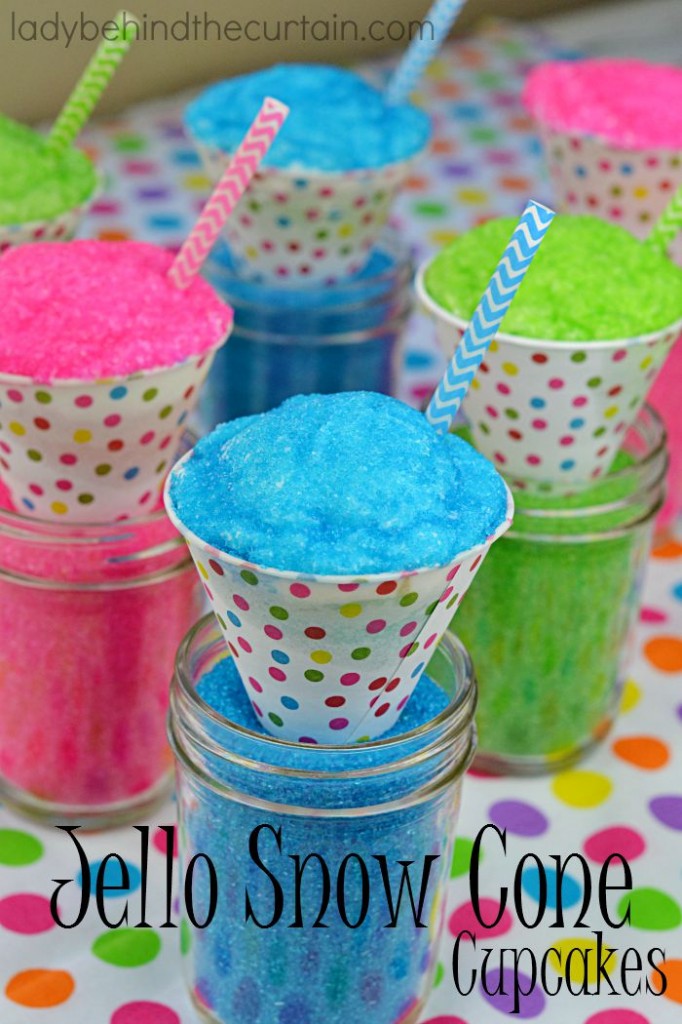 These would be fun to serve on April Fool's Day.  The girls were so excited to be baking with grandma.  We had a fun day of movies, play dough, balloon tossing and cupcakes!
Jello Snow Cone Cupcakes
Ingredients
1 (15.25 ounce) white cake mix plus ingredients on the box
2 tablespoons of EACH Jello flavor watermelon, lime and berry blue
pink, green and blue colored sugar sprinkles
Instructions
Preheat oven to 350 degrees.
Place each snow cone cup into a half pint jar.
Mix cake batter according to the package instructions.
Separate batter into 3 equal bowls ( a little over 1 cup each).
Add jello to each bowl; stir to combine.
Fill each cone three fourth's full.
Bake 25 to 30 minutes or until a toothpick inserted into the center comes out clean.
Cool completely.
Add a mound of frosting; shape like the top of a snow cone and sprinkle with colored sugar.
MORE PARTY CUPCAKES
1. SECRET FISHING HOLE DEVIL'S FOOD CUPCAKES  2. BANANA SPLIT ICE CREAM CONE CUPCAKES  3. MINI GUMBALL MACHINE CUPCAKES