Pappa Al Pomodoro Tuscan Bread Soup
Pappa Al Pomodoro Tuscan Bread Soup | A delicious rich thick Italian soup that can be enjoyed year round. Put your stale bread and fresh tomatoes to good use. Perfect for summer gardens that are bursting with tomatoes. Serve this Pappa Al Pomodoro Tuscan Bread Soup hot, at room temperature or chilled.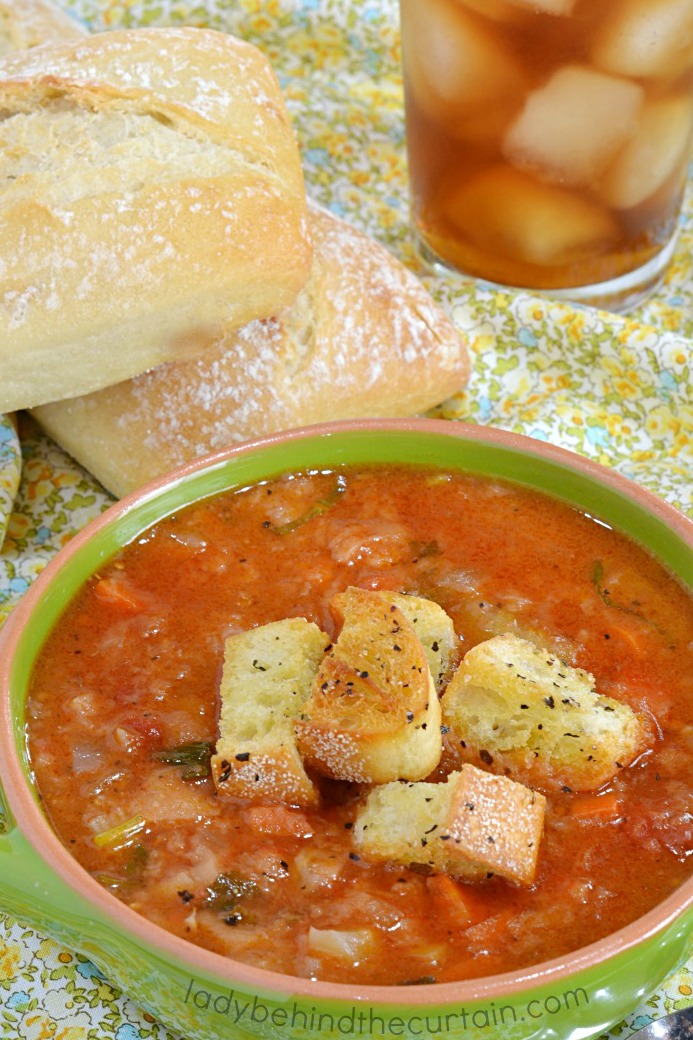 This hearty Tuscan soup is thickened by adding chunks of bread. There are many different ways of thickening soup, this is my favorite! We typically add pasta to soup but then the juice usually gets slurped up from the pasta. By adding bread, the soup will stay the same thickness until finished.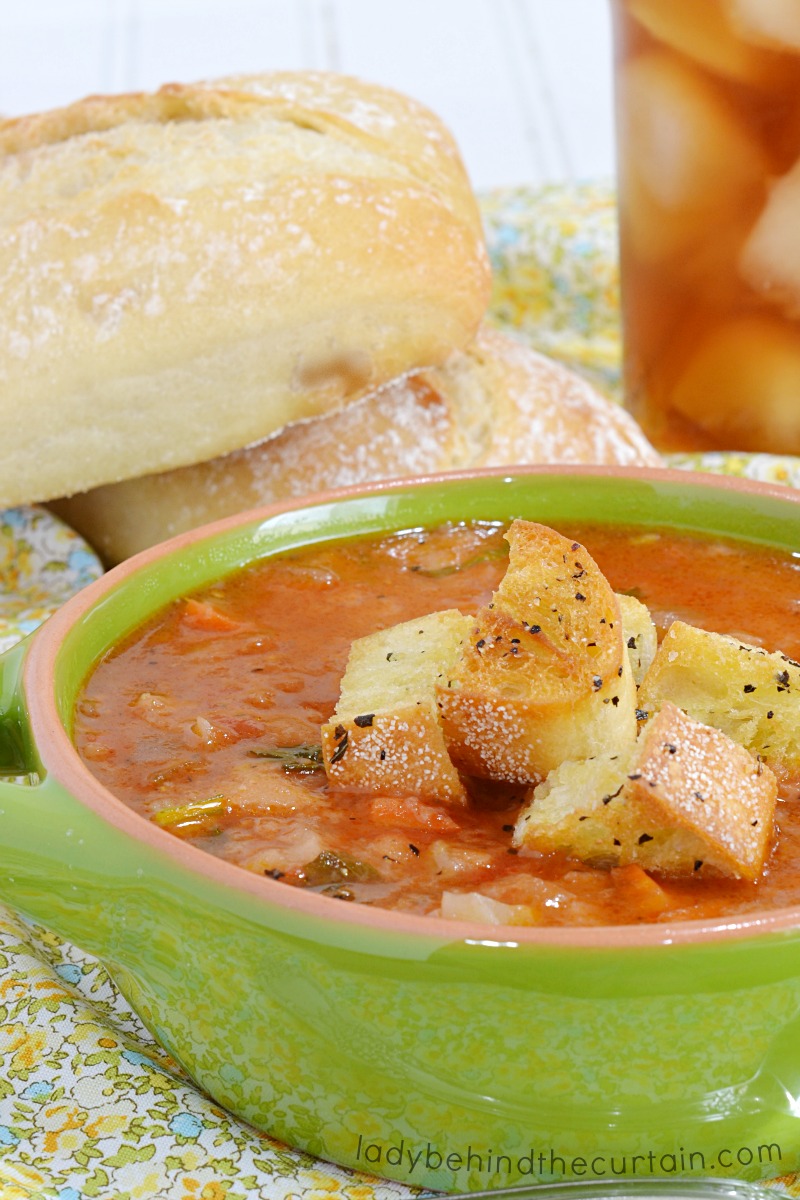 While the traditional Pappa Al Pomodoro Soup is made with fresh from the garden tomatoes this version allows you to make this soup year round. Purchase canned plum tomatoes. Either pour the canned tomatoes in a food processor and crush them or cook them in the soup and use a potato masher to smash them (this is the way I prepared them). Either way is delicious and will add great texture to your thick rich delicious bread soup!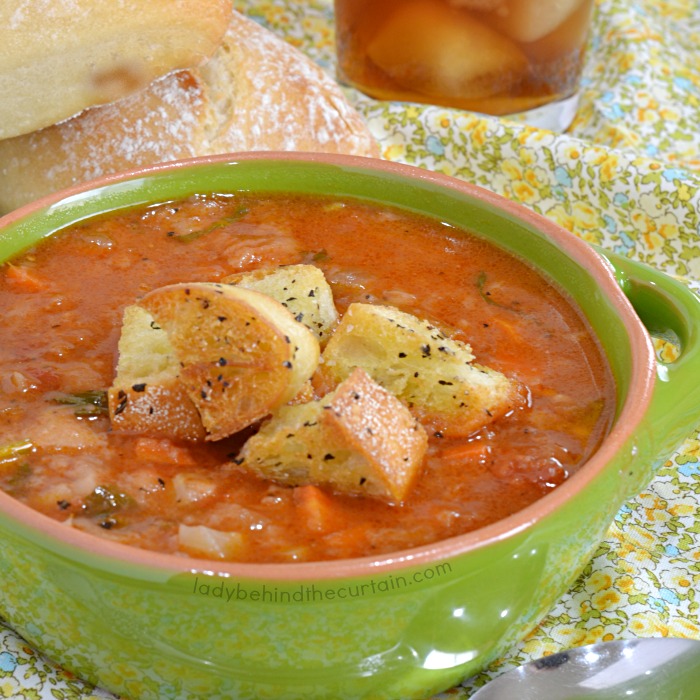 Buy an extra loaf of ciabatta or better yet make the croutons from stale bread. Cut bread into chunks (4 cups) drizzle 3 tablespoons of olive oil over the chunks of bread. Mix together 1/2 teaspoon dried basil, 1/4 teaspoon salt and 1/4 teaspoon black pepper. Sprinkle on bread, toss to coat. TIP: Toss enough to make sure the bread is completely coated with oil and spices. Bake at 375° until toasted (about 20 to 25 minutes).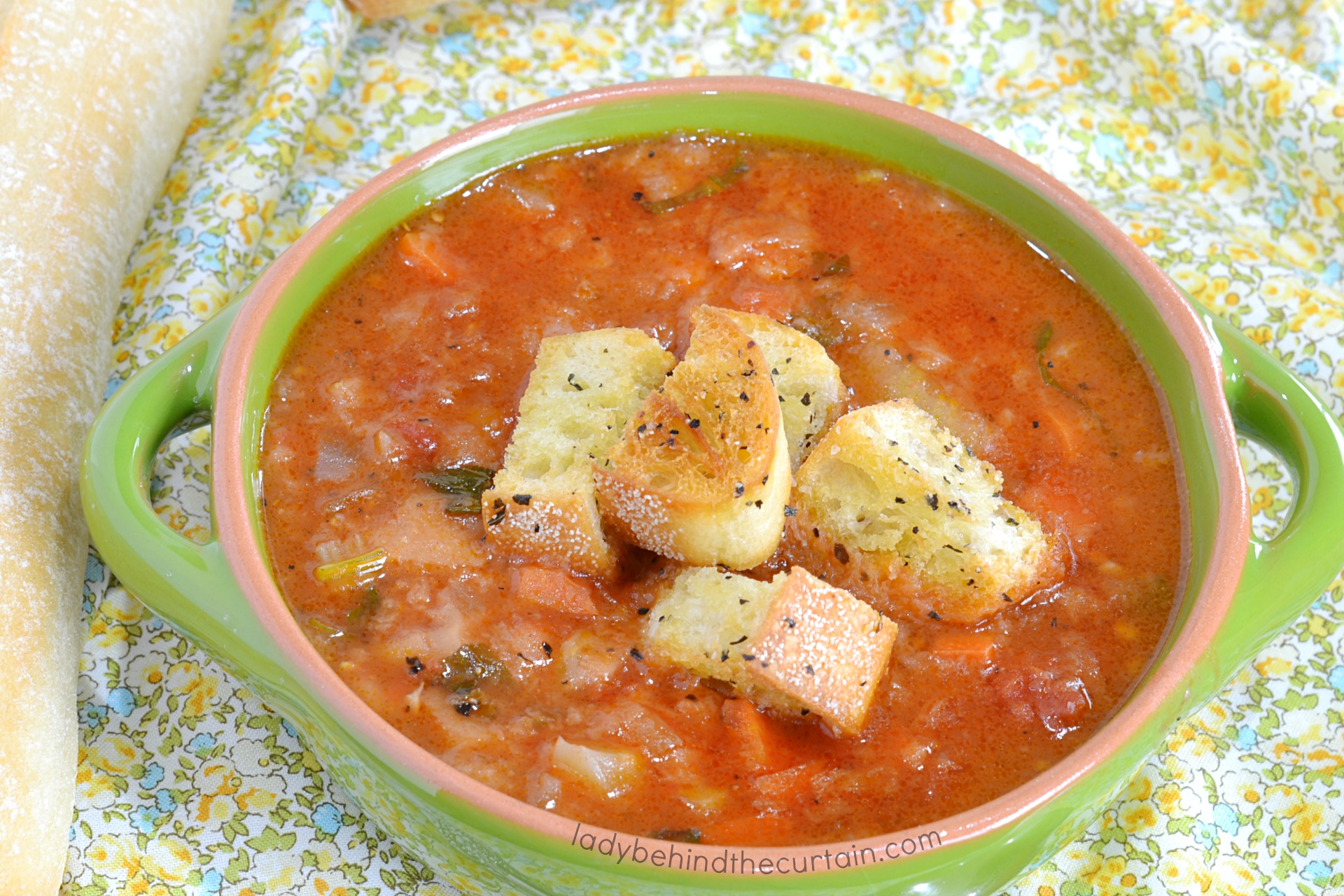 ---
BONUS IDEA!
Instead of dried basil. Add fresh along with little bits of pancetta to the croutons. The basil leaves will turn dark and crisp. Another yummy layer of flavor!
---
Another great recipe for using up some of your garden tomatoes is pizza! Click here to see my favorite—->>>>GRILLED BRUSCHETTA PIZZA. Click here for more pizza recipes—->>>>PIZZA.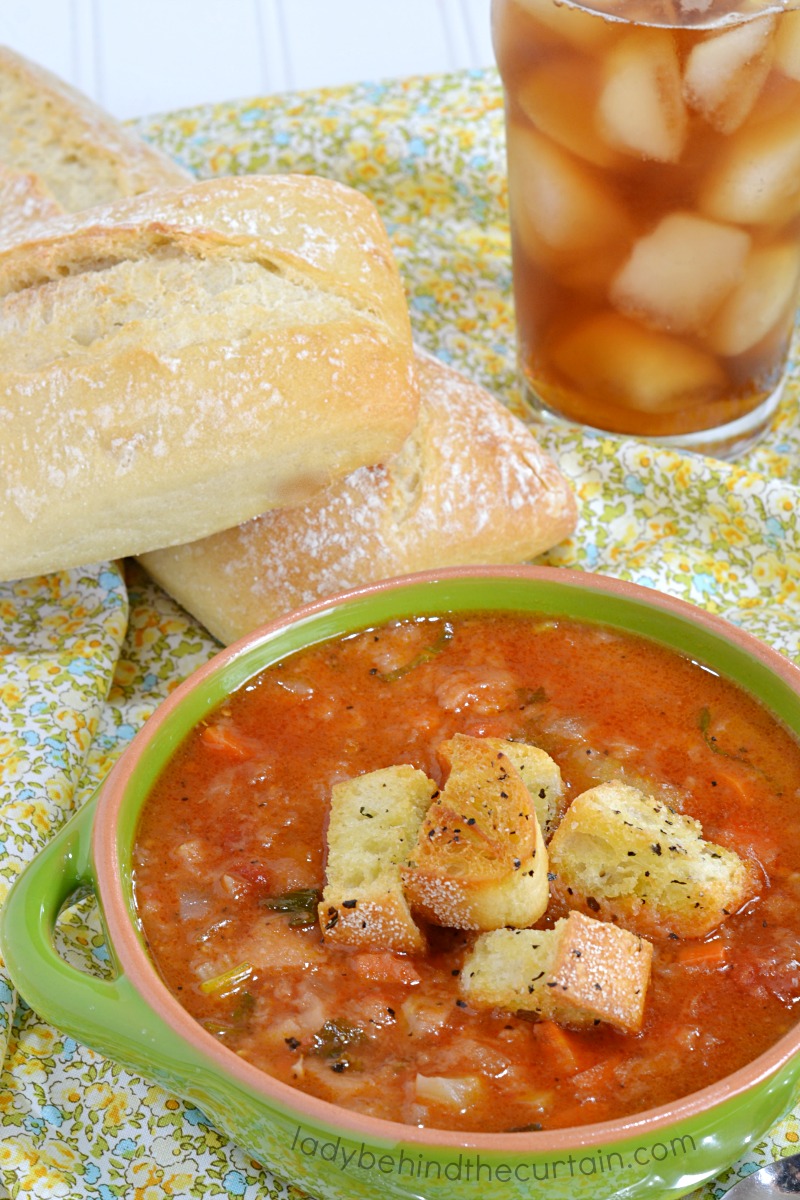 Pappa Al Pomodoro Tuscan Bread Soup
Ingredients
For the Bread Soup
1/2 cup olive oil
2 cups white onion, chopped
1 cup carrots, peeled and chopped (about 3 carrots)
1 fennel bulb, trimmed, cored and medium diced
4 cloves garlic, minced
3 cups diced ciabatta cubes
2 (28 ounce) cans whole plum tomatoes
4 cups chicken stock
1/2 cup red wine
1 cup fresh basil leaves, chopped
1 tablespoon salt
1 teaspoon black pepper
optional freshly grated Parmesan cheese
For the Croutons
4 cups diced ciabatta bread
3 tablespoons olive oil
1/2 teaspoon dried basil
1/4 teaspoon salt
1/4 teaspoon black pepper
Instructions
For the Bread Soup:
Add oil, onion, carrots, fennel and garlic to a large stock pot.  Cook over medium low heat for 10 minutes, until tender.  Add the bread cubes and cook 5 more minutes.  Add tomatoes, chicken stock, red wine, basil, salt and pepper to the pot.  Bring soup to a boil, lower heat and simmer partially covered for 45 minutes.  Using a potato masher, smash the tomatoes and bread.  Serve in big bowls with a few homemade croutons sprinkled on top and freshly grated Parmesan cheese.
For the Croutons:
Preheat oven to 375°.  Add bread cubes to a baking pan, drizzle oil over bread.  In a small bowl combine the basil, salt and pepper.  Sprinkle over bread.  Toss bread in seasonings and oil to coat.  Bake 20 to 25 minutes or until toasted.
Nutrition Information
Amount Per Serving
Calories

0
Total Fat

0g
Saturated Fat

0g
Cholesterol

0mg
Sodium

0mg
Fiber

0g
Sugar

0g
Protein

0g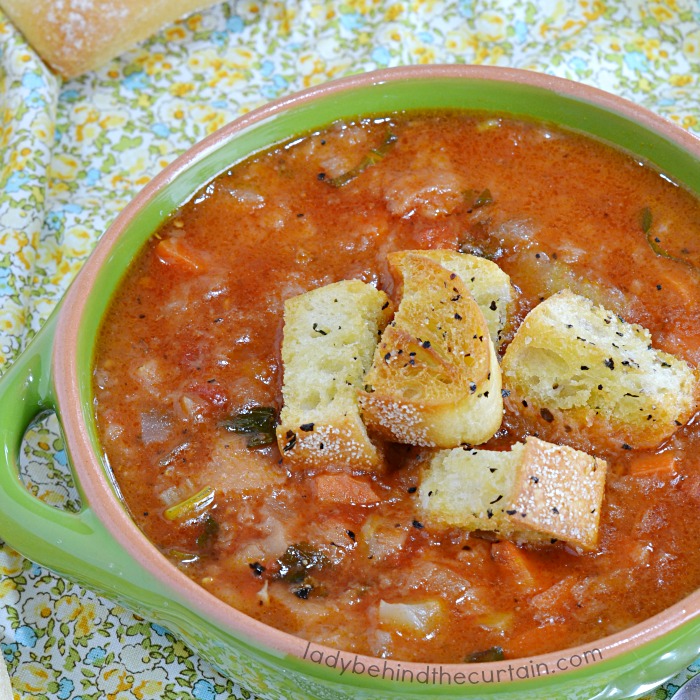 MORE SOUPS RECIPES
CHICKEN NOODLE SOUP 2. SEMI HOMEMADE MEXICAN CORN CHOWDER 3. GREEN BEAN CASSEROLE SOUP
NEVER MISS A POST!
Sign up for my newsletter and receive my recipes in your inbox. Easy to see anytime and saved for safe keeping. Click Here and sign up today! —->>>>CURTAIN CALL NEWSLETTER
More soup recipes you might like. VEGETABLE SOUP and ITALIAN SAUSAGE SOUP.