Banana Nut French Toast Cupcakes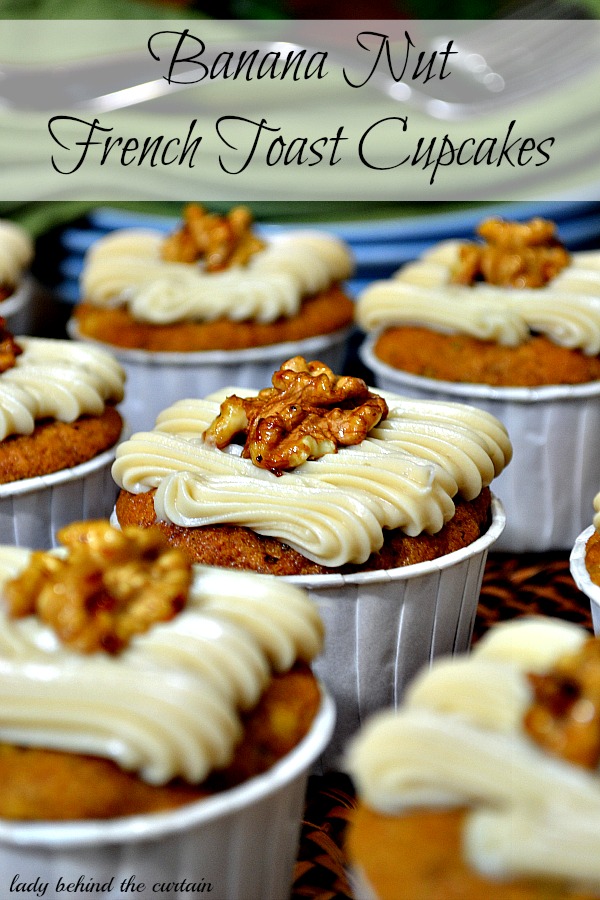 This cupcake offers a nice banana bread flavor with a slight touch of maple, topped with a delicious maple cream cheese frosting and a candied walnut.  The flavors of breakfast that can be enjoyed anytime!  The perfect BRUNCH cupcake.
Banana Nut French Toast Cupcake Recipe (makes 24)
Ingredients
1 cup walnuts, divided
2 tablespoons maple syrup
2-3/4 cups all-purpose flour
1-1/2 teaspoons baking soda
1/4 teaspoon salt
1 cup butter, softened
1 cup granulated sugar
3/4 cup brown sugar, packed
3 eggs
3 ripe bananas, mashed (about 1-1/4 cups)
1-1/2 teaspoons vanilla extract
3/4 cup sour cream
1 recipe Maple Cream Cheese Frosting (below)
Directions
Preheat oven to 350 degrees.  Line muffin pan with paper baking cups.
In a non-stick skillet, toast walnuts over low heat, stirring occasionally until fragrant, about 5 minutes.  Add maple syrup; stir to coat nut.  Continue cooking and stirring until bottom of pan is nearly dry, about 2 minutes.  Remove nuts from pan; cool completely.  Set aside enough walnut halves to top each cupcake.  Chop the remaining walnuts.
In a medium bowl, combine flour, baking soda and salt; set aside.  In a large bowl, beat butter and sugars until light and fluffy.  Add eggs, mashed bananas and vanilla; mix well.  Add flour mixture alternately with sour cream.  Mix in 3/4 cup chopped candied walnuts.  Fill baking cups 2/3 full.
Bake 20 to 25 minutes or until a toothpick inserted in center of cupcake comes out clean.  Cool cupcakes in pan on cooling rack 5 minutes.  Remove to cool completely.  Decorate cupcakes with Maple Cream Cheese Frosting and the remaining candied walnut halves.  This recipe is from the Wilton cupcakes cookbook.
Maple Cream Cheese Frosting Recipe
Ingredients
2 – 8 ounce cream cheese, softened
1/2 cup butter, softened
1/4 teaspoon maple extract
3 cups confectioners' sugar
Directions
Beat together the cream cheese and butter until creamy.  Add maple extract and confectioners' sugar 1 cup at a time.   This recipe is from the Wilton cupcakes cookbook.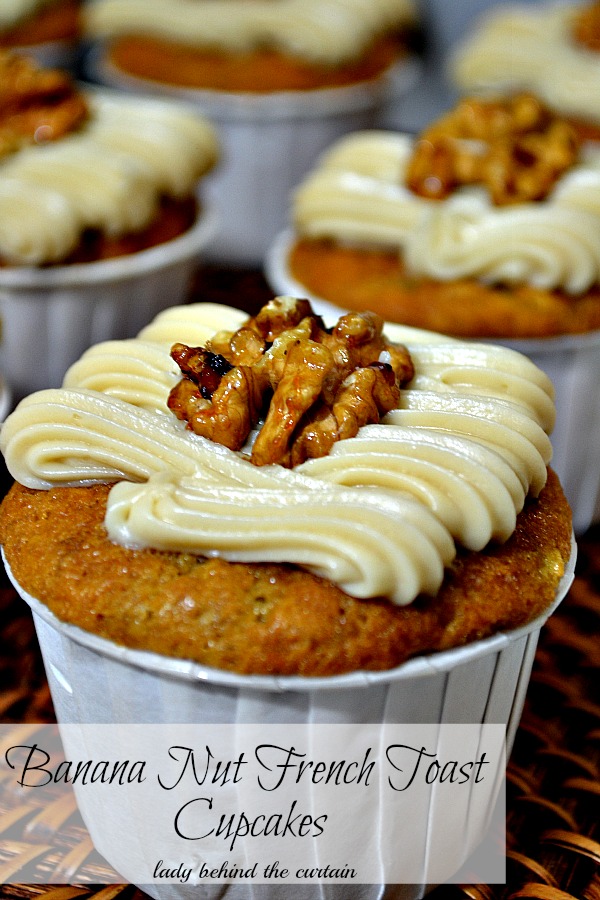 THIS RECIPE WAS FEATURED ON THESE WEBSITES!

I SHARED THIS IDEA/RECIPE AT THESE PARTIES